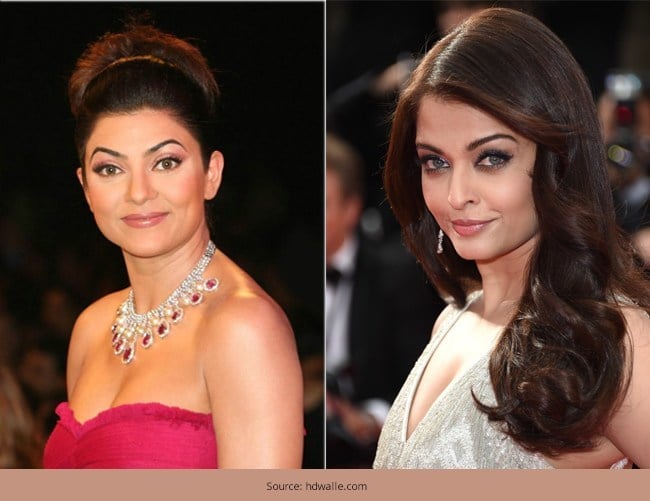 The path of success is never easy. It demands a lot of hard work and focus. Constant grilling brings the best out of any individual. Some shine whereas remaining quit in the process. We all are beautiful in several ways; some of us are externally pretty and some of us are intellectually unique. Beauty is truly in the eye of beholders. It depends on the perspective of the admirers.
However, there are beauties who are universally accepted as the most beautiful and desirable woman. Their charm had casted a spell on entire mankind. Their intelligence and elegance have mesmerized everyone. They haven't left any stone unturned to bring the crown to the Nation. They not only made their parents proud but also won recognition to their respective Country.
Below are some of the beauty pageants who turned into Bollywood celebrities:
1. Aishwarya Rai Bachchan
Aishwarya Rai Bachchan is the first name which pops up in my head when I encounter the word Beauty. The Miss World of the Year 1994 became a known face in the world after she won the prestigious title. This Indian beauty definitely deserves the crown. Her blue eyes have mesmerized millions of hearts and her personality had left a great impact globally. The actress is the Bahu of Bachchan family and the couple is blessed with a daughter. Her acting skills are appreciable.
2. Sushmita Sen
The perfect epitome of beauty with brains, isn't it? She was the first Indian Diva to have grabbed the title of Miss Universe in the year 1994. Her charming personality had left everybody spellbound. She has equally won millions of fans by her activities which isn't common in India. She adopted 2 girl children, thus mothering them and taking up the challenge of motherhood. Isn't that difficult for an unwed mother in a country like India? She is a respectful Diva in the world of Bollywood who lives life on her terms.
3. Diana Hayden
She was crowned the Femina Miss India World 1997 and then won the title of Miss World in the same year, a great year for her. I must admit that it is not just mere luck that had fetched her title, but also her charismatic personality and hard work. After attaining fame, she tried her luck in Bollywood. Her movies weren't a block buster; however she became a known face to the world. She was also a participant in the famous show Bigg Boss, Season 2. She married Collin Dick who works with an international NGO in Mumbai.
4. Yukta Mookhey
She achieved Miss World Title at an age of 22 where most people would be busy with their college degrees, unaware of their next step. Her infectious smile had earned her fans across the globe. She entered into Bollywood to reserve a seat for her, which didn't last for long. Pyasa was her first Hindi movie which flopped at the box office. After that, she tried her luck with item numbers and some Tamil movies, which still didn't work out for her. She married Prince Tuli and is blessed with a son. She is an active member of Bharatiya Janata Party. She has also associated herself with charitable trusts and is keenly involved in social activities.
5. Lara Dutta
[sc:mediad]
The dusky Bengali beauty won the Miss Universe in the year 2000, making everybody proud. Her intelligence and smartness influenced the pageant jury to such an extent that, they bestowed her with Miss Universe Crown. She also won Miss Intercontinental in the year 1997. She is one of the successful Bollywood actresses. After stepping in the industry there was no looking back for this beauty. Her movies has been added to the blockbusters, fetching her more and more scripts from the directors. She is married to Mahesh Bhupathi and the couple is blessed with a daughter. Her film Andaaz won her the Filmfare Best Female Debut Award. The movies like Masti, Bhagam Bhag, Partner and Housefull left the audiences glued to their seats. Her Yoga recordings have earned her a place in every household.
6. Priyanka Chopra
She is popularly known as Pee Cee or Piggy Chops. She was added to the list of beauty winners in the year 2000, when she was crowned Miss World. She is a versatile lady whose charm had allowed her to rule millions of hearts. She entered the film industry just to be one among the best desired one and she had achieved it. She is one among the highest paid actresses. She has received several awards and had equally been nominated for couple of them. Her movies like Don, Kaminey, Barfi, Andaaz, Fashion and Mary Kom are blockbusters. A worth watch for all Piggy Chops fans.
Hope you enjoyed this post on beauty pageant turned leading Bollywood Celebrities.