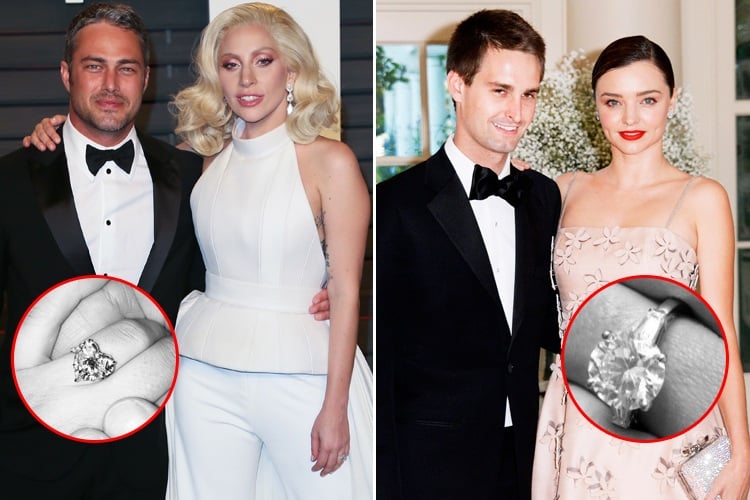 You must have already read about the most exquisite celebrity wedding rings, and this time we are taking you back to all the stunning sparklers that grace famous fingers. From Miley Cyrus handmade diamond rock to Mila Kunis diamond solitaire, there's something to hold your inspiration. The only sad part is that a few relationships have come and moved on, but their ring images are worth seeing.
Let us take a look back at the boldest and brightest celebrity engagement rings gracing their hands.
1. Miley Cyrus and Liam Hemsworth
Liam proposed to Cyrus in 2012 with celebrity jeweler Neil Lane sparkler which reportedly cost $250,000. And there is no mistaking that diamond on her ring finger. "Liam wanted something really romantic and beautiful. It is something different. It's all handmade with a 19th century cushion-cut diamond", Lane stated. The ring features a round, 3.5 carat cushion-cut diamond cut with smaller jewels around the gold band, and is absolutely stunning.
With a ring like that, Miley can do nothing but proudly flash her hand. Now that she is back to wearing the rock from Liam again, she is doing nothing to hide the sparkler.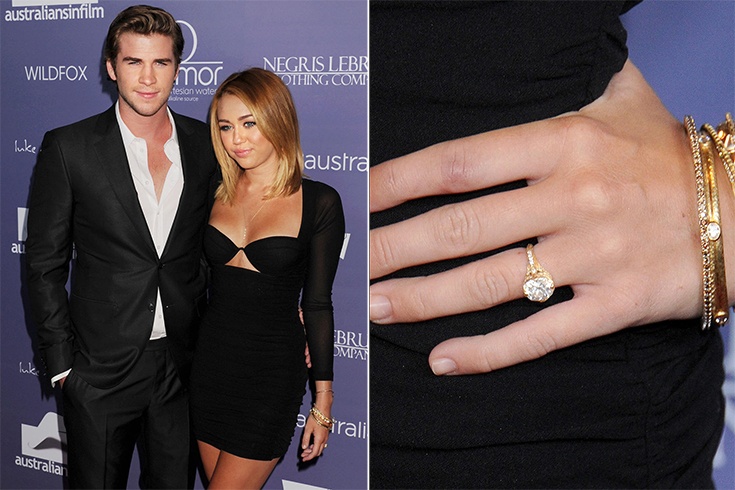 2. Ciara and Russell Wilson
Ciara's sparkler is serious. The singer flashed her engagement ring at a Marquee performance in Las Vegas. Ciara and Russel reportedly announced their engagement on Instagram earlier.
Her engagement ring features a round, brilliant-cut 16 carats diamond. The massive diamond is bordered with four-sided stones, a trapezoid-shaped diamond, and pear-shaped diamond on either outer edges.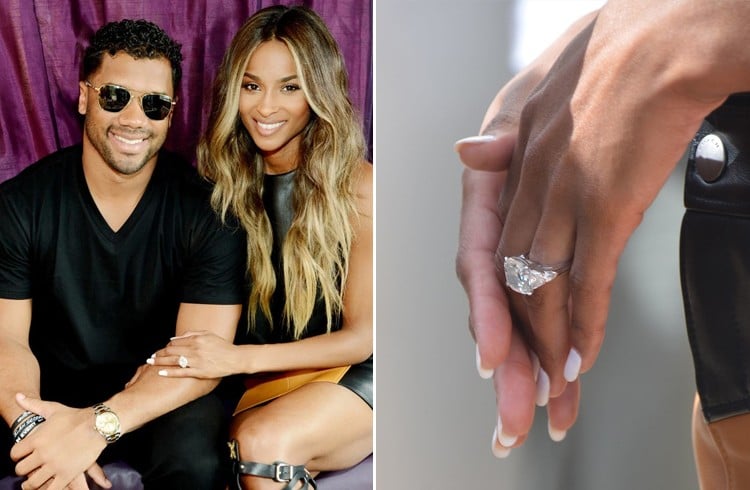 3. Felicity Jones and Charles Guard
Felicity Jones' bling first caught attention at the Glamour UK's Women of the Year Awards in London. The Academy Award nominee wore her engagement ring from her fiancé Director Charles Guard. The couple had been privy about their relationship before finally announcing the big news.
The gorgeous ring features a large round-cut diamond surrounded atop a thin gold band. The couple had been dating for two years before announcing their engagement in May this year.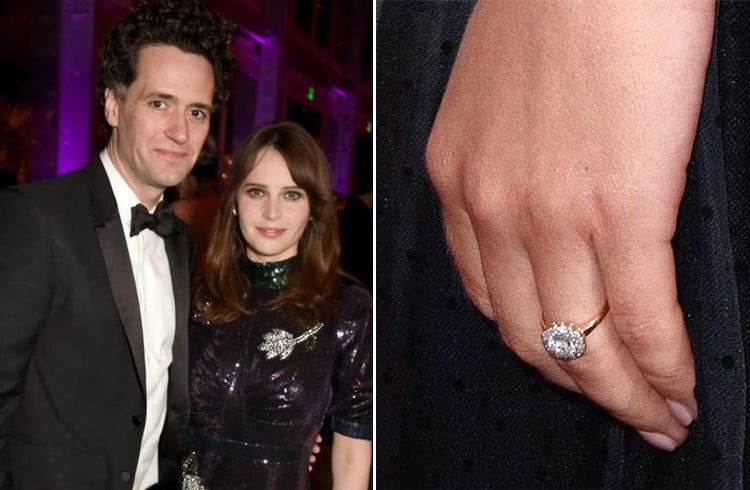 4. John Stamos and Caitlyn Mchugh
John Stamos and Caitlin McHugh got engaged and they put their engagement ring on full display. After two years of dating, the actor popped the question to McHugh, on October 23rd, 2017. Stamos took to Instagram to announce the big news, 'I asked, she said yes! And we lived happily ever after." In a recent interview with Ryan Seacrest, Stamos could not stop gushing, "You get to this point, and time goes by so damn fast-who wants to love alone?"
The ring features a 3-4 carat emerald-cut diamond center, flanked by two smaller side diamonds. The exquisite three-stone design has a modern feel.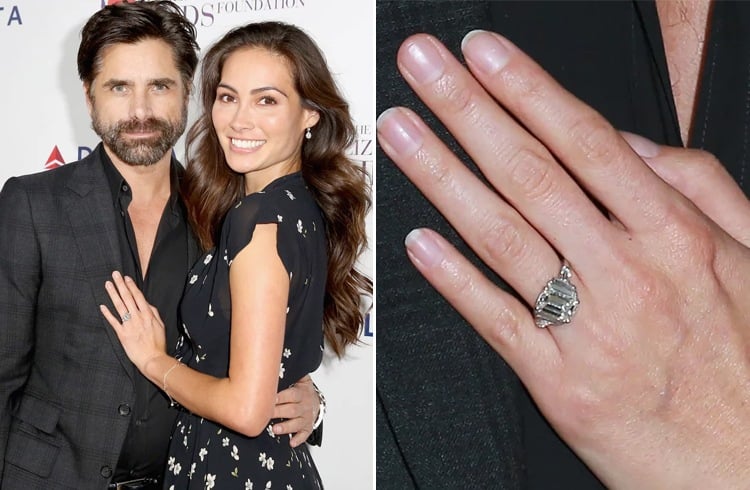 5. Michelle Branch and Patrick Carney
Michelle Branch's released her album after a gap of 14 years, and it could not have come at a perfect timing. Her release was followed by her engagement. The singer took to Instagram to share the big news, "Last night, right before I blew out my candles, @officerpatrickcarney asked me to marry him and then I had nothing left to wish for. 34 might be the best year yet." She also posted a photo of her Art Deco-style engagement ring.
The news certainly took off to a great start. The singer and her 37-year-old beau Carney began dating from February 2015, after having met at a Grammy after-party.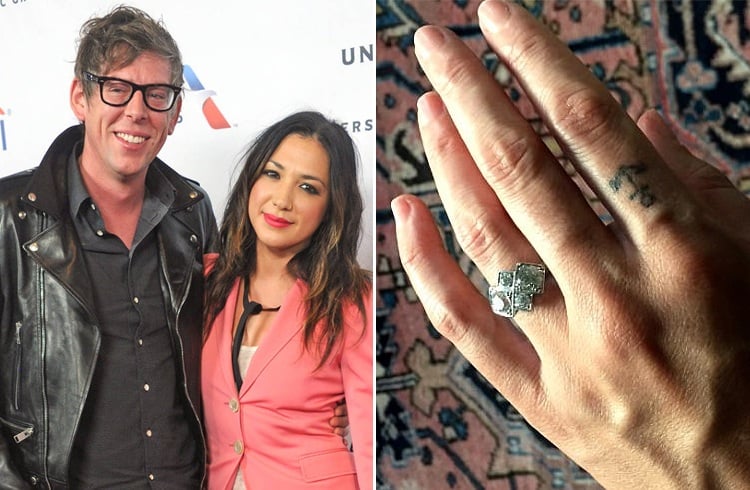 6. John Cena and Nikki Bella
News went ablaze after wrestler actor Cena proposed live to fellow WWE star Nikki Bella at Wrestle Mania, and she accepted. The wrestler presented Bella with a stunning Tiffany & Co. diamond ring. This was undoubtedly one of the best celebrity diamond rings.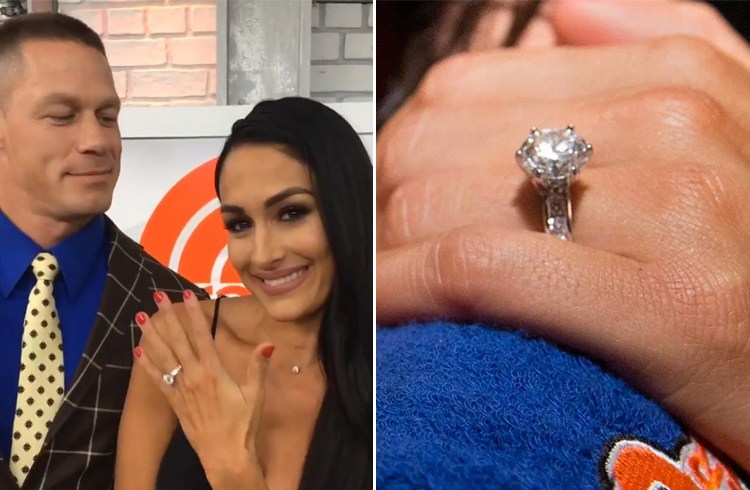 7. Miranda Kerr and Evan Spiegal
After one year of dating, Kerr and Spiegel announced their engagement in July, 2016. The model broke the news on Instagram with a black-and-white photo showing off her sparkly. The ring features an exquisite round-cut design.
The photo also includes a Bitmoji featuring two characters; a man kneeling down on one knee presenting a giant engagement ring to an ecstatic woman. The words "Marry Me!" appeared at the bottom. "I said yes! Kerr mentioned in the caption.
8. Pippa Middleton and James Matthews
Middleton and financer beau James Matthews got engaged on July 17, 2016 while vacationing in the gorgeous Lake District of Northwest England. Her gorgeous Art Deco-inspired asscher-cut ring is estimated to be worth around $263,000.
The rock features a 3.5 carat asscher cut diamond from London Robinson Pelham.
9. Hillary Swank and Ruben Torres
Hillary Swank announced her surprise engagement on Tuesday with tennis coach boyfriend, Ruben Torres. "Went on a hike and this happened! I am so happy to share with you all, the engagement to my dear Ruben", the 41 year old Oscar winner wrote alongside a selfie showing off her Art Deco-inspired emerald ring.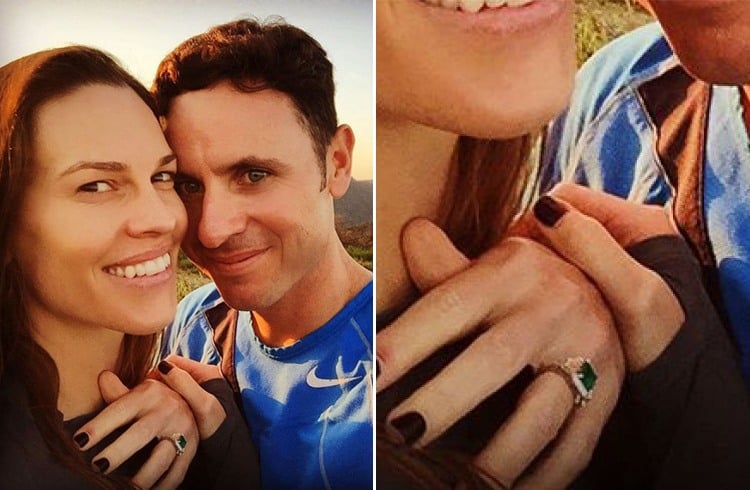 10. Lady Gaga and Taylor Kinney
Taylor Kinney and Lady Gaga had the perfect Valentine ending in 2015. Though the couple announced their split in 2016, their highly publicized relationship was not to be forgotten.
Kinney presented the musician with a heart-shaped diamond ring by Lorraine Schwartz.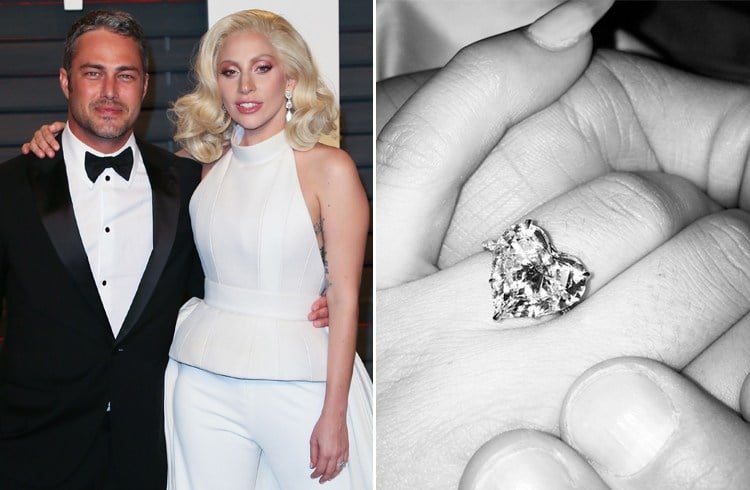 11. Mandy Moore and Taylor Goldsmith
Mandy Moore showed up in a sparkly black dress paired with a black cropped turtleneck sweater at the Entertainment Weekly pre-weekly party at Sunset Tower on September 15th, 2017 in Los Angeles. But it was her engagement ring from fiancé Taylor Goldsmith that stole all eyes.
Her engagement ring is a brilliant cut solitaire diamond surrounded with pave diamonds. It is set in a simple rose gold band embedded with few diamonds.
The couple got engaged at their home, and Moore was photographed in Brentwood wearing what appears to be her engagement ring.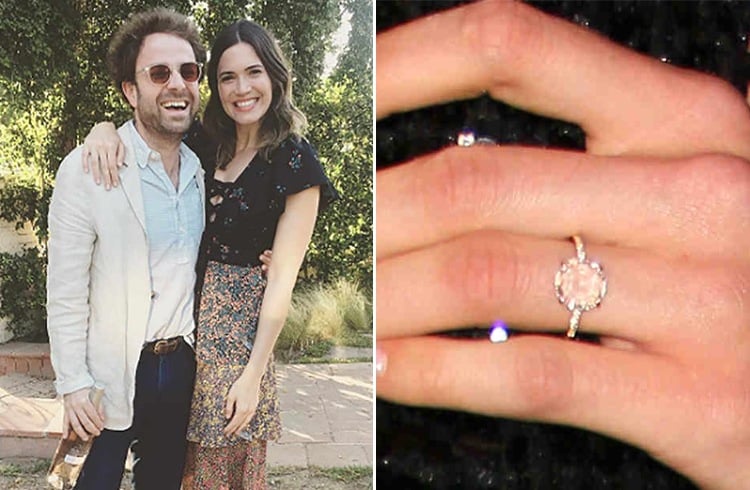 12. Serena Williams and Alexis Ohanian
Serena Williams's engagement ring from fiancé Alexis Ohanian is seriously massive. The Reddit owner presented the tennis starlet with an exquisite emerald cut diamond engagement ring. The ring is a classic with two side stones embedding the center diamond. The ring is estimated to be worth $2,000,000 approximately. Alexis proposed in Rome, where the couple had their first date, in late 2016. Williams could not say no to that!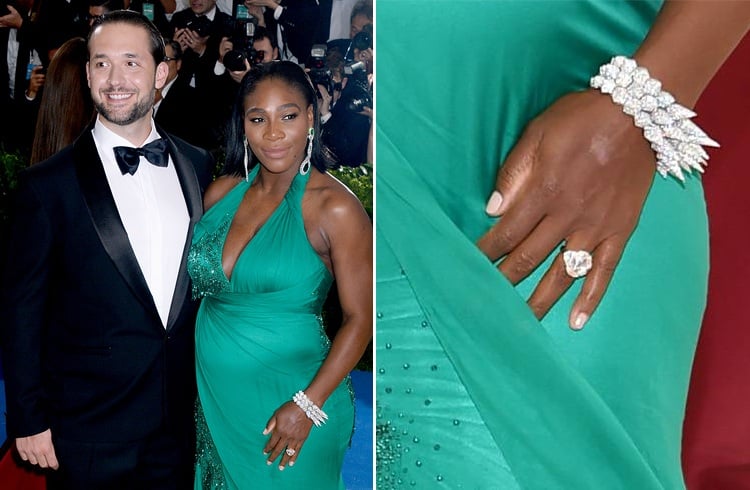 13. Kirsten Dunst and Jesse Plemons
Few celebrity oval engagement rings are worth remembering, and one belonged to Spiderman actress, Kristen Dunst. She was all too happy to show photographers a close-up of her engagement ring. The actress had debuted her sparkly at the Palms Springs International Film Festival in January, 2017.
The ring appears to be an oval-shaped center stone embedded with yellow-gold band with baguette accents. The ring is estimated to be worth $80,000.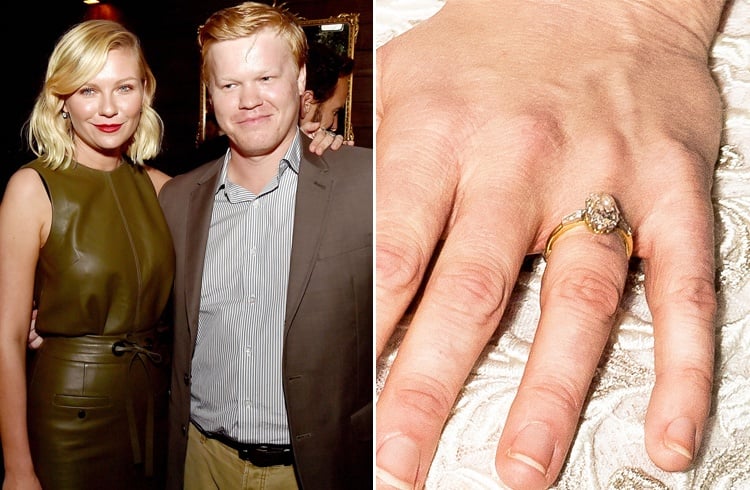 14. Margot Robbie and Tom Ackerly
Margot Robbie announced her much-hushed engagement and wedding affair all-at-once with her beau, British Director Tom Ackerley through her Instagram post. Her gorgeous engagement ring features a 3-carat pear-shaped diamond in platinum design with pave diamonds.
The 3-carat ring is estimated to be worth $75,000.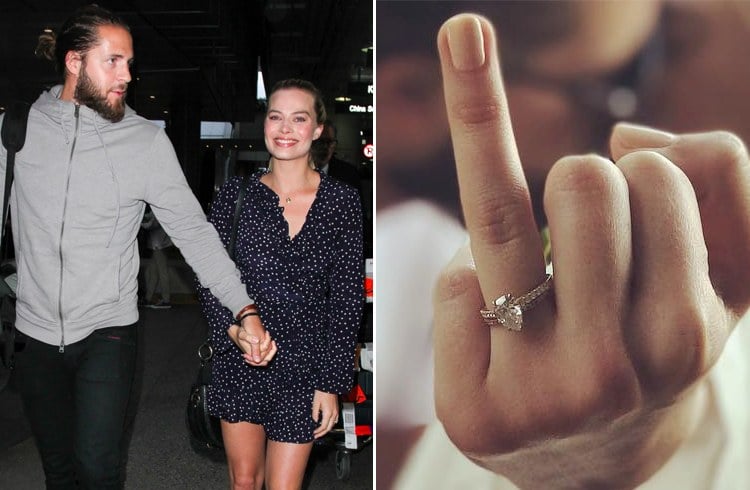 15. Mary-Kate Olsen and Olivier Sarkozy
There was much buzz in the media about Mary-Kate Olsen's engagement ring when she was set to wed French banker Olivier Sarkozy. Olsen's rock is a vintage Cartier from 1953 which featured European cut diamonds with 4-carats embedded with 16 sapphires.
The ring was originally estimated to be worth between $40,000 and $60,000 by Sotheby's. But regardless of what it is, the ring is absolutely gorgeous.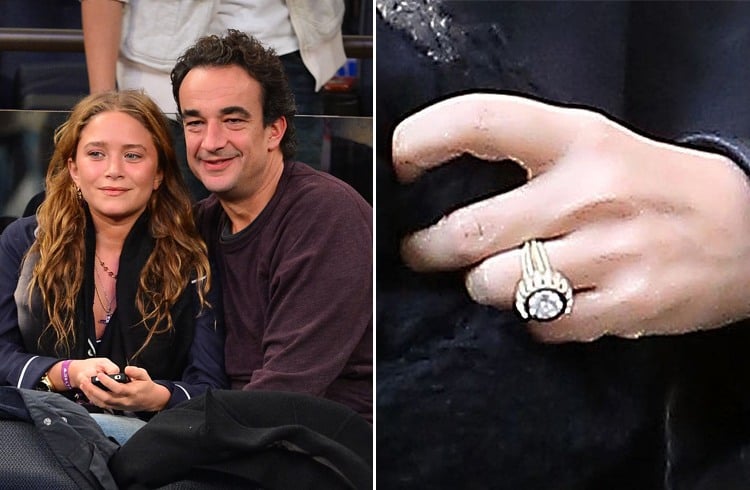 16. Kylie Minogue and Joshua Sasse
Although Kylie Minogue has reportedly called it quits with her beau Joshua Sasse earlier this year, her engagement ring was hard-to-miss. Her large vintage diamond bauble ring was the cynosure of all eyes.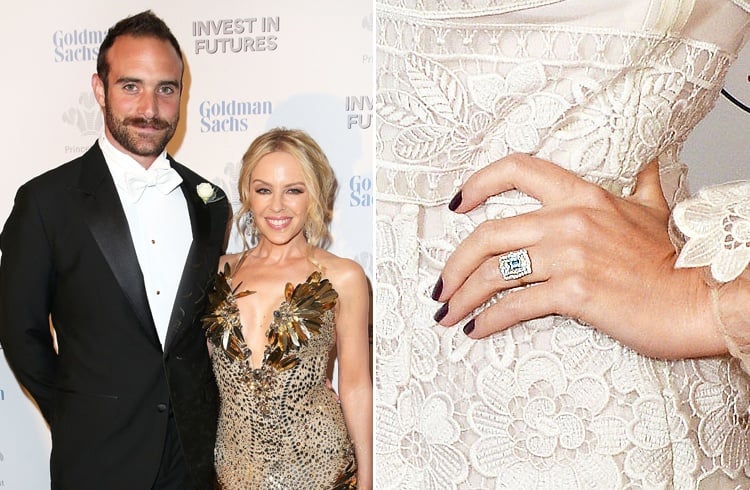 17. Eva Longoria and Jose Antonio Baston
Eva Longoria and Jose Antonio Baston got engaged while on a trip to Dubai in 2015. The actress shared the news on social media with photo of them kissing in the desert, and a hard-to-miss large ruby ring embedded with diamonds. The actress gushed, "Ummm so this happened….#Engaged#Dubai#Happiness on Twitter and Instagram.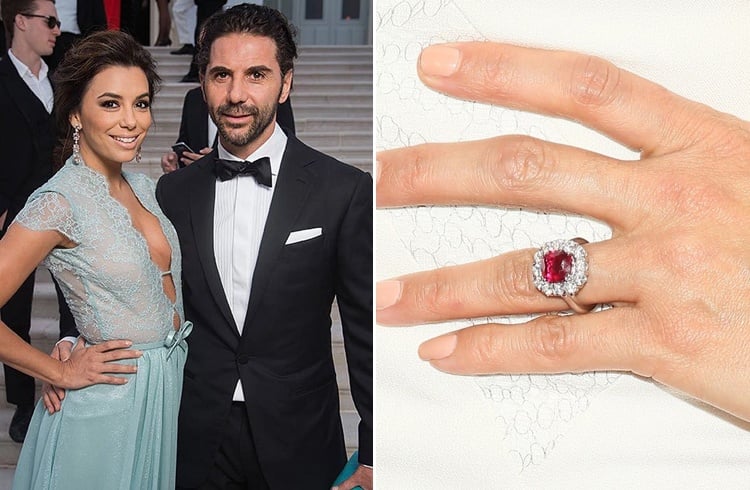 18. Hanna Davis and Derek Jeter
Sports Illustrated Swimsuit Issue Cover Girl, Hanna Davis was spotted at the Country Music Association Awards 2015, flaunting her beautiful solitaire diamond set that matched her nude manicure.
Davis's then beau, and now husband Jeter popped the question after dating for three years. The married duo has welcomed their first baby girl, Bella Raine Jeter in August this year.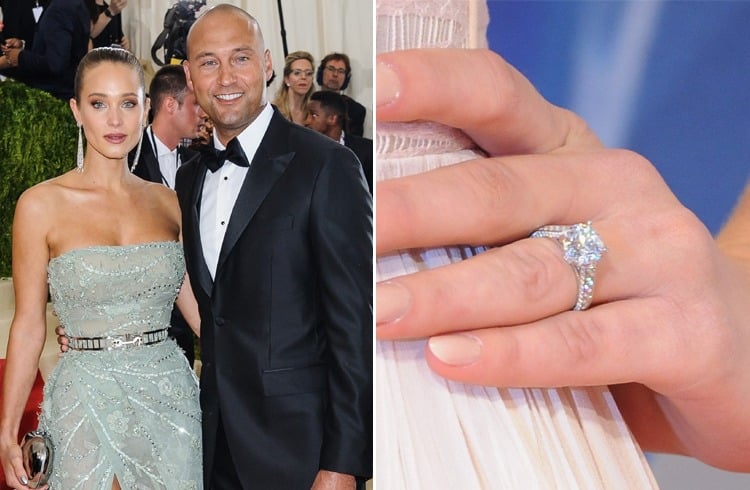 19. Alison Brie and Dave Franco
Dave Franco presented Brie with a stunning diamond solitaire ring after dating for over three years since January 2012. The couple got engaged in 2015 and later married earlier this year.
The ring featured a beautiful double halo embedded in rose gold, with a round center diamond.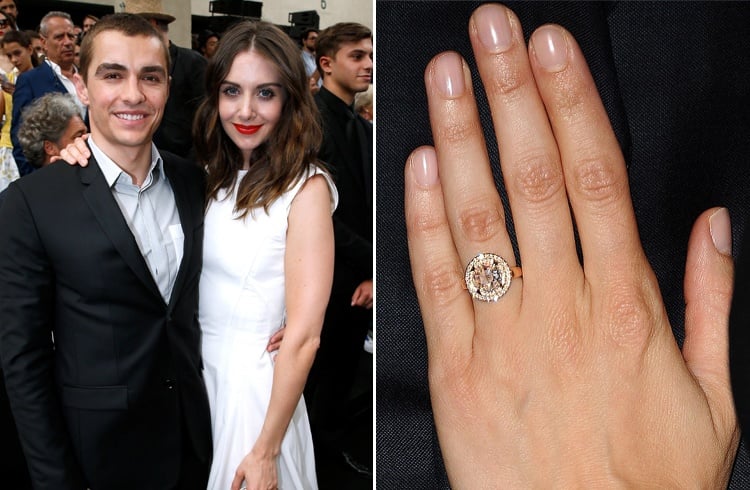 20. Cameron Diaz and Benji Madden
When rocker singer beau Benji Madden popped the question to Diaz in December, 2014, he did so by presenting her with a thick gold band covered with diamonds.
But the actress updated her engagement rock with another diamond stunner in January, 2016.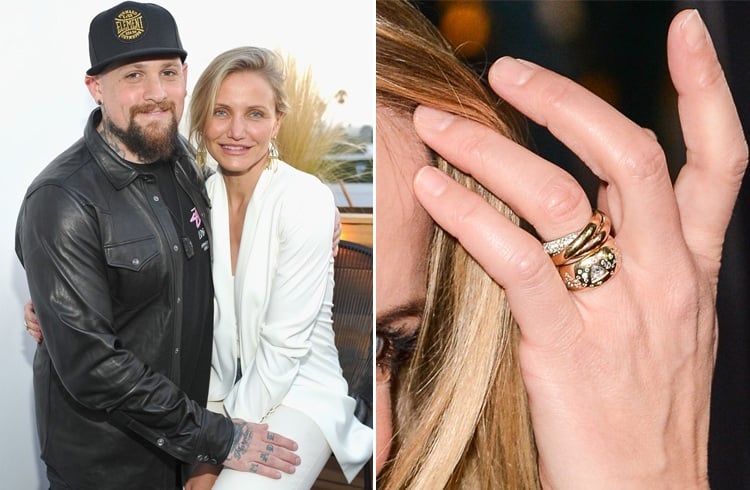 21. Drew Barrymore and Will Kopelman
Actress Drew Barrymore and art consultant Will Kopelman were reportedly dating since 2011, before getting engaged in 2012. The actress' engagement ring was truly a work of art. The ring featured a colorless cut-diamond of 4 carats embedded with diamond-covered band. This sparkler was designed by Graff Diamonds. The couple got engaged in Sun Valley, Idaho, over a holiday.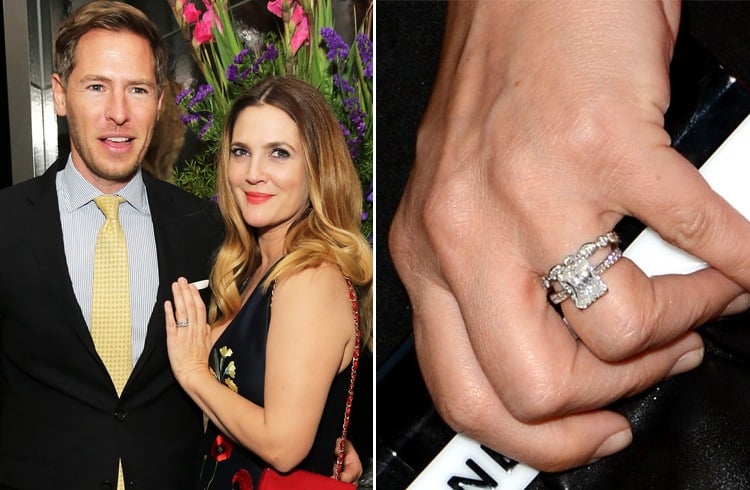 22. Mila Kunis and Ashton Kutcher
Actress Mila Kunis engagement diamond solitaire ring was massively stunning. It is estimated to be worth around $250,000. Here is a close-up of her engagement sparkler.
The ring is a classic with a set of round-cut diamonds and is estimated to be around two to three carats.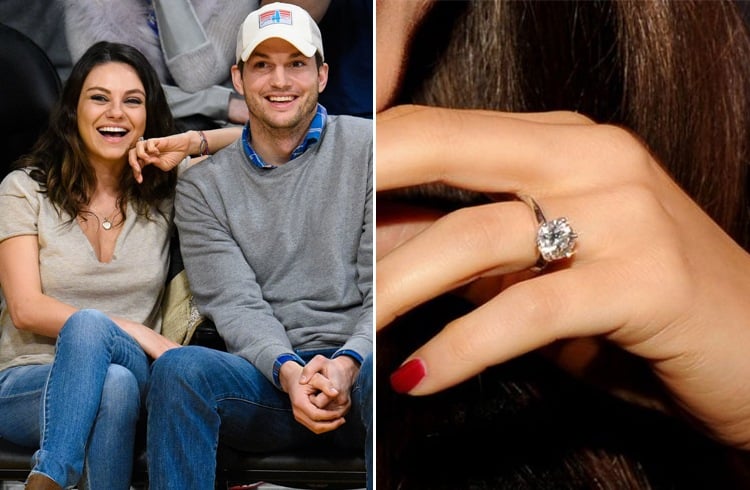 23. Nikki Reed and Ian Somerhalder
Nikki's exquisite round diamond ring was surrounded by ten smaller diamond set embellished on a gold band. Reed gushed, "Can't tell you anything about it other than I love it more than anything in the world."
The couple got engaged in 2015, and later married off in a private ceremony.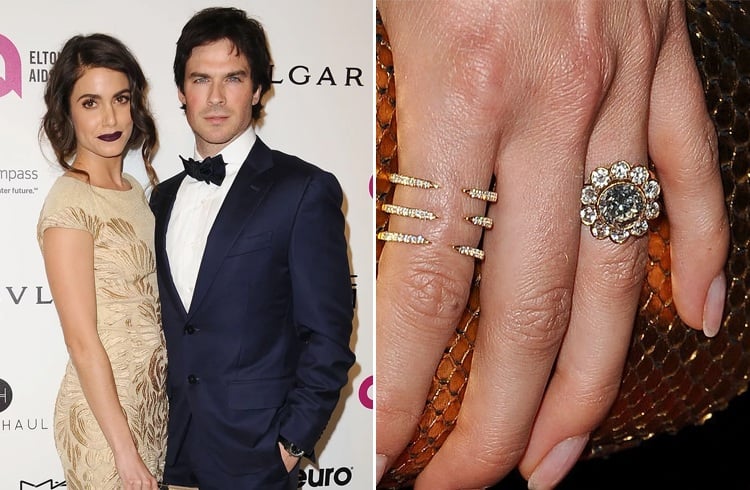 24. Scarlett Johansson and Romain Dauriac
Scarlett Johansson's fiancé French journalist Romain Dauriac presented a dazzling Art Deco ring. The sparkly features three round diamonds embedded with a vintage rectangular setting and more diamonds.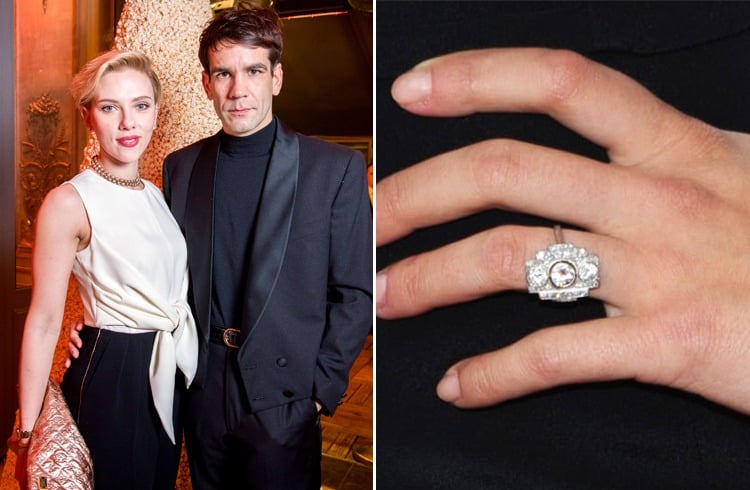 25. Sofia Vergara and Joe Manganiello
In 2014, Sofia Vergara was on a vacation in Hawaii when Joe popped the question with a stunning engagement ring. You can take a closer look at the sparkler below.
[sc:mediad]
Joe Manganiello presented the actress with a mega-cart oval diamond which was rumored to be 5-7 carat. The ring had diamond halo embellished with center stone and diamond adorning the band. The metal was platinum and was estimated to be around $500,000 plus.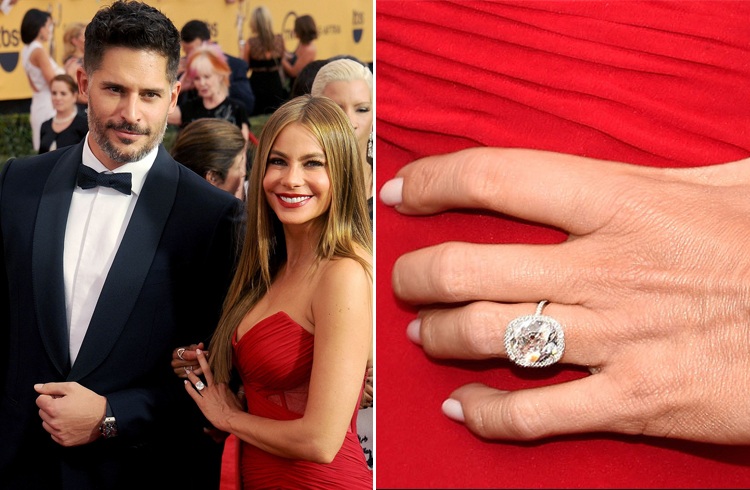 26. Kanya West and Kim Kardashian
Theirs was quite a treat for the media. Kanye presented the TV starlet with a giant 15-carat ring from Lorraine Schwartz. The engagement ring was estimated to be worth around $1.6 million. The couple is now expecting their third baby early next year.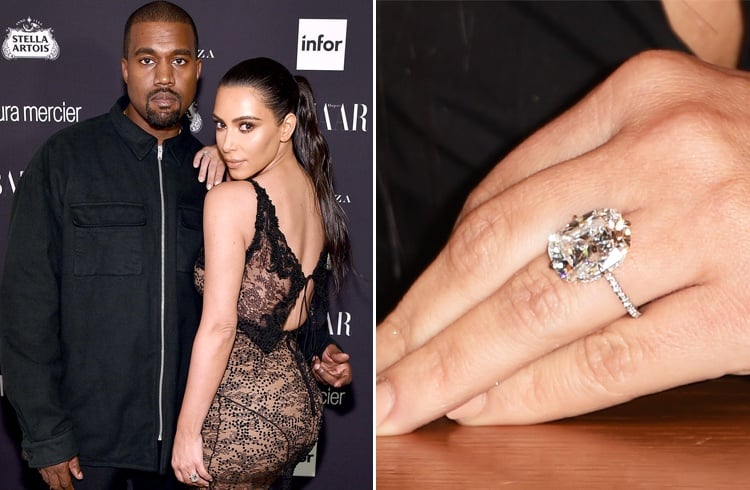 27. Blake Lively and Ryan Reynolds
Both actors are currently in news for expertly trolling each other on social media and giving us intense love goals. Much buzz was made about their engagement ring, too. The 14 k yellow gold ring was estimated to be worth around £1,000 and designed by jeweler Alison Lou. The Swallows actress shared the ring image on Instagram and captioned it as: "Never too old to bedazzle."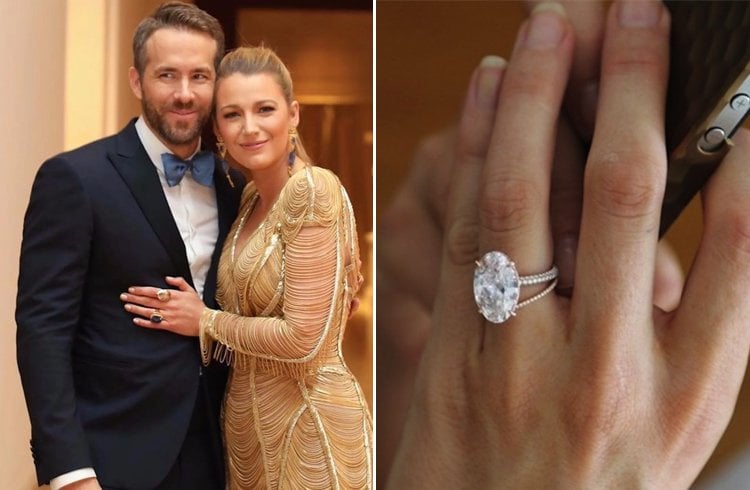 28. Sarah Jessica Parker and Matthew Broderick
Sarah Jessica Parker was presented with this stunning emerald-cut ring by Matthew Broderick. The two married in 1997, and celebrated 20 years of marriage in May, this year.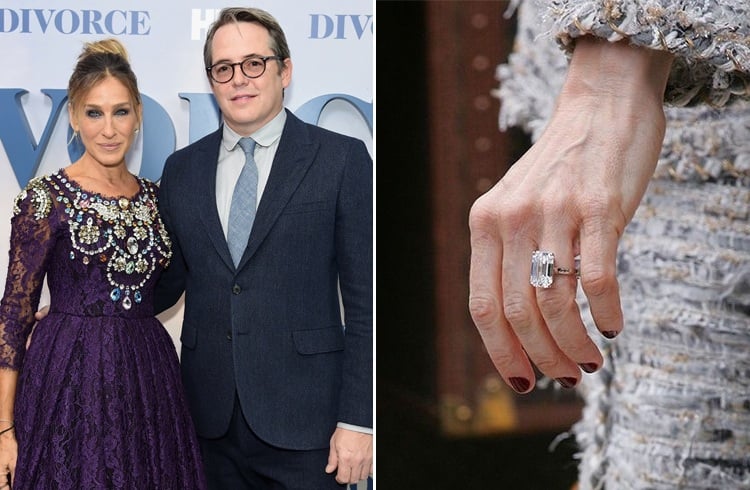 29. Jessica Biel and Justin Timberlake
Singing sensation Justin presented Jessica with an engagement ring made from white gold and black rhodium. The ring also featured two aquamarine elements which represents Jessica's birthstone. The diamond ring is estimated to cost the singer $13,000.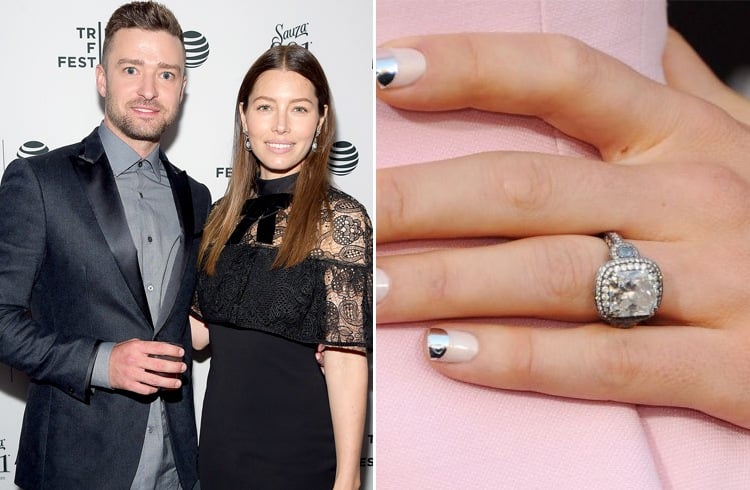 30. Jennifer Aniston and Justin Theroux
Jennifer Aniston and Justin Theroux 8 carat diamond engagement ring became the subject for a lot of speculation. The ring appeared to be an oval cut diamond in yellow gold with a halo setting. In an interview with the New York Times, Aniston said, she loves her ring now and admitted that she might not picked it for herself. "I am not a diamond girl. I am more into Indian Jewellery and stuff."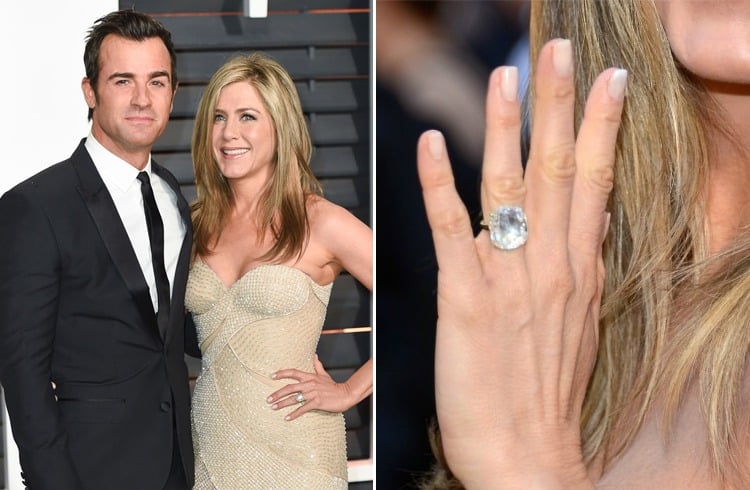 31. Kelly Clarkson and Brandon Blackstock
Singer Clarkson shared an image of her gorgeous ring through WhoSay. The ring is a yellow canary diamonds surrounded with diamonds. It was designed by Johnathon Arndt with close inputs by Brandon himself.
Kelly accepted Brandon's proposal, "I wanted y'all to know! Happiest night of my life last night! I am so lucky and am with the greatest man ever.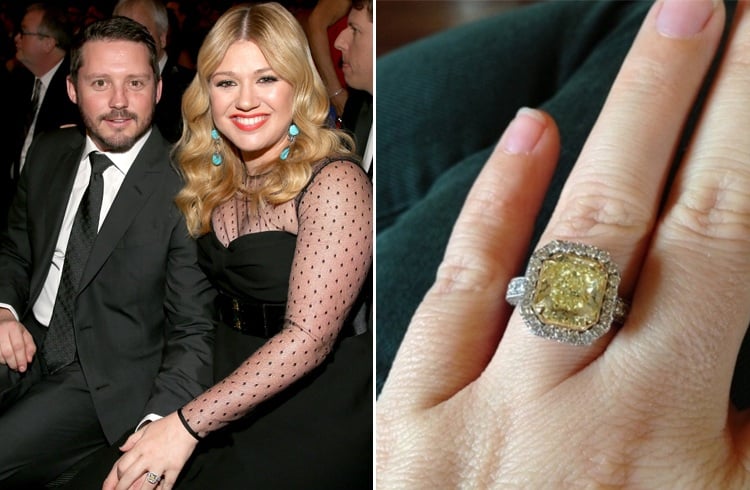 32. Leighton Meester and Adam Brody
Celebrity wedding rings get us excited and one of them belongs to Leighton Meester's presented by Adam Brody. The former Gossip Girl actress rock features a cushion-cut set in thin yellow or rose gold band and few miniature side stones. Her wedding ring consisted of a thin white gold with small round-cut stones.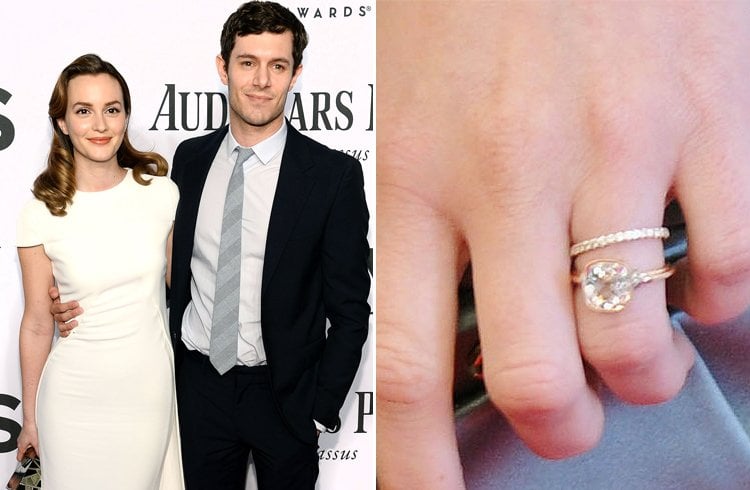 33. Nicole Richie and Joel Madden
We all love spying on best celebrity engagement rings and one of them includes Nichole Richie's piece. It was a Neil Lane design and the round stone ring comprised of 4 carats with a platinum and diamond band. The main stone was octagon shape and comprised of diamonds. Niclole was very much part of the design process and worked with Neil directly for her engagement ring.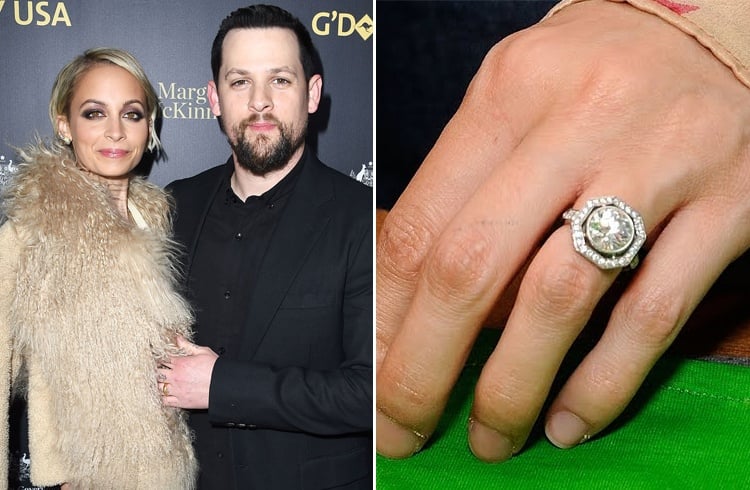 34. Liv Tyler and David Gardner
"Just one more thing to be grateful for," Tyler captioned her cuddly photo with Gardner with her enormous diamond ring. The ring featured an emerald cut diamond with a platinum or white gold band.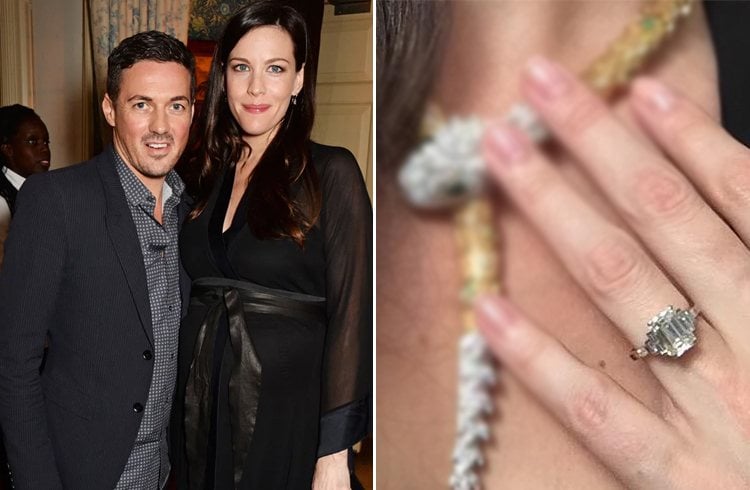 What do you think of these celebrities' engagement rings? Do you love the sparkler? Let us know!