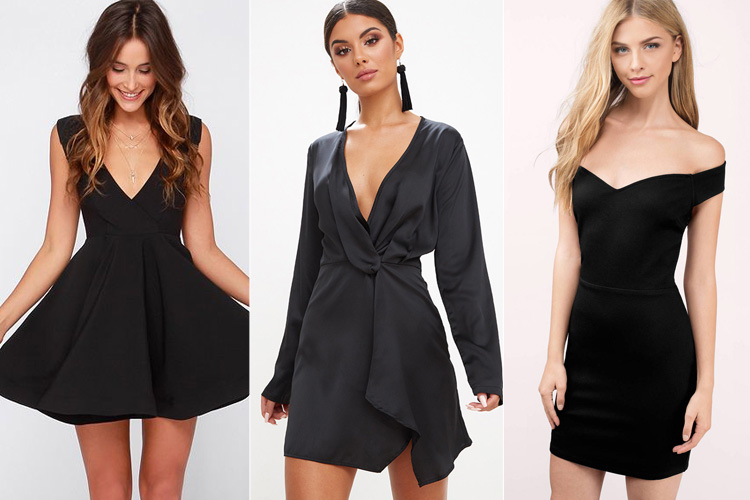 Not long ago, most believed that black dresses are not wedding appropriate and not the best symbol for celebrating love. But things have changed for the better. A black dress for a wedding actually spells CLASS! We have listed down chic black dress for a wedding guest appropriate for all season to make you the toast of the town! To learn how to ace the fashion game, with this avant-garde look check out this article!
How To Wear Black Dresses For a Wedding:
Are you looking for black dresses to wear to a wedding? Here's a style guide to help you wear the black dress to your friend's wedding right:
Black dresses for Lawn or Garden Weddings:
A lawn or garden wedding is quite common and often a relaxed affair. A black dress in fabrics like cotton can be suitable for this type of event. This type of fabric can be both feminine and comfortable to wear. Here are few other outfit ideas: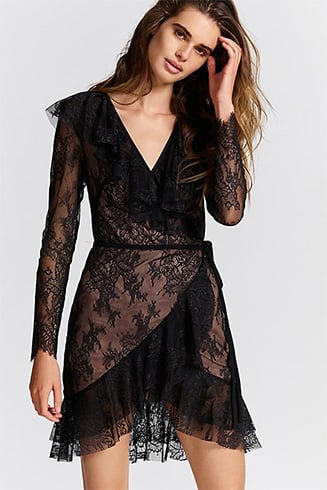 This sheer lacy black dress is perfect for garden weddings. Wear it with a strappy stiletto and gorgeous gold jewelry.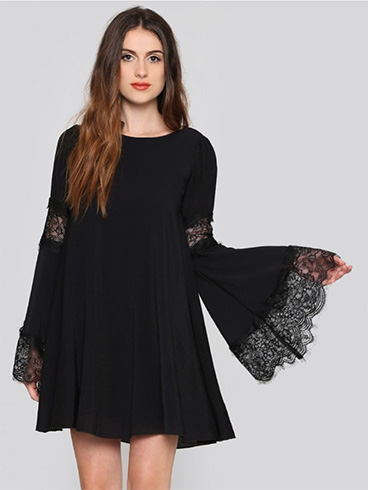 An eye-catching black dress with bell sleeves and hourglass bodice can perfectly highlight your fab figure at the garden wedding. Rock the look with a pair of gold danglers.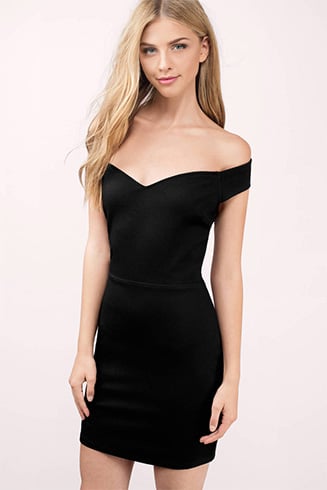 A cute black off-shoulder sweetheart dress can bring out a flirtatious vibe. Pull over a shawl if you are attending an outdoor reception.
Black dresses for Modern Weddings:
There is nothing more sophisticated than a modern wedding, and wearing a black dress for it spells perfection! And that does not mean you have to limit yourself to wearing long black dresses for weddings alone. Your black dress should be formal but deciding the length of the dress is up to your comfort.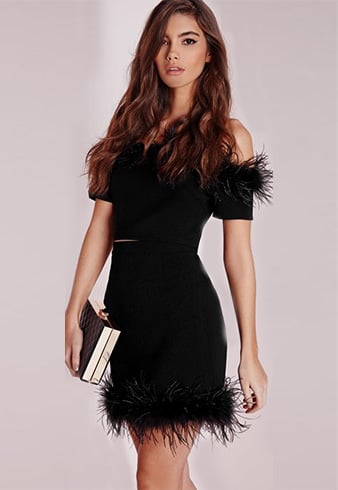 A feather trimmed mini-black dress is this season's favorite and very much appropriate for wedding occasions. Minimize the accessories to make your outfit hog all the limelight.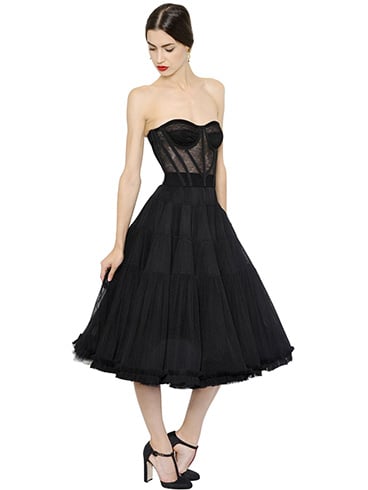 Go for the bustier tulle black wedding gown and stilettos to perfectly blend in with the modern wedding setup.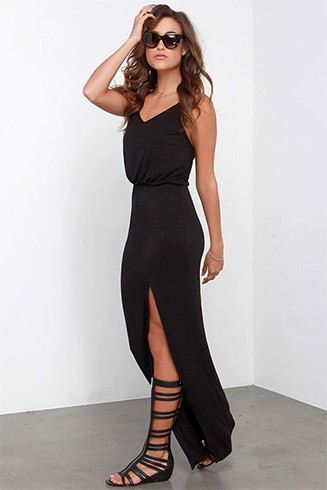 Skip the heels! A sensuous slinky black dress paired with gladiator sandals can be a great alternative outfit for a classy wedding.
Black dresses for Evening Wedding:
An evening wedding is a classy affair. In the riot of colors all around you, a black dress for a wedding can be a perfect style statement. Not only will it look refined but outstanding too! A cocktail dress, for example, can be an elegant choice!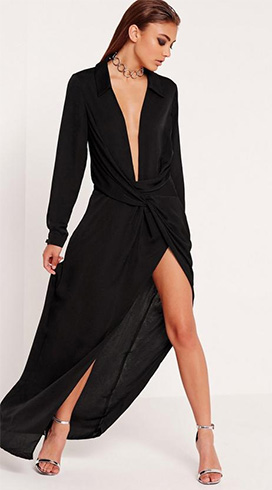 A long sheer black dress with heavy accessories can help you ooze some feminine charm while attending a wedding in the evenings.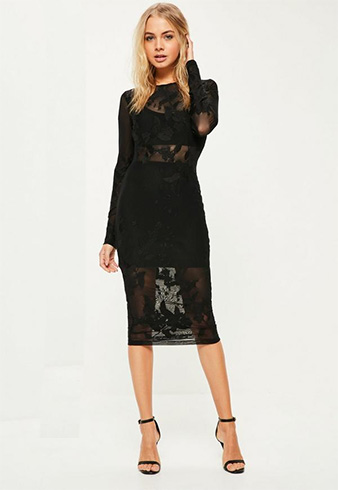 Not to forget a mesh midi dress to bring out your luxe style. Pair it with a pair of black heels and a box clutch to steal the bride's thunder!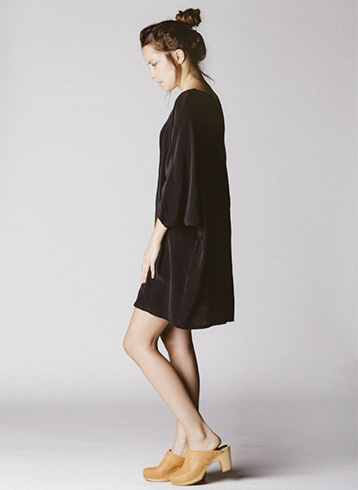 A simple black dress with an overlay paired with a vintage bag can also be appropriate for an evening wedding affair. Isn't it a great idea?
[sc:mediad]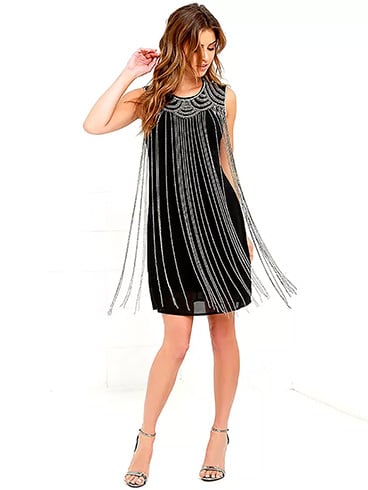 Say hello to retro fashion with this vintage swinger-style beaded fringe dress. You can make heads turn while swinging to music at your friend's wedding celebrations. You can pair your outfit with silver strappy sandals.
Black dresses for Beach Wedding
The first thing that pops into our mind when we think about dresses for beach weddings is bright feminine dresses with floral prints. But why follow the herd mentality? Be a trendsetter by wearing a black dress for the occasion. If you want to look dainty make sure your dress has ribbons, lace, frills et al.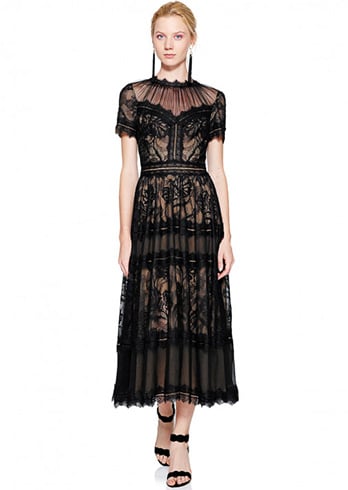 A tea-length black dress is perfect for the surf and sand. It will make you look like a total stunner at the beach wedding.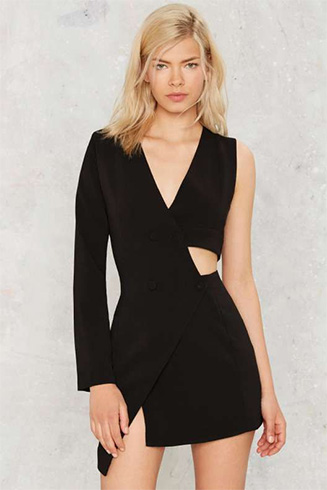 An intricate cut-out black lace dress can help you keep the temperatures soaring at the beach wedding!
A simple black dress is a classic style statement and you can never make a fashion faux pas sporting one!
Black dresses for Conservative Weddings:
When going for a wedding affair where the ceremony is held in a traditional setting, it will be more respectful to be on the conservative side with your ensemble. This can mean no skin tights and mini-dresses. You can also pull over a sweater or a coat over your dress, but not at the risk of ending up with a frumpy look. Here are few ways to pull off the perfect conservative look even while wearing a black dress at the wedding: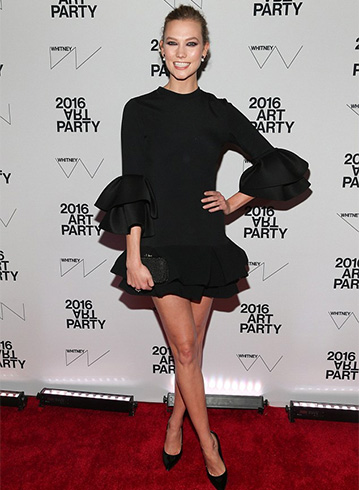 Allow your dress to do the talking. Match your statement coat or sweater with your LBD. This classic ballerina dress layered with pearly studs and black pumps can do the talking!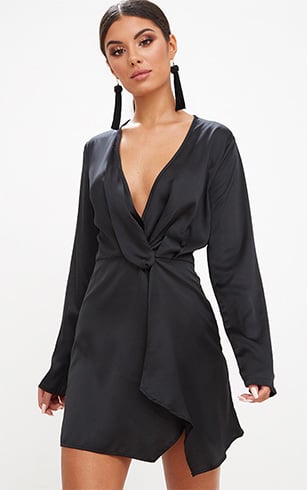 Another simple method to dress up your LBD is to pair a classic piece with the right accessories, shoes, and hairstyle. Go for a satin dress and a french bun to up your glam quotient.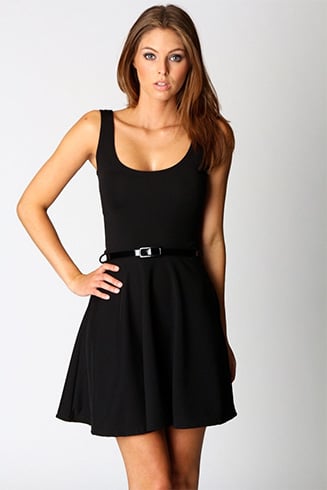 A sleeveless mini black dress with a belt and shimmery detail can transform the outfit from basic to ethereal. To keep it chic, pair the black dress with a glittering cuff, clutch, and heels and your look will have a timeless appeal.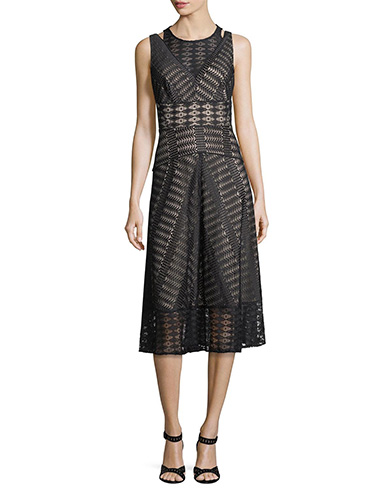 Classy and conservative, this A-line geometric black lacy number is perfect for a wedding attire. The lightweight fabric paired with stylish geometric earrings can amplify your bold style.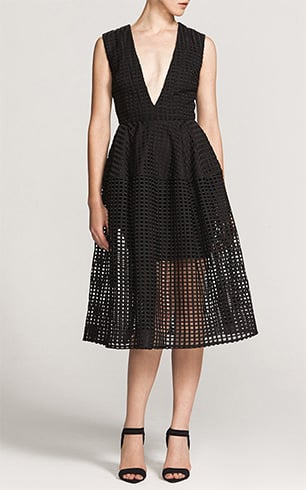 Try a window lace strapless ball dress to lean on the conservative side while attending a traditional wedding.
Black dresses for Country Club Weddings:
A country-club wedding spells fun and frolic. You can consider a dress with similar vibe bringing out the best of celebratory and traditional in you. If you are ready to sip on some wine and dance the night away, these black wedding dresses can be perfect for you.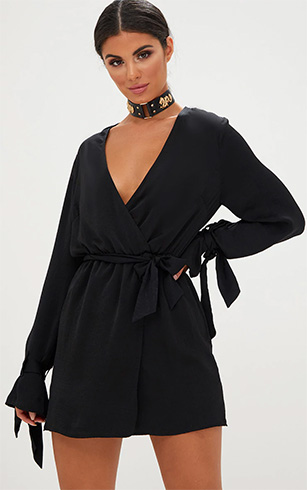 A strapless satin wrap-dress is a great choice for a country club wedding. Pick one that hugs you in the right places and let your hair down. A twisty front dress in a slinky material with some statement jewelry can define your look as minimalist and sensual.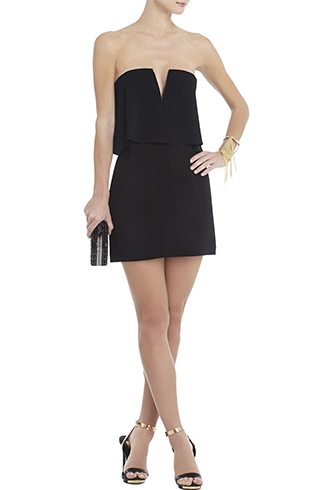 Another favorite is a crepe strapless black number. This is a popular choice for most country club weddings. The beautiful dress can be paired with suede shoes and embellished bracelets. A great choice for this type of themed weddings!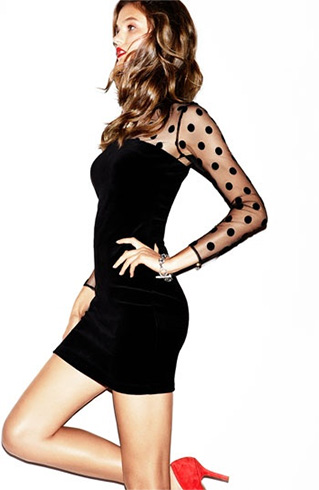 This sheer black dress is pretty and super hot!

Black dresses with floral embroidery are the toast of the season and appropriate for the occasion, too.
Now you know how to be a ramp scorcher even while attending weddings in your family. Well, you can thank us later!
So girls, would you wear a black dress to a wedding? Tell us which is your favorite outfit from the above list. We are waiting to hear from you.
Images Source: pinterest