It takes just a drop for the benefits to roll out. It's a skin superhero. Fortifies hair and scalp. Softens scar tissue. Helps relieve inflammation. And helps fight sore muscles and joint pain. It's not the most recent thing, but the most ancient one. See it as a folk remedy or the oil for everyday problems. Emu Oil – its unique in every way.
What is Emu Oil?
It is 'The Oil'!
Did you know, Emu oil was first used by the aborigines of Australia? It means this oil has been used for over thousands of years – as medicine, for colds and coughs, joint pain, for bad cholesterol, for dry skin, hair, you name it. Surprised, aren't you?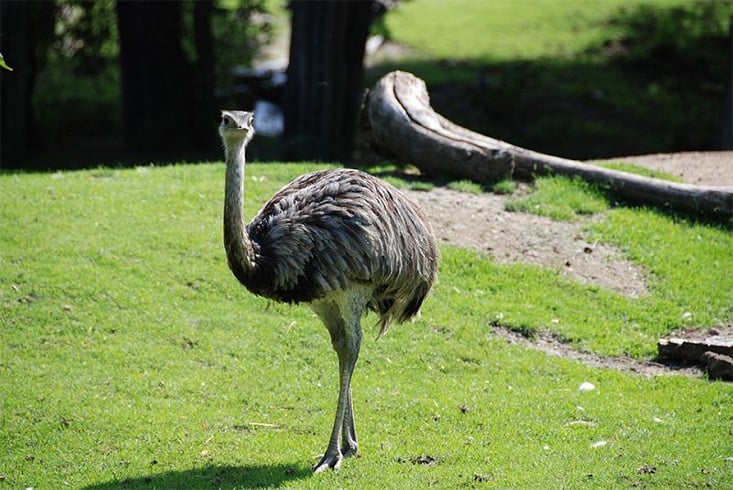 Where does Emu Oil come from?
This is very interesting to read and jot down.
Emu oil comes from the Emu bird (which is the 2nd largest bird, after its cousin – the ostrich). In fact, the oil is the adipose (tissue used for fat storage) found on the back of the birds underneath the skin and muscle. This fat is then rendered and refined to make it multi-purpose.
All vegetarians please pardon us as the benefits and uses of Emu oil outweigh the cons.
Healthy Compounds of Emu Oil?
Well, the therapeutic effects and plus points of emu oil come from unsaturated fatty acids in it (which account for 70% of its composition).
Emu oil is the combination of Omega-3, 6 and 9 fatty acids. This brings about its anti-inflammatory and other beneficial properties to the forefront.
This oil also has –
Oleic acid: It's a monounsaturated Omega-9 fatty acid which has been associated with decreased LDL cholesterol and increased HDL cholesterol. Helps fight wrinkles, blemishes and scars by rejuvenating the cells.
Linoleic acid: This is a polyunsaturated Omega 6 fatty acid which boosts skin health by reducing the appearance of sun spots (when applied topically). Also helps in bringing relief from muscular aches and joint pain associated with arthritis.
Linolenic acid: Meet this omega-3 fatty acid which reduces inflammation, and is used to prevent chronic diseases (like heart disease and arthritis).
Apart from these, Emu oil has Vitamin A (known antioxidant and an excellent tonic for the skin) and Sapogens (for anti-aging and skin applications).
Let's find out the 'skin' benefits of Emu Oil.
Benefits of Emu Oil for Skin:
1. Anti-Aging
Emu Oil has excellent moisturizing properties. As per studies done, usage of emu oil leads to marked reduction in age spots and wrinkles.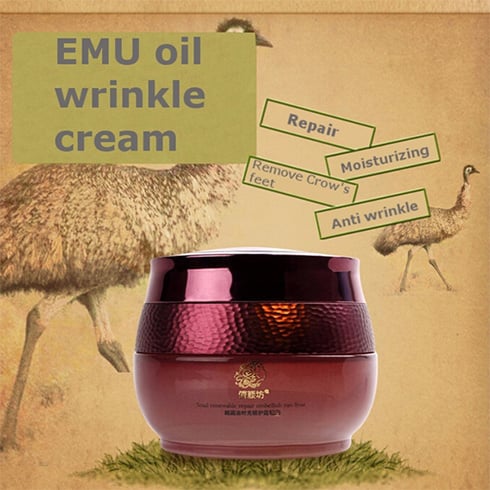 2. Anti-inflammatory
Emu oil has anti-inflammatory properties which are as effective as oral intake of Ibuprofen. The oil has the ability to decrease swelling and minimize aching.
3. Stretch Marks & Scars
Down with pregnancy stretch marks and scars? A massage of emu oil on the skin brings the much-needed relief.
4. Helps in Sun Damage
Emu oil is used to protect your skin from sun damage. It eases the effects of sunburn because of its anti-inflammatory properties.
5. Cuts & Scrapes
The good thing about Emu Oil is that helps bring relief from pain and inflammation of cuts and scrapes, without causing any stinging or burning sensation.
6. Burns
Whatever be the burn – even sunburn – emu oil is helpful for burns of all types.
7. Psoriasis & Eczema
Emu Oil is nothing short of a 'therapeutic' balm as it moisturizes the skin and reduces any skin issues such as redness, cracking, itching, peeling and scaling.
8. Gives Moisture to Skin
So moisturizing it is that emu oil smoothens rough elbows, dry heels; softens and moisturizes hands and cuticles; reduces the itchiness and flakiness caused in dry skin and protects your face and hands from rough wind and weather.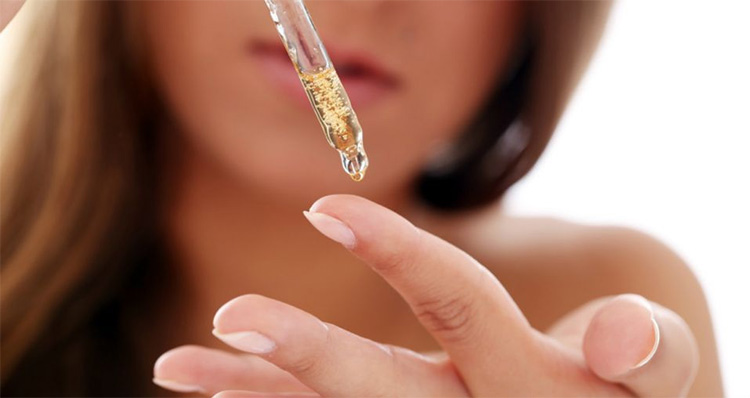 Now for the 'Hair' part:
Benefits of Emu Oil for Hair:
9. Shiny Hair
When you ditch your regular coconut or almond oil for emu oil, you will notice how walking around with natural healthy shine in hair is a cakewalk.
10. Split ends
'Fortifying' agent – this is what emu oil does for your hair. It helps in curing split ends which are the cause of lifelessness and damage of your hair.
11. Hair growth
Did you know emu oil is instrumental in stopping hair loss—even regrowing hair—in just 30 days?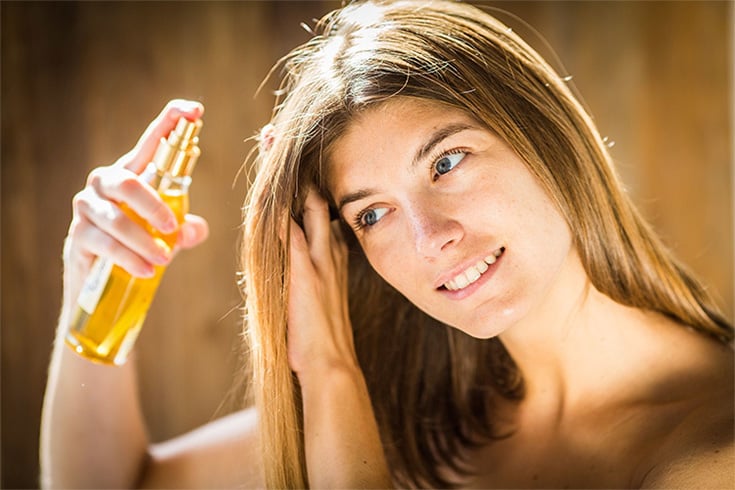 12. Nourishes the Scalp
Emu oil awakens every hair on the scalp by deep-nourishing it. This means that hair grows its optimum when emu oil products are used.
Here is why you should chose Emu oil to be healthy:
Benefits of Emu Oil for Health:
13. Increases energy levels
Try it out. You will know the importance of emu oil in boosting energy levels (and it defeats all energy drinks hollow).
14. Strengthens immune system
Emu oil has antioxidants, vitamins and essential fatty acids which help prevent and treat infections (when applied topically).
15. Alleviates Arthritis
Emu oil brings the comfort factor to individuals suffering from stiff muscles and joints. It also tackles inflammation and swelling of joints without causing any harmful side effects.
16. Chronic Injuries – Massage
Athletes and other sports enthusiasts are prone to muscle strains and sprains, and injured ligaments. Emu oil is good and effective as massage oil in their training rooms.
[sc:mediad]
17. Lowers Cholesterol
Emu oil has healthy fatty acids which have cholesterol-lowering effects on the body.
In fact, emu oil has linoleic acid which is of major help in fat loss, and can have a positive effect on cholesterol levels too.
18. Improves liver, kidney, and gland function
Emu oil intake enhances the functioning of essential organs in the body such as liver, kidney and glands.
19. Reduces Constipation
Morning woes in senior citizens as far as bowel movements go is quite a challenge. No worries! Oral consumption and external application of Emu brings relief from constipation.
20. Improves vision
Yeah, daily strains on eyes can occur due to dust, pollution and work pressure. Emu oil application helps you experience relief.
21. Decreases weight issues
Emu oil (when taken orally in small quantities) may be used for weight loss considering the high content of monounsaturated and polyunsaturated fatty acids in it.
22. Increases lung function
Nature is itself a big remedy when it comes to treating minor to major ailments like lung functions. Emu oil does full justice to it.
23. Improves digestive system
Emu oil benefits the gastrointestinal system by giving partial protection against the painful inflammation and ulcers in the mucous membranes lining the digestive tract. It also soothes gut ulcers and inflammation (which are side effects of chemotherapy)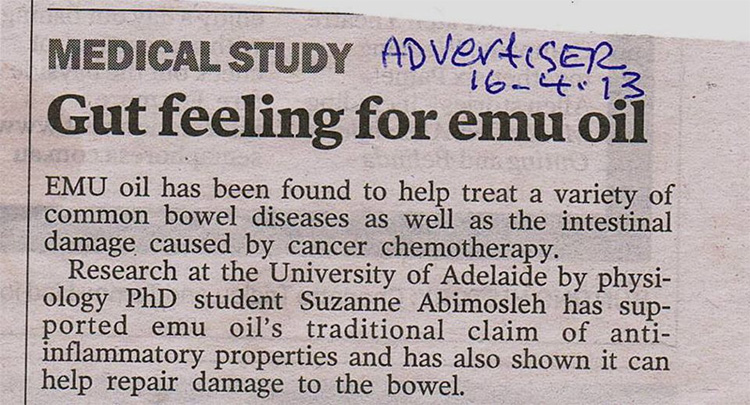 24. Improves nerve function
Nerves are extremely sensitive in smooth functioning of our body. Emu oil improves the functioning of nerves.
25. Promotes Healthy Nails
Once again, the antioxidants in emu oil score major points as they promote healthy nails and hair.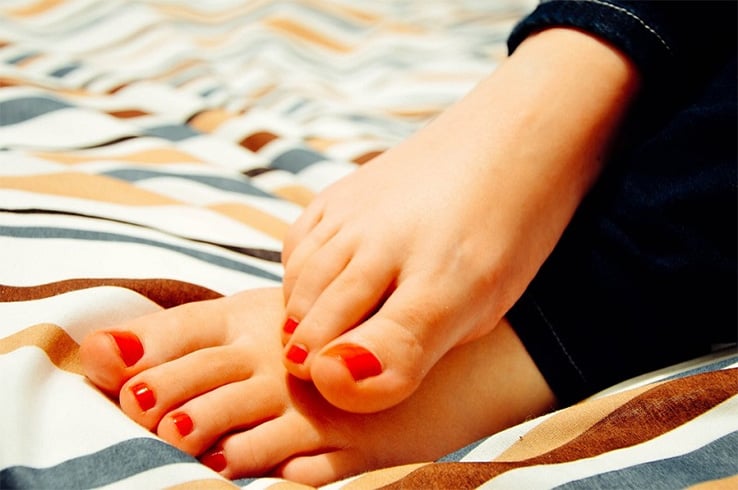 26. Relieves Pain from Breast-Feeding
Emu oil when applied topically brings relief from dry, painful, and cracked nipples, experienced by mothers who have just begun breast-feeding.
Ever wondered how to use emu oil in the first place? We find out.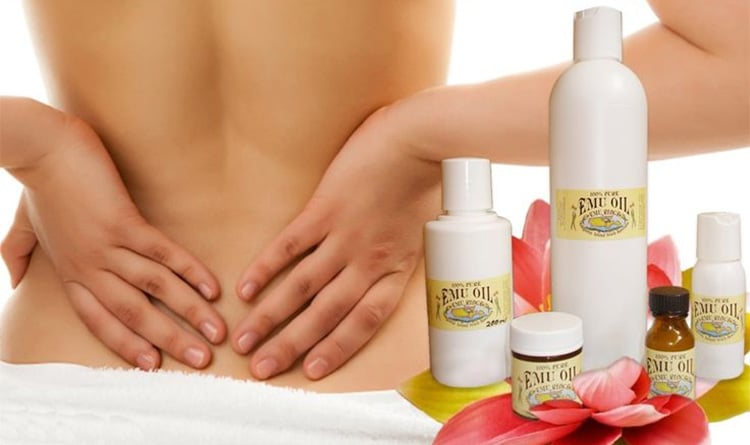 How to Add Emu Oil in your Daily Beauty and Health Routine
It's got ENDLESS possibilities!
Topical use of Emu oil is actually the best way to get the most out of it. It is light and gets absorbed in the skin very fast. This is one reason why most people use emu oil for chronic diseases like eczema, psoriasis and dermatitis.
To get relief from arthritis, apply emu oil on the skin after mixing it with eucalyptus.
Eating this oil might help you combat other diseases of inflamed gut.
Suffering from flu? Apply emu oil inside the nose to reduce the swelling and relieve symptoms
It's a great hydrating moisturiser to treat chapped skin.
Your everyday 'first aid' it is. Why but? Because it heals scars, burns, and skin irritation easily.
Massage this oil into skin on your face and hair, by adding it to your daily moisturiser or conditioner and you are good to go.
Before you step out into the sun, use emu oil to soothe any skin irritation or sun damage.
Side Effects
Being hypoallergenic, emu oil neither clogs pores nor irritates the skin. But if you have a sensitive skin, then apply just a small amount of it first (just to be sure your skin doesn't throw up an allergic reaction).
By the way, Emu oil is also safe for internal use, since it has beneficial vitamins and essential fatty acids. In fact, studies show that adverse effects of emu oil are uncommon.
So, take a deep breath as you are on the safe side with emu oil.
Tips
Apart from applying it topically, you can also take emu oil as a supplement to support heart and vascular health. Just look for a supplement made from 100% pure emu oil.
Ever tried emu oil or hearing it for the first time? What did you use it for? Share your experiences in the comments below.