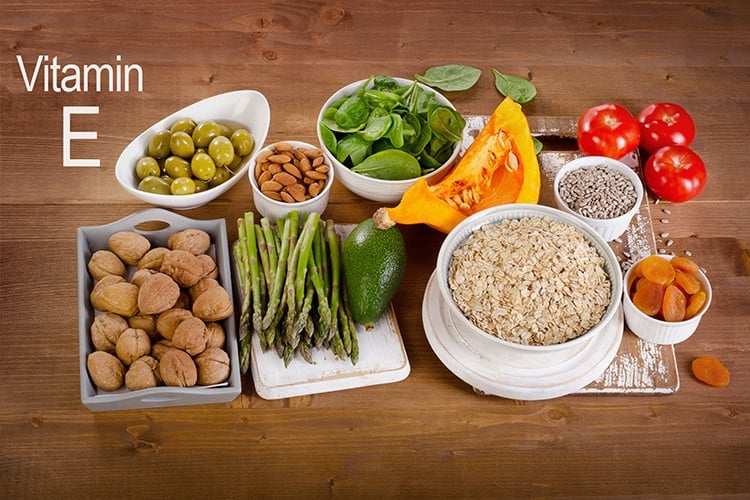 Who does not yearn for supple and flawless skin glowing with health? We all want it, but only a few of us are blessed with it. As the year's progress, our natural glow gives in; stress and pollution lead to the formation of wrinkles, spots, and hyperpigmentation. The skin tends to lose its natural shine and grows dry, and every time we look into the mirror we are reminded of the beauty that is now on the depreciation.
But we can actually slow down the aging of our skin by introducing some healthy habits to our life and diet. One of them being consumption of Vitamin E.
What Is Vitamin E?
Vitamin E, you must know by now, is a fat-soluble antioxidant. It is a major food component that can be derived from natural food like grains, seeds, fruits and vegetables or can be taken in form of tablets.
What Are Vitamin E Benefits?
There are many benefits, but the most widely known benefit of Vitamin E is the protection it provides against toxins present in the polluted air.
Vitamin E also prevents the clotting of blood platelets.
A healthy amount of Vitamin E intake will reduce the chances of coronary artery disorder, other heart diseases, and sun stroke.
It aids in alleviating fatigue and strengthens capillary walls and nourishes cells.
Vitamin E is known for its healing properties and that is one reason it is widely used as a skin and hair benefactor. The exact reason why we recommend it to you as we talk about skin care today.
[Also Read: Healthy Chinese Food ]
List Of Food With Vitamin E
Nature's bounty has offered us with umpteen sources of Vitamin E and we are going to discuss all these, well, most of these with you today.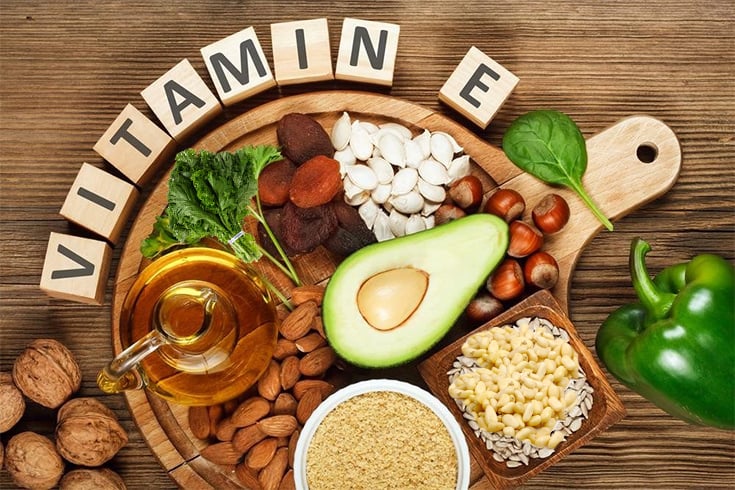 1. Almonds
Not only does this delicious dry fruit make an interesting company with your regular cereal, kheer, and night milk, with its rich supply of healthy fats, protein, fiber, magnesium, and over 70% of vitamin E constituents, Almonds help to maintain lower blood sugar levels, cholesterol level and reduces blood pressure.
Benefits for Skin (When taken in moderation)
The nut help the skin fight damaging UV rays.
They also improve complexion.
Almond milk acts toward hydrating the skin and soften it.
Benefits for Hair
Along with magnesium, the dry fruit is a rich source of Vitamin D too. Deficiency of magnesium in the body leads to hair fall.
Almond, when consumed orally or applied as oil on hair, keeps the scalp moisturized.
Improves the quality of hair
2. Wheat germ
The name may sound a little off-beat, but let us explain. The embryo of the seed, Wheat germ is the reproductive part that is germinated and then grows into a plant. Wheat germ is often a by-product of mining, a lot like barn. But its benefits are in many.
Percentage of Vitamin E in Almonds: Wheat germ contains 4.53 mg of vitamin E per 1 oz. Wheat germ oil provides even more vitamin E per serving, with just 1 tbsp. containing 20.3 mg. One tablespoon of wheat germ oil provides more than the recommended daily allowance of 15 mg of vitamin E.
Benefits for Skin
Regular usage of wheat germ provides your skin with a natural glow.
Many skin problems like eczema, dry skin; psoriasis gets treated by applying wheat germ oil.
The topical application loads your skin with Vitamin E that in turn helps soothing and repairs it while promoting skin cell formation.
Benefits for Hair
It contains an array of vitamins, in addition to Vitamin E.
The oil easily gets absorbed by the hair roots benefiting it with all the nutrients, thus keeping the hair shiny and healthy.
It aids in fast hair growth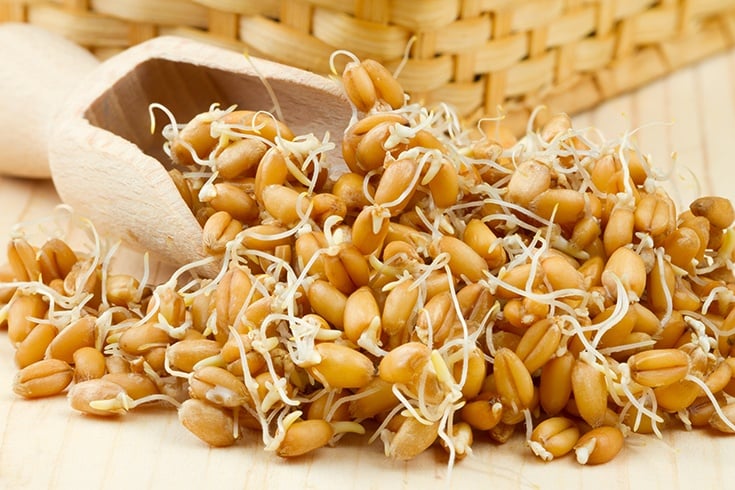 3. Sunflower seeds
We don't need to spend a lot of time here explaining that this is the seed of sunflower, but what we must understand is that it makes the list of top 10 foods rich in Vitamin E; copper being the next component along with phosphorus, thiamine, and selenium among others. Sunflower seeds are also a very healthy source of specific fatty acids.
Percentage of Vitamin E in sunflower seeds: One cup of dried sunflower seeds provides us with a whopping 15.3 milligrams of vitamin E.
Benefits for Skin
Sunflower seeds contain copper which is utilized by our body to produce melanin; this pigment is responsible for giving our skin its color.
Also, the tiny particles of this protein pigment save our skin from the damage caused by ultraviolet radiation.
The Vitamin E in sunflower seed oil also protects the skin from oxidative damage and support vigorous skin growth.
Benefits for Hair
Sunflower seeds are enriched with natural goodness that is a must for hair growth.
You may munch on a handful of sunflower seeds every day so it keeps your hair lustrous.
Regular consumption will gradually show a decrease in split ends of hair.
4. Palm Oil
This is basically a vegetable oil derived from the palm fruit, mainly primarily the African oil palm Elaeis guineensis. It's interesting to note that it has an extensive usage in our regular lives and we find it almost in everything. Not only can we consume it orally, but Palm oil is used in cosmetics, fuels and even cleaning products.
Percentage of Vitamin E in palm oil: The distribution of vitamin E in palm oil is 30% tocopherols and 70% tocotrienols.
Benefits for Skin
Its rich natural elements can heal sunburn, fade out stretch marks, and moisturize skin deeply.
Those who suffer from dry skin conditions or have an excessively sensitive skin can certainly opt for palm oil.
Benefits for Hair
The carotenoids present in palm oil restores the basic properties of hair.
Vitamin A added with E is absorbed by the scalp promptly and adds the much-needed shine to lifeless and dull hair.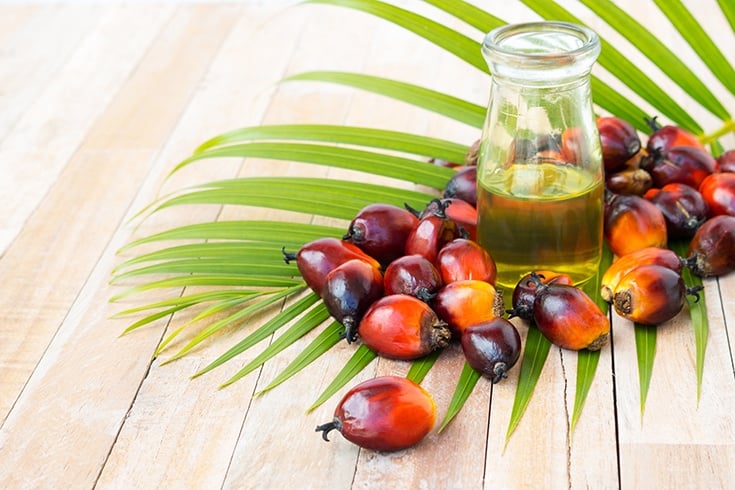 5. Olive oil
The oil extracted from little green fruits is rich in mono-saturated fats that lowers the risk of heart diseases, it also benefits insulin level and helps control blood sugar. A good quality Olive oil will also be loaded with many vitamins including E, that boosts the well-being of hair and skin.
Percentage of Vitamin E in olive oil: Each tablespoon of olive oil provides 1.94 milligrams of vitamin E.
Benefits for Skin
It is a general beauty booster that moisturizes deeply and scrubs out dead skin particles when added to exfoliators.
It ensures that the pores don't get clogged and you find your skin radiating health.
Benefits for Hair
Massaging hair with olive oil once or twice every week will clean out flakes and limit its formation.
When absorbed into the roots, olive oil encourages fast hair growth.
[sc:mediad]
6. Mustard Greens
Not only does the herb have high content of proteins but is rich in antioxidants that detoxify your blood and liver too. It is packed with Phytonutrients and is high in fiber. Also doubles as a better source of bone-building vitamin B and immune-boosting vitamin C.
Percentage of Vitamin E in Mustard Greens: One cup (140 grams) of cooked mustard greens contains 17% of Vitamin E in them.
Benefits for Skin
Mustard green protects skin by building collagen in the skin with its high levels of vitamin C
Also prevents skin cancer and foster cell growth.
Benefit for Hair
The presence of significant amount of vitamin E in mustard greens is excellent in taking care of hair too. It makes your strands healthy from the roots and provides it with renewed luster.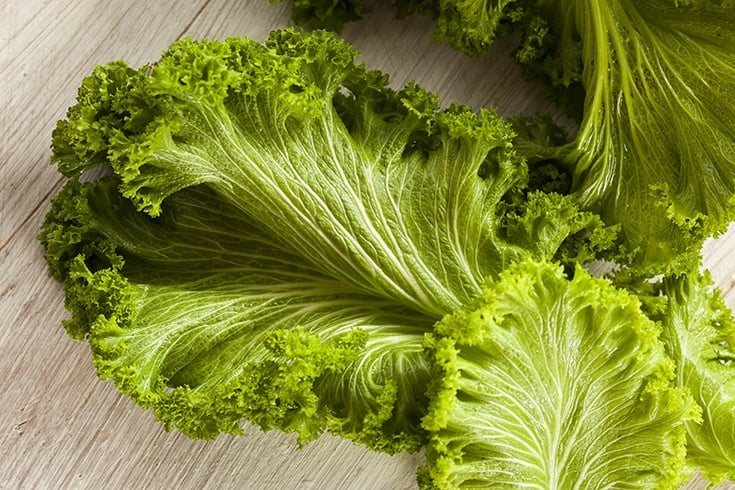 7. Hazelnuts
These, just like almonds, are one of the greatest sources of Vitamin E. Include hazelnut in your diet and be sure to get healthy skin, hair, and nails. Its high mineral content, like calcium, potassium, and magnesium has many health benefits, the major one being regulation of blood pressure.
Percentage of Vitamin E in Hazelnuts: 1-ounce snack portion of hazelnuts provides 4.2 milligrams of vitamin E, or 20 percent of your daily value, making this nut very high in vitamins.
Benefits for Skin
Hazelnuts delays aging signs on skin.
Your skin will stay hydrated and protected from harmful UV rays
You will also notice a gradual reduction in acne.
Benefits for Hair
If you have colored your hair recently you know that you have stripped it off many nutrients, eat hazelnut daily to restore the lost luster.
It will also endow your hair strands with an attractive brownish hue.
Hazel nut oil acts as a great conditioner and treats dry scalp conditions.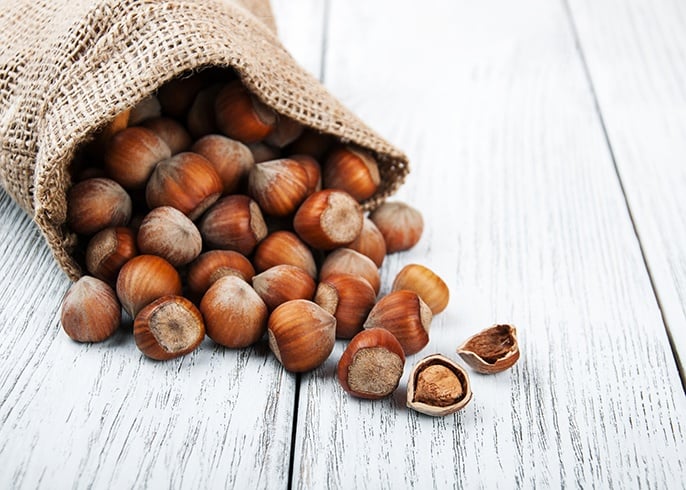 8. Pine Nuts
Another known source of fatty acids, Pine nuts contains many energy boosting nutrients. This includes iron, monounsaturated fat, and protein. It has substantial amount magnesium that helps fight fatigue.
Percentage of Vitamin E in Pine Nuts: Nuts are usually a good source of Vitamin E, and pine nuts have 63% of Vitamin E in them for one cup of nuts.
Benefits for Skin
It's an amazing quick snack item that delays skin aging, and nourishes it from within.
The anti-inflammatory properties present are a blessing for super sensitive skin, not to mention its deep moisturizing properties.
Benefits for Hair
It prevents bacterial growth on the scalp and boosts the overall health of hair keeping it well-conditioned.
Regular consumption will speed up hair growth.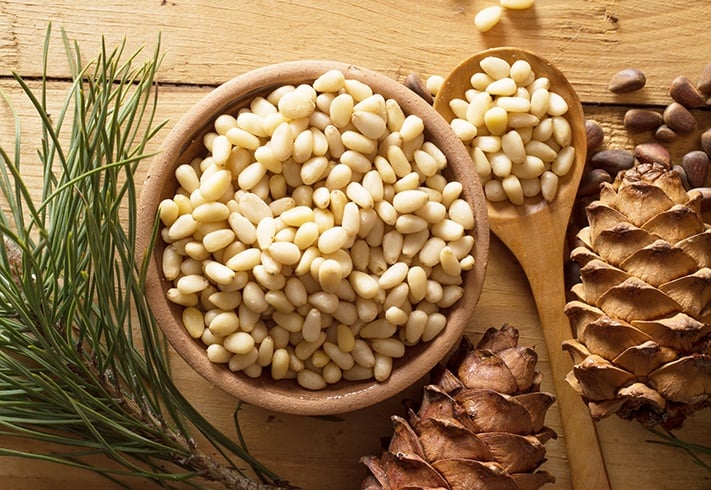 We know vegetables are not the food item most of you love to eat, but if you know the beauty benefits of these vegetables you will consider committing a felony to eat a bowl full of these greens.
List Of Vegetables High In Vitamin E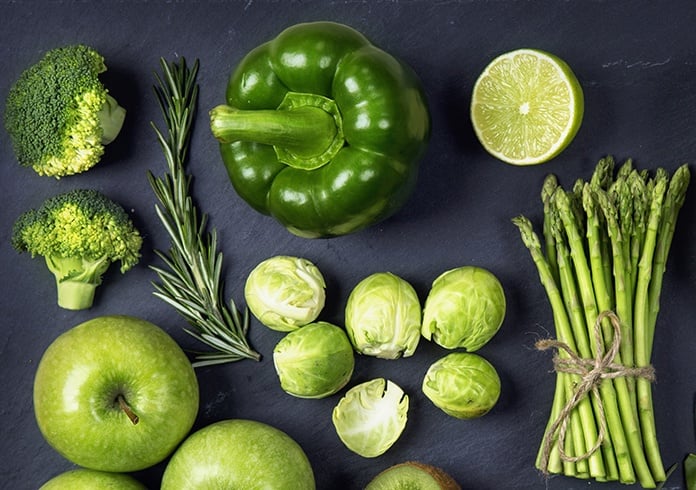 1. Spinach (Cooked)
The leafy vegetable is low in fat content and even lower in cholesterol. It has a healthy extent of niacin and zinc and is rich in fiber, protein, thiamin, calcium, magnesium, copper, potassium, phosphorus, and vitamins A, C, E, and K.
Percentage of Vitamin E in Spinach: A healthy green, as it's called, spinach has about 3% of Vitamin E. Even 1 cup of spinach hardly is 30grams which is comparatively less.
Benefits for Skin
Spinach aids your bowl system and reduces acne formation.
It takes out impurities from the skin leaving an enhanced complexion endowing your skin with a shield from UV rays.
Benefits for Hair
The superfood is comprised of multivitamins and essential minerals that are a must for fast hair growth.
As mentioned, spinach is a good source of iron, the deficiency of which can cause hair loss.
2. Swiss Chard
Don't worry if the name doesn't ring a bell, for most people know the vegetable as perpetual spinach, silverbeet, spinach beet, mangold or crab beet. A bowl full of cooked Swiss chard would provide you with 716% of vitamin K needs, 53% of vitamin C, 214% of vitamin A, 29% of manganese, 38% of magnesium, and 17% of vitamin E.
Percentage of Vitamin E in Swiss Chard: Swiss chard when boiled just enough to fit into one cup, it contains 22% of Vitamin E.
Benefit for Skin
It makes the skin supple and flexible inducing it with clear radiance. It does away with impurities that lead to dullness in skin.
Benefits for Hair
Swiss chard has a lot of biotins, the kind of vitamin that promotes hair growth and strengthens it from the roots.
The vitamins A and C present in the leafy veggie assist the hair follicles in producing more sebum that keeps your hair skin bouncy.
3. Turnip Greens
I am sure I won't be wrong if I say Turnips are world's healthiest food. The veggie is well known for being effective in cancer prevention, and its high content of every possible vitamin known to mankind.
Percentage of Vitamin E in Turnip Greens: A serving cup of turnip greens provides 18% of Vitamin E for consumption.
Benefit for Skin
Rich in vitamin A and C, along with E, Turnips, or as we call them in India, Shalgam also have a considerable amount of copper and beta-carotene. It improves our complexion and helps our skin maintain a healthy radiance.
Benefits for Hair
Regular intake of this vegetable improves the color of hair. The copper in Shalgam produces Melanin that gives the hair a rich color.
The presence of rich antioxidants like vitamins C and E, lutein beta-carotene, and zeaxanthin looks after the overall health of hair.
4. Collards
Collard greens supply a decent dose of fiber, protein, iron and calcium in addition to vitamin E. The leafy green vegetables have an impressive quantity of other essential vitamins and minerals also, and when met with the right recipe, collard greens can be delicious in addition to being nutritious.
Percentage of Vitamin E in Collards: Collards are an excellent source of vitamins, although they are a little moderate on the Vitamin E side, containing just 11% of it in one cup collards.
Benefits for Skin
Consumption of collards helps skin fight aging, wrinkles and reduces dullness.
Freckles and dark spots will also gradually fade out, leaving you with a clear complexion with revived elasticity.
Benefit for Hair
Loaded with Vitamin E, iron and fiber that assist in hair growth, collards provide strength to the hair shaft to fight wear and tear and reduce split end formation, giving you a head full of thick silky hair.
5. Kale
This low-calorie leafy veggie has high fiber content and absolutely no fat. A cup of kale has about 36 calories added to 5 grams of fiber. It is great for boosting digestion and improves bowel system. The many nutrients like folate, vitamins, magnesium present in its leafs look after our overall wellbeing
Percentage of Vitamin E in Kale: Raw Kale almost has no sort of Vitamin E present in it. Being close to zero on the Vitamin E side, definitely not a choice for Vitamin E deficient bodies.
Benefit for Skin
With loads of antioxidants that reduce wrinkles, slows down the aging process and prevents the prevention of free radical cells damaging your skin.
Benefit for Hair
The problem of hair breakage is easily solved and hair elasticity is maintained by regular intake of Kale.
Hair grows thicker, shinier, and longer at a faster rate, and the scalp remains moisturized cutting off chances of flakes if you eat Kale regularly.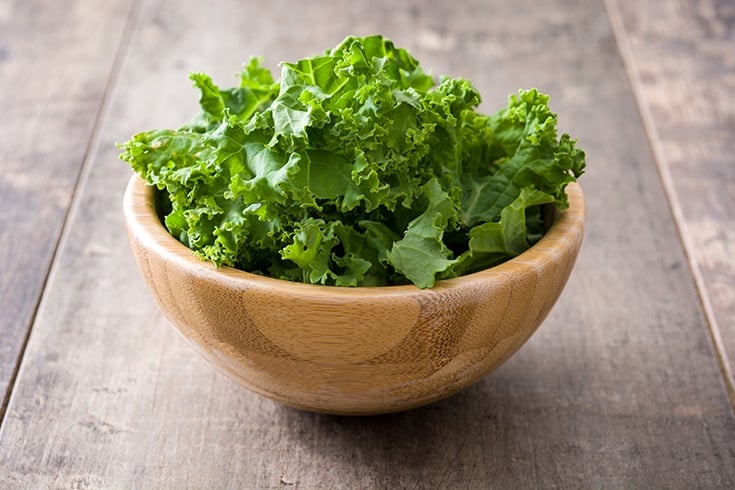 6. Asparagus
Asparagus is a recognized source of folate, fiber, vitamins A, C, E and K. It also has a considerable amount of chromium, a mineral that improves insulin to transport glucose from our bloodstream into cells.
Percentage of Vitamin E in Asparagus : 180 grams of cooked Asparagus which constitutes of one cup contains around 18% of Vitamin E.
Benefit for Skin
The green vegetable works greatly in treating acne, cleanses the skin, dries out the sores if applied directly. Eating it helps too.
Benefit for Hair
Asparagus consumption will reduce hair fall like magic.
7. Broccoli
The green vegetable a great source of pantothenic acid, dietary fiber, vitamin B6, manganese, vitamin E, vitamin B1, phosphorus, choline vitamin A, copper, and potassium.
Percentage of Vitamin E in Broccoli: 4% of Vitamin E is present in 1 cup of Broccoli.
Benefit for Skin – Broccoli is beneficial to skin in many ways, the Vitamin C in it stimulates collagen production and shields the skin membrane from UV rays.
Benefit for Hair – With its essential vital nutrients like Vitamin A, vitamin B5, vitamin B12, Vitamin C, niacin, and sulfur Broccoli strengthens the hair root, promotes hair growth, makes hair smooth and eliminates hair fizz.
8. Sweet potato
These are an amazing source of vitamin A, vitamin B6, vitamin B1, vitamin B2 and vitamin C. Additionally, you will also find minerals like copper, manganese, potassium, niacin, and phosphorus.
Percentage of Vitamin E in Sweet Potato: Sweet Potatoes are low in sodium and cholesterol. While the Vitamin E content in it stands at 7% for 1 cup of sweet potatoes.
Benefits for Skin
Boiled potato is packed with nutrients that improve skin's texture and clears complexion.
The water you boiled the sweet potatoes in can be used to wash your face and it will deep cleanse your pores and soothe irritation.
Benefits for Hair
Sweet potatoes offer shine to hair and treats dryness due to climatic changes.
It promotes hair growth and brings lifeless hair to life.
9. Tomatoes
This delicious vegetable has a number of nutrients and vitamins, that can be listed as vitamin A, vitamin C, and vitamin K, and Vitamin E added to all the folate and thiamin.
Percentage of Vitamin E in Tomatoes: Being high in calories that come mainly from the sugars present in tomatoes, they have 4% of Vitamin E in them.
Benefit for Skin
It delays aging of the skin and acts as a natural sunscreen.
Interestingly tomato juice is a perfect astringent too.
Benefit for Hair
With its loads of vitamins, tomato juice, when eaten or applied to dull hair, brings back luster and removes dandruff.
These were nine veggies with the maximum amount of Vitamin E. Now let's talk about fruits with vitamin E.
List Of Fruits High In Vitamin E
1. Avocado
Also known as butter fruit, avocado is the only fruit with a substantial amount of healthy monounsaturated fatty acids. Avocado is a nutrient-dense fruit and contains nearly 20 vitamins, a lot of vitamin E along with loads of minerals.
Benefits for Skin
The fruit is a storehouse for skin benefiting nutrients. It moisturizes your skin and gives you a natural shine.
The unreal amount of antioxidants treat wrinkles and prevents their formation.
Benefits for Hair
Just like skin, avocado keeps your scalp moisturized too
It soothes irritation and promotes the growth of long, strong and healthy hair.
2. Kiwifruit
It is packed with vitamin C, vitamin K, and vitamin E along with potassium. A healthy amount of antioxidants and fiber are also present in it. Goes without mentioning that it is one of the most delicious fruits on the planet.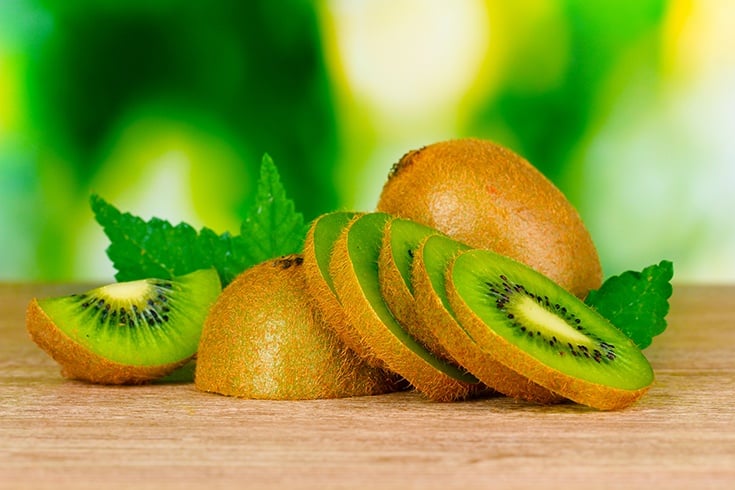 Benefit for Skin
Kiwifruit is a rich source of vitamin E, an important antioxidant that helps you achieve radiant skin and fights the formation of free radicals that dulls the appearance of it.
Benefit for hair
Minerals like phosphorus, magnesium, and zinc in Kiwi add with its large proportions of Vitamin E stimulates blood circulation leading to accelerated hair growth.
[Also Read: Kiwi Benefits For Skin]
3. Blackberries
Blackberries are rich in Vitamin E, A and C. The black delicious fruit also provides the highest amount of antioxidants that work wonders for the betterment of your overall health.
Benefits for Skin
Given that the fruit is so highly rich in Vitamin A, C and E the consumption it is only natural and expected it will get your skin glowing and brighten your complexion.
Benefit for Hair
High antioxidant component keeps the health of the hair in place. It facilitates hair growth and prevents premature graying.
4. Mangoes
This yummilicious fruit is what we swear by in the summers, but you would be glad to know that it has many gifts for your hair and skin. Point to note, the antioxidant compounds in the fruit can prevent cancer to a greater extent.
Benefit for Skin
Available in bounty during summers, mango protects the skin from photochemical reactions, prevents skin cancer and protects from the damage caused by UV rays.
Benefit for Hair
Hair is happy when you devour a mango for it promotes collagen formation
Keeps the scalp nourished and treats dandruff.
5. Peaches
Not only are peaches an amazing source of Vitamin E, they are rich in copper, Zinc, phosphorous and many other minerals that benefit the body completely.
Benefits for skin
Eat loads of peach for peach-like complexion for the copper present in it enriches complexion
Vitamin E and C content will make the skin glow with health.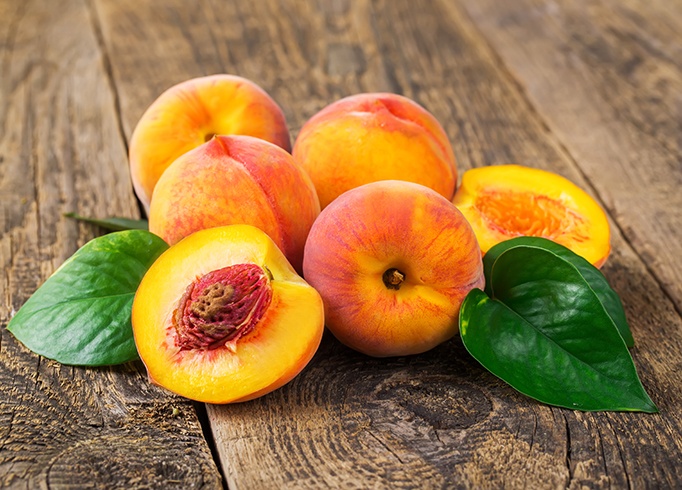 Benefits for Hair
With its antioxidants, peaches will certainly make your hair silky
It protects your scalp from any bacterial formation.
6. Apricots
Not only Vitamin E but Apricots are a great source of dietary fibers. It helps digestion by breaking down fatty acids faster.
Benefits for Skin
It moisturizes normal to oily skin perfectly
The juice of it can be applied on the face as a serum that rejuvenates tired skin.
Benefit for hair
The best gift of nature that can help us repair the damage that we do to our hair by chemically treating it – colors, straightening, perming. It is also a great snack that would treat a flaky scalp.
7. Raspberries
Not only are these pretty looking berries rich in vitamin E, but also have a higher concentration of ellagic acid that prevents cancer. They also have the below beauty benefits.
Benefits for Skin
Raspberry juice erases wrinkle like magic, and protects the skin from harmful sun's rays.
The juice, if applied directly to your skin, will repair sun tan.
Benefit for Hair
 Raspberries boats a large amount of folic acid that induces hair growth and makes it glossier.
8. Guavas
The sweet smelling fruit is a powerhouse of nutrients. The Extraordinary concentration of Vitamin C and E, beneficial antioxidants and lycopene makes it a perfect beauty fruit.
Benefits for Skin
By now you must have known that food items rich in copper will yield great results for your complexion, guava is one of them.
Also, the rich amount of vitamin E and C keep the skin hydrated.
Benefits for Hair
Eating guavas regularly will delay graying of hair.
Hydrated roots will hold the hair sturdily.
9. Papaya
Bounty with papain, antioxidants and vitamin A, B-complex, C, and E, papaya makes for the preferred breakfast food of celebrities. Let's see why:
Benefits for Skin
It brightens complexion and keeps skin well-hydrated.
Dark spots and pimples are also cured by regular consumption of papaya or by applying it topically.
Benefit for Hair
A papaya hair mask is the best hair mask you can gift to your manes. With every application, it will turn silkier.
10. Mulberries
Packed with essential nutrients, vitamins and minerals, this rare berry type helps prevent many diseases and cures a number of health issues.
Benefit for skin
For its unreal antioxidants, Mulberry has been deemed as the fruit for anti-aging, the ones that lead you to the youthful and wrinkle-free skin.
Benefits for hair
Hair fall count will reduce miraculously if you consume mulberry juice regularly.
It encourages new hair growth and the old ones are boosted with longer life.
Vitamin E can never be too much for the human body – or is that right? Well, as the old saying goes, too much of anything is bad.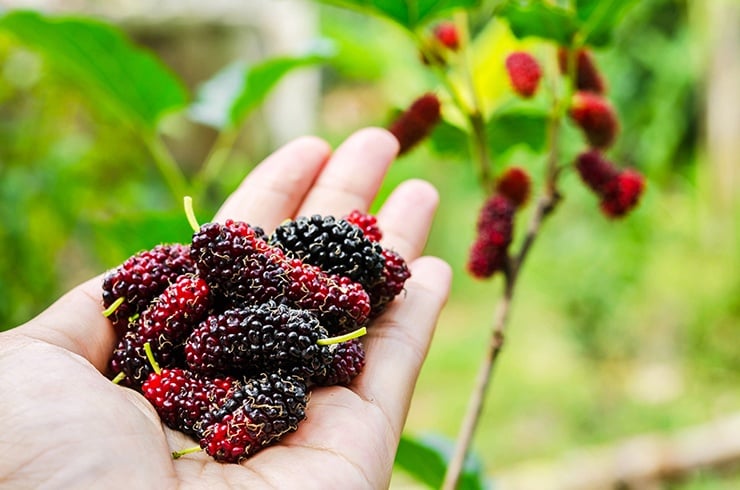 What Are The Side Effects Of Vitamin E?
Vitamin E, if consumed more than the need of your body, will cause dizziness, headache, and changes in vision.
You may also experience a light-headed feeling and overdose of vitamin E may lead to passing out too.
There have been observed cases of diarrhea and stomach cramps too if the intake of vitamin E is more than required.
We advise consulting your doctor if you feel any of the above. Stay healthy.