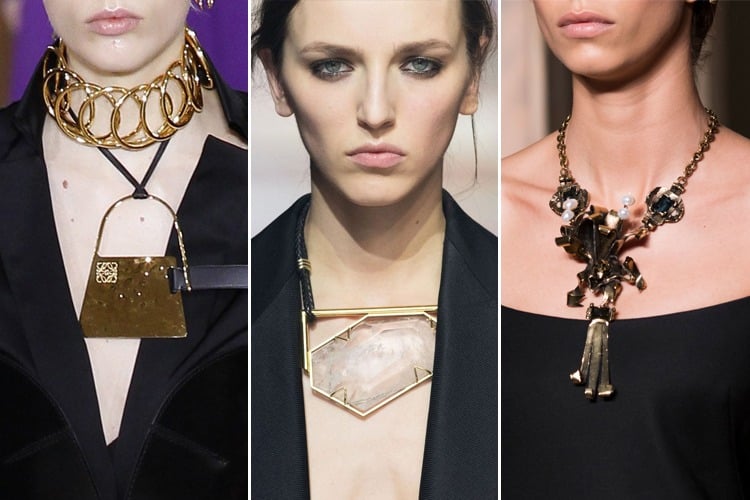 The runways across the globe have shown us newest trends in statement necklaces 2016. And they are an exciting lot to deal with as well. So believe us when we say, this year is going to be an ecstatic one with statement necklaces 2016 that can be worn almost everyday. It is a year where innovation and creativity got married and have pushed the limits of trends from 2015 to new heights.
[Also Read: Statement Necklaces with Sarees]
Can We Wear Statement Jewellery Any Day, Any Time?
The answer to this one is certainly YES. Runways can never be wrong, with fashion statements and certainly not when we talk of statement necklaces 2016 that too. The best of the best are showcase as avante garde items, and wont be off the hilt any time soon.
Be a little daring for everyday looks, because matching up your accessories with daily wear and office wear can be boring. And then there are weekends, outings, special occasions and events to attend, so why leave them bare and dry?
Statement Necklaces Are Haute And Back
Following social media fashionista hunter @StylingSpy aka Michael O'Connor we get to know the take he has on statement jewellery that has hit the 2016 horizon of trends. Michael has spoken about Leslie Mann's Irene Neuwirth wearing mixed gemstone chokers and also about the golden egg shaped Olivia Wilde's statement piece too. But let's take a look at what fashion jewelry trends 2016 has for us to wear everyday!
[Also Read: choker necklace]
The time is now to make a scintillating moment happen, and nothing does it better than the right statement pieces in a closet. When you can re-wear some of the statement styles with a twist from last year, why give them away is the question. You don't throw out the LBDs you own anytime soon, so the same would be with statement neckpieces that should be adorably kept, because you never know when you need to wear them all!
Drape The Neck With Pearls
Pearls are exotic and classy, and they would never leave the fashion trends at all. Never would they be boring too. From wedding to events, special occasions to an after work party as well, pearl statement neckpieces are special to own and wear for the classy feel to come through.
[Also Read: 7 Commandments To Wearing Statement Jewellery At Work]
If You Fancy A Vintage Touch
Royal and regal for sure, vintage statement neckpieces can in all seriousness make waves at work. We aren't asking you to wear heavy jewelry to work, but vintage minimal pieces can do some magic to impress employers and bosses around!
Choker Necklaces 2016 Has For You
Chokers were hits in the 90s and they are back in 2016, so yes, the new and improved chokers to wear this time were seen at the famous 'Ohne Titel runway show' as a 'detacher collection' in gold choker chains and with total simplicity.
[sc:mediad]
If You Want To Wear Beaded Neckpieces
No questioning if beads would make it till the end of the season or not, but Chanel says it would. So yes it would! Come winters and probably most high necked fashionistas would pair beaded statement and trendy jewelry, with polar necked tees, tops and sweaters.
Geometric Shapes
Geometric shapes aren't for the punk and funk minded alone, and going by the trends of charm necklaces, chunky necklaces and the lot, you'd see many fashionistas wearing them with street style clothing and more. This is surely a way to be edgy and OTT, but then that is what fashion is about, isn't it?
Do let us know which of the fashionable charm necklaces, chunky necklaces and statement neckpieces caught your fancy?