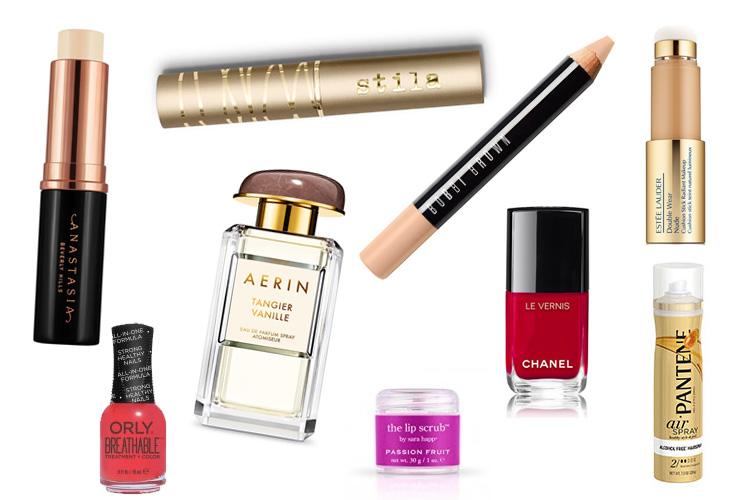 Finally, we have made to the last stretch of summer this year, which is good news. The best news is that despite a string of festivals, the beauty and cosmetic industry hasn't let us down. And the proof lies in the latest makeup products for this August which are not just pretty in looks and packaging, but they also make an awesome range of new beauty product launches and beauty products launching in August.
[Also Read: Must Try! Beauty Products Launched In July That You Are Going To Love]
So let's go scanning the August beauty launch and select the products quickly before we lose out on their happening status.
1. Chanel Le Vernis Nail Polish In Rouge Radical
Inspired by the French rouge shade, the Le Rouge collection of makeup and nail polish is truly glossy in nature. The red shade has found its extension into multiple shades of ruby lipsticks, pinot noir-hued eyeliner, burgundy eye shadow, and more. It's a true reflection of makeup launches 2016.
The glossy Chanel Le Vernis Nail Polish in Rouge Radical leaves a jelly-like stain on your feminine nails.
2. Bobbi Brown Retouching Face Pencil
Fight under eye-bags with Bobbi's August beauty launch that gets you a retouched yet natural look. This creamy-matte pencil covers up dark spots, lightens shadows, and neutralizes redness. Plus it is small and handy enough to toss it in your handbag, without worrying about any spills.
3. Pantene Hair Spray
It's the gold standard in hair styling. This August beauty launch gets you smooth finish that won't hold you down.
[Also Read: summer skin care products]
Being the latest breakthrough in hairspray, Pantene Hair Spray is light weight and alcohol free formula that feels healthy. Use it on dry styled hair to finish (lesser is better).
4. Stila Stay All Day MATTE'ificent Lipstick
This must-have velvety lipstick glides on your lips like a cream and gives a classic matte finish. Hydrating and lightweight, the color of Stila Stay All Day MATTE'ificent Lipstick lasts for hours and contains nourishing argan oil, castor oil and vitamin E.
5. The Lip Scrub by Sara Happ In Passion Fruit
Boldest and passion fruit-scented, this new beauty product launch leaves your lips super soft with its jojoba and grape seed oils. If only you could bite your lips and enjoy the juicy flavor!
6. Freeze 24-7 Intense Hydrating Face Mask
A face mask with coconut gel in it, the skin protector Freeze 24-7 Intense Hydrating Face Mask gives you maximum skin rejuvenation, purification and hydration. This skincare solution fights blotchy discolored skin, sweeps away impurities and gives you youthful skin fresh and fast.
[Also Read: Color Changing Makeup Products Are The Latest Fad]
7. Orly Breathable Treatment+Color
Welcome to the revolutionary lacquer from Orly that gets you a nail treatment, top coat, base coat and color in one bottle. Enjoy the 18 classic shades of Orly Breathable Treatment+Color. All you need to do is apply two coats for a bold look, and enjoy the love and stares.
This makeup launches 2016 with a blend of argan oil, vitamin B5 and vitamin C does away with the need for a base coat and a top coat thanks to the shine additives in it.
8. Estée Lauder Double Wear Nude Cushion Stick Radiant Makeup
This latest makeup products for this August is an innovative product which has liquid makeup and applicator rolled into one. It instantly hydrates and leaves skin with a radiant glow, comes in shades of all skin tones and is an all day 8-hour wear.
9. Aerin Tangier Vanille EDP
"From the palaces and gardens to the legendary bazaars, Tangier Vanille opens a secret door that leads you into the mystery and splendor of Morocco." – Aerin Lauder
This Oriental fragrance for women has top notes of vanilla, bergamot and rose; middle note of amber; base notes of sandalwood and musk.
10. Anastasia Beverly Hills Stick Foundation
All about makeup greatness, Anastasia Beverly Hills Stick Foundation provides great coverage. As the makeup launches 2016 to watch out for, it has the formula, coverage and longevity.
Hope you got carried away by some of these latest makeup products for this August. Don't feel shy to tell us the August beauty launch that your heart and mind is on.