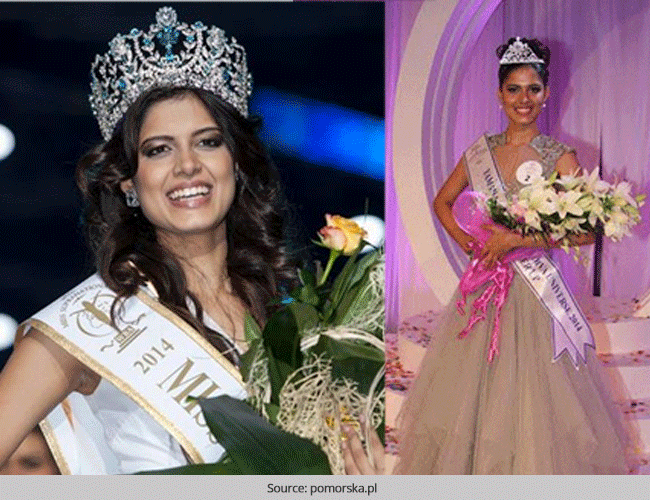 "Namaste India and to all the lovely people across the world !! I fold my hands and take a bow with immense gratitude to thank each & everyone who has helped me write the story of this beautiful journey of gifting my country its first Miss Supranational crown. This victory goes to every person who has an immense desire, dedication to make their country and family proud. To every family, friends who stand like pillars supporting each other's dreams. To all those who showered love, appreciation, kindness & encouraged me throughout the journey. To the entire team of Miss Diva, to all my mentors and trainers for guiding me. To Miss Supranational team for recognizing my abilities. Last but not the least to my Amma, Appa, Akka whose reflection I am today. Will arrive at amchi mumbai soon. Asha – at Istanbul Ataturk Airport (IST)."
-Asha Bhat
There have been many Indians who have been the first to accomplish in their chosen field – be it the field of technology, discovery, medicine, arts, sports, education, you name it. There has been one in the field of beauty pageants too. Remember Reita Faria who was the first Indian and Asian as well to win the coveted Miss World title in 1966.
History has done a repeat this time. Put your hands together to Miss Diva Supranational 2014, Asha Bhat who has not only made the city of Bangalore proud but also the whole country. Asha at the age of 22 is the first Indian to have won this glorious title, where contestants from 70 countries all over the world competed at the dazzling event held in Warsaw city of Poland on December 5, 2014. Asha was gratified with $25000 as prize money. She was also the recipient of Miss Talent title.
"I am ecstatic. It's an unbelievable feeling and I couldn't feel more proud. I am happy to have won this title for my country. Now, I am just waiting to come back to my country and meet my family and friends who supported me throughout my journey," she said in a statement.
Following were the runner ups in this grand beauty pageant – Fourth runner-up Miss Poland, Third runner-up Miss USA, Second runner-up Miss Gabon, and First runner-up Miss Thailand.
Costume Worn by Asha
Apart from language diction, poise, height, personality and looks, costumes play a major role in inching towards the top of a beauty pageant. Asha wore a stunningly beautiful gown designed by Gavin Miguel, when she was crowned by the outgoing Miss Supranational, Mutya Datul who hails from Philippines.
Few know that this title has been India's first Grand Slam title since the year 2000, when Mary Kom's leading Bollywood actress Priyanka Chopra won the Miss World crown.
Other Titles Competed by Asha
Confidence and Personality come in many proportions. That helped Asha immensely while competing for other sub-titles too such as Best National Costume, Miss Best Body, Miss Fashion Show, among others.
Performance wise, Asha completely rocked the audience and leading names in the fashion fraternity with her mind-blowing Bollywood fusion performance. Choreographed by Khush Numa Daruvalla, Asha danced to film songs 'Kajrare', 'Yaar Na Mila' and 'Dhol Baaje'.
Congratulations from Fashion Fraternity
Miss Universe 2000 and actress Lara Dutta wedded to ace tennis star Mahesh Bhupathi conveyed her heartfelt congratulations to Asha Bhat.
[sc:mediad]
Lara, who was instrumental in mentoring Asha and other contestants of Yamaha Fascino Miss Diva Universe 2014, could not contain her happiness on hearing the good news. In moments of ecstasy and happiness, she tweeted, "Congratulations Asha Bhatt!!! Congratulations my beauty!! You do me and your country proud!!! #MissDivaUniverse2014!!!"
Impressive Background
Asha Bhat is a complete reflection of 'Beauty with Brains'. This engineer-to-be lass has been a dancer and singer on the artistic front. An NCC Cadet, she was also the ambassador of India at SAARC 2009. Luck moulded her destiny by taking a new turn, taking her to the field of beauty and pageantry.
Here's wishing her more of the crowns in the future.