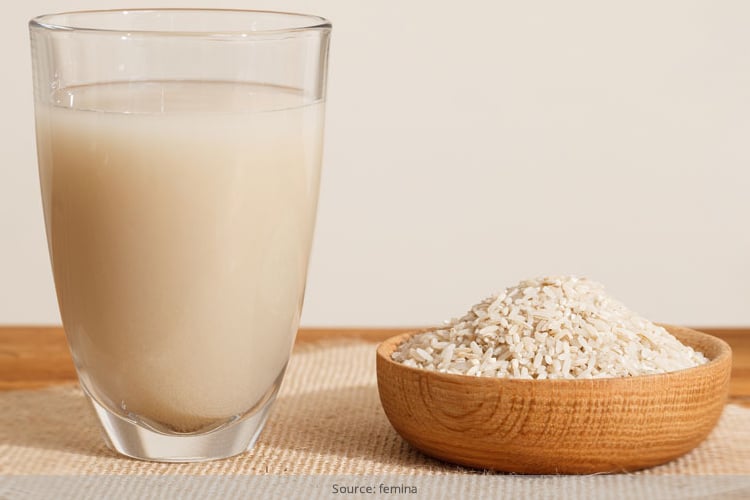 Mankind has come of age. Proof? There are up-gradations in travel, communication, education, IT services, and business. And when you talk of eating, guess what? The staple diet "rice" has moved on from 'eating' to 'beauty' platform. Sounds unbelievable, right? Rice Water for Skin and Hair is the new thing in the beauty radar, with only one condition – don't throw away the water in which you have cooked rice!
Methods Of Preparing Rice Water
Did you know, rice water has plenty of vitamins and minerals, which are superb for both skin and hair? Here are a few quick and easy recipes in order to prepare a batch of rice water:
Ingredients
Methods
1. Boiled rice water: Prepare rice the way you do normally (even when we are talking of using rice water concentrate as a "facial wash" or "hair rinse"). Once the rice has cooked, strain it out. The leftovers of the water will be white in color, and will have a high concentration of nutrients.
2. No-boil quick method: Start off by rinsing the rice with 1 cup water (in order to remove any impurities). Now place the rice in a bowl and cover it with water. After the rice has soaked for about 10-15 minutes, strain the rice water in a clean bowl. Bingo! Your rice water is ready to be used.
3. Fermented rice water: This is rice water "when left to ferment". Since fermentation lowers the pH of the rice water, it is better for washing or rinsing your hair than rinsing with "non-fermented" or plain rice water. Make plain rice water first. Then let it stay in room temperature for 24 hours or until it turns slightly sour. Your fermented rice water is ready.
[Also Read: Basil Seeds for Skin ]
Storage
Ah! This might sound tricky, but it is not. You can very well store the rice water in a fridge. And worry not! It will stay good for up to a week. But yes, do shake it well before using.
Let us now start off on the benefits of rice water. Ready?
Benefits Of Rice Water For Skin
Rice water has ferulic acid (a great antioxidant) and allantoin (anti-inflammatory properties). This makes it wonderful for skin.
1. Facial cleanser
All you need is a cotton ball to get the benefits of facial cleansing from rice water. Just dip the cotton ball in rice water. Then, massage it on your face for few minutes. Allow the air-drying of your face to happen. You will notice your skin feeling soft, radiant and tight.
You know, you can use this as part of your skin care routine on a daily basis.
2. Facial toner
Rice water as a toner is a great idea. Use the same technique of soaking a cotton ball in rice water and applying it to the face (once you are through with cleansing first). This helps reduce the appearance of pores and tightens skin. Rice water also promotes cell growth by stimulating blood flow, thereby keeps your skin smooth and bright.
3.  Acne healer
Treating acne might seem like a tall task, but there is rice water around to tackle it. It cools the redness that comes from acne outbreak. It also acts as a skin astringent, tightening up the skin pores.
4. Reduces the pore size
Ugly and open pores give such a distasteful look to the skin. Undo this mess by applying rice-water soaked cotton ball on the open skin pores. Since rice water is an effective astringent, it tightens the pores, reducing their size-and-firming up the pores, too.
5. Treats eczema
The "starch" in rice water is effective in reducing the eczema effects on the skin. For that, dip a clean cloth in water and pat it over the skin affected with eczema. Keep doing it for some time. Also air-dry it to get best results.
6. Sunburn soother
Rice water knows how to handle the sun. It cools down skin inflammations and burnt skin. It also helps in making your skin recover fast from brutal suntan and prevents further damage.
7. Soothes irritated skin
Down with rashes on skin and the "itch" factor? Apply rice water on the skin rashes or other areas of skin inflamed in order to soothe it naturally.
A word of advice – go for "cold rice water" for best results when it comes to treating irritated skin.
8. Soften and brighten skin
Rice water has plenty of minerals and Vitamins which help in revitalizing skin, hence keep your skin smooth and bright.
9. Skin lightening agent
Ditch your expensive skin whitening serums as there is rice water to lighten the skin. To do that, grind a handful of uncooked rice into a fine powder. Add some milk to the rice powder to turn it into a paste. Now apply this paste over your face and neck. After 20-30 minutes, wash off with warm water.
10. Cooler for skin inflammations & burnt skin
Want to cool down skin bursts/inflammations and burnt skin? Use rice water. It will help your skin recover fast and prevent further damage also. Just apply cold rice water to the damaged area.
11. Reduce blemishes
Rice and water is all you need in order to pamper skin. Soak a cotton ball in rice water and apply it on the blemished patches on face and skin. Do it regularly for the blemishes to go away.
12 Removes blackheads
Use a cotton ball soaked in rice water and apply it on the blackheads on nose. On regular use, this remedy will help wipe off blackheads.
13. Decreases wrinkles
A rice-based mask helps in softening wrinkles and makes your skin glow. Strain the boiled rice, and put aside the water in which the rice was boiled. Add 1 tsp of boiled milk in the rice and mix it. Stir the mixture well, and add honey to it. Apply this mask on clean skin. Let it dry. Then, take off the mask and wash your face with water in which the rice was boiled. This will help fight off age-related spots.
Let us find out how rice water fares in the 'hair' section.
Benefits Of Rice Water For Hair
Did you know, rich water has a carbohydrate called "inositol" which helps strengthen elasticity of hair and reduce surface friction?
1. Hair rinse
Bring shine to your hair and keep them strong and healthy by rinsing your hair with rice water. To get extra nourishment, add in a few drops of essential oils like geranium, rosemary or lavender. Once you have shampooed your hair, pour the rice water on your hair. Massage the hair and scalp and follow it up by rinsing hair with plain water. Use this hair technique once or twice a week.
2. Hair conditioner
Go the natural 'home-made' way in pampering your hair locks with a conditioner. Mix few drops of geranium, rosemary or lavender essential oils to the rice water. Then apply it over the hair tresses. After 10 min, wash off your hair with cold water.
3. Protecting hair from damage
Rice water helps improve hair elasticity, and reduce surface friction. And since it has inositol, it not only repairs damaged hair, but prevents further damage to happen as well.
4. Strengthening hair root
The amino acids present in rice water strengthen the hair roots, add volume and shine, thereby making hair silky smooth.
5. Improves hair growth
For hair, rice water is considered beneficial, as it contains proteins that repair hair and make it smoother and shinier.
6. Tames frizzy hair
Facing frizzy and unmanageable hair? Try out rice water. It helps in de-tangling and improves hair elasticity. In order to do that, mix one part fermented rice water and 3 parts bath water (to get slightly cloudy rice water). Now use this mixture as a final rinse. Repeat this once or twice a week for best results.
[sc:mediad]
7. Reduces split ends
To fight this hair problem, make a bowl of rice water. Then, soak your hair ends in it and rinse off with normal water, after 15 minutes. You will soon see the problem of split ends fade away with regular application of this remedy.
8. Treats dandruff
Itch, itch, itch? Is that what you are doing to your scalp? Just rinse off your hair with the rice liquid to quickly get rid of dandruff.
9. Removes lice
Lice in hair? Don't lose sleep. Make rice water your frequent hair rinse. Lice will soon find their death along with the nits.
10. Hair mask for smooth, silky & shiny hair
To get long, silky and shiny hair, pour some rice water on your hair and scalp. After 20 min, wash it off with normal water. Then, do the natural hair shampoo and conditioning afterwards.
Last but not the least, here are some valuable tips on rice water before you use it!
Tips
Here are some back-of-the-envelope tips on rice water which will be of use to you:
When it comes to rice, you can use any variety of rice e.g., white rice, brown rice, etc.
Make it a point to rinse the rice with water first. This will help flush out dirt, impurities and other dust particles before you use rice water on your hair/skin.
Organic rice? Yeah, its expensive than regular rice, but it does not have pesticides. Which means, its safe for your hair.
Avoid using "undiluted" rice water in your hair, as it can lead to lumps in hair and may leave unwanted deposits in your hair with time.
So, girls and babes, how did you find the concept of rice water for skin and hair? Like to use it, or have you used it before? Write in and tell us your experiences in the comments section below.
Next time, before throwing away the rice water, think twice!
Recommended Articles
Fuller's Earth Benefits And Uses For Skin, Hair, And Body
Benefits Of Ashwagandha For Skin, Hair And Health
Benefits Of Rose Water For Skin, Hair, Eyes And Health
Benefits Of Eating Dates For Skin, Hair And Health