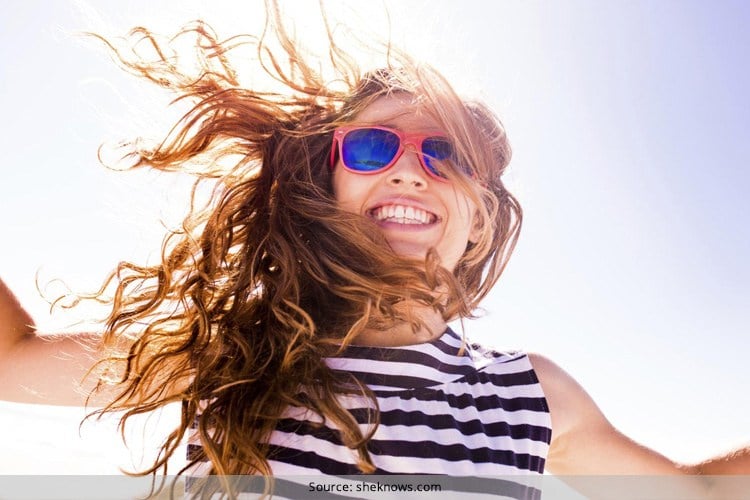 Whether you are eleven or forty one, hair is a girls' best accessory. Your entire outlook changes with the way you style your hair. Even if you just let that mane loose, it does something to that face. Being such an important thing, it goes without saying that you have to take good care of your hair. But, does hair care end at shampoos, conditioners, serums and hair oils? Are you doing all the necessary things and still find that your hair is not as smooth and nourished as you would have desired? You might just be missing out one important step. Hair sunscreen!
[Also Read: Best Sun Tanners ]
Yes, you heard that right! Hair sunscreen is an actual thing. As per studies, it has been known that excessive sun exposure degrades the protein pigments in the hair shaft and the UV-rays cause discoloration of the hair. Sun rays can cause irreparable hair damage. Therefore, sunscreen for hair has been an absolute must in the recent times. It might also interest you to know, that hair sunscreen can actually prevent skin cancer to your scalp. Otherwise, your hair alone can only protect your scalp for only so long before matters get serious. A sunburned scalp is not something you might want to end up with. Thus, we would advise that you put a tube of hair sunscreen with your normal skin sunscreen in to your bag for your trips to the beach for the best sun protection for hair. In this article, we will be walking you through the best sunscreen for hair. You can make your choice after having a look at all the available options.
1. Rene Furterer Sun Care Protective Summer Fluid KPF 90
Priced at Rs. 1500, the Spray Rene Furterer Sun Care Protective Summer Fluid works wonders on your hair when applied on damp or dry hair before going out in the sun. It's the best sunscreen available when you're aiming at all day protection. The spray on is a water-resistant formula and blocks about 90% of the sun's damaging UV rays.
2. Clarins Sunscreen Care Oil Spray Broad Spectrum SPF 30
Priced at Rs. 2300, the Clarins Sunscreen Care Oil Spray has SPF 30 and is a waterproof, non-greasy dry oil. This provides good protection against the damage from the sun and shields both scalp and hair from the sun. It is lightweight formula leaves your hair feeling silky all day.
[Also Read: Volumizing Shampoos]
3. Phytoplage Protective Sun Oil
Priced at 1500, the Phytoplage Protective Sun Oil actually goes a step ahead and prevents your hair from weakening under the glare of the harmful UV rays of the sun. It gives your hair the shine that you love so much. To use this hair sunscreen you simply need to spray it on dry or wet hair before heading out.
4. TRESemme Climate Control Spray
Priced at Rs. 400, the TRESemme Climate Control Spray is probably the most affordable hair sunscreen on the list and that doesn't end there, this formula does a lot more than just provide UV ray protection. It fights humidity, static, wind and the harmful UV rays as bonus.
[sc:mediad]
5. L'Oreal EverPure UV Protect Spray
Priced at Rs. 600, the L'Oreal EverPure UV Protect Spray protects hair while fighting against breakage. Due to its light texture, the spray distributes evenly on your hair. If you are looking for a hair sunscreen that will work perfectly on your color-treated hair, this is the product for you.
6. bareMinerals SPF30 Natural Sunscreen
Priced at Rs. 3000, the bareMinerals SPF30 Natural Sunscreen blends into your hair in a gypsy. The powdery texture of this chemical free sunscreen for hair protects your hair without a heavy, greasy finish. What's more? You can easily part line your hair and apply this on the thinning areas of your scalp. Just rub the brush into your hair and you're good to go.
7. Aveda Sun Care Protective Hair Veil
Priced at Rs. 1650, the Aveda Sun Care Protective Hair Veil is the only waterproof hair sunscreen on the list. It is a lightweight mist that protects your hair from UV rays. Its long lasting formula minimizes color fading and damage. Besides all that, the sunscreen smells fantabulous.
8. Alterna Bamboo Beach Summer Sun Recovery Spray
Priced at Rs. 1800, the Alterna Bamboo Beach Summer Sun Recovery Spray is the only organic hair sunscreen on the list with ingredients like organic bamboo extract and Tahitian coconut to strengthen and moisturize. Its formula revitalizes sun damaged hair and the revolutionary Color Hold technology keeps your hair shiny and strong.
[Also Read: Caring For Coloured Hair – Tips to Take Care of Your Coloured Hair]
Now, that you have the list, don't let your hair get damaged any further.