When it is time to get a few highlights in your hair, you have a choice between traditional highlights and balayage. There is a difference between the two techniques and each one has its own advantages, depending on the style.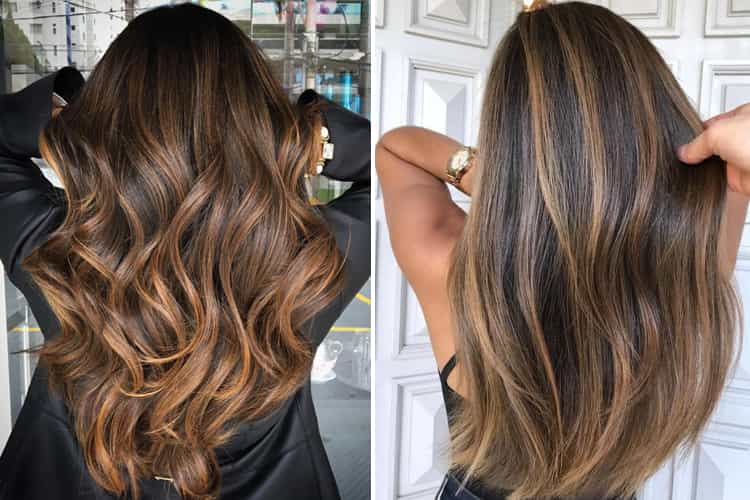 A natural sun-swept look is simpler to attain with balayage. If you are going for straight streaks, highlights are best.
There are several stylists and colorists who are skilled in achieving your desired look. And yet, it is also good to explore your options. Let us look at what's possible with these two popular highlighting methods.
What Is Balayage?
Balayage is a French word, which means 'to sweep' or 'to paint'. It provides a sun-kissed natural-looking hair color, similar to our natural hair. The Balayage pieces should be close and soft at the root, leading to a thicker highlight at the hair ends. Balayage should be applied to the surface section and not to be saturated through the section and tips. Or else, you will end up having a streak of color that is not soft at all.
Balayage ends up looking like thick highlights that are few shades lighter than your base color. Since the highlights are not saturated and the bottom hair sections are dark, balayage highlight adds depth and dimension to your hair. The ombre effect and lighter tips also offer a perfectly sun-kissed look.
What Are Highlights?
There is a common misconception about highlights that they are streaks on blonde hair running through brown base color. But it is not altogether true.
Highlights are small hair sections that are lighter than the base color. The color of your highlights is a lighter shade of your base color. People with dark brown hair should get light brown highlights, while golden blonde highlights can complement deep honey blonde hair.
When it comes to technique, highlights are done using aluminum foils. The hair dye is applied to small hair sections, starting from root to tip and covered with aluminum foils that trap in heat and lighten your hair. The size, placement, and highlight tone can be planned out accurately when deciding the look you are going for.
What Is The Difference Between Highlights And Balayage?
Balayage has softer, less noticeable re-growth lines compared to traditional highlights. The principle idea of less is more applies here when creating the soft, natural look. There are no stripy looks that you can get using foil highlights, as balayage follows the parts of your hair that would naturally lighten in the sun.
In addition, balayage is a freehand technique, as there are no foils used for creating the highlights. To make it simpler, let us break down Highlights Vs Balayage for you:
Highlights follow a structured pattern in comparison with balayage. Whereas, the latter is a freehand painted onto the hair in large section. In this way, balayage blends more seamlessly into the hair when compared to highlights.
Highlights are done by saturating the hair sections right from the roots to the ends. Balayage is done by painting the dye from mid-shaft to the hair ends.
If you want to create intense lightened highlights, you can go for foil highlights as they make use of aluminum foils to saturate the color. But balayage is a few shades lighter compared to your base color and has a softer look to it.
Highlights are done right from the roots and you will need to keep re-touching them every few weeks when they grow out. Whereas, balayage is not done right from the roots. It grows out naturally and requires less maintenance.
Balayage adds depth and dimension to your hair while simultaneously highlighting the focus on framing your face and highlighting the base color of your hair.
4 Balayage Updates For 2018:
This year, there is a color known as balayage-to-go, which mirrors the modern lifestyle and the need to do things quickly. The application time starts from 15 minutes to 45 minutes.
1. Brown On Blonde:
When it comes to balayage looks, blonde is a popular choice. The muted brown balayage is a classic example. The rich dark brown base of this hair creates a striking contrast with the blonde balayage and adds charm to this look.
2. Rich Chocolate Brown Balayage:
Rich black shades are popular and they look especially great when done up in balayage style. The rich chocolate brown balayage works on dark mahogany hair.
3. Emerald Green Balayage:
Emerald green balayage is currently trending all over. It pops and even brightens the hair when done on jet black hair. Style this look in loose waves.
4. Smoky Blue Balayage:
Cool toned hair looks lovely and the smoky blue balayage proves just that. The smoke blue shades of the balayage can be accentuated using gray undertones, painted onto the hair. Try the look if you are looking for cool but understated look.
4 Highlights Updates For 2018:
Here are the most popular hair highlights for 2018 that you should try:
1. Light Blonde Highlights:
If you want to change your hair and style it up, then add blonde highlights. These intense highlights bring out the best of the natural chocolate brown hair.
2. Bleached Blonde Highlights:
This is rather an unconventional hair combination. But the blonde highlights on red rather blend wonderfully and look chic.
3. Light Blonde Highlights:
If you are trying to experiment with dark brunette to blonde, then you should consider this style. Consider going to the transitional look that creates bright blonde highlights on dark brown hair. This contrast is stunning and bound to make it look hot.
4. Bright Red Highlights:
Want to create bright red highlights? Then, you should try this flaming red highlight. If you are a natural redhead or want red auburn shade, then you can go for bright red highlights to give out a rich, gorgeous look.
These hair trends can be tailored to any skin tone, including icy blonds to golden shades. Both of these are low-maintenance and take you through the entire summer, as it'll begin heavily and then grow out with an even finish.
The upkeep is completely dependent on the wearer.