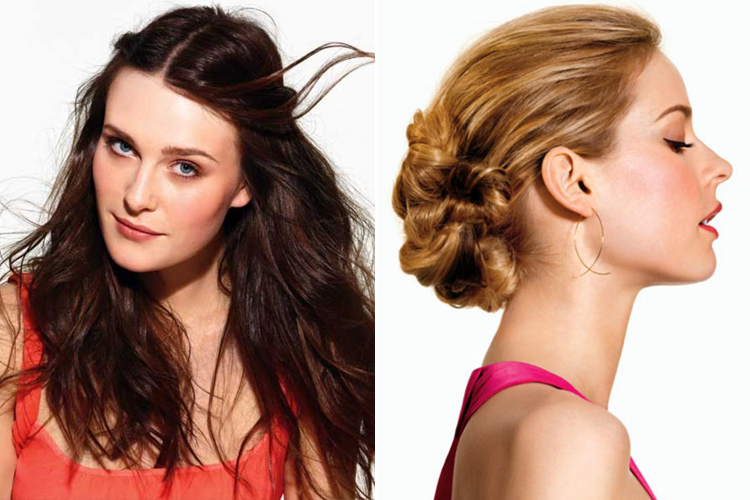 Some days in a week are good and some go bad. Even dressing up can be a turn-off. You know the bad day syndrome. And then there are bad hair day hairstyles. Uff! How disgusting it sounds when you find your hairstyle cheating on you. Such is the syndrome of bad hair day ideas and bad hair day fix.
So when you are facing bad hair day hairstyles for curly hair, bad hair day hairstyles for short hair, or for that matter celebrity bad hair day, you need quick fix solutions.
[Also Read: Hairstyles for Big Foreheads ]
7 Bad Hair Day Ideas
No more hiding in a cubicle as I bring you hairstyles that will spruce up your look. Beware! You might feel the itch to try them on good hair days too (which is fine by me).
1. Simple Updo
This hairstyle can be easily classified as easy hairstyles for a bad hair day. Because it needs just a few hair clips, a hairbrush, few bobby pins, two elastic hair bands and a few minutes, that's all.
Call it a bad hair day hairstyles, simple updo looks best on medium-long fine hair that hasn't been washed in a few days.
2. Ballerina Bun
Talk of bad hair day ideas and ballerina bun is one of the chicest ways to camouflage unruly or dirty looking hair. In case of oily hair, the bun will look better and sleek. All you need is a hair brush, long bobby pins, and 1-3 hair ties (depending on the thickness of your hair).
3. For Short Hair
Headbands are your best friend, in case your hair is short. A beautiful looking elastic headband helps create the illusion of an updo. Try out bad hair day scarf for a summer night or in case it's a casual Friday.
When it comes to short hair, no doubt it is the headband and hairbrush which call the shots.
4. Rainy Day Updo
When you have been caught by rainstorm or wind gust, then spending few minutes to half an hour is not the appropriate thing to do. Here is a solution for all-weather hair which works on short, medium, and long hair and makes terrific sense as bad hair day ideas. Enjoy your rainy days with this bad hair day hairstyles.
5. Easy Breezy Braids
Here is how to braid your hair in two different ways in a short span of time. The tutorial below will show you how to channel your hair on those lazy days. Well, you just need your nimble fingers, a hairbrush and a hair tie. That's all.
6. The Classic
Supposing you want to stick to wearing a ponytail on those bad hair days – you can still look fabulous. Try out this bad hair day hairstyles which you can wear in the boardroom and a night out in the town.
7. Say Goodbye To Greasies
If you have to wear your hair down, then here is a bad hair day fix which lessens the look of a greasy scalp using dry shampoo.
Hope the working and busy-as-always woman in you have found these bad hair day ideas and bad hair day fix useful and of help. Try them out and share your experiences with us.