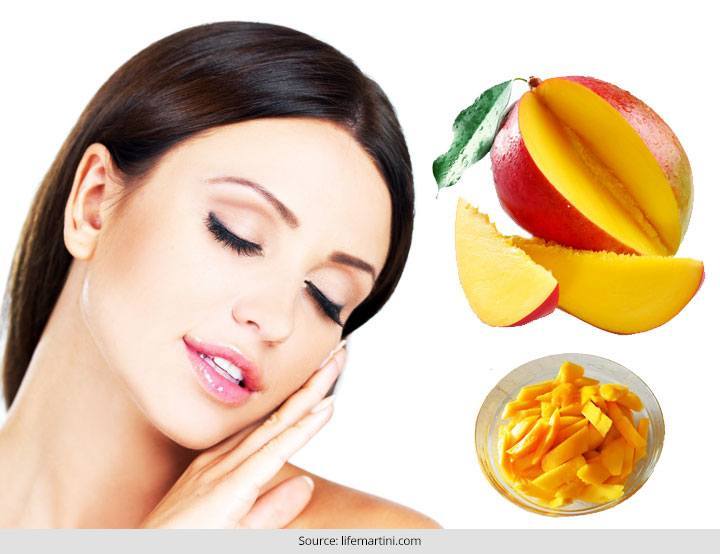 Mango is undoubtedly the reigning king of all fruits. Apart from being delicious, this summer fruit is also a potent ingredient that does wonders for our skin and hair. So the next time you buy mangoes, apart from eating them, consider using them for your skin and hair care as well. If you're flummoxed and not sure how you can incorporate mango into your skin care routine, then let us guide you.
Here are some great ways in which you can benefit from the goodness of mangoes.
Mangoes for skin
1. To Get Glowing Skin
Mango is one of the best fruits for healthy and glowing skin. Mix three tablespoons of mango puree with one egg white and half a teaspoon of honey. Whisk till well blended and apply the mixture to your face and neck. Leave it on for fifteen to twenty minutes and wash it off with warm water to reveal glowing skin.
2. To Treat Blemishes
Add a few drops of lemon juice to half a teaspoon of mango puree and apply the paste onto the affected area. Leave it on for fifteen minutes and wash it off with cold water. Repeat the process thrice a week for best results.
3. To Exfoliate Your Face
Mix three to four tablespoons of mango puree to half a cup of oats. Add milk to bring the contents to a thick paste consistency. Apply this paste in a circular motion on your face and neck, scrubbing gently so as not to irritate the skin. Leave it on for fifteen minutes and wash it off to reveal smooth skin.
4. To Exfoliate Your Body
Mango makes one of the best homemade exfoliating body scrubs. Make yourself a mango body scrub by mixing the puree of one mango with half a cup of sugar and two to three tablespoons of raw milk. Use this mixture in the shower to gently exfoliate your skin. Wash it off with cold water and do not forget to slather on moisturizer when you step out of the shower. You will find that your skin feels so soft and smooth. Repeat this process once a week to keep your skin healthy and glowing.
[sc:mediad]
5. To De-Tan
Mix two tablespoons of mango puree with one tablespoon of powdered almond. Add two teaspoons of raw milk to it and mix well to form a thick paste. Apply it onto your face and neck in a circular motion, gently massaging it onto your skin for deeper penetration. Leave it on for fifteen minutes and wash if off with cold water. This mask will not only help de-tan your face, it will also help clean your pores by removing any stubborn or deep-rooted dirt or grime to reveal a clean and refreshed face.
So these were some of the benefits of mango for skin.
Mango for hair
1. To Condition Dry Hair
Simply puree one ripe mango and add two egg yolks and a quarter cup of yogurt to it. Mix well and apply the mixture onto your hair, concentrating on the ends where the hair tends to be most damaged. Wrap a warm, damp towel onto your hair and leave the hair mask on for half an hour. Wash it off with lukewarm water followed by shampooing and conditioning. You will notice that your hair is so much more manageable and frizz-free.
2. To Promote Hair Growth
Mango contains vitamins A and C which are the vitamins that are essential for hair growth. So a mango hair mask can help boost your hair growth and give you healthier, shinier and softer hair. Mash up a ripe banana and set aside. Puree a ripe mango and add two tablespoons of coconut oil to it. Add the banana to the mango puree and mix well. Apply this hair mask onto your hair and leave it on for half an hour. Wash it off thoroughly with lukewarm water.
Now that you know all that this king of fruits has to offer, be sure to use it in your beauty regime and see the results for yourself.