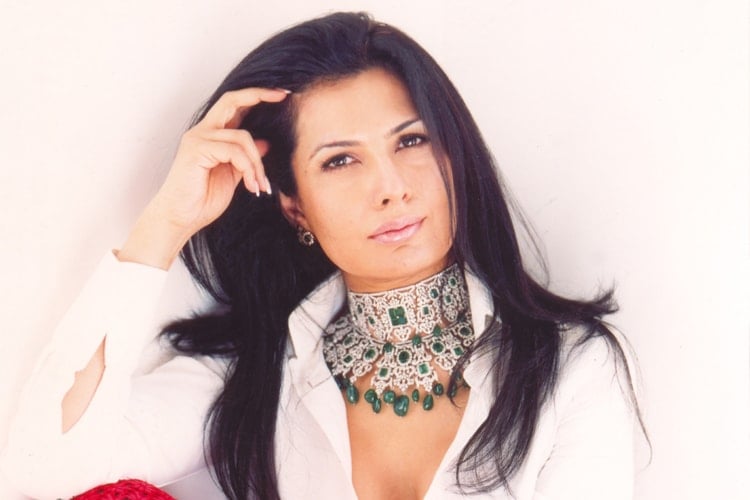 Designer Profile
She is often called "Donatella Versace of India" and the "First Lady of fashion" in the country. She has designed for Barbie doll, and has been a consultant to London's Harrods store, and international brands like Volvo, Swarovski and Honda Motors. She has spent over two decades in the industry. Her supporters claim "she does not live in Fashion… the Fashion breathes in her…".
She did her schooling from Army Public School, Dhaula Kuan in New Delhi (that's where I completed my schooling too!). She then went on to study fashion at the National Institute of Fashion Technology, New Delhi. In fact, she was amongt the first batch of NIFT which included only 25 students. 'Maharanis of India' was the title of her final collection at NIFT. She says "Back then fashion was not considered a serious business – it was a plaything for a small elite. It was then that I first understood where I was heading…To be a fashion designer!"
It was in December 1990 that she launched her fashion label by the name 'Lavanya'. In 1998, she went ahead and presented a show in Paris launching her first luxe collection. She also became the first Indian designer to storm the catwalks of Paris. She is a protégé of Francois Lesage, the French embroiderer. She was named by the TIME magazine as 'The First Lady of Fashion in her country' and the 'future International Entrepreneur to watch out for'. She was the First Asian to head a French Fashion house Jean Louis Scherrer and was credited by BBC for her business skills.
To acknowledge her contribution to fashion and design, she was awarded the prestigious French honour, and the Spanish title of The Lady of the Order of Civil Merit. These are the rarest of rare halos.
She is the author of the 5 books: The Designs of A Restless Mind, The Fire of A Restless Mind, Style File, Firefly – A Fairytale (this book is priced at Rs 1 lakh and is published by herself) and 101 Ways to Look Your Best. She is also on the board of Governors at NIFT, and is an honorary patron of the Savera Association (which is a popular charity working in improving the lives of Indian woman).
Who could this fashion-star-and-legend be?
The very charming and elegant Ritu Beri.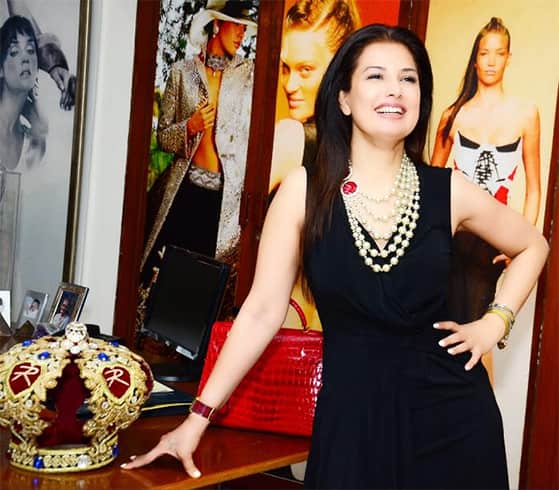 The fashion designer whose creations have been worn by Aishwarya Rai Bachchan, Rani Mukerji, Sonali Bendre, Shobha De, Nafisa Ali, Dia Mirza, Farah Khan, Malaika Arora, Bipasha Basu, Sonal Mansingh, Ivana Trump, Nicole Kidman, Prince Charles, Bill Clinton, Elizabeth Jagger, Katie Holmes, Andie McDowell, and many more impressive entertaining faces and political luminaries across the globe. She is the one who has brought globalisation to India's fashion industry.
Some bytes from Ritu Beri:
"When I was young, I was inspired by woman icons who lived beyond the here and now. I wished one day, I could do the same."
"I do believe Paris is my destiny. It was meant for me. Since I was ten, Paris is where I wanted to be."
"God is a woman."
How poetic of her?
Designer Portfolio Of Ritu Beri
Now that I have shown you what makes Ritu Beri such an awesome Indian-born-International-face in the business of fashion, how about decoding her work.
And that's HUGE – full of fusion, new age and avant garde.
Ritu Beri's dresses – whether it is ritu beri salwar kameez collection, designer suits by ritu beri, designer sarees for wedding, bridal lehenga- ritu beri or Ritu Beri bridal collection, all are known for their opulence, richness and pureness. There is no denying that.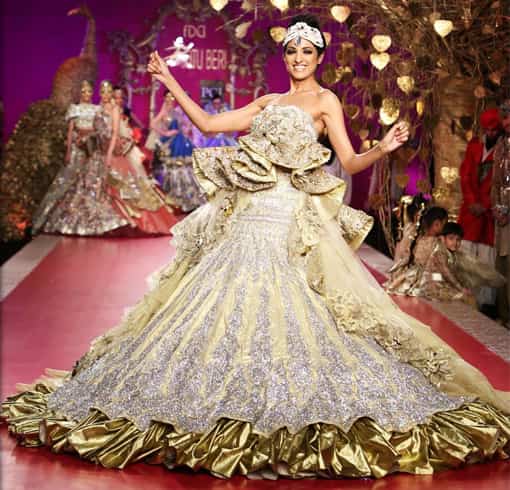 Ritu Beri Designer Suits
Elaborate to the hilt, dresses of Ritu Beri are oozing in intricate craftsmanship and designs. Considering she has learnt the art of embroidery from Francois Lesage, Ritu Beri combines international and Indian sartorial techniques in her dresses fluently and with a Midas touch.
In fact, anarakali designer suits by ritu beri that have been showcased in several of her collections and shows, especially bridal ones, have beautiful embroidery and craftwork like velvet border, ikat, zari, zardosi, patchwork, cutwork, gota patti and stone work.
The fourth day of PCJ Delhi Couture Week 2013 held in New Delhi showcased latest ritu beri salwar kameez collection, designer sarees for wedding, bridal lehenga- ritu beri and designer kurtis.
This particular collection titled "Punjabi Rock & Roll" was inspired by the Punjabi culture with influences from all over the world.
[sc:mediad]
The feel: The Renaissance Era style effect in Ritu Beri's creations had the influence of Elizabethan, Georgian and Victorian Styles. All of them blended with ruffles, voluminous pleats, falls and flares and multi tiers and layers.
The clothes: Ballroom gowns, fish cut as well as kalidar lehengas, jackets, patiala salwars and choga like jackets.
The hues: Gold, silver, pink, green, yellow, blue, saffron, red, white and purple.
The fabrics: Silks, velvets, laces, nets, satins, shimmery materials and brocades.
The embellishments: Crystal and Swarovski work done in white, black and metallic tones along with zardozi, gota, sequins and intricate as well as chunky embroidery work.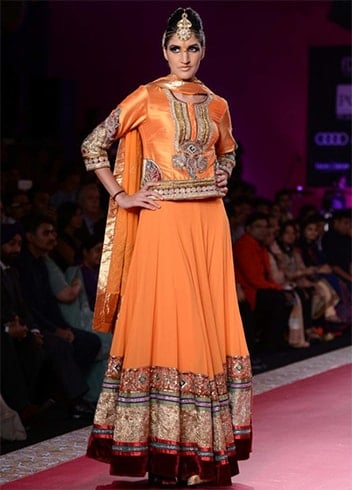 Ritu Beri Designer Lehengas And Sarees
When it comes to Indian ethnic and bridal wear, Ritu Beri bridal collection is seen as the most innovative and creative fashion designers of all. B-town stars like Hema Malini, Vidya Balan, Namrata Shirodkar, Neha Dhupia, Madhuri Dixit, Preity Zinta, Rani Mukherjee, Shobhaa De have donned beautiful dresses designed by Ritu Beri at various events and functions.
The designer sarees for wedding by Ritu Beri lit up the runways with beautiful designs and festive colours such as red, orange, emerald green, beige, off white, black, maroon, light and dark hues of blue, purple, shades of pink and brown, golden craftworks and glimpses of rich gold colour.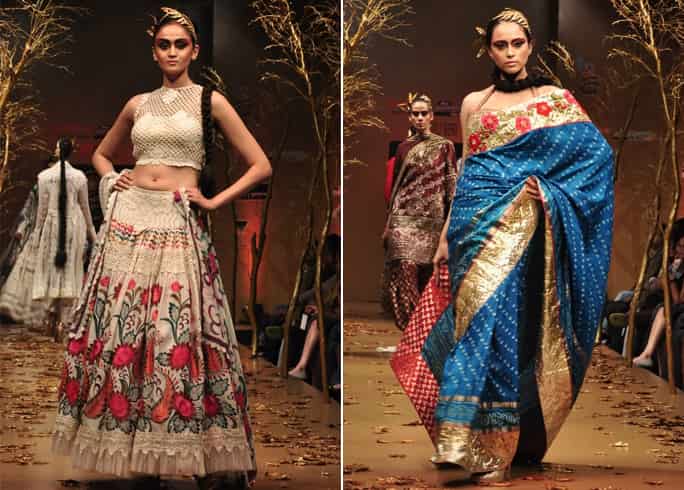 So many ardent fans Ritu Beri has that she has miles to go!
Here are some glimpses of Ritu Beri's flamboyant designs:
Patiala Salwars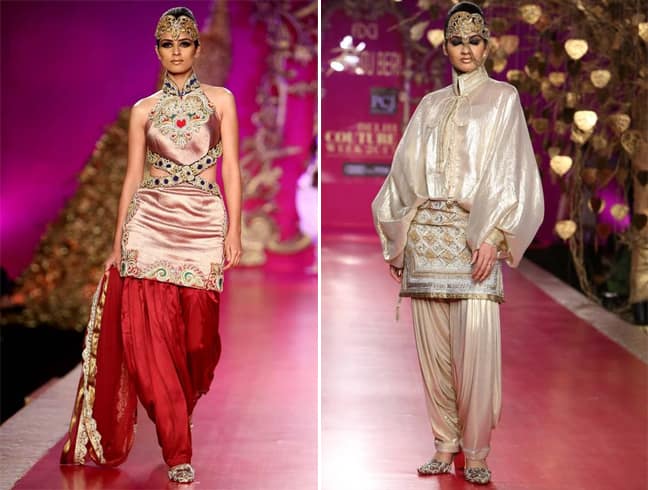 Fish Cuts And High Collars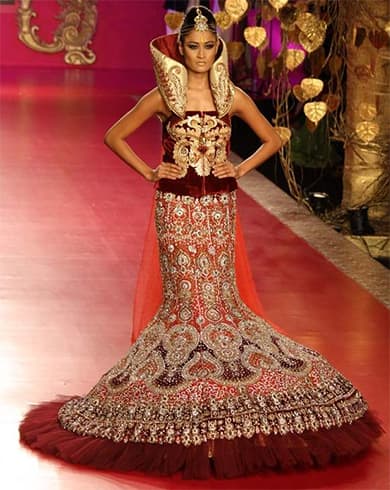 Chunky Embroidery Work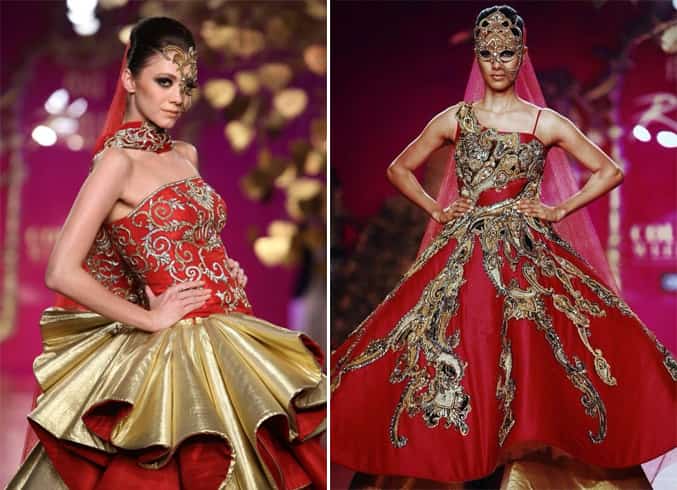 Shimmery Fabrics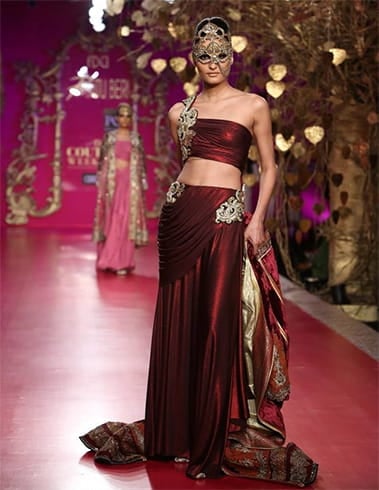 Tiers And Layers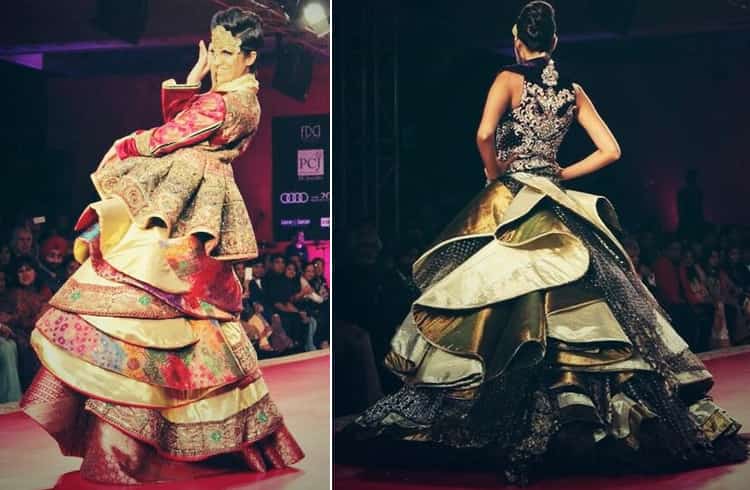 So what's your pick in the Ritu Beri bridal collection and non-bridal ones? Which of her creations fascinated you and had you drooling?
Write in and tell us in the comments below.
Images Source: facebook.com/ritubericouture/, glamcheck.com, thebigfatindianwedding.com