Bracelet sets at the moment are designed to be worn daily. The new trend is all about subtlety and thin stacked up designs. When worn alone or piled together, the style can feel fresh. If you're like us, you may likely have a stack of sparkly bracelets in your jewellery collection which are just waiting to be layered on. This is one of the many reasons we love this trend. And if you are looking to expand your line of options, there's a whole breed of new bracelet pieces in studs, shells, jewels and ethereal symbols. Read on to discover them.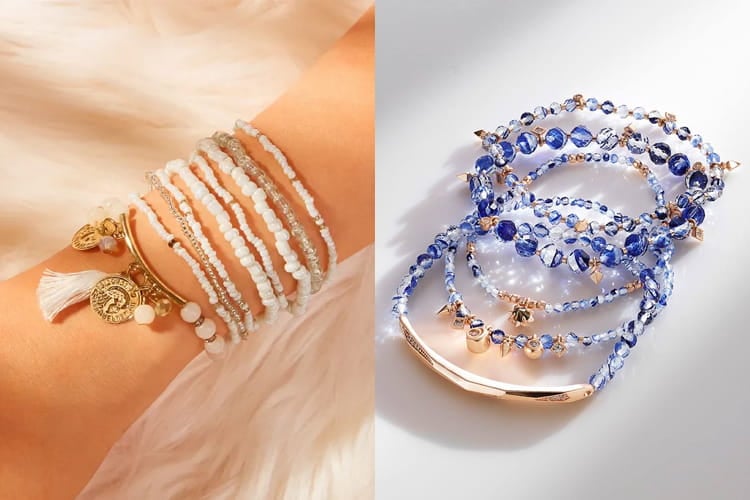 Our Favorite Pick Of Everyday Bracelets:
Here are our top 15 picks of bracelet sets for women:
1. White and Gold Colored Stone Bracelet:
We are fans of this white and gold bracelet sets coming in a set of five. Remember the thicker the band, the more noticeable the beads are. We encourage you to choose wearing it with a thinner version of neckpiece as you match and layer.
2. Bohemian Bracelet with Studs, Stones, and Beads:
Amplify your glitz and glamour by going for boho bracelet sets as this one with studs, stones, and beads. Add this to your day look. It can help you accomplish the hippy look in a snap.
3. Multi-Colored Bracelet Set:
The options for pairing accessories with this one are pretty endless. Match this green, red, and gold bracelet piece with your favorite charm bracelet. Do not be afraid to stack them for creating a color-blocked effect.
4. Sterling Silver Bracelet Set:
Sterling silver bangles are a trendy girl's must-have now. The accessory piece below is certainly eye-catching. You can wear them alone on one hand, or separate them for a delicate look.
5. Tassel and Coin Décor Beaded Bracelet Set:
This tassel and coin beaded bracelet set is just playful enough, and calls for a special occasion. You can choose to pair it with earrings in unique shapes to give the illusion of trendy. It'll allow you to nail the trend beautifully. You may wear this with your sleeveless tops to add up the drama.
6. Star Moon Bracelet:
We think these four piece set of star moon bracelet are pretty incredible any way you wear them. Adorning your hands with this ethereal symbol can allow you to remain subtle. They automatically become a decoration for your hands.
7. Navy Blue Beaded Bracelet Set:
We could stare at this navy blue beaded bracelet sets all day long. Match them with your favorite pair of vacation ensemble.
8. Delicate Gold Chain and Pearl Bracelet:
The three set of pearl bracelet and gold chain can make anyone stop and stare. You can shop this trend and wear them proudly. Trust us-with this piece, you'll never look back even on warmer days.
9. Silver Plated Multi-row Bracelet:
Give this ethereal style a touch of silver with the multi-row bracelet. This dainty burst can catch everyone's fancy. While these bracelets immediately feel like party wear, the idea is to team them up with denims to bring on the unexpected.
10. Charm Bangle Set:
How incredibly stunning are this charm bangle set? All the more, it also gives you a reason to treasure it up. The different heart shaped designs can really help you commit to nostalgia.
11. Silver Bracelet Set:
A great addition to your arm party, don't you think? This silver bracelet set can make for the perfect summer add-on.
12. Charm Bangle Bracelet:
Decorate your hands with tiny charms that remind you of all things nice. Even though it is delicate, you cannot miss the dainty look.
13. Shell and Starfish Detail Beaded Bracelet:
This shell and starfish studded bracelet is the type you would never wish to take off. In addition, it can easily jazz up your accessory game.
14. Summer Bracelet Set:
This summer bangle set is small but really special. You can also pair this special piece with another sophisticated bracelet.
15. Bracelet Set:
Wear this bracelet set of heart, pearl, and feathery bracelet with a summer dress to put it on full display. It also proves that an everyday bracelet don't have to be predictable and boring.
These are the bracelet sets that are the perfect combination of chic and sporty. Shop your pick ASAP before it sells out.