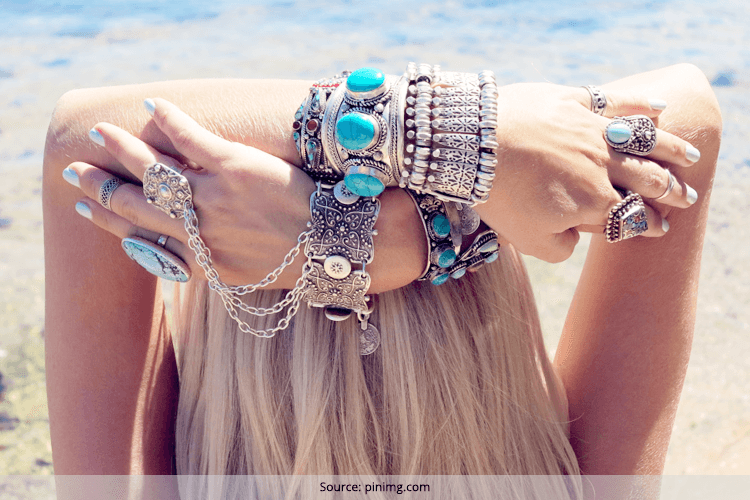 If you are someone who makes it a point to follow celebrity fashion and style, then you must be aware that silver bangle bracelets are quite the rage among celebrities in recent times. Silver bangle bracelets are special in the sense that they are quite versatile. They go well with both ethnic and western attire. You can wear them in many different ways, making a statement with them. From elegant bracelets to bohemian-looking bangles, silver is the metal to opt for to achieve a very unique and stylish look.
[Also Read: How to Clean Silver Jewelry]
Stack 'Em Up
A great way to wear silver bangle bracelets is to stack them to create an arresting visual effect. You can either stack a lot of identical bangles, or mix and match and stack bangles with bracelets for a look that is so very appealing. Just make sure that the pieces you stack together work well with each other.
Wear a Bigger Size
Wearing bangles and bracelets that fit your wrist is all well and good. But what is super cool is wearing silver bangle bracelets that are a size bigger. This way, the bracelet or bangle will be hanging past your wrist, looking like they were just carelessly put on and could fall off any minute. It is such a laidback cool which will make your silver jewellery look so much more appealing.
Mix and Match
Some people have stringent rules of never mixing different metals together. For instance, if they wear silver, then they make sure they're only wearing silver and not any other metal. We say, break the rule and mix and match metals. Pair your sterling silver bangles with bronze or copper ones for some added colour. The end result will be a far more interesting look, with the silver and copper complementing each other. You can also use beads and stones to bring some relief to all that silver.
[Also Read: 5 Most Expensive Diamond Bracelets Ever Sold at an Auction]
Wear Them as Armlets
Do you have some silver bangle bracelets that are just too big for your wrist? Instead of giving them away, try wearing them as armlets. This way you've found an alternate way to wear them and they look super awesome as armlets. Wear them with sleeveless kurtas and tops.
[sc:mediad]
Go OTT
You can never be wearing too much silver. So the next time you want to wear silver jewellery, don't restrain yourself. Go OTT with it and wear everything from silver necklaces to bangles and bracelets to rings. The overdose of silver will give off a very bohemian vibe.
Pair Them with Your Watch
Just because you're opting to wear silver bangle bracelets does not automatically mean that you need to forgo wearing your watch. You can wear your silver bangle bracelets along with your watch. The look has been very popular amongst teens and young women who are aiming for a carelessly trendy look. One thing to remember while opting for this look is to make sure your silver jewellery do not damage your watch, scratching the dial and the strap, which is a special concern when pairing your watch with silver bangle bracelets with charms. The dangling charm may cause quite a lot of scratches to your watch, so look out for that.
[Also Read: Bracelet Watches for Ladies]
These are just a few ways to wear silver bangle bracelets sets. We're sure that you can come up with many more unique and interesting ways to wear them. So start getting creative and make a statement with your fashion bangles bracelets.