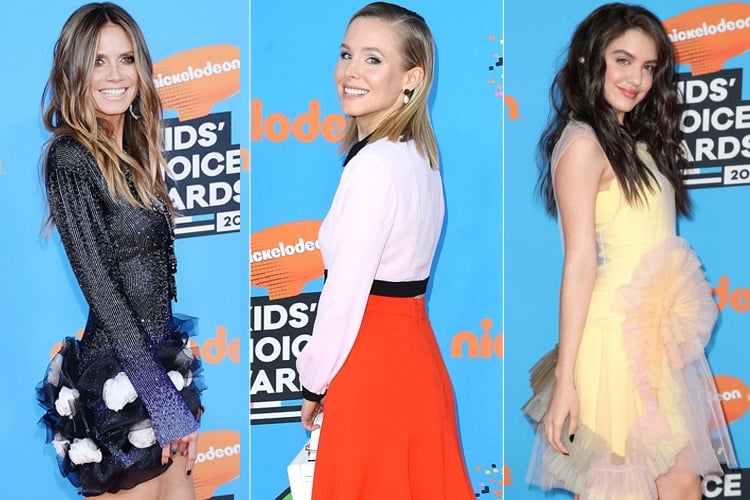 Nickelodeon Kids' Choice Awards are not the place to be uber classic, instead, celebs – at least most of them keep it simple and casual, given that this is an award show that doesn't take place in the late nights and is watched and given by teens and children. Keeping up with the trend, most of our favorite Hollywood members turned up in a pair of denim or a flowy frock, but some did not let this opportunity to watch the most clicked carpet appearance and arrived looking sensational. Let's take a look at our picks for the best-dressed celebs at Nickelodeon Kids' Choice Awards.
While at first glance, the young teen's ensemble might strike as dull, a closer look would tell you that the "Stranger Things" actress is here to make a bold statement in her Canadian Calvin Klein look. The front of the suit has an embroidery with the words "Never Again", the back, is dedicated to the Parkland school shooting victims. This warms our hearts.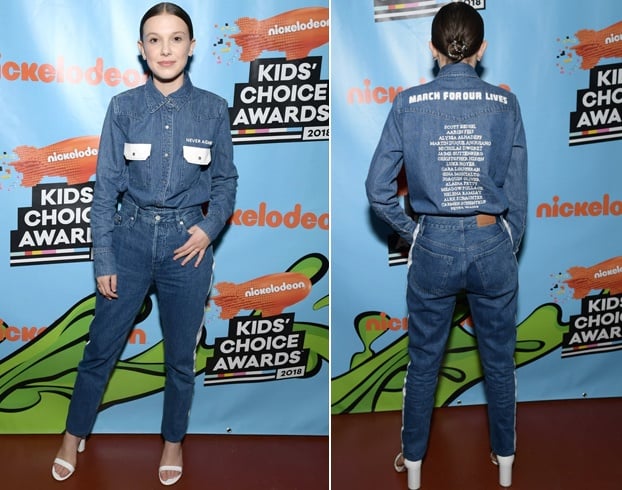 Heidi Klum walked in a sparkly dress picked from Redemption. Its large floral embellishments by the hem had effortlessly won our nods. We know she always looks spectacular, but again this one certainly took her style sense a couple of notches up.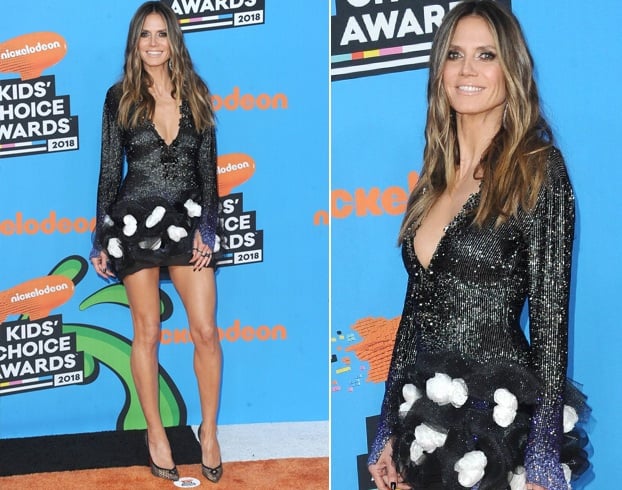 Zendaya, as usual, looked gorgeous at the 2018 Kids Choice Awards in her nude tulle frock. We have to say the young lady gave off some vintage prom dress vibes that all teens can take a cue from. Like, don't we know already, Queen Zee is never wrong.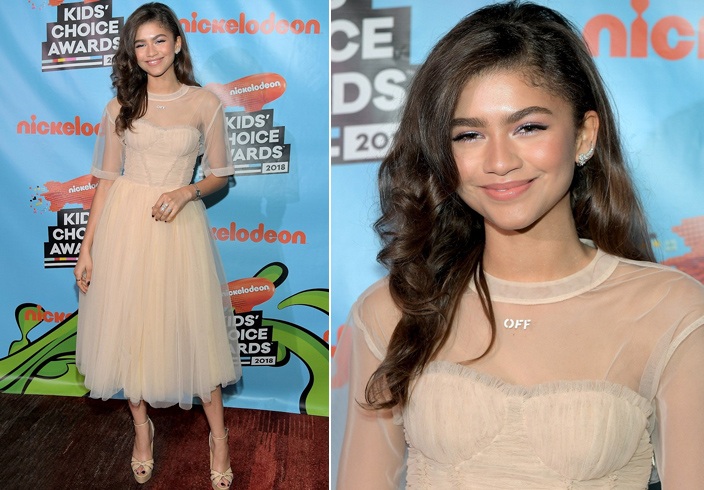 Kristen Bell looked her sunny and chic on the bright orange carpet in her cropped blouse that she paired with a bright skirt by Emilia Wickstead. In her role as a presenter, she wore pulled-back hair with Faris earrings that completed the look.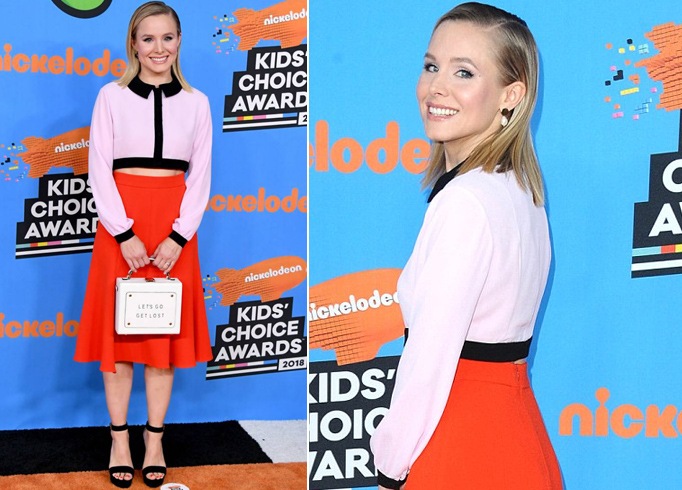 Candace Cameron Bure went for a simpler look at the event, and though it was better than many failed attempts, we don't know how we feel about it. Her cropped tee in white worn with black leather skirt was matched with sexy booties. her makeup stayed less than impressive. The "Fuller House" star attended the event with her gorgeous daughter but looked as though she was trying a little too hard to look like a teenager herself.
[sc:mediad]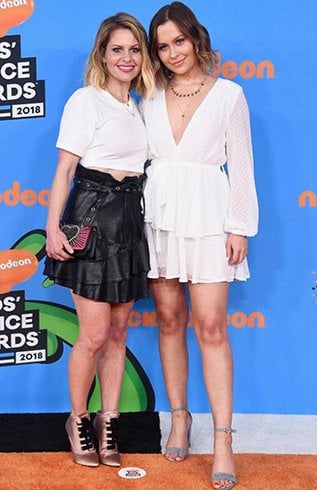 Yara Shahidi has never walked a red carpet she didn't slay. The "Grown-ish" star looked unquestionably stunning in a black-and-white polka-dot dress from Rasario. The outfit was effortless and looked very comfortable. The young star in the making proved once again that she is a force to be reckoned with in every way – especially when it comes to fashion!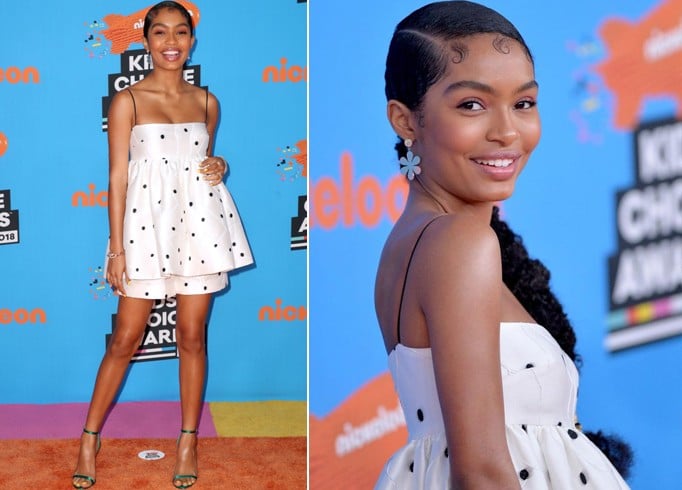 Kat Graham's choice of wardrobe for the occasion had us inspired. This sexy "Vampire Diaries" alum settled for a fierce look. Pairing the T-shirt with a flowy tulle skirt in black and a pair of studded booties, she finished the look with winged eyeliners and a statement lip.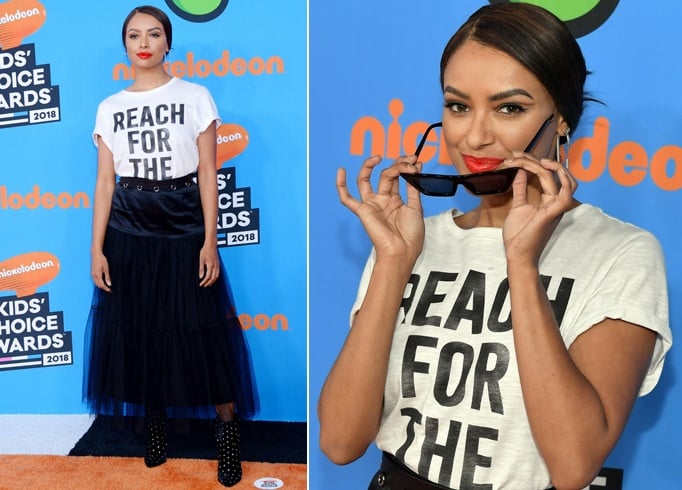 We saw Chloe Kim's another side of herself in a chic white ruffled dress by Rebecca Vallance that she paired with pink heels. The snowboarder showed she can win at any stint, just like she does with the Olympic gold medals!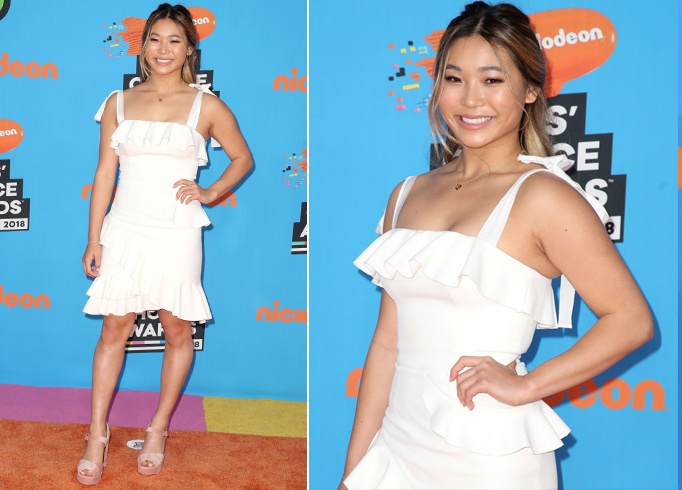 Lilimar Hernandez certainly wanted to bring a different version of her. The Venezuelan actress looked gorgeous in yellow and we totally dig the idea of matching up a yellow dress with cute lilac pumps.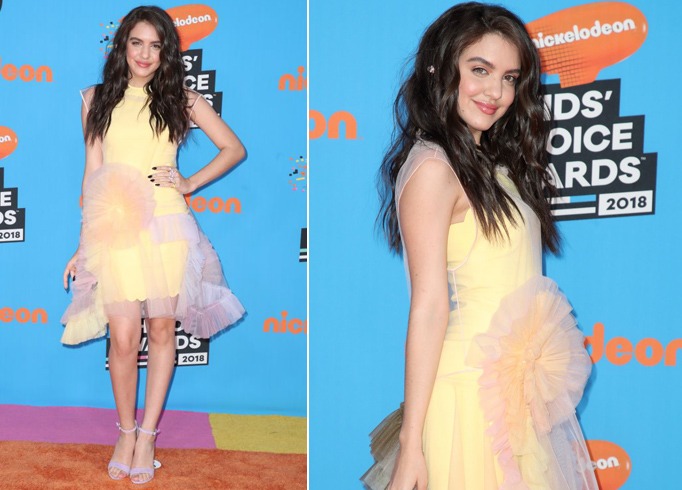 This was a quick rundown of the orange carpet appearances at the Nickelodeon Kids' Choice Awards this year.
Images Source: gotceleb, celebmafia