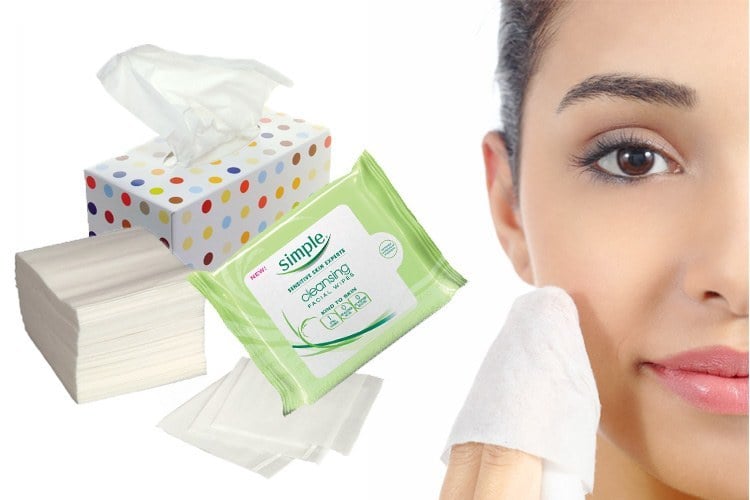 What does your fancy tote bag carry in summers? Just creams, ointments, runway cosmetics, wallet, perfumes, or something more that's a must in sun-irritating months. Yes, we mean the face wipes.
Face wipes are a necessity given the excessive sweating and loss of body water that happens in the heat. And they are so easy to use. All you have to do is wipe off your face at regular intervals during hot summer days and bingo your face gets refreshed, hydrated and moisturized in a jiffy. The wipes come in handy and are of tremendous use when it is time to remove makeup after you come back from work or party.
Let's get started with quality fresh face wipes and tissues that will keep the moisture content of your face intact at the same time restore its glow. Below are some best face cleansing wipes:
Sephora Express Cleansing Wipes
A purse-friendly packet for cleansing the face, eyes, and lips, the pre-moistened wipes from Sephora are biodegradable. These towelettes remove makeup, even long-wearing formulas, without leaving behind oily residue. This is definitely one of the best makeup remover wipes. It is paraben-free and is dermatological tested.
[Also Read: How to make Your DIY Makeup Remover Wipes at Home]
Dermalogica Precleanse Wipes
Get ultra clean and healthy skin with the PreCleanse wipes from Dermalogica. Each biodegradable wipe melts away excess oil, waterproof make-up, environmental pollutants that build up on skin. Made with skin-softening Aloe and Apricot oils, conditioning Rice Bran and Vitamin E, these gentle wipes can be used around the eye area in order to remove waterproof mascara. There are no artificial fragrances, colours or parabens in it.
Neutrogena Makeup Remover Cleansing Towelettes
These are ultra soft cloths from Neutrogena that provide superior face cleansing. They dissolve all traces of makeup and even waterproof mascara leaving behind no traces of residue.
Kara Refreshing Facial Wipes
Wipe out the dirt from your face by using refreshing wipes from Kara. They are enriched with Aloe Vera (for skin nourishment) and Mint Oil (for freshness). Besides the effective cleansing properties of dirt and oil from the face and neck, Kara face wipes also leave a lingering fragrance. Dermatologically safe, they are alcohol free, natural and 100% biodegradable.
[Also Read: 3 Best Eye Makeup Removers Available in India]
Olay 2-in-1 Daily Facial Cloths
Olay is known for its skin smoothening and nourishment properties. Their wipes go a step further when it comes to looking after sensitive skin. The Olay 2 in 1 Daily wipes happen to be dual in texture. This helps them provide maximum absorption of dirt and sweat. Each Olay wipe tones, scrubs and exfoliates your skin.
[Also Read: Simple Cleansing Wipes]
[sc:mediad]
The Bodyshop Vitamin E Gentle Facial Cleansing Wipes
Easy and convenient to use, cleansing wipes from Bodyshop provide skin protection and moisturizing components to keep your face free from dirt, impurities and sweat. Interestingly, these wipes are also used as makeup remover keeping your skin refreshed and smooth.
Johnson's Daily Essentials Refreshing Facial Cleansing Wipes
Johnson & Johnson stands for purity in care. This is what reflects in their Facial Cleansing Wipes that provide effective cleansing, gently removing water-proof mascara. Johnson wipes have mild cleansing lotion that helps cleanse, tone and remove eye make-up. Moisturising ingredients in it leave skin feeling refreshed without over drying.
Nivea Refreshing Facial Cleansing Wipes
These wipes cleanse, moisturise and refresh your skin making you look healthy and beautiful. Nivea uses nature-inspired ingredients that work in perfect harmony with your skin.
Clean and Clear Makeup Dissolving Facial Wipes
Try out these effective pre-moistened oil-free wipes. They instantly dissolve dirt, oil and makeup deep down to the pores. They also remove waterproof mascara easily and surely. So what you get is perfectly clean skin with no oily residue. Besides, the pack is large enough to use on the entire face. Ophthalmologist tested, safe for contact lens wearers and allergy tested.
Pick these beauty essentials today and give your face the softness, grime-less protection it deserves. Happy Face Wiping!