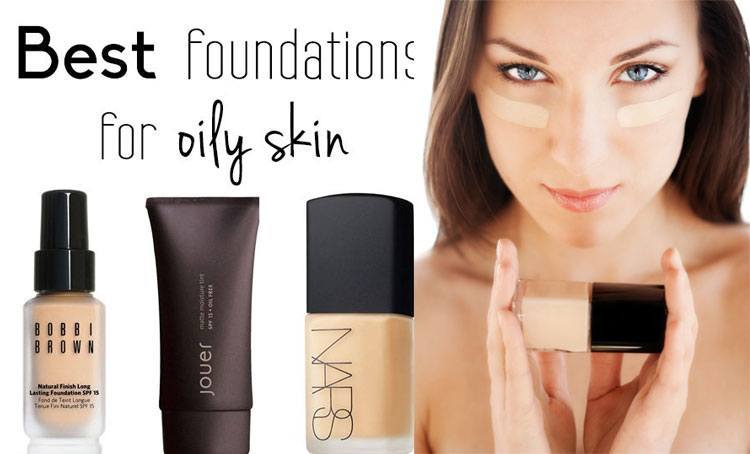 Putting Foundation as you know is a 9 to 6 job. You have to look your best and perfect after all. But the real challenge comes in selecting the right foundation for your oily skin. Women with oily skin are mostly in the habit of washing their face frequently so as to reduce oil. But how much knowledge do they have about the best foundation for oily skin. Don't worry, you beautiful lass. We bring you some fultoo gyan about it.
[Also Read: How to become a Pro with Foundation Routine]
Couple of things you need to ask yourself – are you using the right makeup products for your skin type? Are they oil-free? Were they prepared to control oil in the first place and to be used only on oily skin? Keep looking for words on the packaging such as oil-free, oil control when you are down with oily skin.
We must also know why most of us have oily skin. That is because there is over production of sebum from our oil glands. Cleansing and toning your skin from time to time is very important after all. Here are couple of skin-friendly foundations that will bring a smile to your oily face.
Types Of Foundations For Oily Skin
Foundations are meant to suit various skin types, skin conditions and skin disorders. The formulations come in liquid, powder, cake, cream and mousse formats.
Liquid Foundation
Liquid foundation comes in the form of a lotion, not cream and can be directly applied on the skin. Since they blend easily into the skin, their application is smooth and simple.
Cream Foundation
A Cream-based foundation appears like a normal cream. It is thicker in consistency as compared to a liquid foundation. It is not dry or wet and is of in-between consistency. Initially it might appear greasy but after some time when it settles down, it mixes with the skin tone to look natural.
Matte Foundation
This kind of foundation gives best type of skin coverage and natural finish. There is no artificial shimmer at all. Matte foundations can go with all skin types and usually last for 8 hours.
Oily Skin Foundation Brands
Choosing a lasting foundation for oily skin is very important to avoid skin disorders. Some of the best foundations are right here below:
1. Makeup Forever For Ever HD Invisible Cover Foundation
A liquid full coverage foundation for oily skin, its formula is based on water and silicon. One of the best among the liquid foundations, the liquid easily blends into the skin. Once applied, it covers all the imperfections, marks and spots, giving even out skin tone and non-oily powdered finish.
Price : Rs.2064 (30ml)
[Also Read: A Comprehensive Guide to Foundation for Beginners]
2. BareMinerals SPF 15 Matte Foundation
An award winning product, this foundation gives a natural and rich look that lasts for about 8 hours. A creamy foundation it is that hides imperfections on the skin, while hydrating the skin tissues.
Price : Rs.1400 (6ml)
3. NARS Sheer Matte Foundation
This is a sheer foundation that leaves your skin with a flawless matte finish.
Price : Rs.3311 (30ml)
4. Chanel Perfection Lumiére Foundation
This happens to be a long wear foundation that gives a natural flawless look. It is very easy to blend and the beauty of it is that it feels weightless.
Price : 4898 (30ml)
5. Laura Mercier Oil Free Supreme Foundation
If you expect ultimate coverage and pore-minimising foundation, then Laura Mercier is the one meant for you.
Price : Rs.5598 (30ml)
6. Neutrogena Shine Control Foundation
We know about the competency of Neutrogena products. Their foundation for oily skin is yet another product that gives 8 hours shine control and yields a natural matte finish.
Price : Rs 2098 (30ml)
[sc:mediad]
7. Revlon Colorstay Foundation
Ah…Revlon scores the most in its lightweight formula which goes about delivering long wear coverage. The best part about it is that it doesn't cake off in the middle and stays all day.
Price : Rs 875 (30 ml)
8. Kat Von D Lock-It Tattoo Foundation
This is one of the best full coverage foundations for oily skin. With a 21% pigment, this one from Kat Von D, convincingly scores over others. Hence a little bit of this product is enough to get you going. The foundation can even conceal tattoos with much ease. A long wear foundation for oily skin, this base guarantees to last 24hrs, without any touch up requirement.
Price : Rs. 5999 (30ml)
9. Burberry Velvet Foundation
If luxury is what you seek in everything, then this can be your go-to product to have the best matte foundation for oily skin in your vanity. As sleek as it looks, it works well on all oily skin types, courtesy it's gel application. Rendering a flawless, smooth matte finish the inherent rose extracts, aid in nourishing the skin.
Price : Rs.6630 (30ml)
[Also Read: 9 Foundation Hacks Your Must Learn – Flawless Skin Guaranteed]
10. MAC Studio Finish Foundation With SPF 15
One of the top picks when it comes to foundations for oily skin, is this one from MAC. Containing a special formula, this foundation not only minimises the visibility of pores
but also helps in reducing the pore size. Providing for a medium coverage and a SPF15, this product is one of the best in the market.
Price : Rs.2450 (30ml)
Now that you have had a look at the foundation brands for oily skin, make sure to read the packaging label whether they have oil-free ingredients or not. Balancing excess oil on your skin can be done only when you pick the right foundation to match your skin type, condition and age. Happy deciding on the best foundation for your oily skin!