We love our hair nice and bouncy, and we wish to have the touches of Rapunzel at all times. However, keeping in mind the day and age we live in, with plenty of grime and dust settling on our tresses, chemicals in shampoos and styling products that miffs our hair and more, can we ever boast of lovely hair? The answer is YES. When you know which of the best hair serums in India to use, you shall have lovely bouncy hair to flaunt. This is why we would like to talk about seven amazing hair serums in India, which have been reviewed by real people online and have worked like magic. Read on please!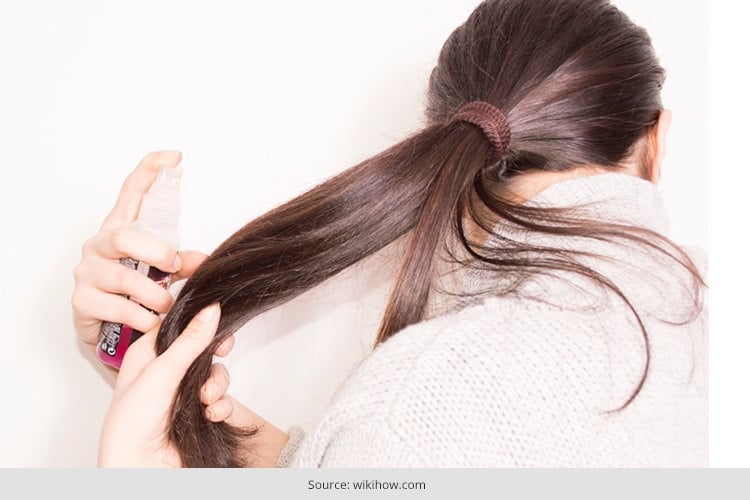 [Also Read: Argan Oil For Hair: Natural Serum For Shiny Hair]
Top 9 Best Hair Serums Available In India
In no random order, here are the Best Hair Serums available In India. These are hair serum products from reputed brands and companies, keeping in mind the Indian climes, hair texture and tones.
1. Dove Nourishing Oil Care Serum
Hate the oiliness you get after a good oil massage, and yet want the hair to shine and shimmer when out in the sun? Your answer would be with DOVE. The serum here in question gives you what you want sans the oily effect to deal with later. With touches of coconut, sunflower and almond oil in it, there would b no more dryness to face. The serum is easily absorbable and can strengthen the hair from root to tip, with a shine so fine, hence making it one of the Best Hair Serums Available In India.
How to Use:
Take 3-5 splashes of the serum into your palm.
Apply gently and evenly all through your wet or dry hair
Don't rinse it away
Style your hair as per your desire.
Benefits:
With almond, sunflower and coconut oil ingredients supplying the nutrients, it gives a shiny look and leaves the hair smooth.
It can be noted as zero frizz hair serum that makes the hair manageable.
Side-Effects:
It's not a daily use product
It might render the hair oily when applied in excess or on a frequent basis.
[Also Read: Best Vitamin C Serum ]
2. L'Oreal Paris Total Repair 5 Serum
Keratin is what forms the hair and makes it look young and healthy; the lack of it is what creates a problem. Keratin is lost over time, which is why you should trust L'oreal Paris Total Repair 5 Serum which is enriched with excellence me and pro keratin.
How to Use:
Take sufficient amount of serum in both your palms.
Rub it gently and apply evenly along the length of the hair.
It can be applied on dry as well as wet hair
Benefits:
It gives the hair sufficient shine and is light in weight.
It works effectively on both wet and dry hairs.
It evaporates without leaving behind an oily feel.
Reduces hair fall but untangling the ruffled hair strands.
Side-Effects:
It doesn't work great on hair surface.
3. Giovanni Smooth as Silk Xtreme Protein Hair Infusion
For a luxe touch to the hair which is damaged, brittle or dry, try this serum. It is a formula that is made from various essential oils, fruits and peels, perfectly safe for your hair. Shea butter and soy proteins included help feed the hair, and the oil of macadamia protects the strands. Moisturize and keep the hair strong for long, and rejuvenate every strand on the head for a very long time, with the help of the serum.
[Also Read: Vitamin A For Hair – Good Or Bad?]
How to Use:
Comb the serum through shampooed hair and leave it in for 3-10 minutes.
Carefully rinse the serum with luke warm water.
Benefits:
It repairs extreme damaged hair and rejuvenates hair with the softening Macadamia and vitamin rich Kukui oils that it contains.
Revitalizes coarse and unmanageable hair.
4. W2 Noveau Hair Therapy For Women 100ml
Your hair needs minerals and vitamins as food to survive, which only the best hair serum brands can provide. Noveau infuses the greatness of sesame oil rich in minerals that helps feed the roots of the hair, and makes them strong with vitamin B infusion through wheat germ oil as well. Fight hair issues, dandruff, sensitive scalp and more, while the almond oil and omega fatty acids in the formula secretly work their ways around in making the hair long and strong.
How to Use:
Take few drops of the oil and apply it on scalp and hair.
With the tips of your fingers, gently massage the oil in round circular motion.
Leave it overnight and rinse the next morning.
Benefits:
It is a 100% ayurvedic hair treatment and hence is harmless to the hair.
It effectively reduces dandruff and graying of the hair.
It controls hair fall and promotes hair growth.
5. Matrix Biolage Deep Smoothing Serum
No second thoughts here in clarifying this formula as one of the best serum for hair. With Matrix, you can trust every product that it manufactures since it understands the hair type of Indian women. Blessed with essential oils, the serum works wonders for dry and frizzy hair, sealing moisture into the shafts of the hair and without the oily touch that too. Listed below are the hair serum benefits and cons with a detailed description of how to use hair serum:
[sc:mediad]
How to Use:
Take a small amount of the serum in your hands.
Rub gently and apply evenly through the damp hair.
Style as usual and apply the serum as when required for added shine and frizz control.
Benefits:
Effectively controls the frizz.
It is light in weight and delivers great luster to the hair.
Since it is a botanical extract based products, it will not cause much damage to the hair eventually.
Side-Effects:
It will give your hair an oily feel when applied in excess.
It is not a long-lasting product and needs to be applied as and when required.
It hasn't proved effective on dry and brittle hair.
6. Dr. Batra Hair Treatment Kit
You should invest in the kit by Dr. Batra, because serums made by them have the power to manage your hair, deep cleanse and effectively promote hair growth too. The formula is blessed with antioxidants and anti bacterial properties, which protects the hair from the harmful UV rays of the sun and improves blood circulation too; balances oil and the pH level as well.
Benefits:
It resolves the dandruff related problems.
Smooths the hair and helps in untangling with minimum hair fall.
It helps in hair growth and renewal.
7. L'Oreal Paris Smooth Intense Hair Serum
Perfect for women with frizzy to dry and brittle hair, hair that is unmanageable can now be managed. Enriched with argan oil and minerals, the smooth intense hair serum spoken off is a blessing for wild locks to help with strength. Amongst the many hair care products in india, this particular one is the most talked about and used.
[Also Read: How To Get Healthy Hair]
How to Use:
Take few drops of the serum onto your palm.
Rub your palms together and apply the serum gently along the lengths of your hair.
The amount of serum depends on the length of your hair.
It renders best results on towel-dried hair.
Benefits:
It is non-greasy and easy to apply.
It works tremendously well on wet as well as dry hair.
Smoothens, untangles the hair and controls the frizz too.
As promised it renders immense shine to the hair.
Highly economical product.
Side-Effects:
On carefully studying the product and its reviews, we can conclude that the L'Oreal Paris Smooth Intense hair serum barely has any side-effects or negative effect on the hair. It can be considered as one of the best hair straightening serum.
8. Kerastase Nutritive Oleo Relax Serum
Unmanageable hair is the worst to deal with, which leads to bad hair days. Say goodbye to all that now and smoothen up the strands with keratese nutritive oleo relax serum, which allows the hair some shine and plenty of smooth texturing. Blessed with nutria-hulle complex, the formula helps beat the frizz and dryness, and is best used on damp to wet hair!
How to Use:
Pump 2-4 times into your hand and gently apply on your towel dried hair.
Focus on the mid-lengths and ends for better results.
Benefits:
Reduces hair fall prominently.
Controls frizz .
Untangles the hair with minimum hair fall .
Adds shine and provides smoothness.
Side-Effects:
It contains a silicone based component called Dimethiconol which might harm the hair.
It doesn't work on rebonded hair.
It is surely pricey.
9. Khadi Smooth And Silk Hair Serum
Enriched with nutrients of jojoba and almond oil, the Khadi hair serum engages in strengthening the hair with shine and bounce. Like every other serum, it aids in controlling the frizz and minimizes the hair fall. The clear liquid is mildly scented but carries a thick texture like oil.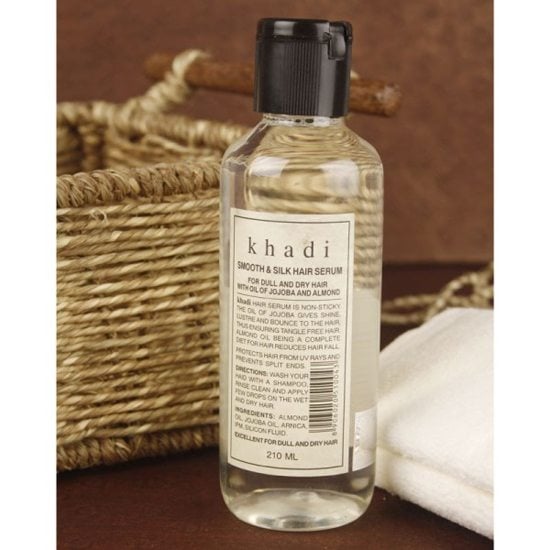 How to Use:
Take few drops of the hair serum.
Rub it between the palms of your hands.
Apply the serum gently over the length of the wet hair for better results.
Benefits:
It's a non-oily hair serum.
It provides moisture to the hair and scalp.
It is perfectly light in weight.
It helps tame the frizz and helps in reducing hair loss.
Side-Effects:
When applied in excess it might give a heavy feel to the hair.
If you have any other good hair serums to talk about and share an experience with, let us know!