When it comes to selecting the standout hairsprays, you obviously want formulas that would keep your style in place, right? But you are in luck as there are a lot of hairsprays available today that are far less stiffening compared to hairsprays of the past.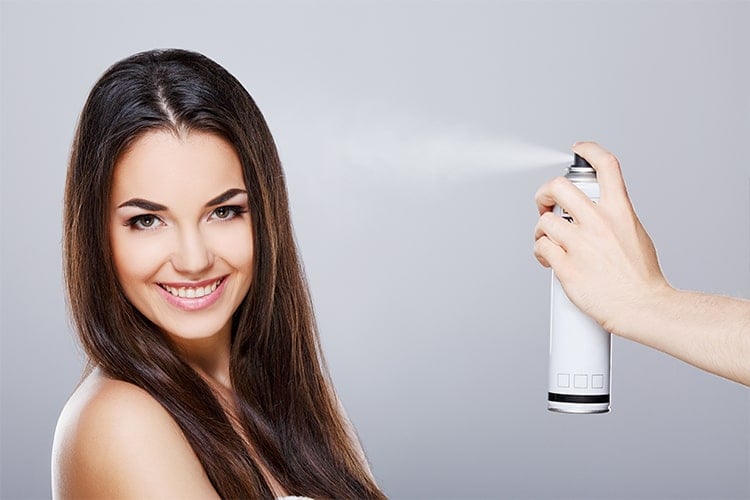 We have reviewed and tested 15 hair sprays for women starting from affordable to pricey ones. Read on to discover why these hairsprays are best in the stores.
What is Hair Spray?
Hairspray is one of the most common used hair products. The liquid spray formula is used for setting hairdos 24 hours or even longer. The product is also used for creating hair volume and to treat flyaways. This is the reason why hairspray remains a popular product.
Uses of Hair Spray:
There are several hair spray uses which you may be unaware of. Take a look.
1. Treat Flyaways:
Hair spray is the ultimate product to treat frizz and flyaways. You may brush your hair and then spray a light mist hairspray.
2. Prevent Hair From Falling Flat:
Most women flip their hair and spray their hair using hairspray. Then flip it back and repeat for holding hair volume. One tip to follow is to spray every angle to have fuller hair.
3. Easy On Bangs:
Clip the bangs using pins while you blow-dry the rest of your hair. Then take off the clip and spray the bangs using hairspray so the bangs blend along the entire hair length.
4. Tame Frizz:
Hairspray is the ultimate secret to protect hair from all elements especially humidity. It can thereby control frizz and keep hairstyle in place.
5. Keeps Blowout Stay Put For Longer:
Hairspray keeps hairdo in place. Spray a light mist formula to keep style in place whilst giving volume and movement. This is not possible using hair gels and creams.
6. Perfects Ponytail:
Hairspray is great while creating red carpet ponytail. First use a brush to tie the hair up, and then use a hairspray on the side to treat flyaways. It is one of the best kept secret to create an easy style that looks chic.
7. Works On All Hair Types:
It all comes down to how you use the hairspray. The correct step to using one is to spray it with a distance of 12 inches. You may also use two or three coat on textured hair to keep style in place.
[sc:mediad]
8. Keeps Hair Shiny:
Applying serum on hair gives a smooth, shiny finish. But a hairspray is a better product to keep style in place.
9. Gives A Light Hold:
Unlike hair textured creams or pomades, hair spray provides a light hold. It also keeps style in place while giving your hair some movement as well.
Top 15 Hair Spray Products to Try Out:
Here is the best hair setting spray products that should be on your wish list:
1. TIGI Bed Head Hard Head Hairspray:
The TIGI Bed Head Hard Head Hairspray is designed for maximum hold and dries fast. The more you spray, the harder the hair gets. With a strong hold and conditioning, the product adjusts hair pH levels and tame frizzy hair. Spray the hairspray onto clean dry hair. Hold the product 10-12 inches and spray over styled hair to keep it in place. Style the hair for instant firmness.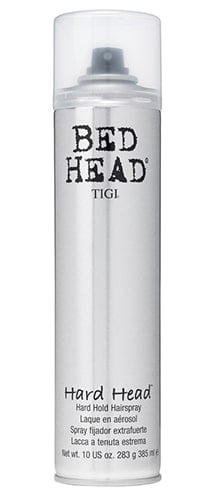 2. Gatsby Set & Keep Hair Spray Ultra Hard:
The Gatsby Hairspray comes with a fine mist finish and long-lasting protection. The product has a non-sticky shine effect and protects hair from UV rays. It also has refreshing citrus fragrance.
3. Tresemmé Tres Two Ultra Fine Mist Hairspray:
The hairspray gives similar benefits to expensive ones and come in budget. The light hairspray is termed to be a lifesaver as it has a strong hold without stiff finish. Many find this hairspray great for controlling flyaways and frizz even in bad humidity.



4. Matrix Vavoom Freezing Spray:
The Matrix Vavoom Freezing Spray comes with a good rating because of its instant result. Use the hairspray onto clean hair and notice how it last throughout the day. It does not give a stiff finish which is another plus point. A good tip to follow while using the hairspray is to create the hairstyle that you want before applying.


5. L'Oreal Elnett Satin Hairspray Extra Strong Hold:
A great selling point about the extra strong hold L'Oreal hairspray is it keeps hair styled without a heavy feel. The hairspray comes in an aerosol can and has an unscented mist. The mist spray keeps hair in place yet brushes off hair without flaking.


6. Aveda Control Force Firm Hold Hairspray:
The Aveda firm-hold hairspray offers long lasting results for all hair types and defends against humidity. Aveda's pure-fume™ fragrance has certified organic pure flower, lavender, bergamot, and palmarosa.


7. Moroccanoil Luminous Hairspray:
Reviewers and hair experts have agreed that this hairspray offers long-lasting results. The benefit of the product is the fragrance and non-stickiness. The hairspray keeps hair in place without weighing it down. It also leaves hair shiny and smooth. With such good reviews, the Moroccanoil hairspray is worth every penny.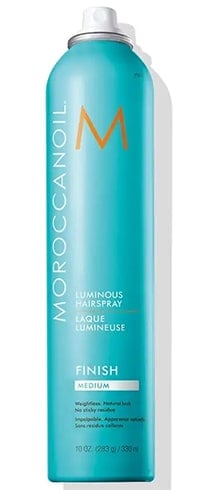 8. Cantu Natural Style Stay Frizz-Free Finisher:
This is the perfect product for textured hair. It works well to smooth out hair. It has ingredients like shea butter, mineral oil, and propylene glycol to deliver equal spread of light hold.


9. Redken Forceful 23:
The flexible hold of the hairspray is not to be missed. It delivers long hours of control and humidity resistance without a crunchy finish. Use this hairspray for keeping your updo in place.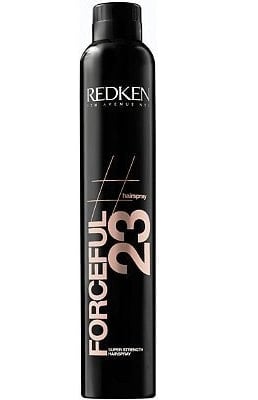 10. Garnier Fructis Extreme Control Anti-Humidity Hairspray:
The hairspray is touted as a strong hold product and fights off humidity for 24 hours. The natural bamboo extract Garnier hairspray formula keeps frizz off and maintain hairstyle.


11. Dove Compressed Micro Mist Flexible Hold Hairspray:
The extra-fine hairspray mist with micro-mist technology by Dove is non-sticky and water-free. Its fast-drying formula allows brushing hair easy. Coupled with an affordable cost, it is quite easily an ideal drugstore pick.
12. Pantene Air Spray Hair Spray:
The Pantene Air Spray Hair Spray is a winner of the Best of Beauty category. A quick spray of the alcohol-free aerosol product allows your hairstyle to stay in place for 24 hours without any stiffness. And at a smooth price tag, Pantene's spray is simply affordable.


13. Kérastase Lacque Extrême Hair Spray:
The Kérastase formula features Triple Mist Diffusion that dries off quickly whilst delivering fine polymers. The 48 hour humidity protection product also adds volume and shine. The key benefits of the hair spray are its long-lasting hold, humidity protection, and UV filter.



14. Bumble and Bumble Bb. Strong Finish Firm Hold Hairspray:
The Bumble and Bumble hairspray has a strong hold formula with low content of alcohol. It puts hair in place, has a set finish and does not flake whilst brushing.
15. Nova Gold Super Firm Hold Hairspray:
The Nova Gold super firm hold hairspray provides long lasting results to your tresses. It controls frizz and makes hair manageable. The formula adds shine, keeps each strand in place, and protects hair from humidity.


FAQ's:
Q. 1. What is the best hair spray?
A. The best hair sprays are TIGI Bed Head Hard Head Hairspray, L'Oreal Paris Studio Line Hot & Big Hairspray, Tresemmé Tres Two Ultra Fine Mist Hairspray, Matrix Vavoom Freezing Spray, Aveda Control Force Firm Hold Hairspray, etc.
Q. 2. Is hair spray good for hair?
A. There is no content in hairspray that damages hair but it is essential to remember few things for maintaining healthy hair. You must avoid using hairsprays that contain ethanol, avoid over-brushing, increase product build-up, and dry out hair.
Q. 3. What are the side effects of hair spray?
A. The side-effects of hair spray are it weakens hair cuticles leading it to breakage, dandruff due to product build-up, and dullness.
Q. 4. Which hair spray is best in India?
A. The best hair spray brands in India are L'Oreal, Garnier, Dove, TIGI, Matrix, etc.
Q. 5. Does Hairspray ruin your hair?
A. As the saying goes-too much of everything is bad, the same applies for hairspray. Using it too often will lead to hair damage. Work on maintaining healthy tresses and most importantly allow your hair to breathe once a while.
These are our pick of the best 15 hair sprays for women. You can check them online shopping or even at selected stores.
Hope you get your desirable hairspray from the selected ones above. Write in to us at the comment box for any kind of feedback or comment. We love responding back to our loyal readers.