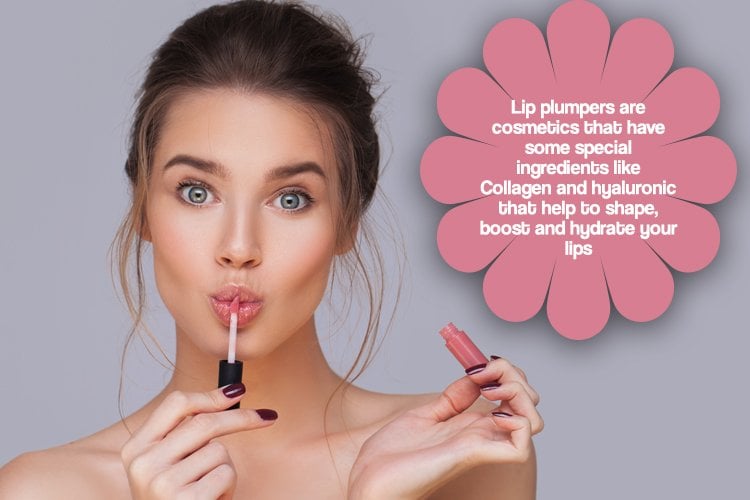 Those Angelina Jolie-esque lips have always been a favorite with us ladies. Who doesn't like bee-stung lips that pout without even trying? Well, for the most of us, such lips exist only in the movies or with some lucky few but what if we tell you that there's a makeup product that can actually give you those lips for a little while (like all good things this product too is temporary, but we will also tell you other more semi-permanent options)?
Lip plumpers are amazing beauty products that can help you get fuller lips with just a swab of the product on your lips. They leave you with a tingling sensation, no doubt, but at least you can get the desired effect. Lip plumpers are also much better than lip fillers (that involves injecting collagen into your lips and don't even get us started with the repercussions of a botched filling) or getting a lip surgery. Not only are these two options extremely expensive, but there are also chances of them going wrong. And it's always better NOT to go under the knife unless it is very essential. In this article, we will talk about the best lip plumper brands and products in India and the ones on which you should be spending your money on. We have scoured the internet for best lip plumper reviews to make this list. So read on and decide which brand suits your needs and pocket!
So How Exactly Does a Lip Plumper Product Work?
Lip plumpers are cosmetics that have some special ingredients like Collagen and hyaluronic that help to shape, boost and hydrate your lips – thus resulting in a perfect pout. When you first apply any lip plumper you will immediately have a stinging (but not unpleasant) sensation. This is because the plumper's ingredients have started working their magic and the chemicals present in the lip plumper increase the blood flow to your lips – hence the swollen and bee-stung lips! They are basically irritants that are not harmful to your lips. So you can use ones from the good brands without worrying about allergic reactions!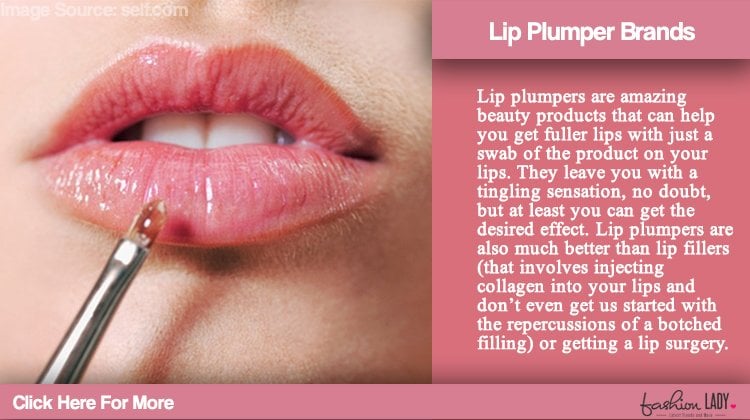 Top 7 Lip Plumpers In India
Go ahead and check out our list to pick the best-selling product that will help you get a dreamy pout.
1. NYX Pump It Up Lip Plumper:
You don't need any fillers or injections when you have NYX's little plumper bottle. The nifty product can plump up your lips in a jiffy and it gives a really shiny coat. It's best kept for parties and two or three coats of the product can even give a 3D effect.
Price: INR 450

2. L'oreal Paris Extraordinaire By Colour Riche:
A hint of lip gloss and a touch of lipstick- this is what L'Oreal's product gives you. The lipstick cum lip gloss is very rich in moisture and has pumping oils that give that extra boost of moisture to your pout. Most of the shades that are available in this range give a very sheer tint but glossy color so you will need to reapply it once or twice in a day but the effect is gorgeous. You won't look like you have too much on and it ends up looking quite natural and pouty.
Price: INR 950

3. Lakme Absolute Plump and Shine:
It is considered the best lip plumper in the market because of all the rave reviews that the beauty bloggers have been writing about it. Just the right size to fit into your clutch bag, Lakme's lip plumper gives an ethereal sheen and has a very smooth consistency. It glides on your lips effortlessly and stays on for a pretty long time, thus making it a favorite with all users. It contains marine collagen and is extremely pigmented thus giving you an absolute shine (just like the name!) You may have to apply it once in like 4-5 hours, but that's about it.
Price: INR 450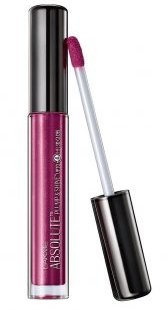 4. Nivea Lip Care A Kiss Of Natural Volume:
One of the best permanent lip plumper in India, Nivea's products have always been good. Known for their moisturizing ingredients, this one is no different. The Lip Natural Volume doesn't give you a color per se but has collagen and light reflectors that give you shiny and luscious lips instantly. Since it does not give you too much color, it can be used just as a normal lip balm and can be topped with a lipstick or a tinted lip gloss.
Price: INR 350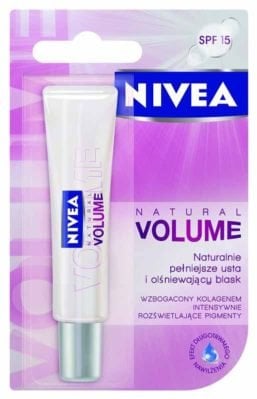 [sc:mediad]
5. Too Faced Lip Injection Extreme:
One of the best lip plumping products available, this one takes the cake for the extreme plumping boost your lips get with just one injection/swathe. It is also one of those products that have a ton of ingredients all working to give you those perfect lips you are looking for. The product is said to contain a potent quadra-delivery system that has the goodness of collagen-friendly MaxiLip (a novel invention of the company), vitamin E, and Dehydrated Marine Sponge that work together to enhance the blood flow to your lips and promote a look of fullness. It is also especially good for those who have really dry lips because the ingredients rehydrate your lips and keep them moist for a much longer duration. It also contains magical ingredients like avocado and jojoba oil that work wonders for chapped lips and make them a thing of the past. Unlike most lip plumpers, the stinging sensation in this one too is a little milder. It may cost a little more than the regular plumpers available in the market, but it does the job well and it will last you at for two or three months tops!
Price: INR 2500

6. Physicians Formula Plump Palette Plumping Lip Color:
If you LOVE all things natural, this product is just for you. Not only will it give you a more permanent and fuller looking lips, but it also comes in a pack with four shades to give you plenty of options. The best thing about this product, however, is that it is made from all natural components including Cinnamon and Ginger. These extracts ensure that there is rapid blood-circulation on your lips which invariably helps to give you plumper lips. It also contains Silicone Complex that has rich protein building blocks and Vitamin B. Both of these are known to increase the collagen production. Another great thing about this product is that it's a good value for money and you can use it as a lip balm every day – it doesn't give off too much color. Some users have also claimed that with regular use, you actually get much fuller looking lips.
Price: INR 2825
[sc:mediad]
7. Dior Addict Lip Maximizer:
If there is any product among best lip plumper brands and products in India that makes you scream 'Take all my Money', then Dior's Addict Lip Maximizer is the one. Yes, we agree, it is one of the most expensive ones we have listed, but hear us out. This one is literally the best product to have perfect looking and plump lips. Not just that, it's the next best thing to getting injected with fillers. The staying power is amazing, the plumping is on point and it doesn't irritate or sting your lips like any other plumper. The Dior products work really magic! The product comes in a nifty little bottle and there are about seven shades that look great on the Indian skin tone. The products aren't very pigmented, so you will probably need a swathe or two, but it can last you several kisses, a few meals and almost the entire night. Of course, the plumping effect goes a little dull after a while, but a little touch-up using this product does the job and it does it well!
Price: INR 4500

So here are our best picks of the best lip plumper brands and products available in India. And like we mentioned before, the results of all of these are temporary and will at best last you for about 8-10 hours. However, if you want a more permanent fix, you could go for lip fillers (imagine Kylie Jenner's transforming lips) or go under the knife. Both these options are of course a tad bit expensive, and also not that safe – unless you get it done by a professional who is experienced and good at his job. And like any surgical procedure, it will take time and patience to heal. In the time you are recovering, you may have extremely sensitive lips and may even have difficulty eating. Or you could just invest in some good lip plumper – all your job done with just one brush! Make an informed choice and enjoy the attention thanks to your new found pout! If you found this article interesting and informative give us a thumbs up in the comments box.