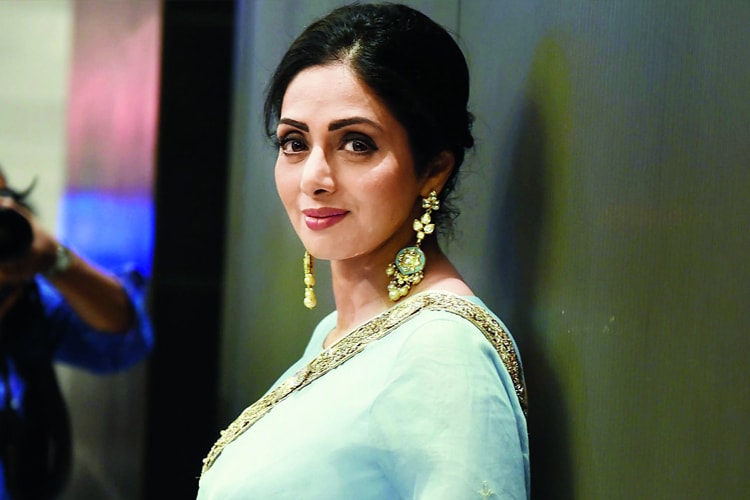 There is a child inside everyone, no matter how old one gets, and it's only fair to keep that child alive to take you through life. But the fateful day of 24th February 2018 claimed my childhood forever, the set of 9 bangles I had set aside, the tales of peacocks dancing in the woods afar, you took everything away. This is not fair, Sridevi. You have left India heart broken, but don't even begin to think we will let you go. We will have you captivated in our hearts forever.
Sridevi has left behind a stellar body of work, there is not one genre that had remained untouched by her marvelous and unparalleled talent. It will be difficult to get over this loss, but to comfort ourselves for a minute you may are some of the best movies of this massive actress that you could treat yourself too.
Chandni – A timeless love triangle that, even after decades, remains to be a fresh watch even today, sweeps every millennial with its music, visual treat, and Sridevi's hypnotic expressions in sings like Mere Haathon Mein Nau Nau Curiya hai… and Tere mere honthon pein. Yes, we all have watched Chandni multiple times and will never get tired of it.
Lamhe – A love story from Yash Raj again, this movie had a trajectory completely usual for the romance audience of Indian Cinema was used to. Morni baga maa bole adhi raat ma… is a song that captures the actress in her most beautiful self, with the yellow and blue shimmering on her body like stars dazzling above in the night sky.
ChaalBaaz – In a double role, playing twin sisters poles apart from each other, Sri managed to outdo both Sunny Deol and Rajnkant with her gift.
Ladla – With Raveena Tandon and Anil Kapoor in love, it was only obvious for the cine-goers to hate the evil character essayed by Sridevi, but the actress, even in a negative role, makes it so difficult for us to hate her.
Nagin – A cult movie that changed the way we perceived shape-shifting snakes in Bollywood movies. Already applauded for her dancing skills, the ace classical dancer that she was, she brought into being which is now famously, at times infamously known as the snake dance.
Kalaakaar – The 1983 movie with Jitender remains to be one of the most watched movies on television. If the name doesn't ring a bell, think about the song Neele Neele Ambar Par and you won't be able to stop hymning it for days at a stretch.
Sultanat – Though Mukesh Anand's directorial had both Dharmendra and Sunny Deol featuring in pivotal roles, the actress successed in making an impact through the minutes she shared on the screen.
Sadma – An epic movie and one of the most revered classics of Indian cinema had the actress in a role of a lifetime. After meeting with a fatal accident, Nehalata Malhotra loses memory and becomes a 6-year-old child mentally. The portrayal evokes a riot of emotions in our hearts and tears in our eyes.
Mr. India – One movie ahead of its time, though the science fiction centered around the male protagonist is remembered two decades hence its release for two songs – Hawa Hawaii and I love you… this proves the metal of this Goddess.
English Vinglish – The 2012 release, for its subject, had an impact more than anyone had anticipated. The story appealed to millions of housewives in the country, thereby making the move a massive hit and Sridevi the comeback queen.
She started her career as a child artist at the age of four and spent five decades in the industry. In addition to acting, dance was one of her major strengths. Here are 10 songs that you can play in repeat or watch to get swooned by the magic exuded through the screen.
Hawa Hawaii from Mr. India
Kate Nahi Kate from Mr. India
Mere Hathon Mein Nau Nau Chudiya Hai – Chandni
Morni Baga Ma Bole Adhi Raat Ma – Lamhe
Main Teri Dushman, Dushman Tu Mera – Nagina (Look at those eyes)
Tu Muhe Qubool – Khuda Gawah
Taki re Taki from Himmatwala
Naino mein sapna from Himmatwala
Dushman dil ka jo hai from Roop Ki Rani Choron Ka Raja
Kisi Ke Haath na Ayegi yeh Ladki from Chaalbaaz
Her large body of work and scintillating performances won her many awards. One of the most decorated actresses of the industry had bagged almost every award that there is in Bollywood.
Padma Shri India's fourth highest civilian award from the Government of India in 2013
Kerala State Film Award for her performance as the Best Child Artist in 1971
Smita Patil Memorial Award for Contribution to Indian Cinema in 1990
Kalasaraswathi Award by the Government of Andhra Pradesh in 1997
Lachchu Maharaj Award in 2003
Vamsee International Award for unmatched Contribution in Indian Cinema in 2003
MAMI Award for her Contribution to Indian Cinema in 2003
FICCI "Living Legend in Entertainment Award" was bestowed in 2008
Special Honour at 33rd Cairo International Film Festival for her unparallel Contribution to Hindi Cinema in 2009
IRDS Film Award 2012 for rendition as Shashi Godbole in English Vinglish in 2012
[sc:mediad]
Honoured by Government of Kerala for contribution to Cinema in 2013
President of India 'Medallion of Honour' for her contribution to 100 Years of Indian Cinema in 2013
Jagran film festival Best actress award for her performance in English Vinglish in 2013
Filmfare Best Actress Award for Lamhe in 1992
Filmfare Best Actress Award for ChaalBaaz in 1990
Filmfare Best Actress Award for Telugu movie Kshana Kshanam in 1991
Filmfare Best Actress Award for Tamil movie Meendum Kokila in 1982
Filmfare Special Award for 16 Vayathinile in 1977
Zee Cine Awards for Best Actor, Female for her performance in Mom in 2017
Stardust Award for Best Actress Drama for English Vinglish in 2013
Tamil Nadu State Film Award for Best Actress for Moondram Pirai in 1981
Most Entertaining Actor in a Social – Drama Film (Female) for English Vinglish in 2012
Filmfare Glamour & Style Awards, Ultimate Diva award, 2015
Sridevi was a paragon of beauty and an epitome of style and fashion. No wonder she was honored with the Ultimate Diva award by Filmfare Glamour & Style Awards. Here are some of Sriji's iconic looks that have unraveled dreams in the nights of young men throughout the country.
After Rekha, if there was anyone else in the industry who could infuse life into the six yards of silk, it was this mother of two teenage daughters who never stopped looking a day over 30. Here is the graceful Sridevi, draped in the choicest of sarees, looking like a spectacle from heaven.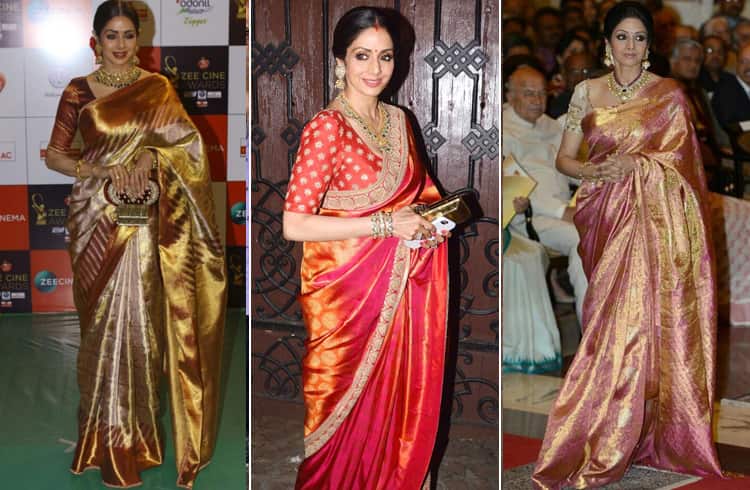 She was not only an actress but a dutiful housewife and a doting mother also. After the grand success of English Vinglish and acclaims of Mom, Sridevi had dedicated all her time to elder daughter Jhanvi Kapoor's career. Be it from her dance routines, make-up, and style, outfit choices for various filmy events to negotiating with, the 54-year-old did everything single handed. Jhanvi Kapoor starrer Dhadak is all set for release, and we know the mother would be looking down and showering her child with the choicest of blessings. Rest in peace, Sri Ji. Om Shanti.