Shampoo bars weren't exactly on our search list until now. But with the push for eco-friendly products by brands and consumers, we felt it's time we start looking for ways to make our beauty regime more sustainable. And what better way than to start off with a review on the best shampoo bars.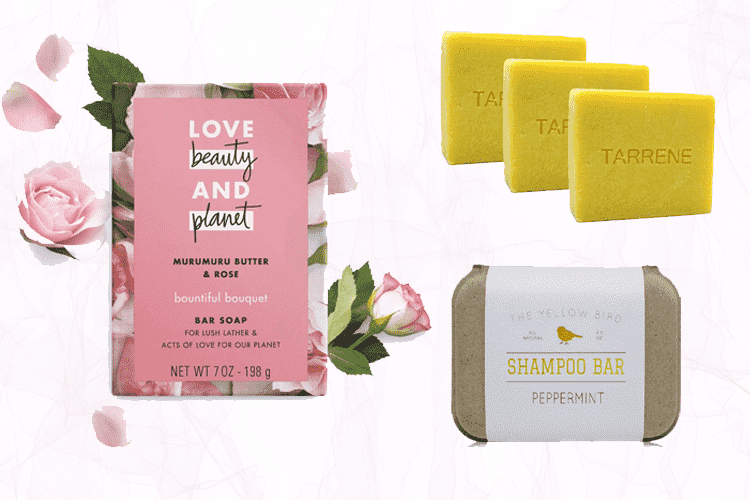 These reusable products works like shampoo but do not come packaged in plastic containers. All the formulas are handmade to cleanse hair without having to recycle the packaging. There are a number of great shampoo bars that are easily available online and on the market. You may shop our list of most-loved products in Amazon below.
Shop these 15 Shampoo Bars Right Here:
Ahead we have listed the 15 best formulas with a good rap:
1. Soapworks, Shampoo Bars:
One of the best-selling shampoo bars in Amazon. Multiple scents and different varieties to suit every hair texture is what make this brand popular. They have an assortment of shampoo bars which makes it a popular eco-friendly formula.
2. Goli Soda, Shampoo Bar:
The unique formulation of probiotics in the shampoo bars by Goli Soda makes this brand popular. This product gently cleanses hair, deeply nourishes, while moisturizing hair with its rich ingredients like castor oil, almond oil, brahmi powder, shikakai powder, avocado oil, and hibiscus powder.
3. Earthy Sapo, Reetha Shampoo Bar:
This solid sudser by Earthy Sapo works effectively for nourishing and cleansing hair. It has organic and plant-based ingredients like reetha, aloe vera, coconut milk, bhringraj, rosemary, amla, methi, and neem which make it safe to use.
4. Soulflower, Reetha Coconut Milk Shampoo Bar:
A combination of rich ingredients like coconut milk and reetha make the Sunflower shampoo bar a great choice for oily and normal hair. The pleasant scent of this natural shampoo is also a plus selling point. If glossy, healthy hair is your goal, add this to your buy-list.
5. Lush, Seanik Solid Shampoo:
Lush line of products is wide-ranging including bath bombs and crazy-shaped seasonal soaps. But its addition of shampoo bars sidelines the rest. Just like this innovative seaweed solid shampoo bar that is used for creating beachy, voluminous hair.
6. Ethique, Frizz Wrangler, Shampoo Bar:
If you are worried about finding about a suitable shampoo bar, then be assured of the Ethique brand. They have a range of bar formulas suitable for different types of hair.
Fun fact: Each bar shampoo is equal to three containers of liquid shampoo.
7. SOS Organics, Amla Shampoo Bar:
Have dry, thick hair or fine, soft hair? This bar is suitable for every hair type. With its use of 100% plant oils like amla oil, peppermint essential oil, and petitgrain oil for deeply nourishing hair, the SOS Organics shampoo bar is a great recommendation. It's also parabens free and fragrance-free.
8. Love Beauty and Planet, MuruMuru Butter & Rose Flower Shampoo Bar:
We are all heart for this delicately-shaped shampoo bar. Its paper packaging is made up of 100% recycled materials but the real deal is its ability to cleanse hair thoroughly. Added benefits of the product are it smells awesome and preserves color. We know what you're thinking (so much). Yes, so much.
9. Kenisha, Rosemary coconut Milk Shampoo Bar:
The brand offers the best-rated bars including this one. It uses natural formulations like rosemary and coconut oil to deeply condition scalp. Users have commented on its cleansing and nourishing powers. This bar has no chemicals and is preservative free, so the ingredient list of this product is not questionable at all.
10. Rustic Natural and Organic, Amla Shikakai Hair Cleansing Bar:
This natural cleansing bar made from amla, ginger oil, and shikakai cleans your hair effectively while adding nourishment. It also fights dandruff and strengthens hair follicles. While the other ingredients like mango butter and methi add moisturizing effects to make your hair soft.
11. Tarrene, Traditional Shampoo Bar:
This is a great handmade bar which also serves as a great conditioner and cleanser. It is popularly used for its hydrating powers on hair and scalp. The bar is suitable to use twice or thrice a week.
12. Satliva, Hemp with Argan and Activated Charcoal Shampoo Bar:
Charcoal is a common ingredient used in most skin care products. All thanks to its benefits to purify skin impurities and cleansing excess oil. All the more, it has the ability to perform the same functions for hair and scalp. The charcoal activated shampoo bar by Satliva is suitable for eliminating oil, without stripping natural hair's moisture.
13. Maple Hill Naturals Vanilla Honey and Brown Sugar, Shampoo Bar:
Most shampoo bar may leave hair tangled, especially frizzy, curly hair. Not in the case of this one, specially formulated to work its way easily into your locks. This product is a rich fusion of fresh vanilla beans, brown sugar, and honey. It cleanses hair gently without drying off hair. While it's essential organic formulations can deeply nourish and condition your locks.
14. The Yellow Bird, Shampoo Bar:
This ultra-gentle shampoo bar is specially made for boosting hair growth and fighting dandruff. Using ethically sourced ingredients, it comes packaged in a recyclable box made from 100% eco-friendly materials. It can also be used as a body soap.
15. J.R Liggett Jojoba and Peppermint Shampoo Bar:
This shampoo bar is a suitable choice for those with damaged hair. It not only contains hydrating properties like olive and coconut oil, but it also has strengthening addition like argan oil to keep your hair strong. While the rich presence of sunflower oil and Vitamin E protect against UV damage.
These are the 15 natural and organic shampoo bars that you can choose from. We hope our selection makes your search easier.