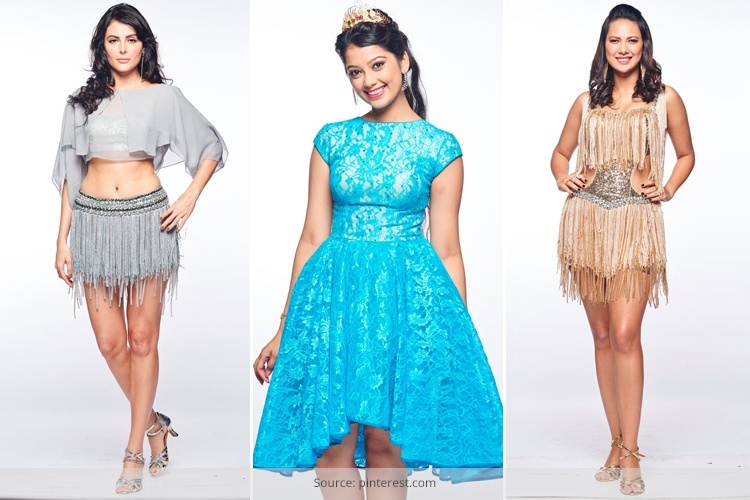 So last night, all my prayers were answered and another season of Bigg Boss started! Finally!! As much as I hate the show, I love the drama that happens inside it. I think my inner Gossip Girl wakes up and as soon as Bigg Boss starts, I tune out the world and pay close attention to what happens on the show!
Last night 14 contestants went through the gates of Big Boss. 7 women and 7 men. While we are not really bothered about what the men do, we are equally excited about what the women will do. It always fascinated me, as to how they could live in isolation for so long with just one bag of suitcase. I mean, I would lose on the first day itself!
What about the spa? The parlour? Catching up on shows! Uff, too much isolation for my taste!
Anyway, these 7 brave women entered the house and last night their fashion was all about bling, bling and some more bling.
For those of you who don't know, the 7 women who entered the house are
1. Roopal Tyagi
2. Digangana Suryavanshi
3. Kishwer Merchant
4. Rimi Sen
[sc:mediad]
5. Rochelle Rao
6. Yuvika Choudhary
7. Mandana Karimi
Well, we could give you guys a small introduction in all their lives, but what's the fun in that? All we can say is, there's going to be some major DRAMA! And some major FASHION! I mean, put 7 fashionistas in one house, and what else do you expect?
I expect nothing less than some major home remedies for black head, pimples and some classic street style fashion. Agreed that Bigg Boss is survival of the fittest, but for us, it is all about how does one survive in a house with just one bag of suitcase!!