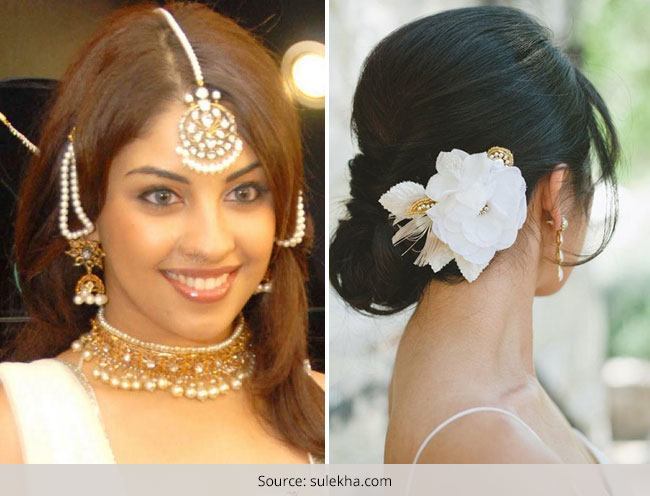 If you have short hair, then your options for bridal hairstyles are indeed quite limited. But with a little imagination, you can come up with some really pretty bridal hairstyles for short hair that will make your short hair look fabulous on this special day. Just make sure you have a really good hair stylist to do your hair as, contrary to popular belief, short hair needs more expert styling than long hair. You have to know just how to style the hair to make it look perfect.
Now let's take a look at some of the stylish hairstyles that a short-haired bride could go for.
The Updo
With not much length to play with, one ideal wedding hairstyle for short hair is the updo. Twist up your hair into a contemporary bun to the side or go in for a more traditional bun, adorned with some interesting hair ornaments for added effect. You can even make use of hair donuts to help keep your bun in place and to create some different styles of buns. The updo is a classy hairstyle that gives a touch of elegance to the bride's look, making her look extra special on her special day.
Check out the pictures below for some idea on how to make your updo special.
Let it Loose
If your hair is quite short, then there probably isn't much you can do about. So go bold and let it loose. You can style it into a sleek straight bob or go for a more wild curly bob. Whichever you choose, do not skimp on the styling products. If you're going for the straight look, then use a frizz control serum and a straightening spray before straightening out your hair. Then finish it off with some setting spray than will ensure not a strand gets out of place. For the curly look, use a curl enhancing mousse or spray; set the curls and finish it off with a strong hold spray. Make the curls nice and tight for a sophisticated look.
To make the look more interesting, add a beautiful hair accessory to complete the look.
Cover it Up
If for whatever reason, be it the dress or the jewellery, you feel that your short hair won't really go with the rest of your look, you can consider covering it up with a heavily worked dupatta or a veil. Leave the front part of your hair visible while covering up the back with a dupatta. Now you are free to wear whatever jewellery you want to without having to worry about whether they go well with your short hair.
[Also Read: Indian Wedding Hairstyles]
Here are some ideas on how to incorporate a dupatta into your bridal look.
Extensions
If you are longing for the braid look or just feel that a long braid would complement your look perfectly, then you always have the option of extensions. You can get natural-looking clip on extensions to immediately make your hair long and thick. And with this method, you don't have to give up on the convenience and trendy look of your short hair and can at the same time, go in for a more traditional look with long hair whenever you please. It's the best of both worlds!
Short hair can look very feminine and sweet, the trick is to handle it properly, accessorising it right and making sure the hairstyle works with the other components of the bride's appearance. The wedding dress has to go well with the jewellery, the jewellery has to go well with the hairstyle, and the hairstyle should go well with the makeup and so on.
It's your wedding day, so make sure all the decisions you make are to your satisfaction. When you look back at the pictures taken, you want to see a glowing beautiful bride dressed up just the way she wanted to. After all, there is no day more special than a wedding day. So get set to make it special with your special look.