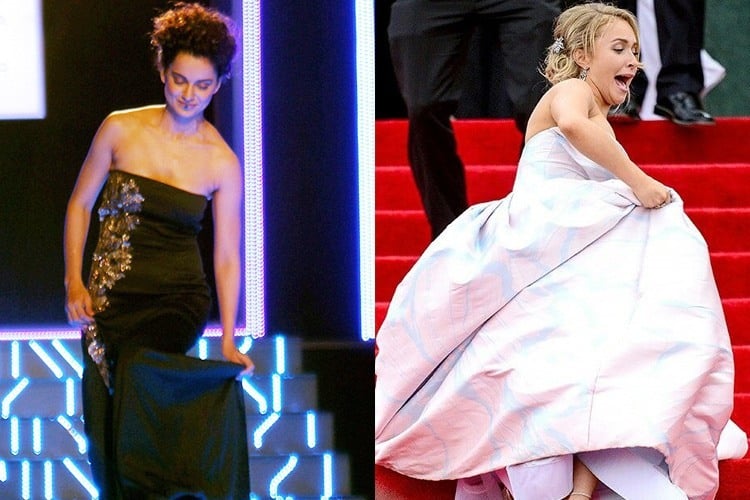 Nobody's perfect! No, not even our celebrities. No, no, not even Beyoncé. You, for sure are familiar with the saying – To err is human. Most of us common people look upon our celebrities as Gods and Goddesses, like they are just perfect and that they can make no mistakes. But allow me to burst your bubble. Celebrities are human too, and are totally allowed to commit errors. Like us, even they succumb to tough times and have embarrassing moments.
[Also Read: Celebrity Fashion Disasters – Malfunctions while performing LIVE]
Imagine that heart wrenching feeling when you trip or slip in front of a large gathering! Haha. Believe it or not, our celebrities too have faced it. Yes, they too have fallen prey to our nasty friend called gravity.
Here are some of our all time unforgettable slips, trips and falls.
Beyoncé
Only Beyoncé can almost fall on stage and still slay!!! Miss perfectionist, Beyoncé at the Super Bowl halftime show 2016, was a delight to watch, until she almost fell in her heels during a dance break. But the flawless woman that she is, Beyoncé saved herself when she turned what could have been an embarrassing fall into an impromptu choreography. It was a smooth transformation. LIKE.A.QUEEN.
Jennifer Lawrence
Ms. badass Jenny had a fall as she climbed up the stage to receive the Academy Award for Best Actress 2013. The Unfazed Lawrence however made a joke of it by saying "You guys are just standing up 'cause you feel bad that I fell and that's really embarrassing, but thank you." You go girl!
Sonakshi Sinha
The oh-so-confident Sonakshi Sinha was left red faced when she tripped on the ramp of the grand finale of Blenders Pride Fashion Tour, 2010. However, the chirpy actress laughed it off, completing the walk with sheer grace and confidence. She later took to Twitter saying – "Its not about how hard u fall, its all about how fast u get up 😉 hehehe…". Sweet!
[sc:mediad]
Britney Spears
In February 2011, Britney Spears was doing jumping jacks during a stage performance in Japan. The singer had a mighty fall while doing so. However, she carried on with her performance like a true star that she is.
Sushmita Sen
Beauty queen Sushmita Sen almost tripped while she was walking the ramp at IIJW 2012. Fortunately, her mother came right on time and saved her for the embarrassment by removing a part of her gown that came under her shoe. Like they say, mothers always know best.
[Also Read: Ugliest Outfits Ever Worn by Celebrities]
Jennifer Garner
Jennifer Garner almost tripped as she was making her way to the post-Oscars Vanity Fair party. But thankfully she saved herself from falling.