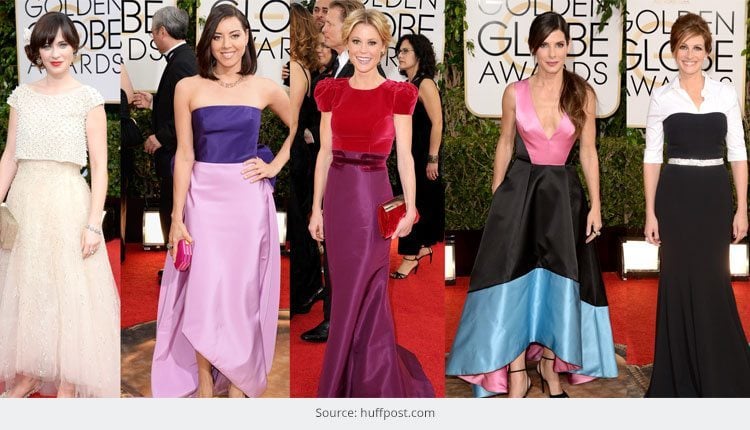 Sometimes despite spending hundreds and thousands of dollars or rupees on their stylists, celebs still goof up. Sometimes ugly clothes happen to beautiful people and this is where we Fashion Police blow our whistles.
[Also Read: Celebrity Wardrobe Malfunctions while performing LIVE]
Let's check out some of the train wrecks of this season. Let's start with our Bollywood beauties.
1. When Kajol just picked up some curtains
Kajol, from our yesteryears always manages to look pretty. But somehow her outfit at a latest event scared her. It looked like two pieces of curtains sewn together. We get it, teal is in fashion, but having it in such a scruffy form will never get you anywhere!
2. Aishwarya's Golden Mistake
Can there be something as too much golden? Yes, it can be and Aishwarya Rai Bachchan just proved it with her gaudy ensemble for Cannes. The saree she wore was too golden and on top of it, she had a very unflattering top knot. All in all it was a bad golden disaster.
3. Rani Mukherjee's 'Hippy' Look
Well, that did not go well as planned. After her wedding, Rani Mukherjee piled on a few kilos, but she definitely did a terrible job in camouflaging them. Take a look at her weird ensemble and see for yourself!
4. Mallika Sherawat's Lace Gone Wrong
Gone are the days of lace and even worse is when you decide to dress up in a lace gown! This would be a real fashion disaster. This is what Mallika Sherawat did when she went to attend an AIDS charity function. Unfortunately, the all-white gown was the actual eyesore.
[Also Read: Celebrity Hair Disasters – Bollywood & Hollywood]
5. Priyanka's Blue Bomb
Unfortunately for this time, Priyanka Chopra's outfit was a sheer disaster. The colour, the fabric and the cut, everything spelt ugly in capital letters. We were quite disappointed in the usually impeccable lady's questionable fashion choice.
Let's check out Hollywood's badly dressed ladies.
6. Katy Perry's All Denim Look
Back in the 2000s, Britney Spears and her then boyfriend Justin Timberlake rocked their all denim looks. But when in 2014 Katy Perry decided to do the same, it did not look good at all. Sadly, her crazy dress choice was voted as one of the worst in the 2014 VMAs.
7. Gwen Stefani's Snakey look
The 'No Doubt' singer and a mother of three has good choice of outfits, but the one day she decided to be in an interview with Seth Meyers, she decided to don a horrible looking snake-skin pantsuit. The ensemble was terrible on so many levels and the silver sheen actually made it worse!
8. We Weren't 'Fans' of Chrissy Teigen
The leggy model and John Legend's wife, Chrissy Teigen usually has a very nice choice of clothes. But in one of the recent award ceremonies she threw her fashion sense out of the window and decided to go with an oriental dress which had feathers on them!
[Also Read: Worst Bollywood Fashion Disasters]
9. Rita Ora Channeled her Inner Skunk
The young fashionista took a very painful decision in the latest award ceremony and ended up looking like a funny version of Cruella De Vil. The Black and White fur ensemble was such an eyesore that it ended up looking like a Halloween costume. Come on Rita, we expected something much better!
10. Cindy Crawford's Black Disaster
Yes, all black can be such a flattering look, but sometimes it does not work for you. The same happened to Cindy Crawford and she ended up looking very drab and unflattering.
So, don't be hard on yourself if you make a fashion mistake. See! Even celebs can be quite a disaster!