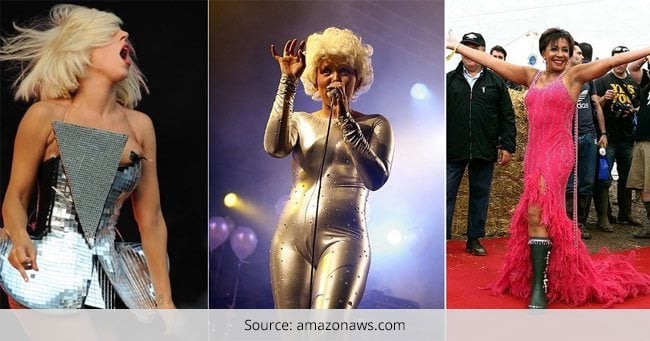 If you thought your favorite musical Gods were always fashion perfect then you better have a look at the Glastonbury Festival 2014, which offer you the biggest fashion disasters by top celebs while performing on stage.
These showstoppers might have won millions of hearts for their performances, but this time at the world's biggest festival they were a complete pratfall in terms of fashion when they took to the Glastonbury stage. Let's have a look at the fashion disasters by celebs while performing on stage at the Glastonbury Festival of all time!
1. PJ Harvey
In 2004, not only PJ Harvey did take the center stage with her eclectic performance but she also gave the world a chance to sneak peek at her undergarments while performing onstage. This fashion disaster became so hyped that even today when we talk about her performance, her choice of knickers is surely remembered.
PJ Harvey is an English musician, singer, song writer and is proficient in piano, organ, saxophone and also the latest autoharp. The 44 year old singer has had her series of fashion disasters even before.
Back in 2007, when PJ performed live at Los Angeles on her new album 'White Chalk', she looked pathetic in her costume.
"PJ reminded me of a lonely (but not sad) semi-mad scientist cooking up musical spells & potions on stage decorated with various odd knick-knacks (which would make the perfect diorama) yes she's a little kooky but gosh what a talent."
2. Lily Allen
It seems the girl just can't get enough of her series of fashion disasters. In 2007 at the Glastonbury Festival, Lily Allen showed up in a weird mushroom-clad outfit; the next year she again had her fashion fad when she showed up in a see-through, clearly showing her undergarments. Her dress seemed to be ripped off and on top of that her knickers were clearly visible.
3. Lady Gaga
It's of no surprise to see Lady Gaga in bizarre outfits whether she is attending any red carpet event or performing on stage. At Glastonbury Festival, Lady Gaga had worn 5 costumes – a see-through bubble coat, Union Jack-branded bondage/biker gear, a glass dress that made her look like a mirror guitar etc.
Gaga's festival tour made quite a stir for her outfits more than her performance, especially for her silver crystal-studded outfit. Gaga was once again in the news for wrong reason and this time again for her controversial outfit. Her bosoms literally popped up from the confines of this ultra-tight silver outfit. And not to mention her plastic bra straps that didn't help at all.
4. Lovefoxxx
When the leading showstoppers are in the list, it was obvious to see Lovefoxx join the bandwagon. If you remember São Paulo export CSS, then you would immediately understand what Lovefoxxx was up to? And when she promoted her band, Cansei de Ser Sexy, she justified the meaning of the brand i.e. 'I got tired of being sexy'.
5. Shirley Bassey
Shirley Bassey was another epitome of fashion disasters by celebs performing onstage. It seemed showing up in appropriate outfits was never tolerable for some people, just like the Welsh diva Shirley Bassey.
The 70 year-old singer couldn't be more bizarre or weird, as she took to the stage in a pink sequined dress and matching feather boa.
Wardrobe malfunctions are really scary, especially when they are by the Hollywood or Bollywood celebrities. Bollywood celebrity fashion disasters have also seen happening at public events and red carpet ceremonies. Always remember to wear clothes you are comfortable in and are sure won't give up on you.
Hope you enjoyed this post.