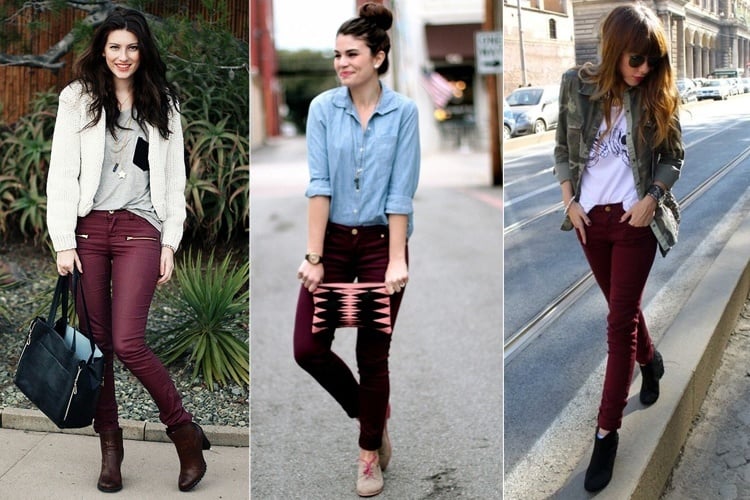 Are you the ultimate fashionista? Do you follow all latest trends like they were put in a rulebook? Then, we bet you already have a pair of the maroon pants in your wardrobe. The trend of this fall is the maroon pants. But, as most of us common people would know it, maroon pants get ridiculed all the time and that too for all the wrong causes. We are never sure what to wear with maroon pants. We need to understand that this is not the average pair of black jeans that go with everything. Just a little attention can make the life of maroon pant lovers so much better.
[Also Read: What To Wear With Green Pants]
Ways To Wear Maroon Pants Outfits
So, here we are with an article to guide you through the ways to wear maroon pants outfits without getting criticized.
Maroon is the most understated color, when we talk about pants. They are actually a good investment, opposed to what most people might suggest. There are more than a few looks to make those maroon pants look great on you. You just need the right Style Tips on How to wear maroon pants.
1. The Coffee Date
When you are going out for a coffee date you would want to keep it simple. For this, you just have to club those Maroon Pants with a Denim Shirt. Skinny pants and high boots look best with denim shirts. Also, for those extra brownie points while on your first coffee date, just add a nice handbag, a classy brown belt and a pretty little pendant.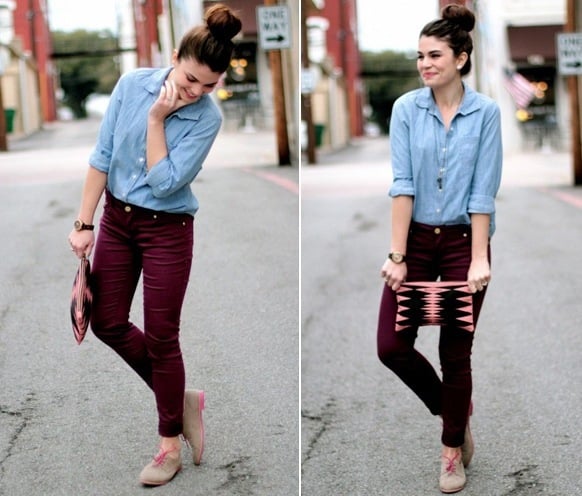 2. Love For Prints
Animal Prints never go out of fashion. You can wear your Maroon pants with Leopard Prints thrown in the mix with them. You could wear a pair of printed flats, a printed top, a printed scarf or even a printed sling bad can add vitality to this look. If you love animal prints, this is the look for you.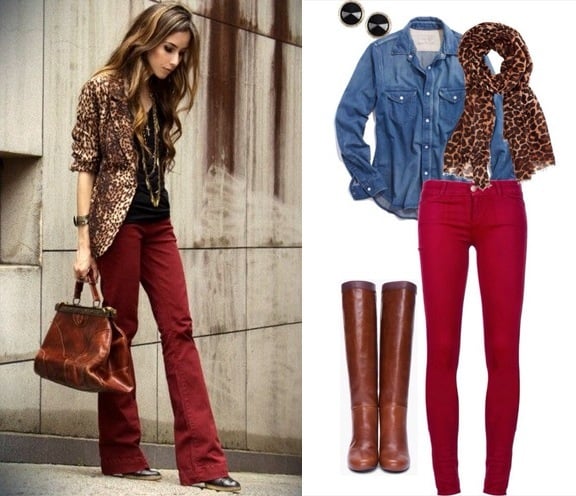 3. Let's Go Casual
Need to look great for a sudden movie date? You can depend on your maroon pants to save the day. Wear your maroon pants with plaids. Fitted and light colored plaid shirts look amazing when teamed with the right maroon skinny jeans. To finish the look, add a nice watch and a pair of contrasting flats.
[Also Read: What To Wear With Red Pants]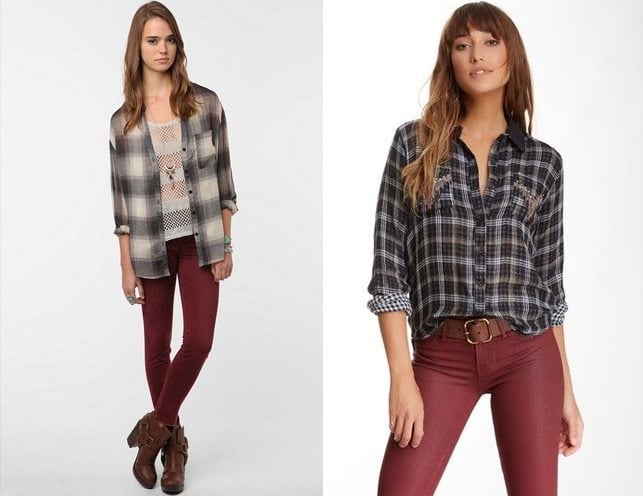 4. Button It Up
Generally a look for all our boys out there, this is one look that you need to be very careful with. Though, the tie-up of maroon pants with stiff button-down formal shirt is a match made in heaven, a lot of basic points have to be kept in mind for this look. This look can go down well if you wear a pair off these in cotton or synthetic fabric with a tucked in stiff button-down light/neutral colored formal shirt and nice contrasting shoes.
[sc:mediad]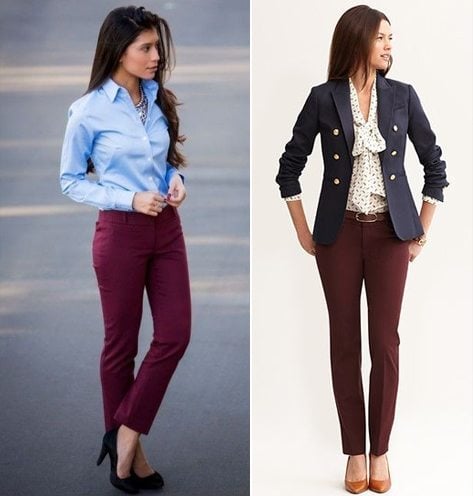 5. Let's Pep It Up
A day out with your girls planned ahead? Guess what! We got a new cool, peppy look for you. For this look, you can couple your maroon pants with a striped top. Most importantly, for this one, don't forget to accessorize.
[Also Read: What To Wear In London]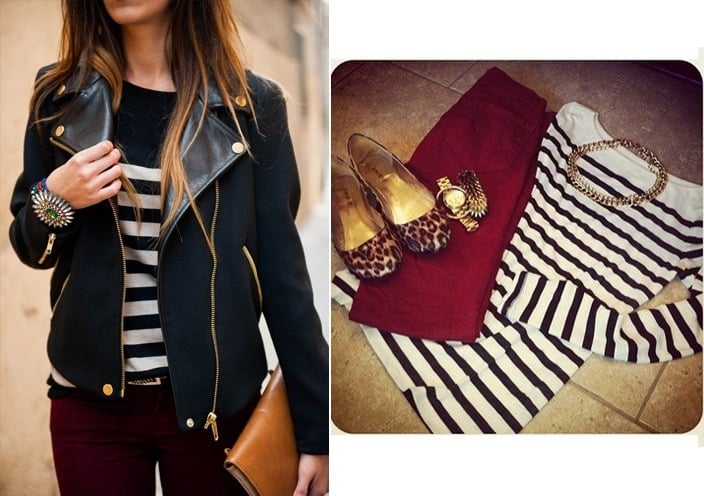 6. Comfort Is The Key
Don't we just love a day at the amusement park? We have got the perfect look for you. Just club your Maroon pants with a basic printed or plain tee, add a pair of comfy converse and you're good to go. An added advice, don't forget the shades.
[Also Read: What To Wear Under A Cardigan]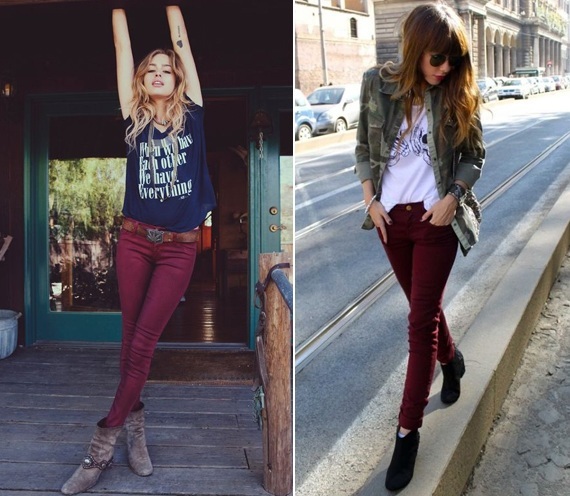 7. Floral All The Way
This is a great look, especially when appropriately styled. Maroon pants and a color-matched floral shirt just look great together. One tip to remember for this one would be, choose a contrasting shirt since the pants are already very definitive. To finish the look, accessorize light but right.
[Also Read: What To Wear Under A See Through Dress]
Now, that you are familiar with the whole maroon pants outfit story, lets share a few do's and don'ts of what to wear with maroon pants.
Maroon pants are one of those garments which necessarily cannot be clubbed with anything and everything. If so much as you dare to go out in the open wearing the maroon pants with the wrong uppers, you are doomed. Since, maroon pants are ridiculed so much on their own, you need to know what to work them with perfectly. A few things you need to absolutely avoid while wearing maroon pants are:
Don't ever think of pairing your pants with a top that's belongs to or closely resembles a color in the maroon family. It's a big NO.
Don't cross the line with colors. When wearing maroon pants try to stick to colors like Blue, white, black, denim, beige, nude or even grey. Experiment with others only if you're very sure.
Don't overdo the look. Maroon pants themselves being very definitive need to be clubbed with something more soothing to the eyes.
[Also Read: How To Style Patterned Pants]
Having said that, all the looks given above are fantastic ways of flaunting those maroon pants. Stick to them and it's all sunshine for you and your maroon pants.