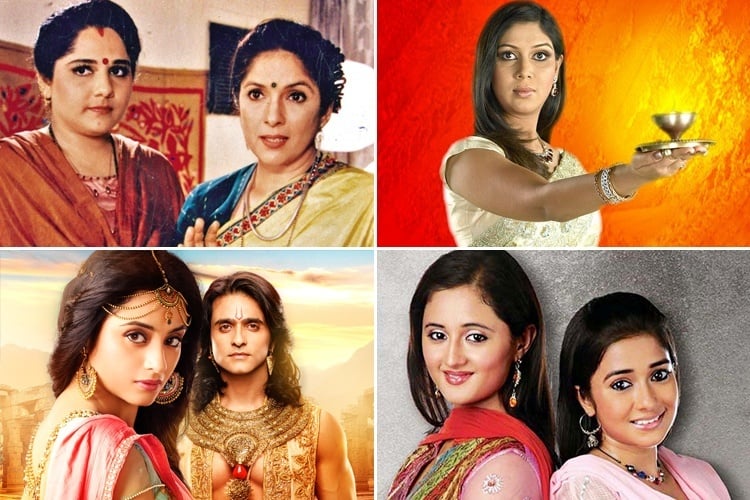 When you recall greatest TV characters of all time list, what can you possibly expect? Tons of drama, entertainment, social messages centered around women, love and romance or pots and pots of tears.
[Also Read: Bollywood Actresses Timeless Looks In Period Films]
While Hindi television has gone through dramatic changes both in content and depiction, the idiot box still reminds us of Greatest TV Shows and greatest TV stars of all time. Though most of the TV serials today might be encashing on the saas-bahu theme, but nothing can taint or erase the magic of popular TV series and best TV show characters.
Get ready to go back to nostalgia with some of the popular tv shows characters that will entertain you once again if they are back.
Siya Ke Raam (2015)
Premiered on 16 Nov 2015, this mythological serial written by Valmiki shows popular tv shows characters Ram and Sita. But the interesting thing is that this TV soap highlights the story through Sita's eyes.
Uttaran (2008)
Telecast on Colors TV on weeknights, the popular tv series Uttaran is about two friends who hail from different backgrounds namely Tapasya, who is the rich daughter of a wealthy Thakur, and Ichcha, who happens to be the daughter of a maid.
Both the female leads get stuck in a love triangle with Veer. Later on, they become enemies when Tapasya marries Veer (who loves Ichcha), and then become friends again. When Ichcha dies, the TV soap subsequently revolves around the story of their children.
Jassi Jaissi Koi Nahin (2003)
With her boring and unattractive looking glasses, braces, and her clumsy ways, Jassi played by Mona Singh not only became the greatest TV stars of all time, it won over audience like anything.
The serial was about an ordinary girl and her dreams of making it big.
Kahani Ghar Ghar Kii (2000)
This Greatest TV Shows taught the ladies of an Indian household how they can be a perfect daughter-in-law. Parvati played by Sakshi Tanwar was the greatest TV stars of all time who showed us the sacrifices and compromises she did in the show. The best thing worth appreciating was her simplicity which all daughters and daughters-in-law should emulate.
Kyun Ki Saas Bhi Kabhi Bahu Thi (2000)
Most remembered for 'Tulsi', this popular tv series got good recognition thanks to its strong characters and good story line. The show ran continuously for 8 years and provided us insight into the challenges that Indian woman faces when she is married to a rich class family.
Saans (1998)
Before Saas happened, there was Saans. This popular TV series had Neena Gupta in the pivotal role of a loyal wife who was cheated by her husband.
[sc:mediad]
Swabhimaan (1995)
Directed by Mahesh Bhatt and scripted by none other than Shobhaa De, this popular tv series featured Svetlana, the mistress played by Kitu Gidwani whose rich patron passes away. What follows is the emotional turmoil she goes through and the sour inheritance wars. How Svetlana keeps her self-respect (swabhimaan) forms the basis of the show.
[Also Read: Bollywood Movies Which Gave Us Major Fashion Goals!]
Such was the impact of this serial that it launched the careers of present day major stars in Bollywood namely Rohit Roy, Sandhya Mridul, Ashutosh Rana and Manoj Bajpayee.
Shanti – Ek Aurat Ki Kahani (1994)
This popular tv series directed by Adi Pocha was the first ever daily soap aired on Indian Television which was re-run on Star Plus later on.
This drama series was about the story of two friends and their guarded past that was unearthed by a young journalist Shanti played by Mandira Bedi. This Greatest TV Shows was all about love, treachery and betrayal that made the serial engaging and popular and made Mandira and Shanti a household name. Apart from Mandira, two of the best tv show characters included Yatin Karyekar and Amar Talwar.
Tara (1993)
Yet another popular tv series that brought the first touch of feminism was Navneet Nishan starrer Tara. The concept was all about four girls and revolving human emotions such as friendship, ambition, love and secrets.
Udaan (1989-91)
Most of you would be able to recall Vimlaji of the famous Surf detergent ad of yesteryears. The lady in Surf Kavita Chaudhary catapulted big time playing a police officer in the TV serial 'Udaan' which was based on the life and times of IPS officer Kanchan Choudhary Bhattacharya who was the former Director General of Police. The serial shows the trials and tribulations a female IPS officer has to go through.
Mahabharata (1988 – 1990)
Sunday mornings were deserted on roads, so much so that you could not even hear the sound of a crow, or rats making mischief. After all, it was Mahabharata time on Doordarshan. This Greatest TV Shows produced by the late BR Chopra remains the benchmark for all mythological serials even today.
When playback singer Mahendra Kapoor sang the shloka from Geeta 'Yadaa yadaa hi dharmasya' and when Harish Bhimani narrated as the voice of 'Samay', no adaptation could have matched the pure dynamite impact of this popular tv series of yesteryears. This mega serial showed greatest tv stars of all time that will only take you back to nostalgia. Last but not the least, the role of Draupadi, the wife of paanch pandav, played by Rupa Ganguly can never be forgotten.
Do write to us and tell us your greatest tv stars of all time list and popular tv shows characters that entertained you most.