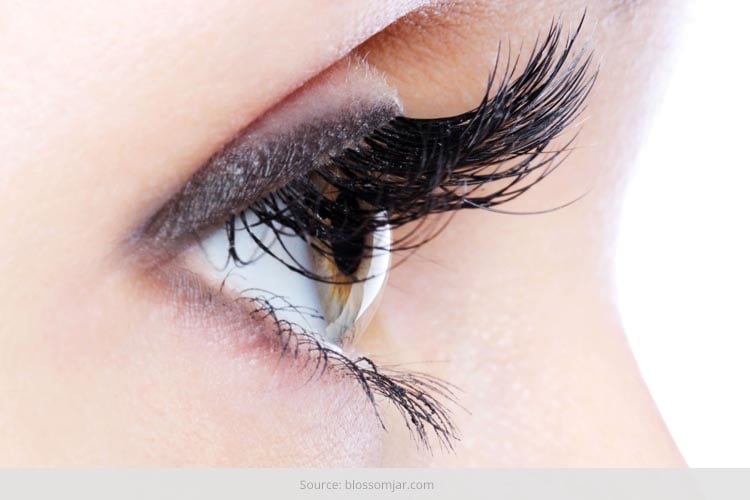 Don't you get mesmerized when starlets bat an eyelid or two, flaunting their beautiful long lashes? We all do at times, let's admit it. And then we also know that most of the starlets do not have real long lashes, and use fake ones for glamour. Fake lashes are not costly to buy and tough to use, but that's not the question here. What we would like to share with you today are tips to grow long eyelashes. You don't have to look far and wide, and do not have to spend a bomb on corrective surgeries too. Here are a few tips to grow long eyelashes the DIY way. Please read on and get those gorgeous lashes with our tips to grow long eyelashes.
DIY Bathroom Homemade Tips For Long Eyelashes
Yes, you read that right, your bathroom has all the answers to get long lovely lashes. And remember, every mascara that says it helps with voluminous lashes, the answer lies in the rayon inside the product which does the trick.
Stealing a note or two from eminent YouTube beauty vlogger and founder of Huda Beauty Huda Kattan, we learn how the secrets in our bathroom can help us understand how to grow your eyelashes longer at home; with cotton balls for help!
Huda doesn't use false eyelashes this time, even though she loves using them now and then. Thus, with cotton balls that are softer to the eyelid skin and cause no irritation, she teaches us how to get long eyelashes in a jiffy.
The Cool Trick Unveiled
No false eyelashes, no fancy mascaras, no volume enhancing cosmetics too, Huda shows us how cotton balls can actually make those lashes feathery, long and beautiful. What you need for long lashes in the bathroom are-
Your favorite mascara,
A spoolie brush
Some cotton
Method
Start by applying a little bit of your favorite lash conditioner. The reason why she used a lash conditioner is to keep the lashes healthy and hydrated. Stroke the lash hair well for a second and then move on to the next step.
The next step would be to use your favorite mascara (could be black, brown or invisible). Applying two nice coats of mascara to make the lashes nice, long and fluffy would be enough.
[Also Read: Argan Oil Eyelashes Treatment]
Now grab your spoolie and cotton balls, opening the cotton ball into a round piece like formation. Dab the spoolie into the fluffiest inner corner of the round ball, taking off a little cotton fibers onto it.
Go ahead and brush your eyelashes with the cotton fibred spoolie.
[sc:mediad]
Before you move onto the next lash, once again coat this lash with your favorite mascara. Repeat the steps with the cotton spoolie and add one more mascara coating to the lashes.
Just make sure you loosen up the cotton really well, which helps it stick to the eyelashes.
What you'd now get are a set of twiggy eyelashes and long fluttering ones that too which look super glamorous and on the lines of divas you idolize.
Natural Ways To Grow Long Eyelashes
If using cotton balls and a spoolie to get your lashes long and fluttering isn't your thing, you can with the help of castor oil get natural long lashes over time. What you need to do is to warm up a teaspoon of castor oil and allow it to cool to room temperature. With the help of ear buds, dip into the oil and rub the upper lashes and the lower lashes; caution to be taken not to touch the eyeball. Keep the oil on your lashes for twenty seconds and then gently wash the eyes with cold rose water. This should be done almost daily for the best effect to come through.
We hope you loved this post on how to use home remedies to get long eyelashes and also how your bathroom where you keep the cotton balls and your cosmetics can help you with fluttering lashes too. Do write in and let us know your thoughts!