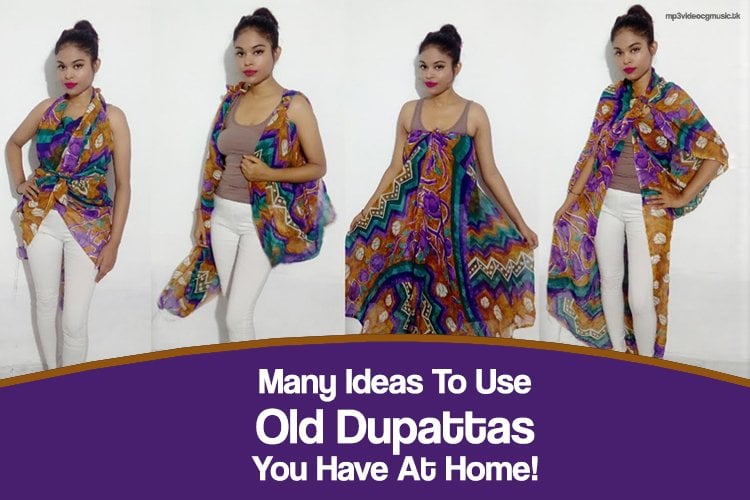 Most of us would have loads of dupattas in our cupboards. They could be either ours or maybe our moms and aunts or our sisters' dupattas; if they are not being worn anymore, it is time you either donate them (good thought) or repurpose them into something new. Today we shall speak just about that, and show you a couple of fabulous ideas to use old dupattas as. Please read on and be well-informed.
Convert your old dupatta into beachwear
If you have dupattas made of net, tulle, satin or chiffon and don't know what to do with them- summers are coming and the beaches are calling. Give it a spin and a new shape, and curate beachwear out of them. They could turn into overalls for the top or sarongs for the bottoms. It is super easy to make them into chic and sexy beachwear, and they look good on your bikini set too. Great idea to try, isn't it?
Turn the old dupatta into an ethnic cover for the cushions
Bored of the monotonish look your living room has? It is time for you to spend some of that creativity in the brain and to make the old dupattas work magic to spruce up the mise-en-scene. Instead of throwing away the old dupattas, convert them into cute and colorful cushion covers. You can either stitch them up yourself or get in touch with the local darzi to do the needful for you. Your living room now would have a boho chic and a vibrant touch. Hows that!
Dupattas converted into the borders of a photo frame
With old stylish and chic looking dupattas at home, you need to do something with them, if you are not wearing them anymore. This is when you get the scissors out and snip-snip the borders of the piece and put them together to wrap about the wooden skeleton of the photo frame. You now have a chic looking stylish photo frame to show off, or you can gift the embossed piece as a gift to someone. They would surely appreciate the same.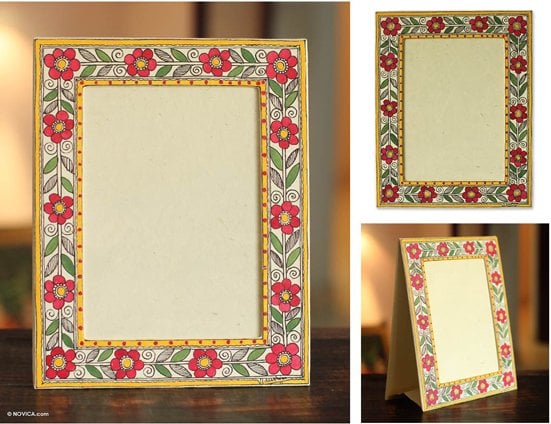 Turn your dupatta into a cape for the evening
There is an easy weasy way to make your own cape at home. What you need to do is to spread the dupatta in a laydown fashion on a flat platform. Now draw a circle which covers the entire dupatta width, and then cut out another circle within this circle for your head to enter. The ends of the circle should be embellished with tassels and pom poms to make it look chic and cute. Voila, you now have a fashionable and haute cape to wear with your tops and jeans or wear it as beachwear for the evening parties too. If the material or the fabric of the dupatta is rich and unique, you can wear the cape with your lehenga cholis as a cover up too.
Make them into headbands and wear them to college
If your college is strict about not letting your hair run over your face and loose, it is time you pinned the hair up or tied a headband. But not just any headband, but a chic looking one that would turn heads and give you an edge over the rest as a fashion diva too. What you can do is to chop off the end lengths, stitch it up with tassels or leave it plain stitched. Wrap the dupatta as a headband or a bandana over the head. You have just created a fashion statement which others in college too will follow.
Make desi shrugs out of the old dupatta
For dupattas lying around, there is new hope. We shall convert them into shrugs. There are many ways to create shrugs, and you have to use your imagination and creativity for the same. Turn them inside out, outside in, round about on the shoulders or even across the chest. Wear them with your jeans and tops, smart formals, with your beachwear, shorts and tanks, skorts and tops, etc, and you would be a head-turner for sure. You can even pick up desi motif dupattas to create shrugs and pair it with western wear to create a unique fashion statement.
A stole shall be born from an old dupatta
Old georgette and chiffon dupattas are a treat to have around, and they can be repurposed into chic stoles too. You can choose geometric patterned and printed dupattas or striped ones to create chic stoles for yourself. These stoles can be worn to work on a Friday to add more zing to your work wear. They can also be worn to college with casual wear, or maybe with a formal western or Indian dress on a date, special gatherings, parties and more. The perfect accessory is thus made from an old unused dupatta.
[sc:mediad]
Make the old dupatta look brand new as a clutch
Don't we just love potlis and clutches? They are so versatile and they go well with just about anything we love to carry and wear, isn't it? You have to get creative here when converting old embellished and embossed dupattas into clutches and potlis. The choice of design and style you want to create is solely yours; we've just given you an idea. Carry them to college or when out with friends for a movie. They are small and cute and can be tugged along with smart casuals and Indian wear alike. The best ones would be dupattas that have traditional motifs, embroidery and mirror work on them, converted into small potlis and clutch bags.
Turn the old colorful dupattas into curtains
Wondering how to bring in more zing and color to your kids rooms? Try reusing old colorful dupattas as curtains. They would look cool and bring in plenty of color to the room as well. You could mix and match, and style up the window and the curtain rods according to your sense of style. The choice is yours to make; we shall only say, let imagination and creativity flow- give your windows a new lease of life with plenty of color to play with.
Do you need new table mats and runners?
If you have run out of table mats and runners for a special occasion, gorgeous silk dupattas can be instantly and quickly converted into the same. Take the help of a local darzi for the same. Cut the pieces according to the needs and the length of the table, and voila, a brand new set of table runners and mats are born. You must choose colors and embellished dupattas that work with the furnishings though. You can even add borders to old dupattas- zari, for example, to make the table mats and runners look royal and chic.
Convert old dupattas into patchwork bedcovers and blankets
Once again, there is no need to let the old dupattas go to waste. You can combine them with old silk sarees or cotton sarees and create your own patchwork bedsheets and blankets. The creation would bring in more color and oomph to the bedroom you rest in. Some of them could even be converted into fancy cushion covers for the bedroom, throw pillows and even a large cover for the kids bean bags too. Think about it.
Convert old dupattas into curtain embellishments
Pick up desi batik and tie and dye dupattas and convert them into miniature dolls. This is a steal from the handicrafts of Gujarat, where mini dolls are made. These dolls can be used as curtain hangings, hung with the plain curtains to bring in more oomph and fun to the mise en scene around. You can also make wall hangings out of old dupattas, and create a unique set of them for every pelmet and curtain rod at home.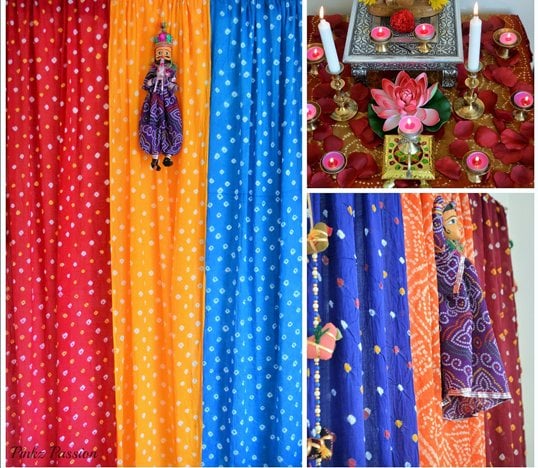 Make palazzo pants out of old dupattas
Get in touch with your local darzi and seek help from him to convert your old dupattas into chic looking palazzo pants. They can be worn with solid colored tops, kurtas and kurtis, tank tops and even can be worn to the beach with a bikini top too. There are unlimited choices for the same, and it is all about your creativity at the end of the day as to how you curate palazzos out of dupattas.
We hope you enjoyed these many ideas on how to convert old dupattas into something new that you can wear, carry along as an accessory or use as an accent or home decor. Do write in if you have more ideas on how to reuse old dupattas, and we would be glad to include the same.