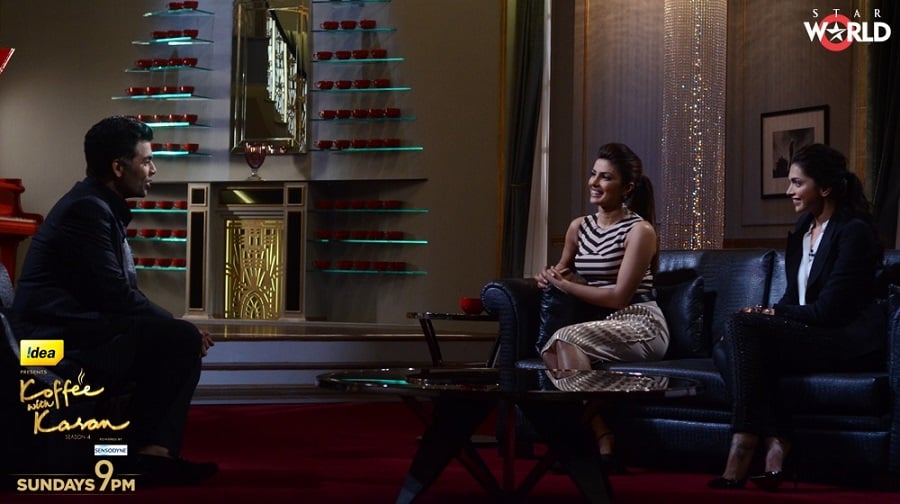 My favorite guilty pleasure Indian television show, Koffee with Karan, is back! After Kareena and Ranbir appeared on the show, the next major highlight was the show aired on Bollywood's two leading actresses. The woman on guard Deepika Padkone and politically correct Priyanka Chopra were invited once again on the popular TV chat show Koffee With Karan Season 4.
The show was quite interesting as Priyanka came heavily with her fake American accent showing a 'I care a damn' attitude; Deepika was on the other hand quite watchful of her words on the show.
While it was pretty expected to see some masala in the show from talks on relationships to friendships and Bollywood feuds, the one thing that caught my attention was the wardrobe selection by both the actresses.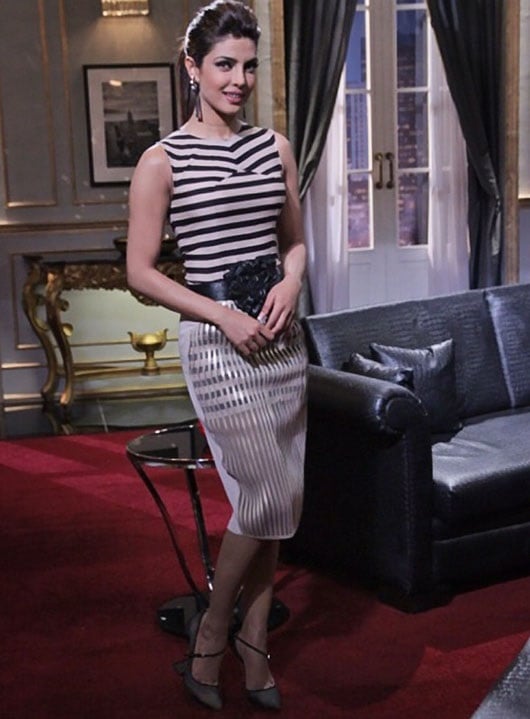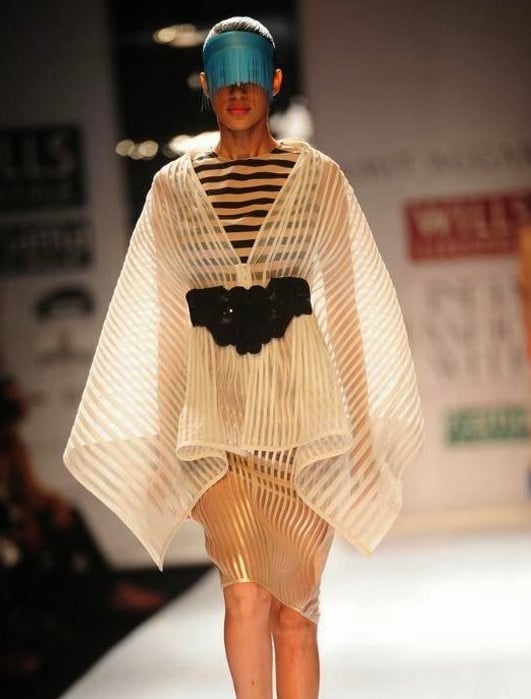 While Kareena Kapoor's style statement with diamond necklace and pink evening gown by Monisha Jaising was the talk of the town for days, this time these two actresses have flattered everyone with their fashion quotient.
As I guessed the high end cocktail dress worn by Piggy Chops in cream black accentuated with stripes was by any international designer like Dior or Burberry, it pretty turned out to be an outfit created by Indian designer Amit Agarwal from his Spring/Summer 2014 collection. While the ramp featured a cape, Priyanka dropped it for the show thankfully.
Even I liked Deepika's ensemble. She looked splendid in the black and white rock number. While her embellished black pants gave her the retro feel, her white blouse with strategically placed lace & embroidery work on her arms balanced her elegant look.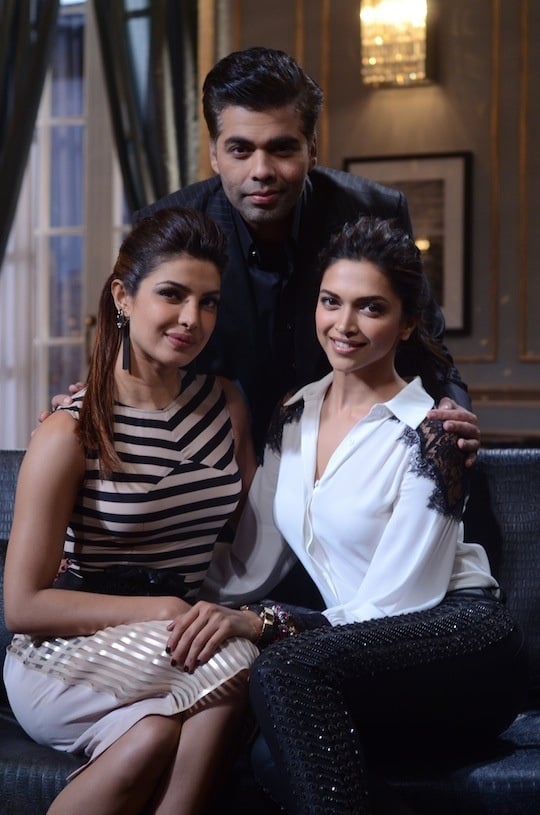 Apart from fashion, the show gave us top 5 memorable moments full of juicy tidbits. Continue reading!
#5Karan Johar questions on lesbian encounters by the actresses
When the gossip king KJo asks the ladies if they've had any lesbian encounters ever, Deepika expresses her middle-class outrage. Immediately Karan gives her a hint by rubbing his knee and immediately the 'Yeh Jawaani Hai Deewani' checks herself. Both Priyanka and Deepika then laugh at the host, who for once, was caught on the wrong foot (pun intended)
#4 Both Priyanka and Deepika deny on every dating
When Karan Johar asks the ladies if they had ever dated then it was truly surprising to see how both the girls (who are rumored to have the maximum affairs) vehemently deny that they had casually dated ever, even though they have both boasted of enviable conquest lists in numerous other occasions.
However to spice up the show, Priyanka did confess that she had only for once gone out for dinners. Deepika on the other hand maintained her naive next-door-girl demeanor, repeating the same old story that never dated a co-star (well not even Ranveer Singh?) Jhuti!! And not to mention her dumb smile, which she thought was enough to send her wannabe suitors packing.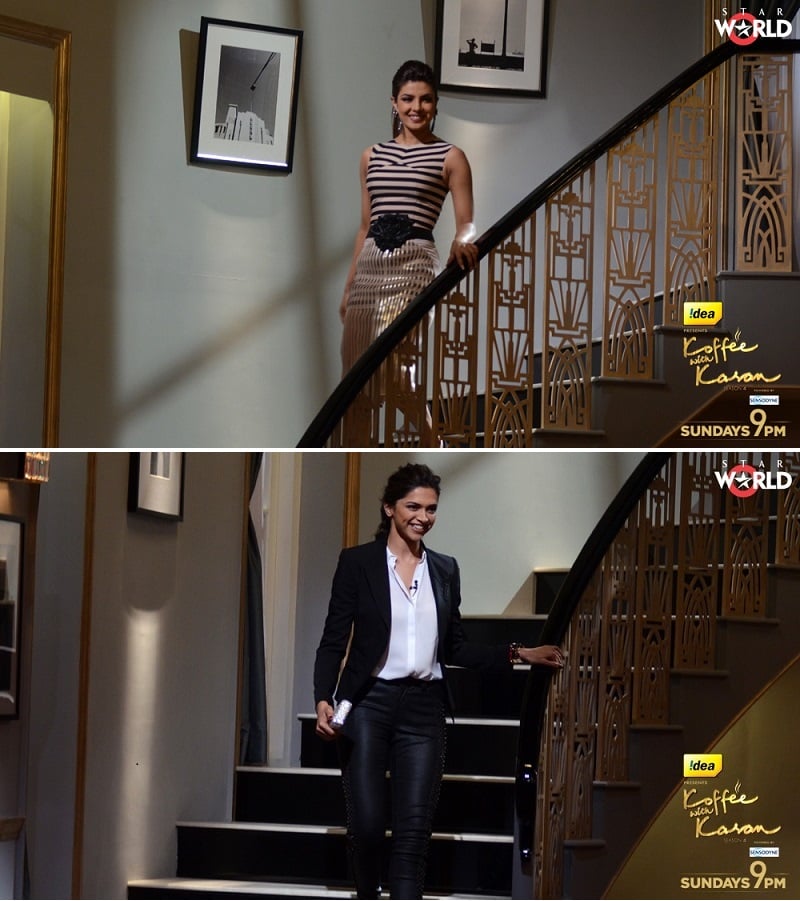 #3 Karan Johar's gag on Deepika's Tattoo continues
No matter how many times Deepika comes to the show, KJo's obsession with her tattoo and affairs with co-stars will continue and she will be asked the same old questions over and again. After last time Deepika was asked about her tattoo on his show, Karan Johar once again managed to bring it up.
After Priyanka's long, sentimental conversation about her father's illness, Karan pointed at her tattoo which reads "Daddy's little girl" and before the emotional Priyanka could say anything, the host immediately turned to Deepika asking about her famous RK tattoo on her neck.
Deepika's tattoo was one of the most talked in the town when she had inked her the then boyfriend Ranbir Kapoor's name RK on the back of her neck. Her tattoo was made more famous when Shahrukh Khan had openly teased Ranbir at the Filmfare Awards saying she had changed the RK to SRK tattoo.
On the show even though Deepika tried hard to avoid the question, this time the host was adamant and went on further asking if RK now stands for Rajeev Khandelwal or if she has any plans to change it to RS for her current beau, Ranveer Singh.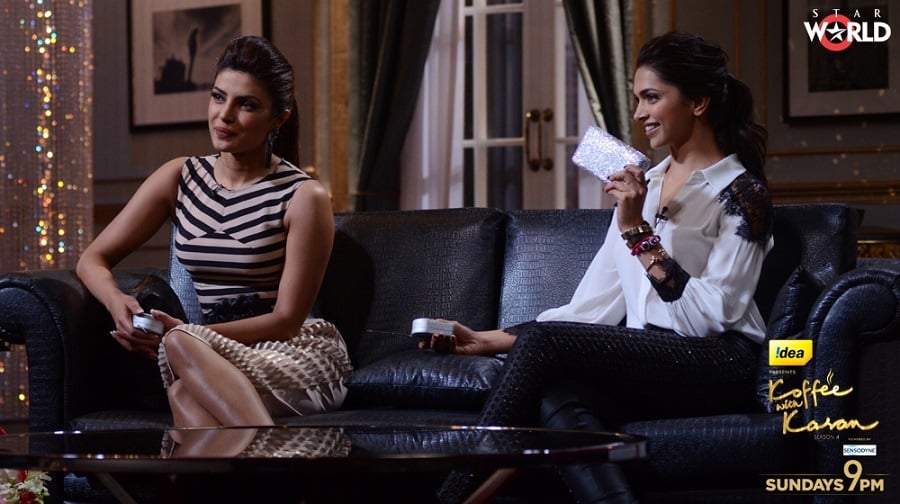 #2  Old and bitchy habits die hard
Ever since Koffee With Karan has been aired, the bitching continues. The most controversial was of the open war between Kareena and Priyanka on the show. Arch rivals Priyanka and Kareena Kapoor in the past had used this talk show as a podium to vent out their anger at each other.
It all started with Bebo, when she had made fun of PeeCee's accent to which the 'Barfi!' actress had retorted in her show saying she had got the accent from the place where her boyfriend (now husband Saif Ali Khan) had got his accent.
This season, Bebo was however well behaved, but it seems Priyanka still had her grudge for which she could not resist when her turn came around. When asked in the rapid fire round who would be vain enough have a life-sized poster of themselves in their bedroom, Priyanka named Bebo. Let the new round of cat fight begin…
#1 It's proved two actresses can never be friends and certainly not with Deepika
While Deepika Padukone was trying her best by making some feeble attempts to establish herself as Bollywood's Miss Congeniality, Karan just proved her wrong by scoffing at her claim that Anushka and she were friends. Even though this friendship between Priyanka and Deepika is making headlines, let's see how long does this bond sustain?
And on the show already they both were seen having a little pow-wow over the intense topics of diplomacy and honesty, thereby reaffirming the old adage about actresses and how they can never be friends.