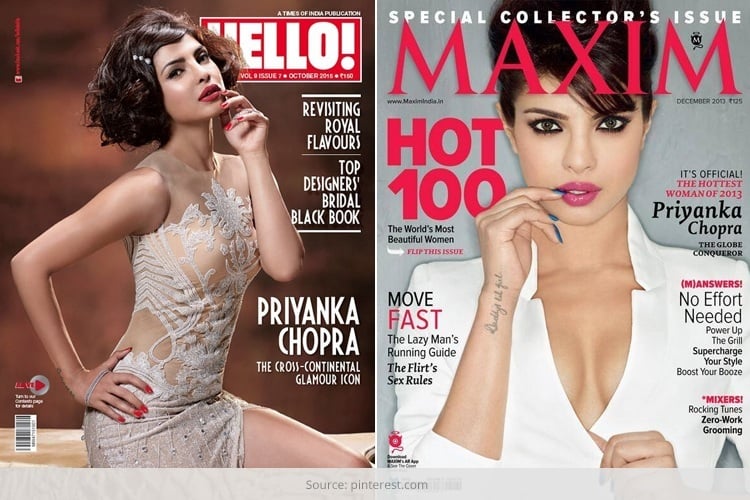 She has bowled us with her beauty, talent and awards time and again from her Fashion film days. She is the first Indian actress to become the face of Guess. Today she is on a global platform having walked the red carpet at the 88th Academy Awards, the Oscars 2016.
So when you see priyanka chopra magazine cover you can instantly realise how miles ahead and inspiring has been the career graph of Priyanka Chopra. She not only won the People's Choice Award this year and bagged a role in Baywatch, she is proudly today an Elle diva. No way you can miss out her fierce looks as she features on the cover of popular fashion magazine Elle USA in February this year.
LATEST MAGAZINE COVERS
Let us do a scan of latest magazine covers of America's most wanted Priyanka Chopra and find out how she is able to stun you till infinity.
Elle USA February 2016
Daddy's lil girl PC was all over the cover page of Elle USA in February this year. Why Priyanka Chopra Elle cover could not have been missed is that she is not just a Quantico star but the one who says "Why should a woman have to pick between global domination and having the love of her life?" Surely Priyanka has pots and pots of determination to feature on international magazine cover.
Filmfare, February 2015
There are two reasons why this Filmfare magazine issue of February 2015 is explosive. One is that Priyanka sets fire with her sequined varsity jacket. The second being she talks about her one-sided love and having a baby this year. Which is why Priyanka Chopra Filmfare magazine has an apt caption on the cover "Explosive"!
[Also Read: Lisa Haydon Magazine Cover]
Hi! Blitz, November 2012
This anniversary special focuses on India's 50 Most Beautiful. And Priyanka Chopra obviously is one of them featuring in a Manav Gangwani dress. Which do you think is seduction material – the actress wearing it or the dress?
[Also Read: Kareena Kapoor Magazine Cover]
Femina, September 2013
The Power Issue that it is, the Femina issue of Sept 2013 becomes Superpower material with Priyanka Chopra becoming the cover girl. She looks pretty hot in black polka dotted body hugging outfit.
Harper's Bazaar India, January-February 2013
In this Priyanka Chopra magazine cover of Harper's Bazaar, Madame PeeCee pulled off a Dolce & Gabbana dress with so much fierceness, you might have to think aloud of her killer looks which have had the whole world asking for more.
GQ, December 2012
Priyanka surely knows how to rock the world as says the GQ cover of Dec 2012. The black bustier and biker gloves make her look scorching hot on this magazine cover.
Femina, May 2012
India's glam diva Priyanka Chopra scores a point dressed in pristine white Rohit Bal ensemble. With summers around, this outfit could white-impress well in party circuit.
[Also Read: Bipasha Basu Magazine Covers]
Vogue, November 2010
Won't it be a treat to find out the Priyanka Chopra you didn't know? In the November 2010 sari issue of Vogue, PeeCee looks simply ravishing in Louis Vuitton dress made of brocade.
Beauty, September 2009
This Priyanka Chopra magazine cover of Beauty Magazine has the look of a true-blue bindaas babe dressed in a white top and blue denims.
Harper's Bazaar India, July-August 2009
The theme of this magazine was 'Power of a Woman' which showcased a day in the life of an actor such as Priyanka Chopra. It not only is the hottest cover of Harper's Bazaar, it is classical and elegant too.
If you have recovered from the sheer magnetic effect of magazine covers showing Priyanka Chopra, then tell us which of them bowled you over.