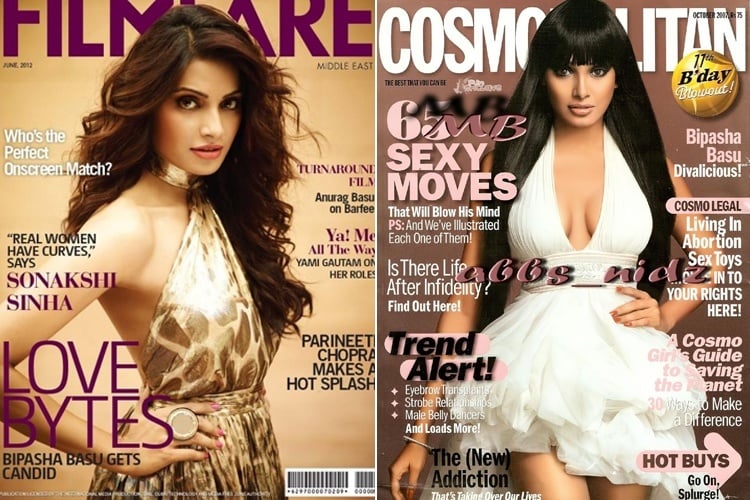 Hey, did you hear the wedding bells ringing in Bipasha Basu's household? You will, and very shortly in a couple of days. And the day is nearing actually.
[Also Read: Bollywood Magazine Covers June 2016]
Well, all fairy tale stories have a happy ending, and Bips is no exception. Finally, Ms Basu shall be tying the knot with KSG this month who by the way has an equally hot bod as much as the lady in question.
Ever since she started her filmy career, Bipasha Basu has entertained us well in magazine covers.
But till the time you catch the B-town couple dressed in wedding attire, why not keep yourself glued on to Bipasha Basu magazine covers? Yes, Bips magazine covers and her Magazine Cover Photos are equally sumptuous, sizzling and sleep-snatcher as much as she performing in big banner movies.
Magazine Cover Photos Of Bipasha Basu
From her bold curves to her sex quotient oozing out (she is a die-hard fitness freak), you can make out from Magazine Cover Photos what goes into the making of a sex symbol called Bipasha Basu. Enjoy Bipasha on different magazines and keep telling us what makes this Bong sensation tick in Bips magazine covers.
[Also Read: Priyanka Chopra Magazine Cover]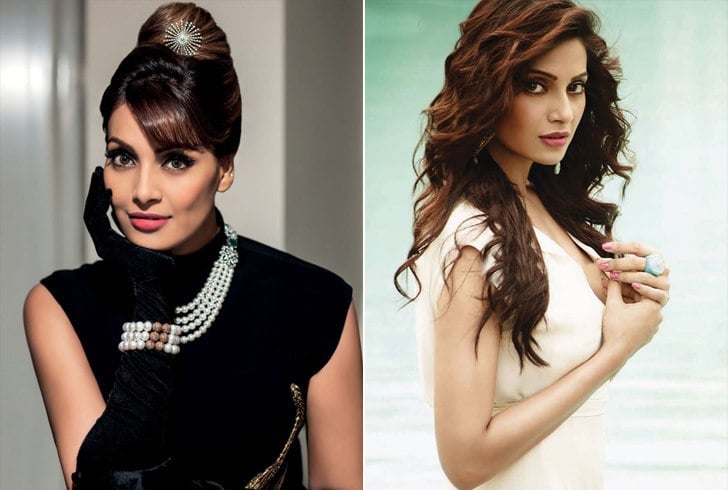 Femina March 2015
Magazine cover photos had a wild sense with Bipasha Basu in Femina March 2015
cover where she looked stunning in Temperley London Spring 2015 runway dress. The outfit matched with gold Pia Pauro gladiator sandals made her ooze unlimited oomph.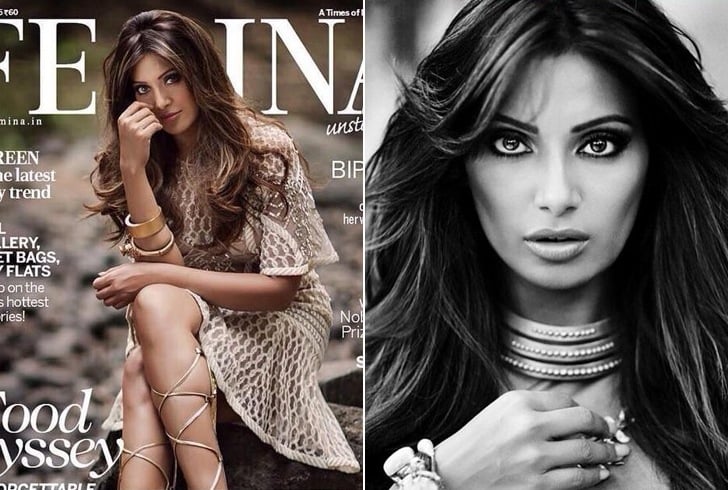 Fusion Life September 2014
Bipasha is undoubtedly The Bold and Beautiful Bong. And the Fusion Life magazine cover shows you that in ample proportion. This actress magazine covers talks about Bipasha's love life, career and upcoming movies.
[Also Read: Shilpa Shetty Magazine Cover]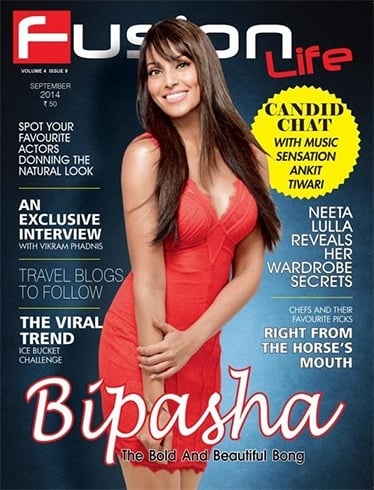 The Week Smart Life March 2014
Bips magazine covers for The Week Smart Life Edition takes you through a journey of her body logic. Once again black rules as far as Bips sense of dressing goes.
[Also Read: Surrender Your Soul To Priyanka Chopra's Sizzling Looks On Magazine Covers]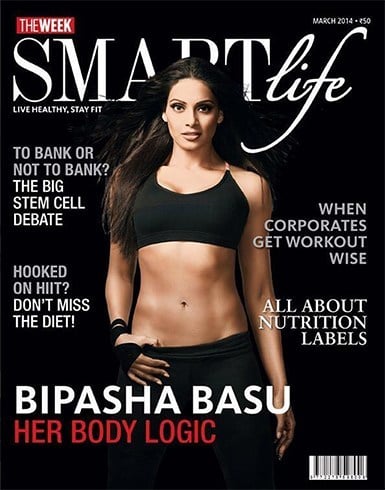 Maxim India December 2012
Photographed by Prasad Naik for the cover of the men's magazine Maxim India, this Bengali lass looks hotness redefined in black. Dressed in a Zara blazer and Pretty Secrets Corset, you will find it hard to miss out on her magazine cover photos and her colossal curves.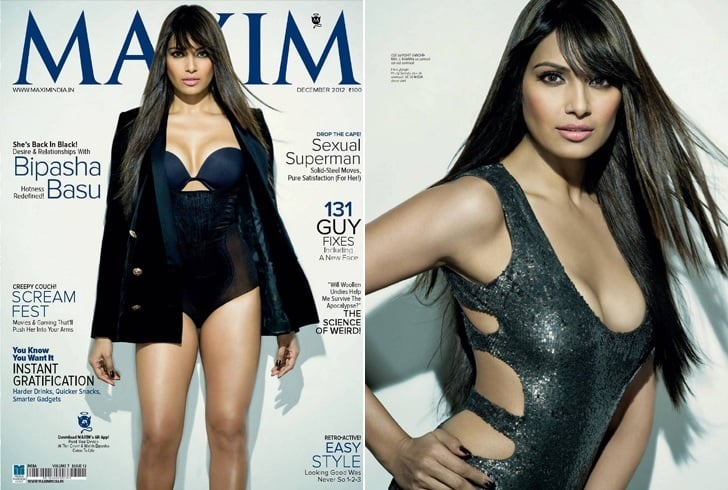 Women's Health December 2012
Catch the women in black on magazine cover photos of Women's Health Dec 2012 issue where our pretty lass bowls you over in her French Connection Lace Dress.
[Also Read: Katrina Kaif Magazine Cover Looks]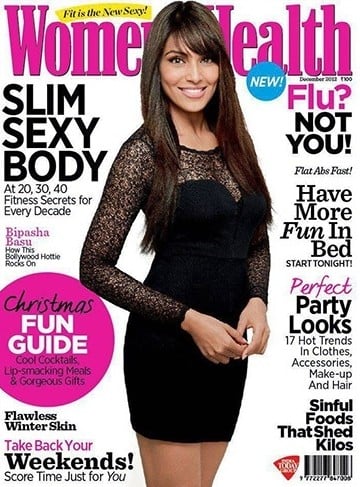 Maxim January 2011
When you see Actress Magazine Covers, you can immediately make out what are Bipasha Basu magazine covers going to look like? Bips has never shied away from doing steamy scenes in films or steamy photoshoots. That is why she is unabashedly Super Hot and Super Stunner till today.
[sc:mediad]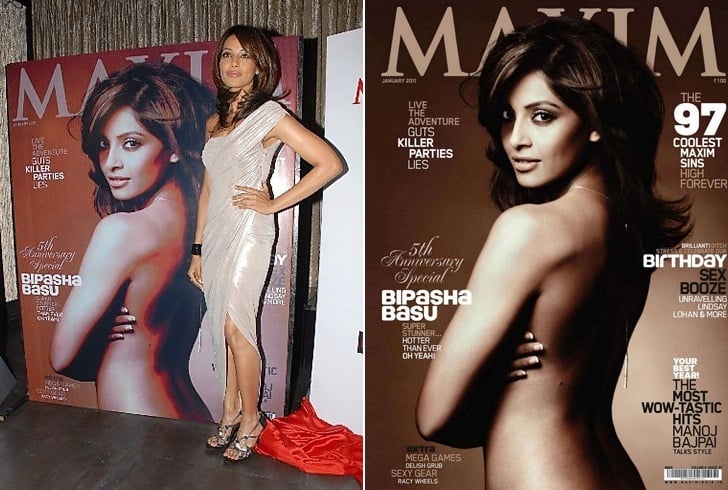 Vogue India September 2010
Being the cover girl of Vogue India needs some preparation and inspiration. But for Bips, it looks like a cakewalk, dressed as she is in a short costume and tresses left open. In short, Bipasha means Business.
[Also Read: Hollywood Celebrities Sparkle On The Magazine Covers For June 2016]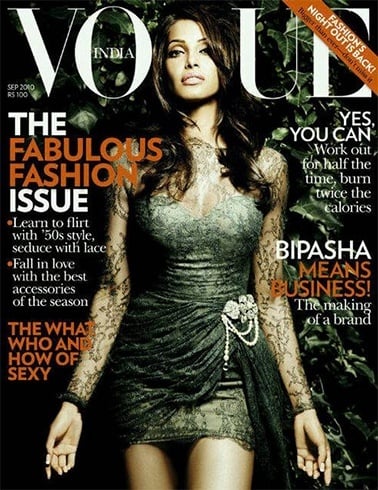 Harper's Bazaar India September 2009
Meet the black beauty Bipasha Basu striking a pose for Harper's Bazaar India Sept 2009 cover wearing D&G gown Fall 2009. Doesn't her well-sculpted face remind you of international celeb Madonna?
Vogue India May 2008
Three words that have been described on the magazine cover of Vogue India May 2008 edition are crazy, sexy, cool. And these words are an apt description of Bipasha on different magazines. Whether it's her deep dusky hazel dew eyes or her glowing skin, Bips will never disappoint you in the magazine covers.
[Also Read: Lisa Haydon Magazine Cover Looks]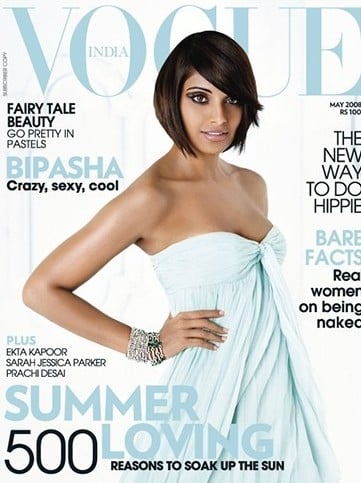 Drop us a line and tell us which Bipasha Basu magazine covers was super hot and super sensational in look, costume and appeal. Also feel free to put in your wedding congratulatory messages. The best way we can convey it to Bips and KSG is through our FB Twitter and Instagram engines.
Images Source: magxone.com, pinterest.com