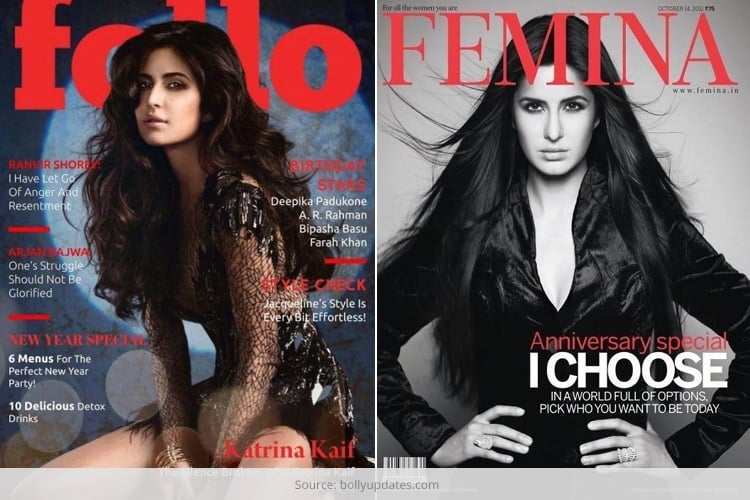 How can one miss out her red-haired look in Fitoor? Or the La Vie En Rose collection from L'Oreal Paris which she was hand-picked to endorse in Cannes along with other popular movie stars. Or for that matter Katrina Kaif magazine cover which are too hard to put them back in the rack.
[Also Read: Aishwarya Rai Magazine Cover Looks]
Katrina Kaif On Magazine Cover Pages
Catching a glimpse of Katrina Kaif Magazine Cover Photos is not just a delightful experience it's something that keeps pulling you towards it. Have rolled up some hottest hot Katrina Kaif magazine photoshoot that will compel you to dance 'Malang Malang' Katrina style in the film Dhoom 3.
GQ India, December 2015
Okay, she finally opens up. And Katrina Kaif magazine photoshoot makes you wonder why black colour looks so gorgeous on her. Catch her in an androgynous black Paul Smith suit, and suggestive black lingerie with her dahlia-shade lips, wet hair and big smokey eyes making her look the femme fatale.
Vogue India, September 2015
This Katrina Kaif magazine photoshoot on Vogue India is a pure confession cover. The 'Phantom' female lead star Kat talks about not answering phone calls on her birthday amidst other personal confessions. Pick it to know what she has to say.
Vogue India, December 2014
In the December 2014 edition of Vogue India, you can't escape Katrina Kaif magazine photoshoot-cum-interview where Katrina talks about her loves of life – Mickey Mouse, Madhubala and Macaroni. Kat looks superhot in golden off-shoulder zippered dress which she puts on for the cover. Like? Love?
[Also Read: Lisa Haydon Magazine Cover]
Femina, February 2014
Yeah, no statement is as true as the one put on Femina Feb 2014 cover which says "India's Most beautiful Women". Incidentally, Femina has selected Katrina as India's most beautiful woman for the second time. That's quite an honor for Kat, and well-deserving it is.
[Also Read: Kareena Kapoor Magazine Cover]
When she was enquired how she felt about bagging this title Katrina said, "It's always a nice thing to be called the most beautiful woman…So I know I can't be too caught up with the title."
Hello! September 2013
When you see Katrina Kaif on the magazine cover page of Hello! September 2013, you will inevitably go back to Audrey Hepburn era and the little black dress she wore in her coveted classic 'Breakfast At Tiffany's'. Apni Katrina dons Audrey's much popular look with her hair tied in a bun.
[Also Read: Sassy Sonakshi Sinha Magazine Cover Looks]
L'Officiel, April-May 2013
In the 11th anniversary special of L'Officiel, Katrina Kaif on the magazine cover page celebrates success dressed in Gucci Spring 2013 gown. Interestingly, Poorna Jagannathan was seen in the same gown at Stardust Awards 2013.
Filmfare, March 2013
Katrina Kaif slays her competition with Katrina Kaif Magazine Cover Photos. Must be because of her black corset dress, pink lacy brassiere and her doll-like looks.
[Also Read: Bipasha Basu Magazine Covers]
Vogue India, October 2012
Catch Katrina Kaif magazine cover with Kat looking almost divine in this feathered whitey cut-away creation.
[Also Read: Shilpa Shetty Magazine Cover]
GQ Indian Edition, February 2011
Clad in a tight orange dress, Katrina Kaif on the magazine cover page of GQ , Feb 2011 shows what it takes to get curves like Kat.
[sc:mediad]
Filmfare, May 2010
Katrina Kaif on the magazine cover page of May issue of Filmfare 2010 shows you sexy Kat clad in an equally sexy leather jacket and bomb-drop pair of hot pants. No wonder, the diva keeps killing us every now and then.
Elle India, August 2009
The Katrina Kaif magazine cover for Elle India in August 2009 showed her looking awesome in Morphe dress captured by Amit Aggarwal. In this cover, Kat experiments with the LBD.
[Also Read: Gorgeous Vidya Balan Magazine Cover Looks]
Grazia, August 2008
Hotness in pink redefined, Katrina Kaif magazine cover Photoshoot for Grazia in August'08 shows her getting candid on how she maintains a non-egoistic view when she chooses a film.

Drop me a line saying which of the mags showing Katrina Kaif on the magazine cover page enthralled you no end.