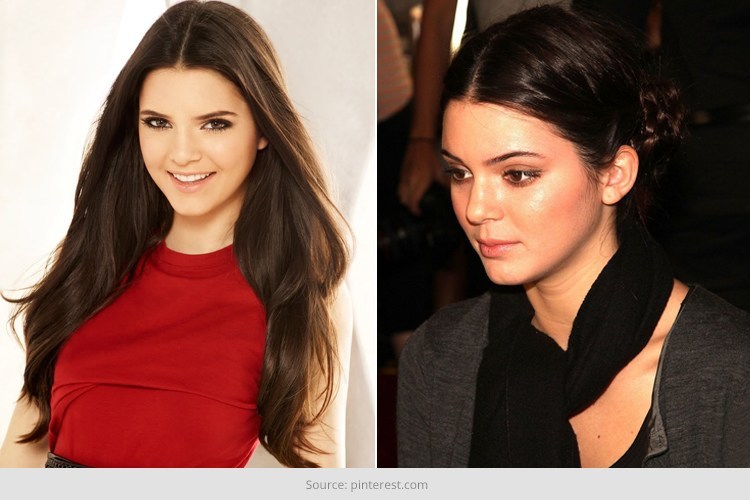 Kendall Jenner is one of the most successful American models and a much talked-about reality show personality. Like all Kardashian girls, she likes to keep in touch with her fans through social media. Incidentally, Kendall Jenner hairstyles and chic choices always keeps fans hooked to her pictures.
Kendall Jenner Hairstyles – Keeping Her Hair Tied
The sexy lady ensures that none of her hairstyles are boring. She's known for a signature middle parting and the ways in she makes it look unbelievably cool! Let's go through some of the best visual treats of Kendall Jenner hair.
1. Top Knot
Kendall Jenner straight hair looks inspiring in a top knot with bangs falling onto her forehead. Naturally, she created quite a stir at the American Music Awards that night.
2. The Simple Ponytail
Kendall Jenner's high-tied ponytail and her drop dead smile ooze just the right amount of sensuality to get anyone drooling. Simple is brilliant!
[Also Read: Sonakshi Sinha Hairstyles]
3. Loose Braid
The Polo Ralph Lauren Fashion Show saw Kendall Jenner in a loosely-tied braid looking casually-confident and boho-cute. We wonder how the girl manages to steal the show every single time!
4. High-Classic Bun
The usually spunky Kendall chose to look like a dainty damsel at "The Vow" premiere. Styling her raven tresses in a cool and neat high bun with curly tendrils framing her face, she charmed everyone with the dazzling smile completing the look.
[Also Read: Kim Kardashian Hairstyles]
5. Cornrows
On a family vacation, taking cue from her sister, Kendall sported the cornrows making all wonder which of the sisters looked more sizzling!
6. Braided Updo
Many must've fallen in love at the first sight of Kendall in this intricate braided updo. She looks oh-so-feminine during the Evening Sherri Hill Spring 2012 fashion show.
[Also Read: Julianne Moore Hairstyles]
7. Neat Bun
Kendall Jenner hair products are remarkable as she looks slick with a neat low bun tied back at the Fashion Media Awards. An ace fashion queen we say!
8. Loose Fishtail With Tiara
A funky hair accessory goes a long way in making a tied hairstyle look offbeat. Kendall in a messy fishtail and headband is the ultimate sinful seductress!
Kendall Jenner's Long Hair Look book
9. Straight And Shiny
The female fatale looks mesmerising with her hair left open long and shiny at the American Music Awards. Kendall really does not require anything apart from her au-natural long, shiny, and straight hair to look stunning.
10. Layers
Kendall's hair adorns the right balance of thickness and bounce with long layers, bringing her sizzling persona to the fore.
[Also Read: Decoding Kendall Jenner's Street Style]
11. Voluminous Curls
Swept to one side, the big voluminous curls have never looked as glamorous and sensational as they looked on Kendall. The bronze highlights upped the oomph quotient of the look.
12. Brushed Back
Onlookers burst into flames as a superbly dressed Kendall Jenner walked past with a brushed back long hairstyle at the 2015 amFAR New York Gala.
13. Long Waves
Making subtle changes with her hairstyles, Kendall can never be called as boring. This messed up long and wavy hairstyle of hers is a classic example of her subtle changes made with them that get many hearts skip a beat.
[sc:mediad]
14. Adorned Retro Wavy Hairstyle
At the 2016 New York Fashion Week, Kendall showed off a side swept retro curls adorned by a pink flower accessory on one side. Looking incredible girlish and cite, Kendall carried all the attitude of a care-free youth.
15. Casual And Messy
This casual look with Kendall's gorgeous locks in a loose mess reveal why she was an instant Instagram sensation. More hearts to you Kendall!
The Various Hair Colours of Kendall Jenner
16. Candy Pink
This Kendall Jenner hair colour increases our appetite to see more of her in such punky styling. See her nailing it at the Vogue photo-shoot.
17. Purple Surprise
This Kendall Jenner new hair in purple with two buns tied at the top and forehead covering bangs makes Kendall look ravishing on her birthday. Ok it's just a wig! But who cares when she looks like pure sex bomb.
18. Blonde
Kendall Jenner Blonde Hair is not for the faint at heart. Check out this amazing fashion icon pulling off her dazzling blonde look with cool aplomb
19. Deliciously Brown
Kendall Jenner looks like a picture of sophistication in her casual mocha coloured long hair.
20. Ombre
After seeing plenty of Kendall Jenner short hair, we do admit that this never ending copper and blonde hairstyle makes for a surprising change. The sensual fatale succeeds in keeping all hooked.
[Also Read: Ombre Hair Trend Is All The Rage These Days]
Kendall Jenner leaves all spellbound with her charms and experiments. The perfect example of being fabulously bold with her looks! You can copy your favourite Kendall Jenner hairstyles and expect the right spotlight.