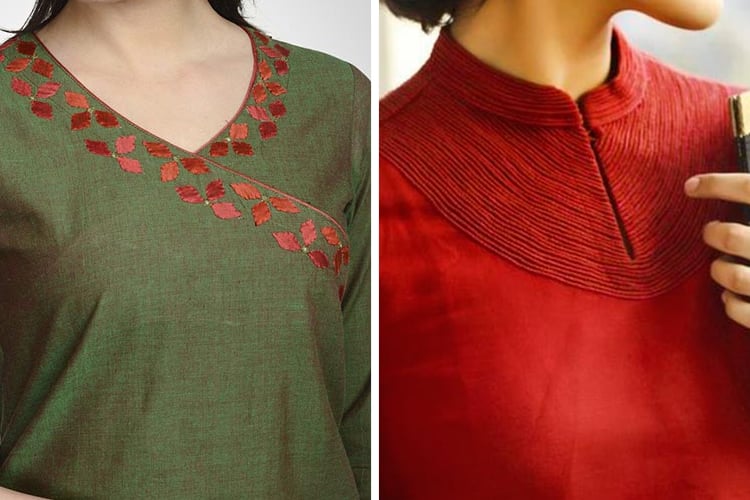 If there is a wide range of kurtis, there is a wider range of neck designs too. No kurti can be complete without designer kurti neck designs. Some look awesome, and some look ravishing. The neck designs are such that they can be customised to occasions – casual to formal.
Well, the ladies kurti neck designs are not just limited to the designs and frills – e.g. round neck kurti designs, kurti neck designs with lace and net kurti neck designs. There are so many options worth exploring in terms of cuts and tailoring – asymmetrical, sweetheart, keyhole, V-neck, U-neck, Scoop neck etc. Don't forget there are kurti neck designs cutting, and kurti neck designs for stitching which also need your attention.
So, let's go on a small trip to find out the range and diversity of designer kurti neck designs. Which are good, which are hot and which are un-missable.
1. Asymmetric Neckline
This is the go-to trend catching fast amongst youngsters. What's so unique about it? Waved hemline which complements the neck pattern. Ladies with long necks can happily go with this kurti neck design.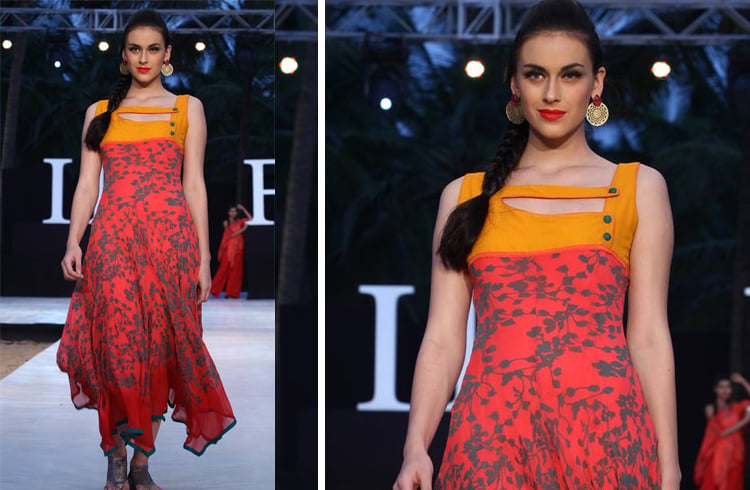 2. Spaghetti Neckline
Guess the source of inspiration of this kurti neckline? Spaghetti tops! You will see the conventional U or V plunge in this design with attached spaghetti straps. Quiet naturally, you get to flaunt your shoulders and collarbones. Check out if you have well-toned shoulders if you want to look rocking in this kurti.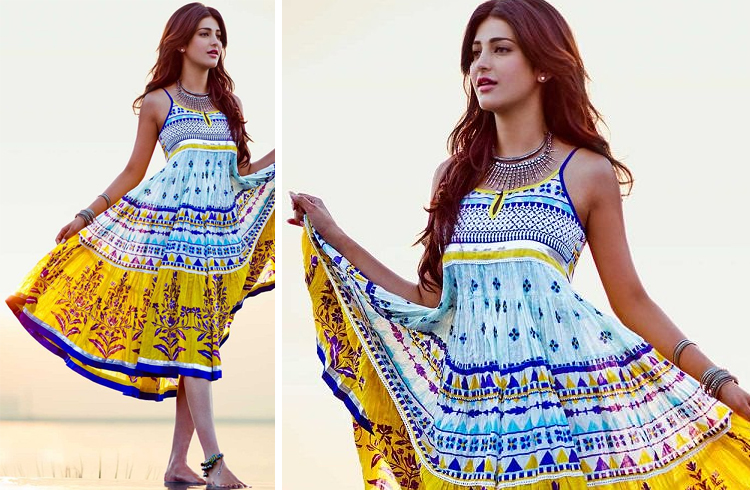 3. Strapless Neckline
Western dressing gets a "kurti" twist through the strapless neckline. To flaunt this kurti neck design, you need to have well-toned shoulders and statement-making collarbones (not tough to get that). Since it is ample skin show, heavy-busted women should avoid wearing this neckline in kurtis.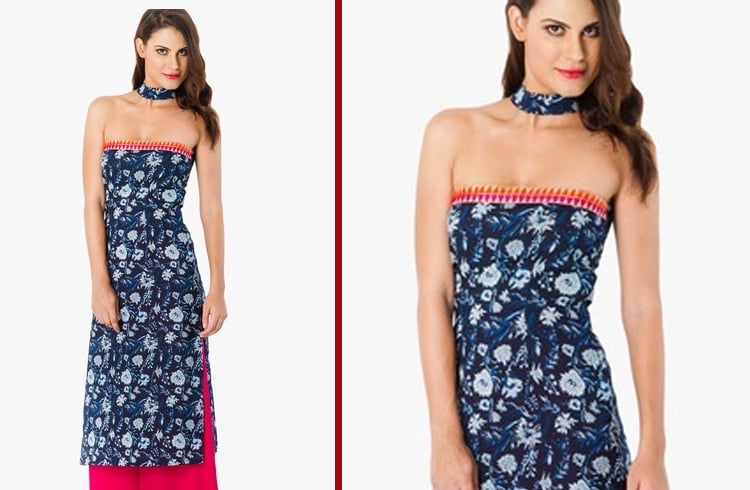 4. Illusion Neckline
This kurti neckline has a transparent panel or lace attached to the bodice. Why the name 'Illusion'? Because it covers the shoulders and the collarbones forming an illusionary neckline. That's why it looks sexy and sensuous. Since illusion is made up of sheer fabrics, you must choose the right bra. Not recommended for women with heavy bustline.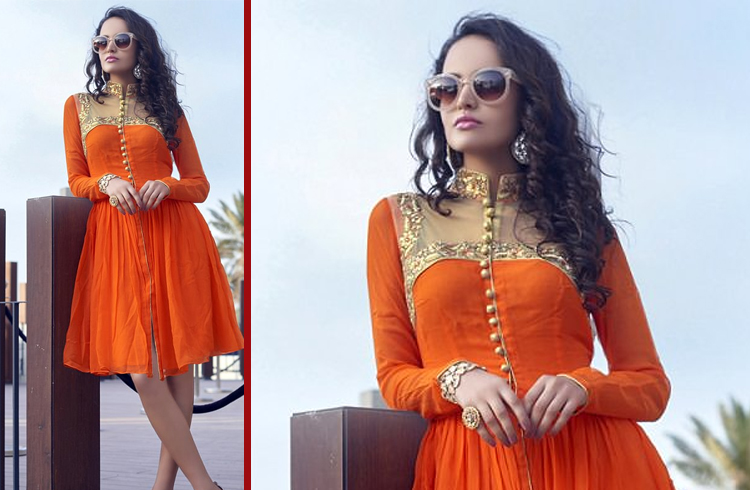 5. Lace Kurti With High Neck
Hi-necks give a youthful look. But when you have kurti neck designs with lace, the neck style looks even more stylish. It's best to play with two flattering contrast colors, when going for a lace kurti with high neck.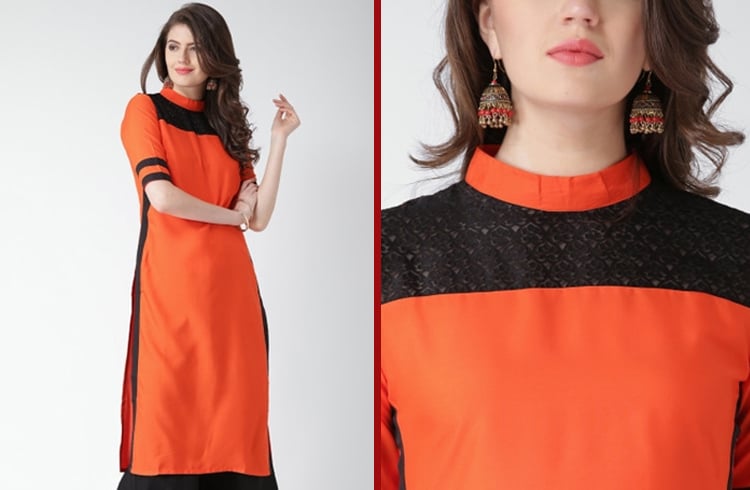 6. Lace Borders Around The Neck Of The Kurti
It is nice to wear plain kurtis. But it is nicer to highlight the same with lace border stitched around the neck. A simple looking V-neck with lace borders of matching color is a good way to perk up the plain kurti.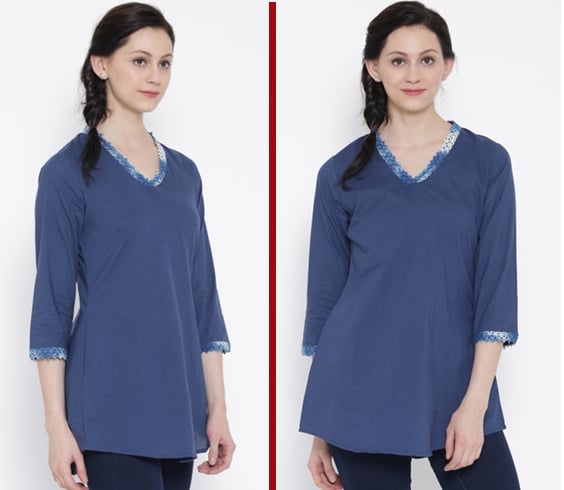 7. Lace Work And Piping Around The Neck
If you want a little more than Lace work for your elegant kurti, then go in for some contrasting piping around your neck. Expensive piping options include the ones done with zari/gold cloth. The shown sample is also a good example of round neck kurti designs.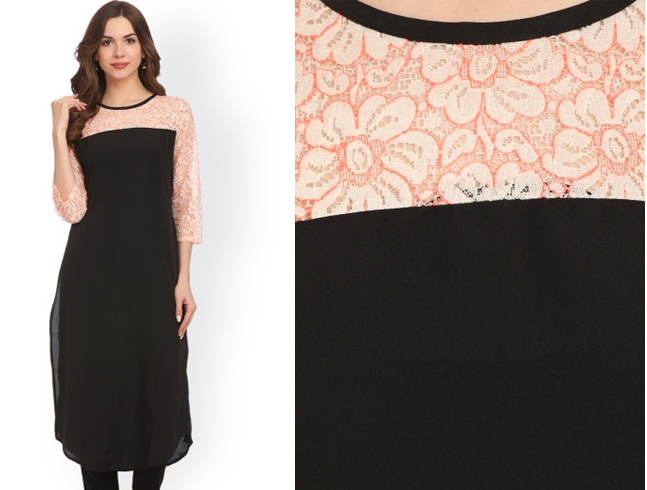 8. Collared Neckline
Supposing your lace kurti has no prints or any highlighted portion, how do you spice up such a ladies kurti neck designs? Go for collar necks having catchy buttons (they come in all shapes and sizes). This will sort out your problem in a major way.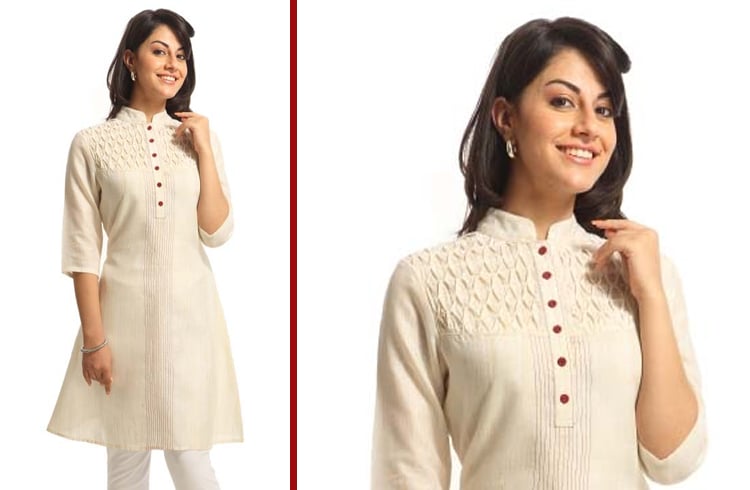 Rani Mukherjee was seen sporting a kurti with collared neckline in the movie Bunty aur Babli!!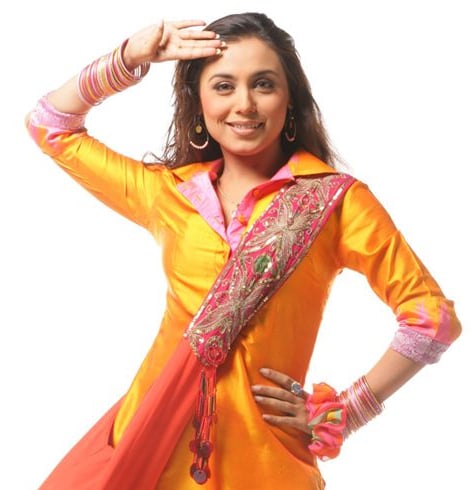 9. High Collar Neckline
This takes the collared neckline up many notches. The high collar neckline adds a western tinge to a kurti. It can have a U or a V plunge with hooks or buttons. Good for girls with long necks.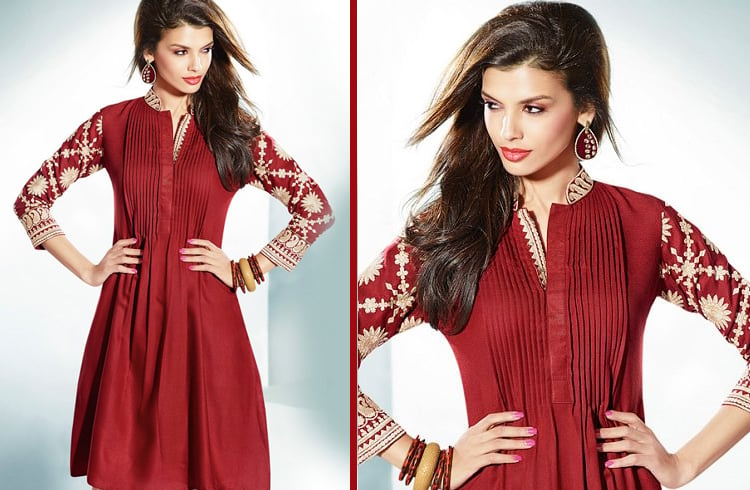 10. High Neckline
Originally, high necklines were apt for winter outfits (they are still) but when the woollen industry got into kurtis, the high necklines made its way into the kurtis as well. This type of kurti neckline is not meant for summers (which lady would like to cover her throat in the scorching summers). But the good thing is that women with all body types can go for this kurti neckline.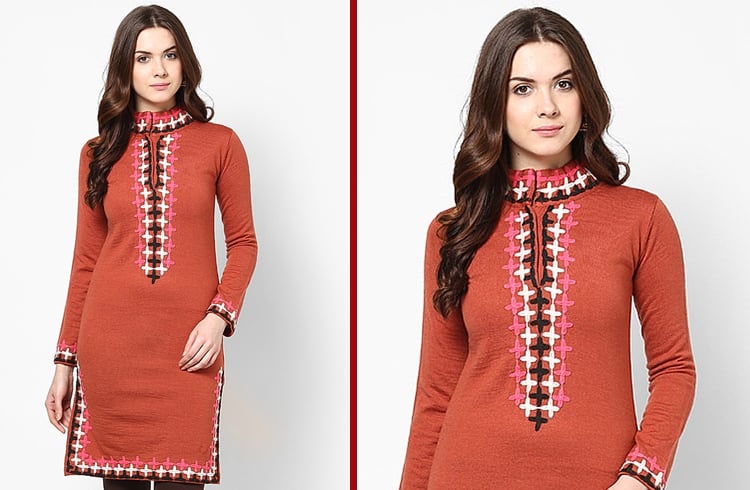 11. Mandarin Neckline
If you are a staunch lover of collar neckline, then you might love to give your right arm for mandarin collar neck in your kurti. The specialty of this kurti neck design is that it finds linkage to the mandarin collar which is very popular in certain
[sc:mediad]

12. Net Neckline
Net is one more fabric which goes tremendously well with lace cloth. Should you want a simple designer neck for your kurtis, then embellish it with the Net fabric around the front part of the neck as shown below. Want to take net kurti neck designs one step ahead? Go in for net cloth for the neck not in simple but in contrasting hues.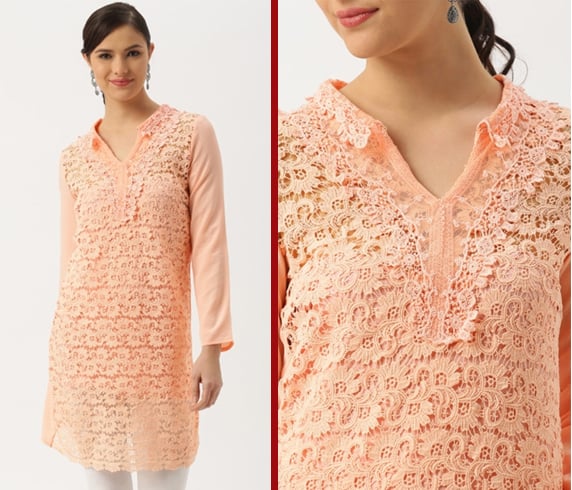 13. Boat Neck
As goes the name, Boat Neck has a neckline in the shape of a boat. The beauty of this ladies kurti neck designs is that it passes by the collarbones and tapers towards the shoulders. Good for small-busted women (not broad-chested), this kurti neck design enhances the shoulders.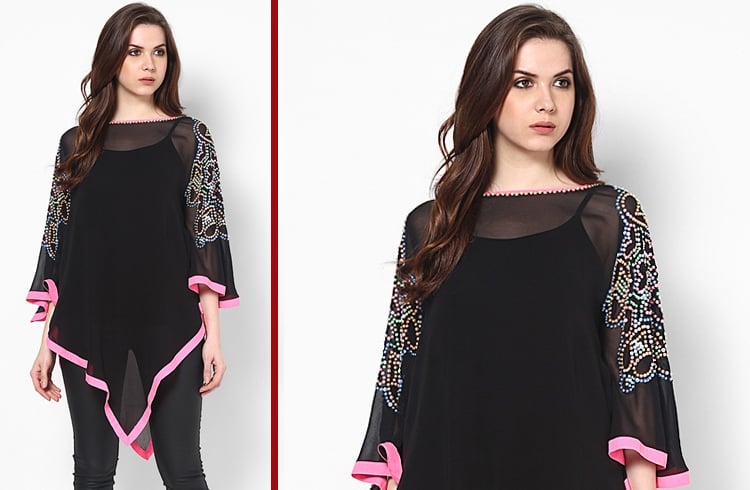 14. Peter Pan Collar Neckline
Retro-inspired and very elegant, this kurti neckline gives a sweet sixteen look. This strictly western neckline should be avoided with salwars and dupattas. Also, avoid wearing necklaces or pendants as this might make the neckline lose its charm.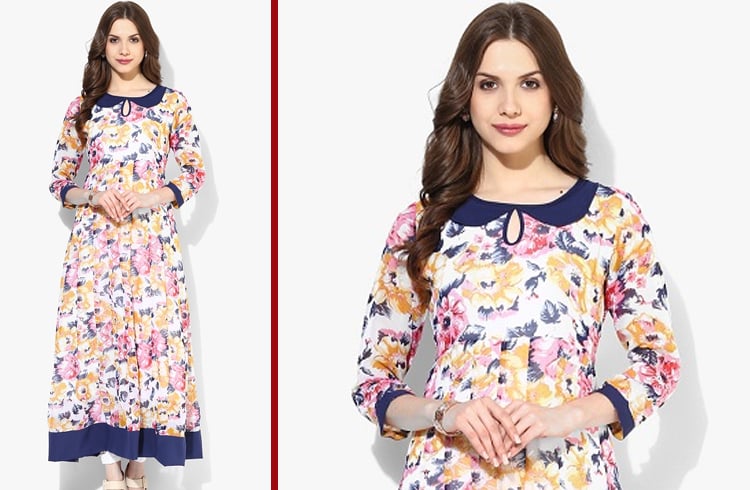 15. Crew Neckline
Quite similar it is to the necklines of round neck T-shirts. This kurti neckline is a good choice for women with long and slender necks. The best part is you can get the circumference of the neckline embellished as per your choice. Good for women who do not want deep necklines.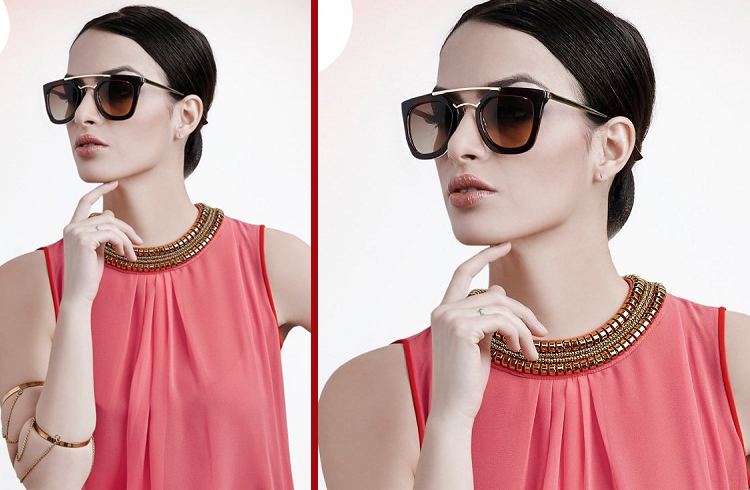 16. Closed Neckline
Smart, really smart! And just apt for working women. This kurti neck design does away with the need of carrying a dupatta. The neckline can be beautified with designer buttons, zippers, hooks or embroidery.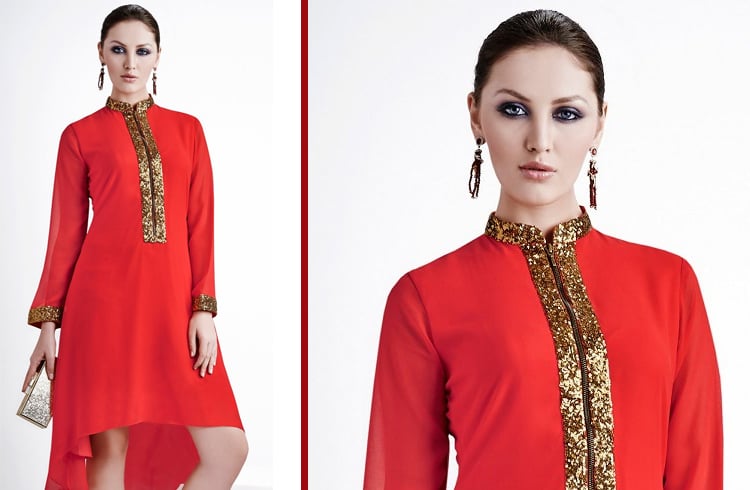 17. Cowl Neckline
This trend-of-a-trend came into being in the woollen sweaters. Then kurtis adopted it. The USP of this designer kurti neck designs lies in the fact that the neckline has rounder fabric draped which gives the image of a scarf or a dupatta draped around the neckline. Wear minimal jewellery when wearing this kurti neck design.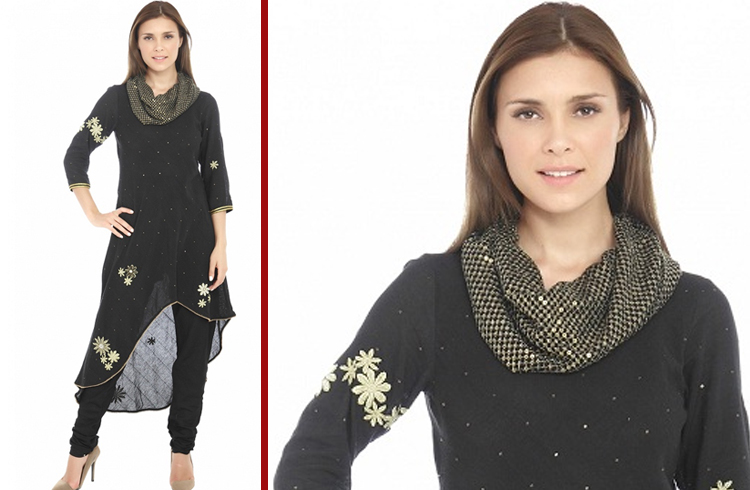 18. Jewel Neckline
No way can you MISS it! Because this kurti neckline is somewhat similar to round neck kurti designs, the only difference being it comes with a lot of embellishments and embroidery along the neckline (which covers the collarbones, even the cleavage).
A jewel neckline in a kurti gives the impression that you are wearing plenty of jewels around the neck, hence the name. So wearing a necklace is a strict NO-NO in this case.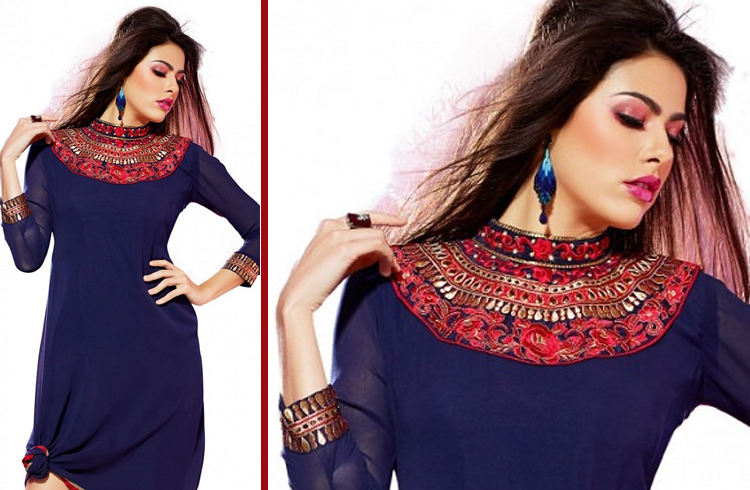 19. Keyhole Neckline
Attention-grabbing this is! Be'cos the keyhole neckline is in the shape of a keyhole (which makes it sensuous in a way). Ladies with elegant tender necks can go for this kurti neck design.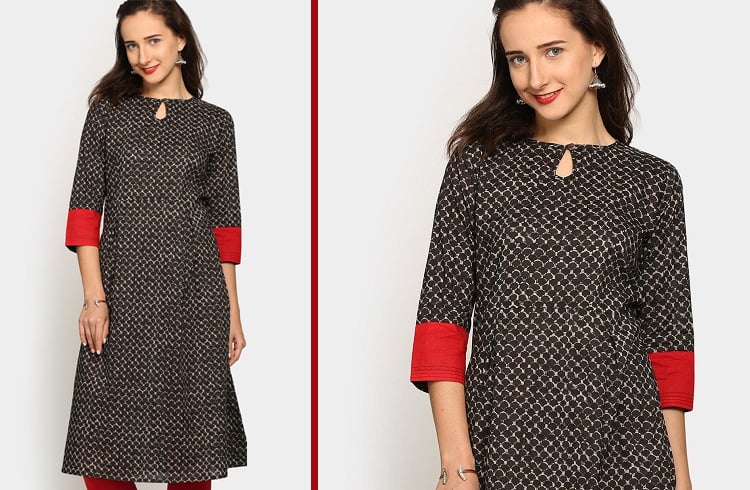 20. Square Neckline
As goes the name, a square neckline has straight cuts in the form of a square. So a square kurti neck design is a good casual wear which can be worn with a pair of jeans. The best thing about this neckline is that it broadens the shoulders.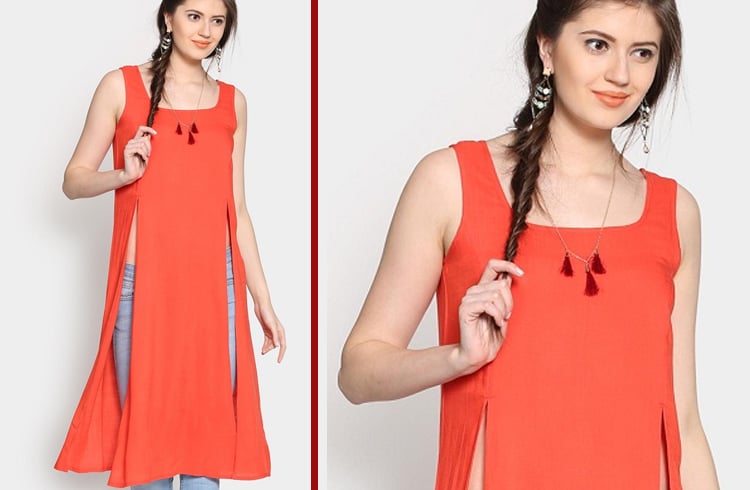 21. One Shoulder Neckline
The specialty of this kurti neckline is that it cuts across the shoulder in a diagonal fashion. In doing so, it accentuates the shoulders and collarbones. NO-NO for women with broad shoulders. It's better not to wear any neckpieces when going for one-shoulder neckline.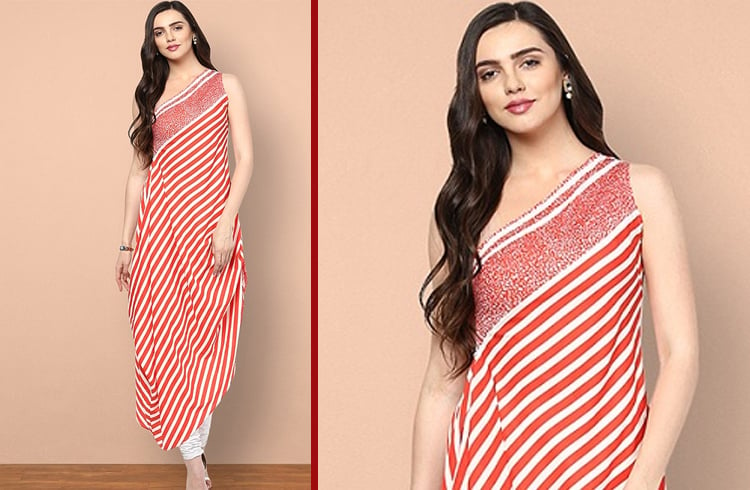 Wait a minute!
Want to see more of designer kurti necks? Here we go!
Patchwork And Embroidered A Line Kurti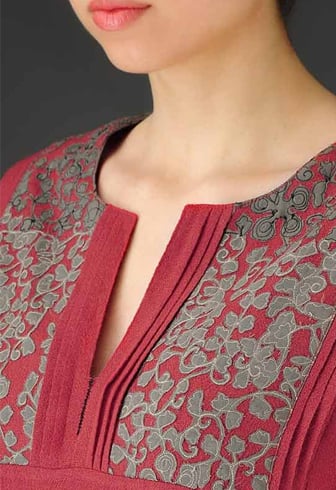 Diamond Pattern Gota Patti Work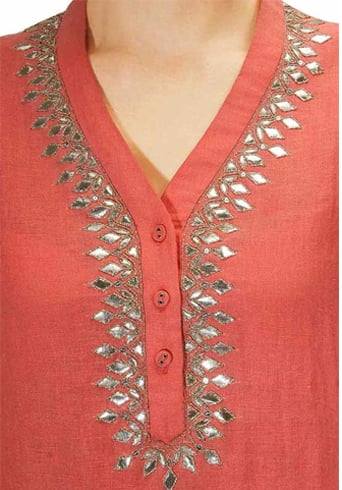 Surplice Neckline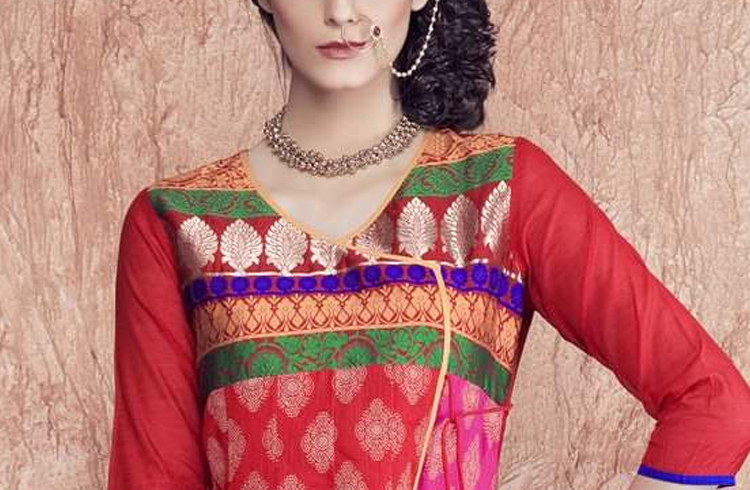 Sweetheart Neckline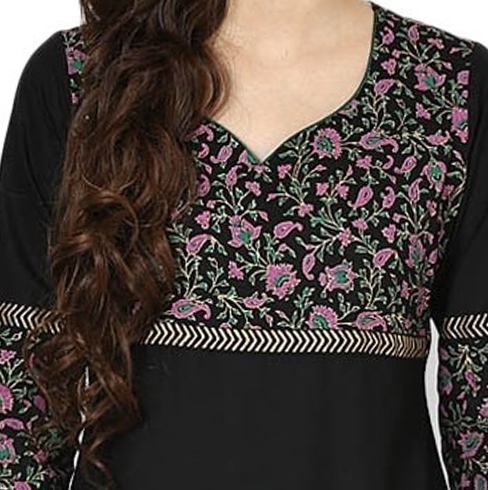 Scoop Neckline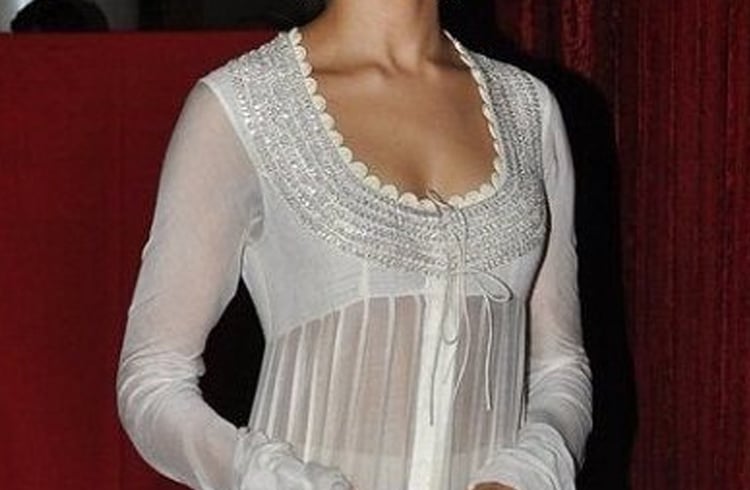 Round Neckline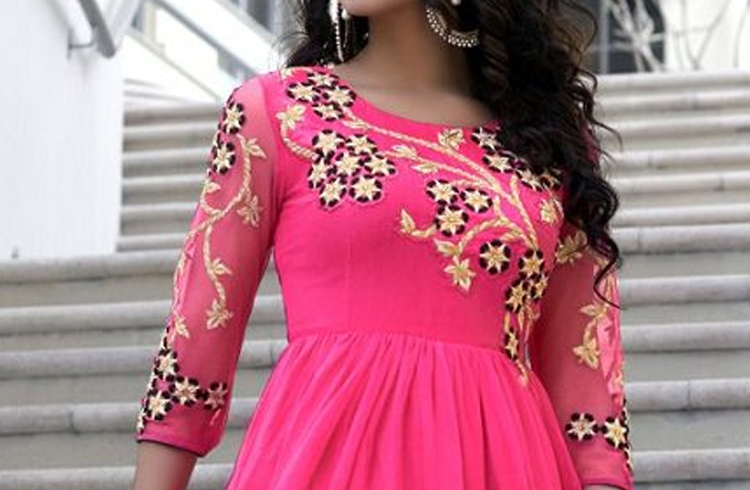 Raglan Neckline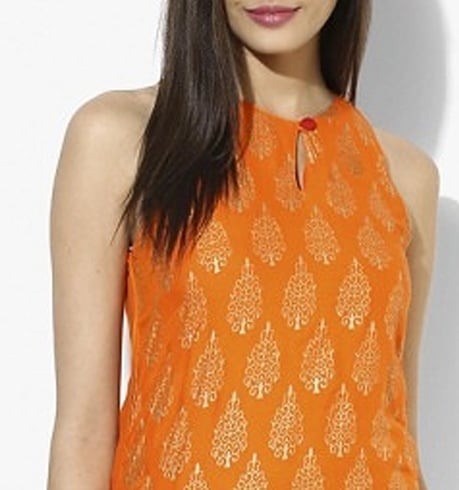 Portrait Neckline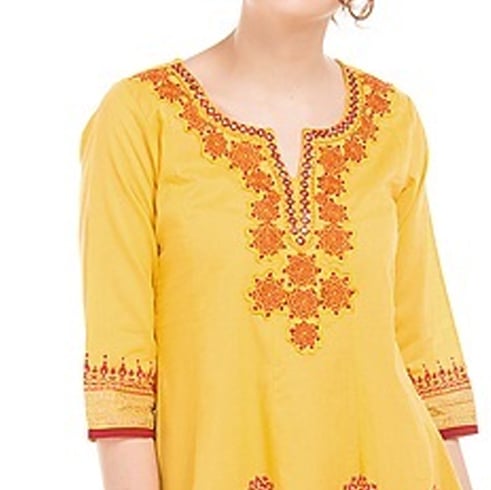 Pentagon Neckline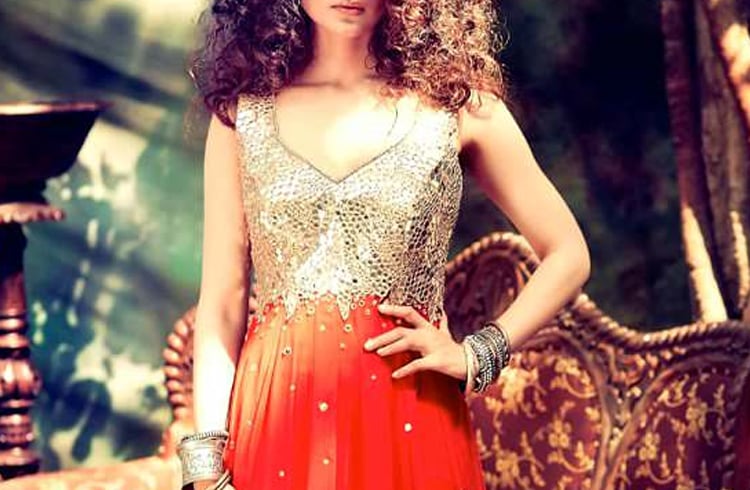 Halter Neck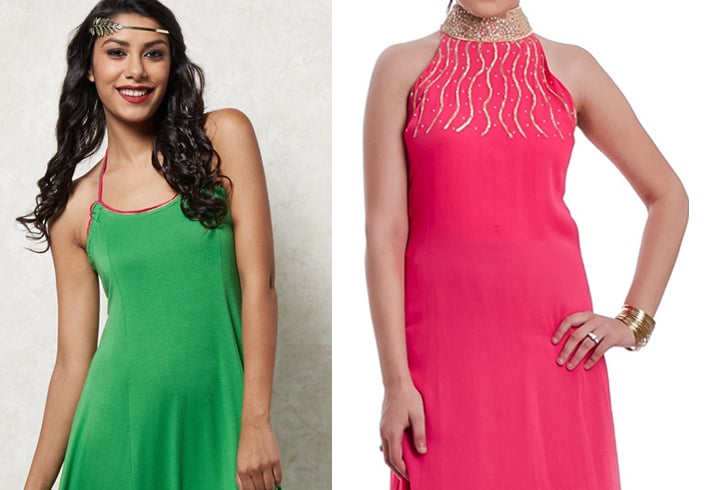 Hope you got the designer kurti neck designs you were secretly looking for. Write in and tell us your favourite kurti neck designs.