Saree and the Indian women have been siblings since time immemorial. There have been times where it's necessary to flaunt these textiles, be it a formal or semi-formal event. And to choose the most appropriate one which compliments has always been difficult.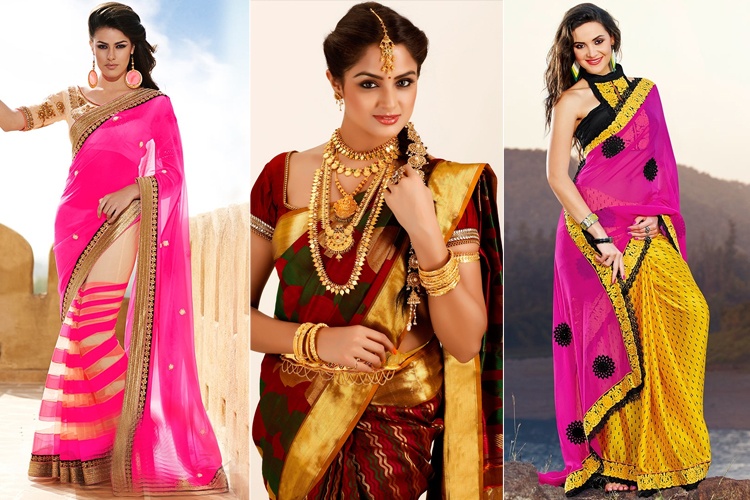 7 Different Saree Material Types To Own
Here's a list of few and different types of saree materials and textiles that are mostly needed in the Indian PYTs closet, period!
[Also Read: Stylish Saree Gown Designs]
1. Assam Silk
Bred from the indigenous wild silk produced in Assam, you may have heard of the famous golden Muga, or maybe the enchanting white Pat or even the warm Eri silk? Assam silk industry enchants the globe with its wide variety of high end and everyday wear sarees that are "oh-so-perfect"!  They are exotic, well-woven mercerized handloom silk sarees that sport a lot of zari work & thread embroidery; with delightful patterns and large Bootis inspired from nature and fauna.  The modern twist like check style ikkat weaving designs with naksi border and stripes on a designer pallu make these textiles stand out as regal clothes fit for the fashionista of today.  One of the many saree material types so adored!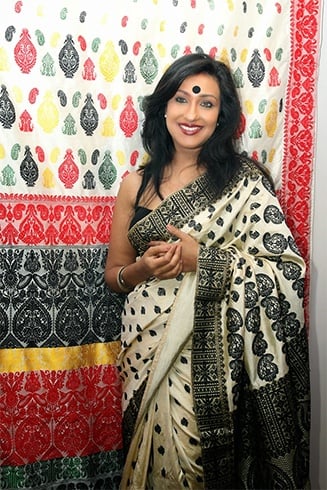 2. Arani Silk
Typical to the town of Arani in the Tiruvanamalai district of Tamil Nadu, this textile comprises of a strip of unstitched cloth of approximate length of four to nine yards. Famous around the country and abroad for it's high quality weaving and permanence of the vibrant hues on the silken fabrics. A few mentionable features would include the deep striking colors of the sarees and definitely the unique zari patch borders that display motifs borrowed from peacocks and mango and floral templates.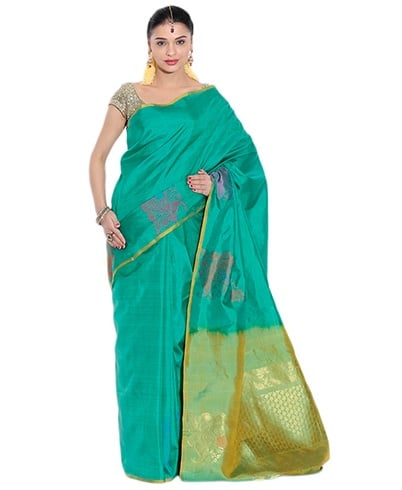 3. Bandhani
Carbon dated to as back as the 4000 BC Indus Valley Civilization, this tie-dye textile claims it's place among the fashion trendy closets being very differently created and by being an individual among its kind.  This tie-dye textile is decorated by plucking the body with fingernails into many bindings such that they form a understandable figurine. These patterns can be either the Chandra-kala or the bavan baug or shikhari and such. Since the sarees are exclusively handloom, the color combination, though natural, is of state-of-the-art variety. Mostly famous in Ahmadabad, it is a staple amongst the Gujrati families.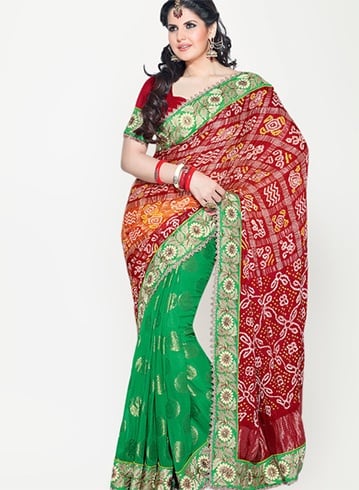 4. Crepe
Crape happens to be an anglicized version of a silk fabric which has a peculiar crisp or crimpy appearance. Woven of spun silk yarn when it's in the natural or gum like state, this fabric is luxurious and has a good sheen and a pebbly texture. The canton variety is mostly used in textiles for it's wavy appearance. The yarn from two bobbins is twisted together in the opposite way, resulting in a fabric that's smooth and even and has no similarity to the original fabric. Because of it's beautiful drape, it's mostly used for bridal textiles and evening wear sarees.
[sc:mediad]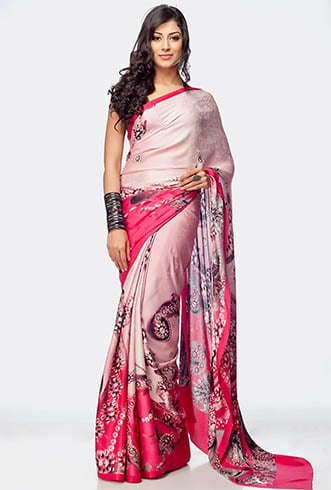 5. Chiffon
It is a light-weight, balanced & plain-woven sheer fabric woven of alternate S- & Z- twist crepe yarns made from cotton, silk or synthetic fibres such as nylon, rayon & polyester. The twist in crepe yarns puckers the fabric slightly in both directions after weaving, rendering it a slightly rough feel like a chequered mesh like effect. It adds volume to the garment and is often used as a base fabric for embroideries and appliqués. In the form of sarees, it adds simmer and texture to the complete attire.  This textile is available all through the states of India and is a staple amongst buyers of all classes and creed.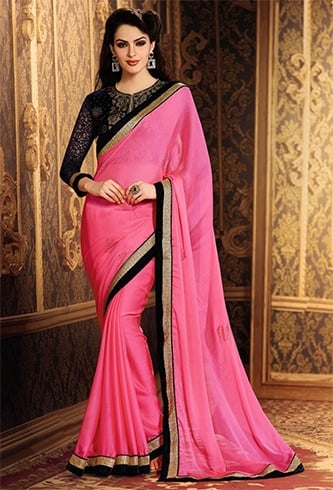 6. Faux Georgette
An artificial version of the fabric itself, experimentally created from made of twisted yarns of rayon, polyester or nylon rather than silk. Suitable to the Indian weather for its sturdy, durable, soft and breezy. It can be easily embroidered, embellished and printed upon & is light and floaty in its appearance. It is comparatively more affordable than pure georgette and does not burn a hole in the pocket. Women can browse stylish and pretty faux georgette garments for all kinds of occasions, from glitzy weddings to formal office parties. prints show up beautifully on the soft and transparent georgette fabric, which is why all types of ethnic prints such as Batik, Madhubani and Dabu are used to decorate faux georgette sarees; on the other hand, modern prints inspired by art deco or abstract art also look great on this fabric. The translucent nature of the faux georgette saree also makes it a good choice to pair with ornate or designer blouses.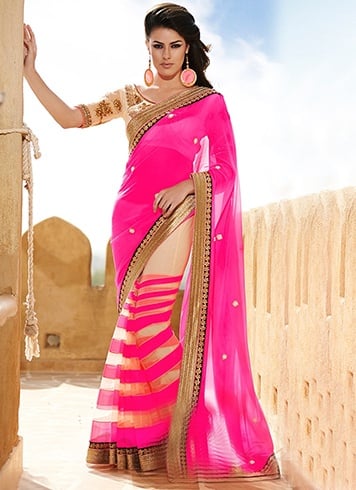 7. Kanjeevaram
Kanchipuram silk a.k.a Kanjeevaram is the South Indian version of Benarasi. Woven from the threads of pure mulberry silk and bred in the regions of South India, this textile is a timeless favorite of the nation since generations untold.  Interlaced with three different shuttles and over by weaver and his aide from opposite sides; the body and pallu are knitted together in a zig-zag pattern after each of them is stitched separately. The borders show motifs depicting various aspects of the Mega Epics of India and history. These sarees made of heavy silk and gold cloth are considered pious for festivities and occasions of pulchritude.
[Also Read: Bollywood Actresses In Red Saree]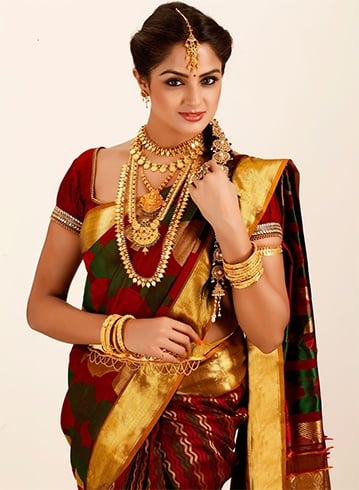 We have given you a low down on the various indian sari materials and how saree material to look slim can be achieved would be the next topic we would talk in future, so watch this space for the same!
Images Source: pinterest.com