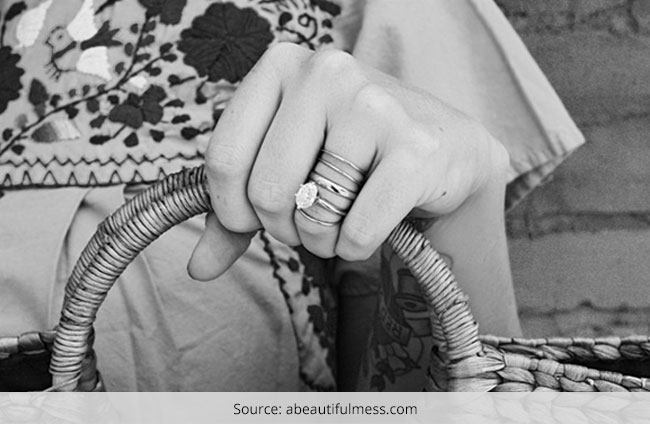 If you've been thinking of lately how to rock stacked finger rings then you're at the right place. Ever since I've understood fashion I've strived to live by Coco Chanel's fashion philosophy.
"I don't understand how a woman can leave the house without fixing herself up a little if only out of politeness." ~ Coco Chanel
There is no harm to add a few more elements to your style statement as long as they gracefully complement your personality and occasion. Just as in the case of accessories, while 'less is more' is appropriate for formal events; layering of rings rocks at all casual events.
If you're serious about making a style statement then it should be all about creating unique look and this is what even I do every day.
[Read More: Knuckle Rings]
Usually I love to play with my metals by pairing gold, silver and even gold plated accessories that give a dynamic look.
You can flaunt a chic midi finger ring. It works well on pointer finger and should sit below the knuckle. Leave the adjacent finger plain and then overdo the other finger with dainty styles.
To create unique look you can flip the ring and show your creative side. For this, you'll need a triangle ring.
And to make your rings more visible, you can also add a dash of color or sparkle. Just don't shy away from adding such elements which are fun and nothing else.
Alana Blank, CEO and Designer of Phyllis + Rosie suggests to wear rings on alternate fingers in both hands i.e. rings on pointer finger and ring finger on right hand, while rings on middle finger and pointer finger on left hand. This way your style won't look monotonous, instead it adds richness to the entire look.
[sc:mediad]
And if you're not much into multiple rings then you can simply pick a statement-making piece such as a sterling silver rib ring on your middle finger.
Here are some tips on how to rock stacked finger rings –
You can play with different textures such as metal—gold, rose gold, or silver that are trending
Neither you've to deck your every finger with a ring nor have you to match your hands. Only a thumb ring will do
Rings with special detailing like a small stone/crystal add variation
Mix and match your pieces till you find a combo that you really love
Pick a single brand as it will help you with mix n match in a better way
We'll leave you with some images to get inspired from.
I'm loving gold for this fall as I love the elegance of the silhouettes. So these are the top different ways to rock stacked finger rings. Hope you found this post useful!