A soccer game is totally on and the highly anticipated FIFA World Cup 2018 has kicked off on June 14th in Russia and is running through July 15th. The football presents an additional social activity where everyone wants to feel like a part of the team they're supporting.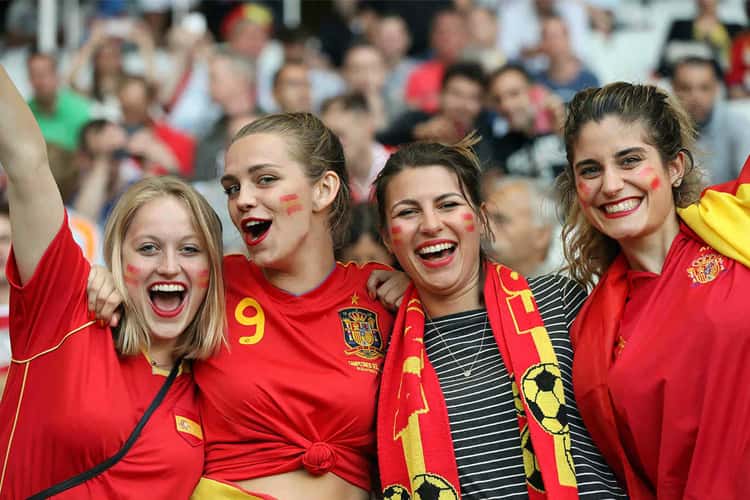 So in this article, we present ten outfit ideas on what to wear to a soccer game that is not just sporty enough but also brings your style game on point.
What To Wear To a Soccer Game:
No matter which team one is rooting for, the rule is to wear style with comfort. So with that, here are a few outfits for soccer game to show you how to nail the sporty look while showing off the team pride:
1. A Fitted Jersey And Leggings:
Jerseys are every soccer fans dress code. If you do want to wear one, then opt for a fitted top. A fitted jersey that shows off your pride for your team is a good idea. Pair it with a pair of leggings that hugs you in all the right places.
2. Tank Top, Distressed Denims, And Suede Trainers:
When it comes to comfort, no denim has your back quite like the distressed jeans. Cuffed, loose, or infused with a perfect pairing of a tank top and suede trainers- the look can do wonders to bring out a laidback cum dressed-up look while watching the soccer game.
3. Jacket And Track Pants:
This athletic-inspired outfit essential has a casual-cool vibe and has proven to be a football fan's dress code. They look chic paired with everything, from a soft white T-shirt to a classic flat. And they're versatile enough to be appropriate for many game seasons.
4. Sweater And Ankle Boots:
As far as a soccer game is concerned, the footwear that certainly takes the cake is ankle boots. Apart from conventional sneakers, the boots make a huge statement, especially when paired with oversized sweaters. And, in a purely practical sense, this style is comfortable as can be, with a no-fuss feel, perfect for a girl-on-the-go. You can get those wheels turning with this one.
5. Printed Sweat Shirt And Black Ripped Jeans:
Obviously black ripped jeans aren't a new fad or groundbreaking, but they do offer an extra dose of cool to any ensemble. Pairing it with a printed top will make you want you to live in them pretty much.
6. Skirt And Sneakers:
It's that time of season again – the time when suddenly inexplicably, you feel nothing is right to wear for the soccer game. Since a complete wardrobe overhaul would be impossible, the best solution is to wear what you already have. For instance, this skirt with tights and sneakers look is a good balance of bringing out ladylike and tomboy elements. And it's unique and practical, too!
7. Denim Culottes And Fun Accessories:
Culottes are all about these loose cropped pants. Styling them for the game can be interesting. For a sporty feel, style a pair of the draped pants with a baseball cap and sneakers.
8. Nail Art:
You can also represent your team with interesting nail art, like supermodel Alessandra Ambrosia. If you are not an expert at doing your own nails, go for nail wraps instead. They come in several colors and patterns, so find one that matches your team.
9. Face Painting:
Face painting is a superb way to show off your love for your favorite team. Feel free to go as creative as you can with face painting. But if you want a more subtle look, just paint a strip of your team's colors on your cheeks and you are ready to go.
10. Gorgeous Shades:
Sure, an oversized pair of shades works too, but a pair of game-day wayfarers and aviators are a little sporty compared to other shapes.
These are few of our style suggestions on what to wear to a football match. Would you try these ideas or have other add-on ideas in mind? Do write in with your opinions in the comment box below. We love hearing from you.