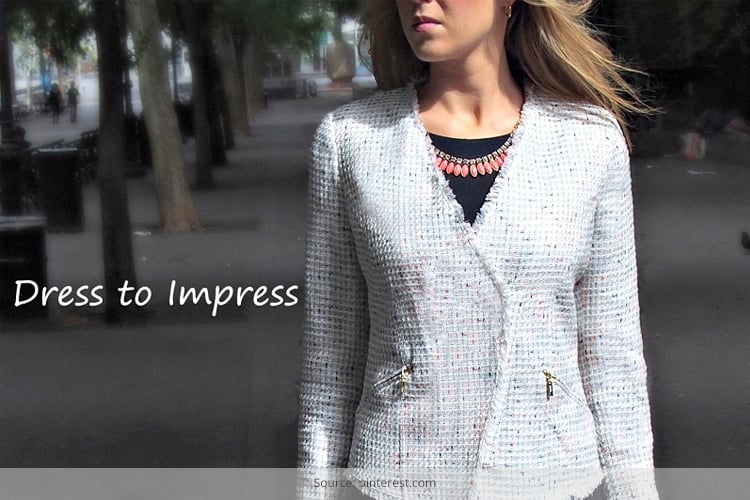 Every morning we all make a choice. I think we all go through the same predicament, when it comes to picking an outfit from the closet. No matter whether we're dressing up for work, event, a day off or dressing down, our style is always under observation.
The way the others view us, is determined by what we choose to wear. While some develop certain expertise such as communication skills to impress people, others simply rely upon fashion as a way to stand out.
Our dressing sense can go a long way in leaving a lasting impression on the people we meet, giving us the kind of opportunities we can rely upon. In a bid to look fashionably correct, girls usually end up being over-dressed and in worst cases, they also end up being under dressed.
What to wear to impress others at work
We do not have take the entire dressing concept in a shallow, but we've to keep this in mind that even before we engage in a conversation, we are being watched over.
Dressing smartly does not necessarily adhere to impress your male colleagues, while let the girls do the talking. Instead, it is also about defining your fashion quotient and personal traits. One of the major keys in building a lasting relationship with your clients and someone who is worthy of respect is inexorably the way we dress.
By dressing smartly, we also instill in our self a sense of confidence while giving a presentation or simply walking in the public space.
I strongly feel there are 5 major factors to consider if we're serious about the 'dress to kill' factor. We should never forget that a perfectly dressed person is not the one wearing towered heels and designer skirts and flaunting a luxury handbag, but someone who understands her body structure and what style to adopt.
Let us have a close look at those 4 key elements, which will certainly help us in choosing the appropriate outfit.
Occasion
Before picking an outfit from our closet, just determine the occasion. This is the corner stone and should be our prime consideration before deciding what to wear. We'll come across numerous events to attend, but their attributes may not be same always. While some fall under business, others may be family events or just a movie with friends. Even our most casual setting demands an awareness of the occasion.
Business events demand a formal attire, complete with a perfect hair-do, right footwear and minimal make-up. And we should take it as a thumb rule that we just cannot follow the 'less is always more' trend when it comes to corporate fashion.
Casual events are again of different kinds. We've to consider if it's a lunch with family or with friends. We should always make sure our dressing sense should be consistent with the people we come across in our lives.
Audience
This is the second key element to be considered. we should always keep in mind the type of audience we're going to deal with. The way we project our-self is directly related to our work competency, such as dealing with clients or even boss, we must appear professional.
[sc:mediad]
Understanding the audience also helps us determining our comfort level at a particular setting. For instance, if our office culture is not open then showing up in a knee-length skirt may put us in an awkward situation, making it detrimental to our cause.
Comfort and Style
When it comes to clothing and fashion, we just cannot ignore the comfort factor. We'll surely feel confident, provided we are comfortable in what we are wearing. For example, we cannot just put on a low waist trouser and keep checking our posture and pull down our top to save from that embarrassing moment.
Color
This is another discerning factor to be considered. we should never overlook the color of our outfit as color can either make a person look attractive and smart or drab and boring. Colors produce varying emotions and always bring out the confidence in us.
Black and white are always a safe combination to opt for. While black is timeless classic, white keeps you graceful and sophisticated. And when it comes to evening wear, you can go for bold colors.
Coco Chanel had rightly said, "When in doubt, wear red!" While we should keep glamorous colors such as gold and bling for fancy occasions, we can experiment with other shades and flow with the seasonal fashion color instead.
Hope you found this post useful!