There is a huge difference between what you eat regularly and what you can have when you are pregnant. During pregnancy whatever you eat or drink affects the growth of your baby in a major way.
There are times when you may not feel the need to have anything but when you are in the thick of summers, you need to sip on water and more healthy drinks to keep yourself well hydrated. No, I didn't mean soda or alcoholic drinks. Are you clueless? Fret not! Find out more about the best drinks to have during pregnancy in this post.
Top Drinks To Have During Pregnancy:
Here are some drinks you can safely have during pregnancy, which will do you and your baby a world of good, irrespective of the weather outside. Enjoy!
1. Coconut Water:
When you think what to drink during pregnancy then coconut water is a safe bet.
Nariyal pani keeps your system cool during pregnancy. It reduces the tiredness by restoring the natural salts that you lost while sweating. Whenever you feel thirsty at whatever time of the day, stock up some nariyal at home so that you can sip on some coconut water to keep yourself hydrated and refreshed.
2. Lemonade:
There is nothing better than nimbu paani, your perfect go-to drink for maternity months. Undoubtedly, it is one of the best drinks to have during pregnancy. You see the lemonade is rich in vitamin C. This helps your system absorb the iron in your diet. Moreover, it keeps your system hydrated.
Lemonade can be consumed at any time of the day (either with your meals or without) or when you are feeling lazy and not very bright.
Oh yes, if you are down with morning sickness, make yourself a glass of refreshing lemonade and add a dash of ginger in it, top it up with a few mint leaves and some chat masala. It will beat Limca and other lime-based drinks hollow.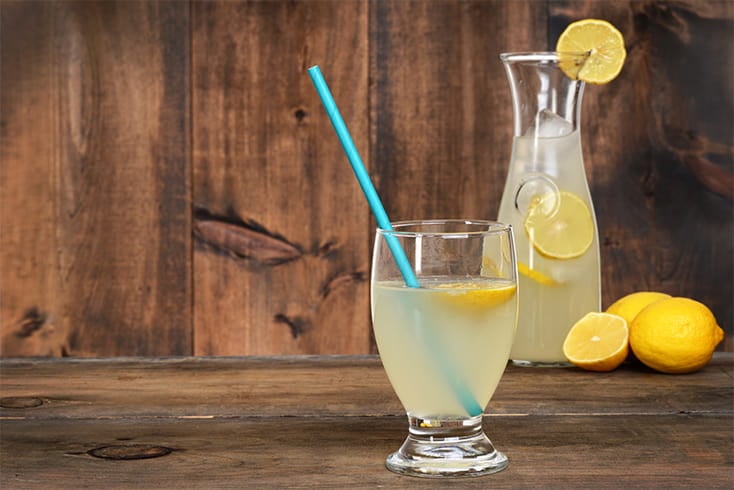 3. Fresh Fruit Juices:
A glass full of fresh fruit juice made from – orange, lime, sweet lime, anar, chikoo, watermelon or muskmelon, etc. is great during summers for expecting mothers. The fruit juices have plenty of nutrients which are essential for your body during pregnancy.
One important thing to know:
Never take fresh fruit juices as one and the same as 'fruit-flavored drinks' or drinks that have concentrated fruit juice.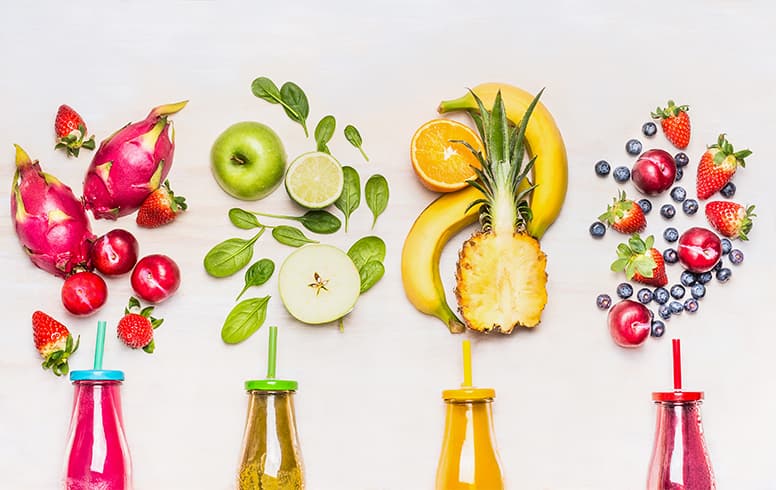 [Also Read: 10 Important Foods to Eat During Pregnancy]
4. Buttermilk:
Crazy for Chach? You better be, because chilled chach or buttermilk can be a perfect drink to keep yourself hydrated and cool during pregnancy, particularly in scorching summers.
Buttermilk has plenty of calcium, vitamin B12, and protein and it helps in digestion as well. In between your heavy meals, you can drink a glass of buttermilk. This will keep you feeling light and satiated.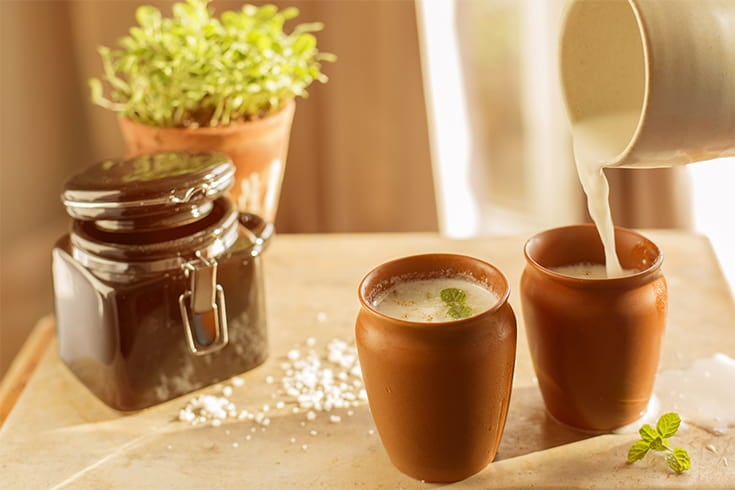 5. Jaljeera:
It is not just for summers or special occasions, but jaljeera is one of the best drinks to have during pregnancy. It keeps the expecting mom feeling hydrated, and helps her deal with the morning sickness in an effective way.
The tangy flavor of the jaljeera pampers your taste buds and enhances digestion.
6. Smoothies:
Make a glass of delicious smoothie using your favorite fruits, a little milk, and ice. Being rich in nutrients and minerals, smoothies can be a healthy snack option during pregnancy.
7. Iced Tea:
During summer months, pregnant moms might not like the idea of sipping hot tea. Worry not! A glass of chilled iced tea is there to cheer you up. It is a refreshing drink in summers, which helps beat the morning sickness.
Just make sure that the amount of caffeine intake during the day is within the allowed limits.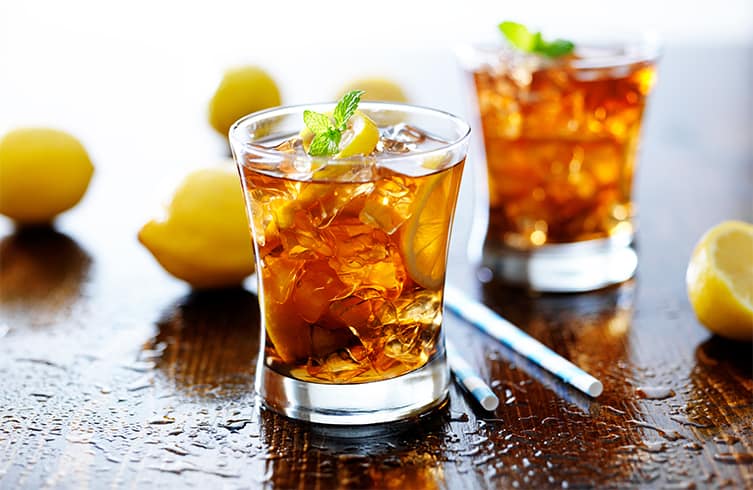 8. Water:
Water is the best drink to keep the body hydrated. It is also the main constituent of breast milk, and you should increase your water intake during pregnancy if you are planning to nurse your baby soon. It is advisable to drink at least 8 to 10 glasses of water on a daily basis.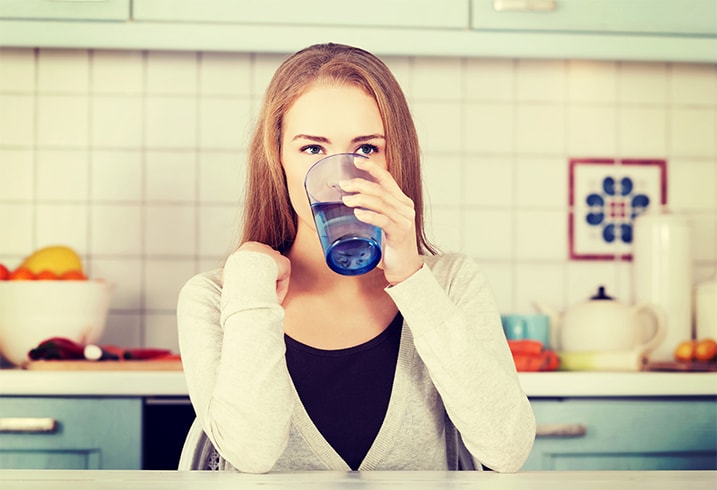 9. Milk:
Milk and all dairy products have calcium, protein, and vitamins. Milk also goes one-step ahead – in keeping you cool and hydrated during pregnancy.
For pregnant moms who don't like the idea of drinking warm milk in summers, there is always a chilled glass of milkshake to fill the need and nutrition gap.
10. Aam Panna:
Ah! Here comes the most popular summer drink, which also solves the problem of what to drink during pregnancy. The tangy aam panna made with cold water and green mango pulp is the best way to combat dehydration. Since this drink is loaded with vitamins, it also helps the pregnant ladies increase their nutritional intake in a tasty way!
11. Vegetable Juices:
If you are not able to consume vegetables in the required quantity as a part of your pregnancy diet, then drinking vegetable juices is a good option. Cold vegetable juices will help satiate your thirst during summers. The essential vitamins and minerals the drink offers will surely work wonders for your health during this critical phase.
12. Chia Seed Water:
Chia seeds are packed with minerals like calcium, copper, iron, magnesium, niacin, phosphorus, and zinc to help in the development of your baby. All you need to do is soak some chia seeds in water for some time, and drink the stock to get the benefits of chia seeds. It will keep you hydrated and provide you adequate nutrients during pregnancy.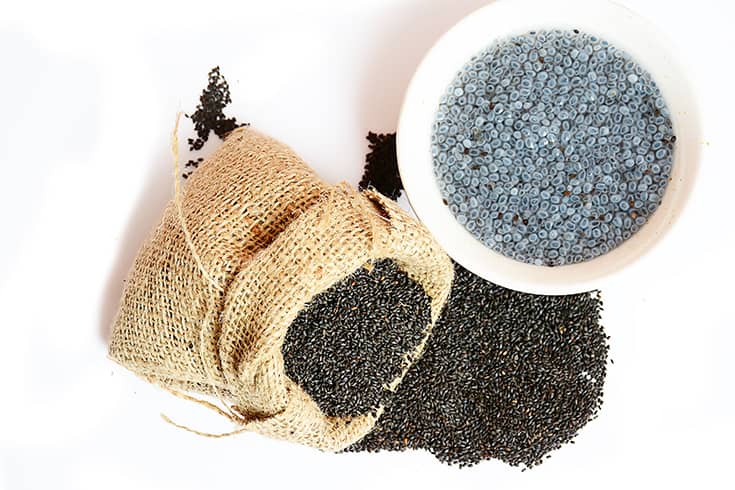 13. Mint Tea:
When you are down with morning sickness during your pregnancy, mint tea is the best way to cure it. It can help increase your appetite, cure a headache, boost your digestion, reduce heartburn, decreases flatulence, and control nausea.
To enjoy the benefits of mint tea, soak some mint leaves in lukewarm water. Then wash them in cold water. Now add some mint leaves to a pan along with a cup of water. Bring it to a boil. Strain the solution, add some lemon and honey, and drink it while it is warm.
14. Rooibos Tea:
Taking healthy drinks to have during pregnancy to the next level is Rooibos tea – the tea that has antioxidant properties and is caffeine-free. Rooibos tea is also a rich source of magnesium and calcium. It also aids digestion and brings relief from acidity and colic reflux.
When is the right time to have any of these drinks during pregnancy? Any time of the day and in between your main meals as well.
Disclaimer: Please consult your doctor or nutritionist before adding these drinks to your pregnancy diet. Also, remember consuming anything in excess may be harmful to your health.
Drinks To Avoid During Pregnancy:
Here are some drinks that you need to stay away from during pregnancy:
[sc:mediad]
1. Alcohol:
If you consume alcohol while expecting it will pass into your bloodstream and adversely affect the fetus. So stay away from alcohol during these nine months and also after childbirth if you are planning to breastfeed your baby.
2. Caffeine:
Tea, coffee, and colas contain caffeine. Excessive consumption of caffeine can cause health problems especially while expecting. During pregnancy, it is best to limit your caffeine intake to 200mg daily. This equals to 4 cups of medium strength tea; 3-4 cups of instant coffee; and 2 cups of ground coffee.
3. Soups And Broths:
Though they count as fluids, most canned and tinned soups and broths have a high sodium (salt) content. Remember consuming processed food is highly avoidable while expecting.
So ladies, hope you found this post on what to drink during pregnancy informative. If you have any more diet tips and suggestions on this topic, feel free to share them in the comments box below.