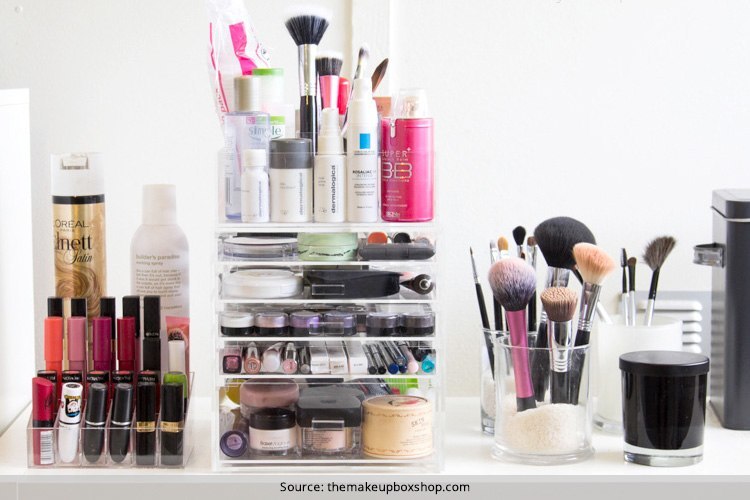 How well organised are you – at home and office? Somewhere down the line, the truth lies in how smartly, you organise your tools and tongs and we are not talking about those lying in your kitchen alone but those sitting pretty on your dresser as well. Organizing your things helps you maintain your work flow smoothly. Arranging your things and keeping them handy within the space constraints is a challenge, right? It does reflect how clear our thought process is as clutter definitely takes a toll on our mind. Our struggle to find our everyday tools especially when we are in a rush is a sheer waste of time and energy. It can increase our irritability and ruin our mood before we even kick-start our day.
Talking about organising things and one such example is DIY makeup organizer ideas. Now most of you lovely ladies out there would love reading this. Do you hate yourself when you forget where you kept your favourite shade of lipstick or your hottest nail colour? Spring cleaning might just be the need of the hour then. So, instead of going crazy hunting for your make-up, it is time to pay attention to DIY makeup. What's that? Everything from DIY makeup vanity, DIY makeup box, DIY lipstick organizer, DIY cosmetic organizer can help you keep your beauty secrets safe and handy. In short, here's a simple guide to help you implement some out of the box make up organizer DIY ideas. Go ahead and check them out!
1. Makeup Brush Display
Tell us of one beauty-conscious diva who will get out of her home without applying make-up. Which is why we need to "clean" our make-up brushes and keep them spic and span so that we can use them to make a few magical strokes and complete our makeover. Want to display your make up brushes in a trendy way? Go ahead and take a glass bowl, throw in a bunch of decorative stones in it and plant your favorite make-up brushes to make this cool brush display.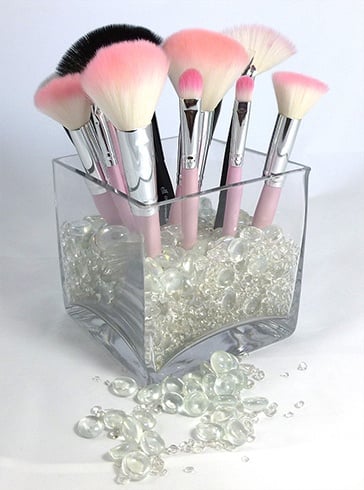 2. Magnetic Makeup Board
In short, this make up organizer DIY will help you keep your make-up in a super neat and tidy way. At the same time, it will look amazingly elegant while hanging near your dresser. All you need is a nice frame with a metal plate. Once you stick the magnets at the back of your cosmetics you can place them on the metal plate. This magnetic make-up board truly gives a glimpse of your magnetic personality!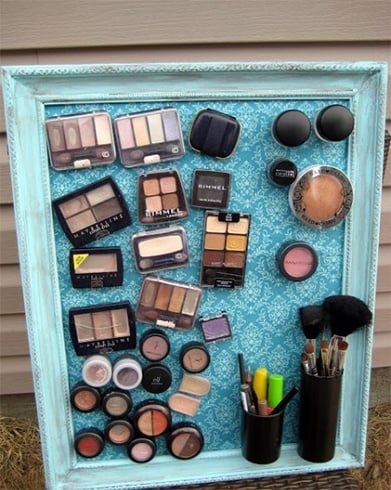 3. Storage Trick With Mason Jar
Go wild with your creativity because you can use the Mason jar to store virtually anything that fits in! You can use them to stack cotton swabs, ear buds, your sleek make-up regulars like kajal pencil, lip liner, eye liner, mascara, lip gloss, and brushes.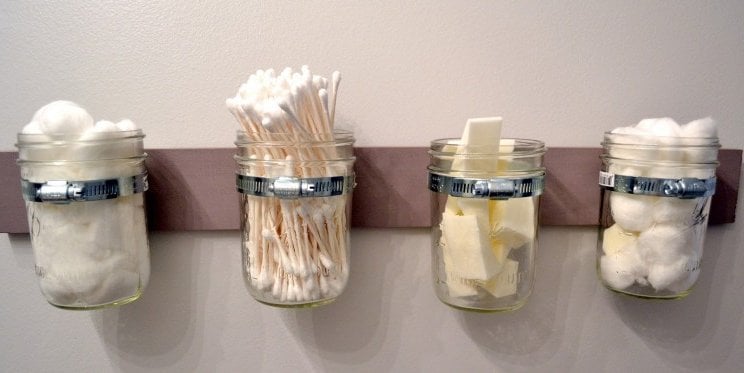 4. Chalkboard Jewellery Organiser
It is maddening to find our delicate beads and chains getting all tangled in the messy dresser drawer. To find your precious accessories all jumbled up and damaged is truly heart-breaking, we know. Worry no more! This super cool chalkboard jewellery organizer will complement your room perfectly. It will save you the hassle of remembering where you kept your statement jewellery before hitting the sack after partying hard last night.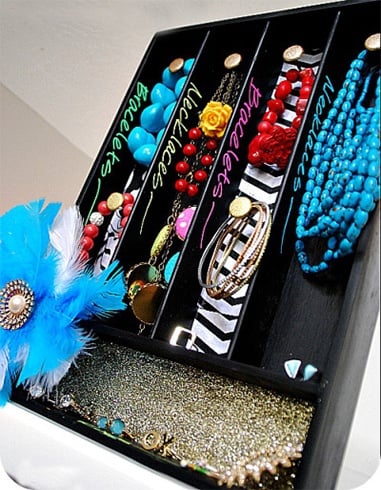 5. Star Makeup Vanity From IKEA
If makeup happens to be your first love, then having a small box or a dresser is not going to be enough. Never! Why not make a star makeup vanity like celebrities? IKEA has one such DIY makeup vanity equipped with all the components (such as mirror, boxes, legs, and chair). Food for thought!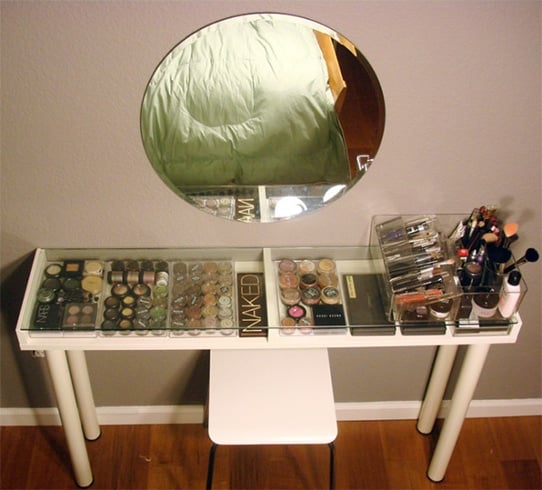 6. Hanging Jars For Organising Makeup
If you have an aesthetic and artistic corner (not just in your home but also in your heart and mind) then this make up organizer DIY will appeal to you for sure. It is simple but incredibly cute to stock some of your fine makeup tools. You just need a good amount of strings for hanging the jars safely on the walls and let your imagination go wild while designing your chic hanging make-up kit.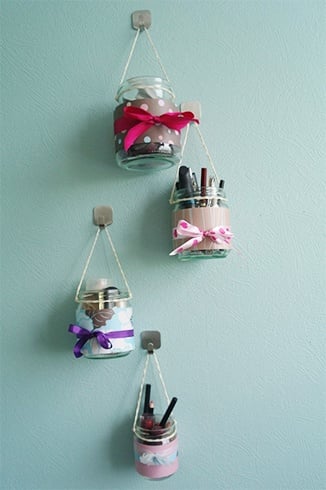 7. Creative And Funky Makeup Box
Colourful and eye-catching, this DIY makeup box is great for your daily needs. Get yourself some colourful foam, studs (and your creative skills) and see this make-up organiser look stunning sitting next to your mirror.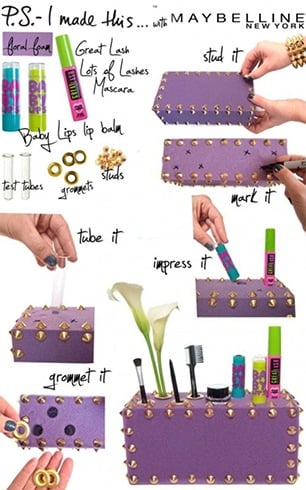 8. Makeup Brush Storage
Keeping a track of those makeup brushes is now easy thanks to these simple-looking and stylish storage bowls. Dedicate a bowl to one brush type. This will clear things and get confusion out of the way and you can reach out for the right brush even with your eyes closed!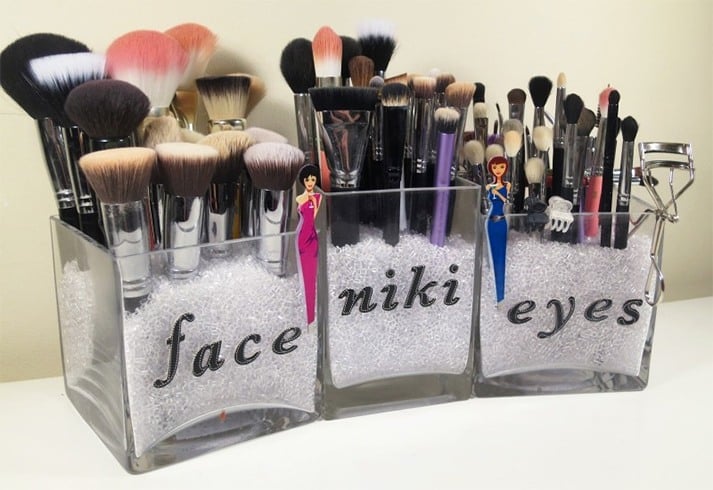 9. Makeup Brush Holder (Glittery)
It is high time you used glass tumblers in an innovative way– how about using them as beautiful makeup brush holders. All you need is some Mod Podge and glitter to execute it.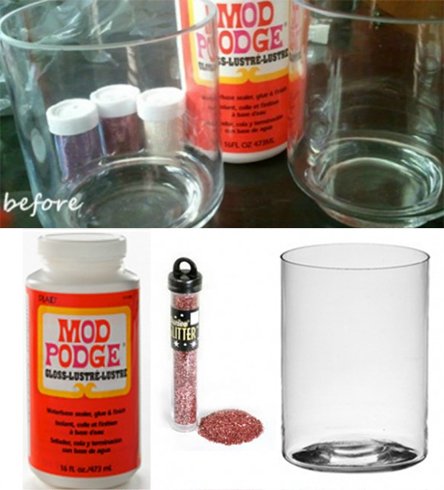 10. Makeup Brush Holder (Washi Tape)
Some things look nice and lovely, such as this cute makeup brush holder with Washi tape. Get a clear vase (any size will do) wrap it up with some Washi Tape. It is then that you will realise how organizing your makeup can be so much fun.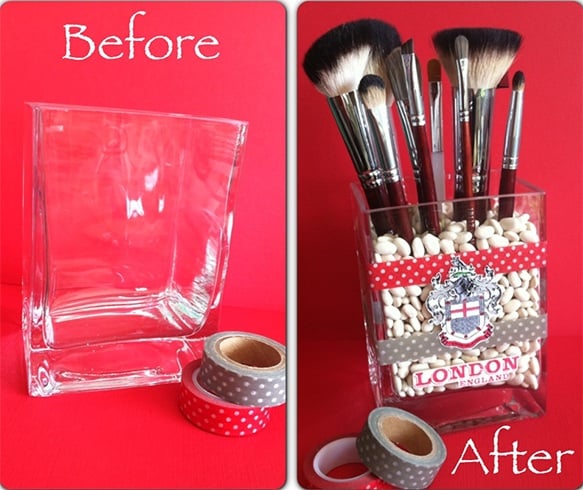 11. Magnetic Makeup Board
Putting all your make-up items in a dresser can turn out to be a nightmare of sorts. When you have the trendy-looking magnetic frame make-up board by your side, you will realise how make up organizer DIY can work like magic.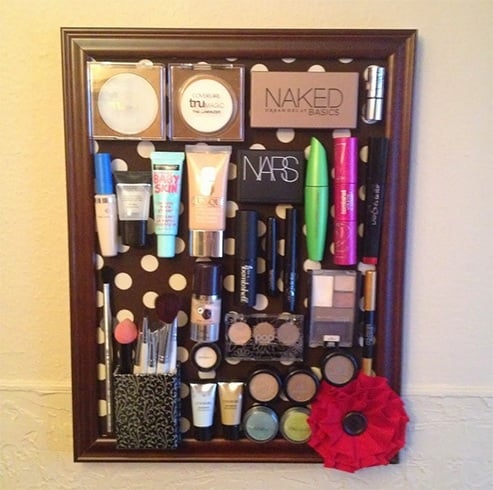 12. Eco-friendly Makeup Storage With Xmas Gift Boxes
Celebrating Xmas is no joke. It's a full time job with almost everyone in the family running around organising things – gift, parties, candies, candles, wine (and waiting for Santa Claus to come home). The good thing "after" Xmas is that there are loads of empty gift boxes lying around in the house. Why throw them away when you can reinvent them as DIY cosmetic organizers? Stock your lovely lipsticks, lip balms and face powder in the DIY makeup box and give yourself a pat for recycling the cardboard boxes.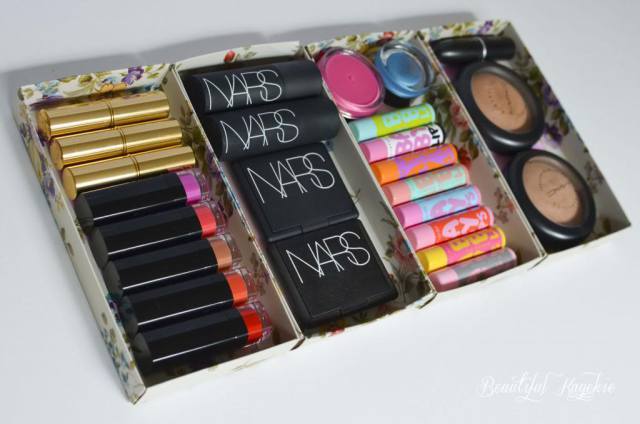 13. Stylish Cosmetic Organisers
Keeping your favourite nail shades and lipsticks in one corner is a huge task. Make use of the glass tumblers. They can double up as excellent cosmetic organizers. Try this DIY makeup organizer without spending an extra penny! Totally worth giving it a shot, don't you think?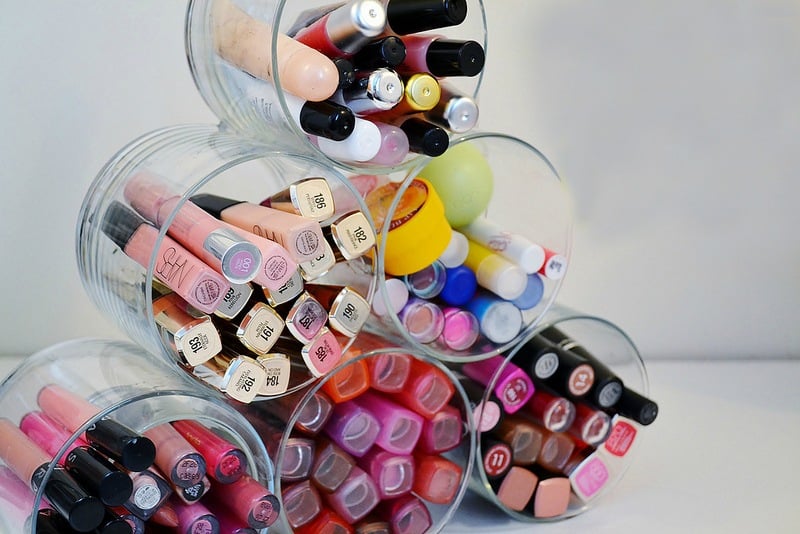 14. IKEA Raskog Makeup Vanity
Do you have a sister who shares your makeup? Buy a IKEA Raskog Hack. It's a rolling vanity cart – the most handy and super cute cart divided into multiple trays which you can easily share with your sis. This DIY makeup vanity has enough sections for all your cosmetic gear. You can roll it in and out of your room any time of the day or night. Super-convenient it is!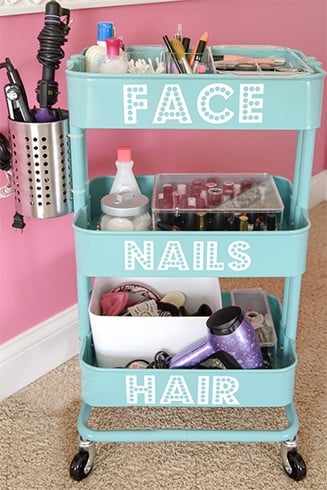 15. Roll-up Vanity
Do you have a travel bug? Then you might love to carry your makeup around with you everywhere. Here is the perfect make up organizer DIY for you. Even if you have average sewing skills (no point sulking) and some free time on your hands, your makeup organizer will be ready in no time.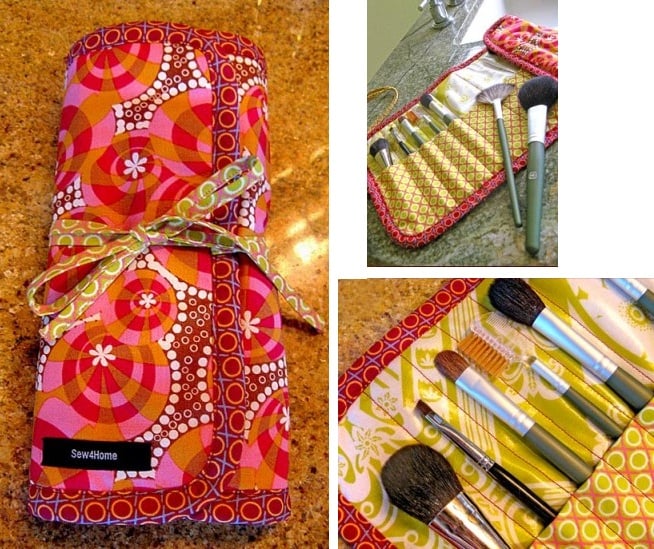 16. Wood Log Makeup Brush Holder
Beauty is in simplicity. This no-frill makeup organizer is as simple as it can get. You just need a medium-sized trunk so that you can drill holes in it and put your brushes. In fact, it's good for gifting and desk purpose too.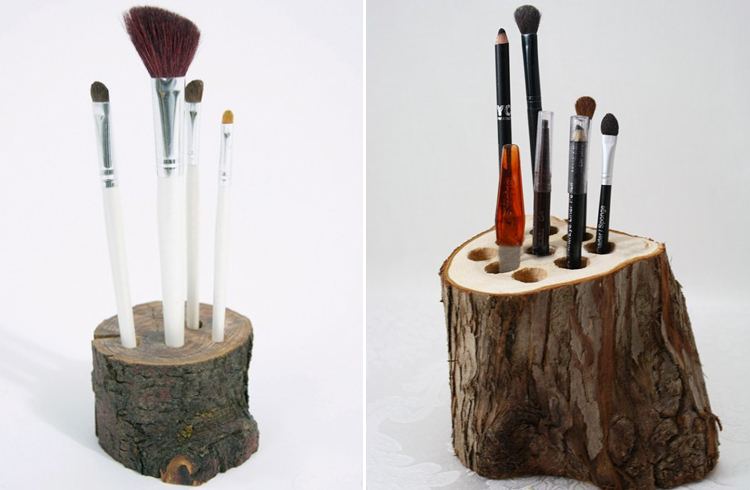 17. Innovative Makeup Storage
Chances are you have a heap of makeup storage boxes piled on each other. Looks like clutter, right? Stack them up and give them a makeover using this pretty DIY cosmetic organizer idea.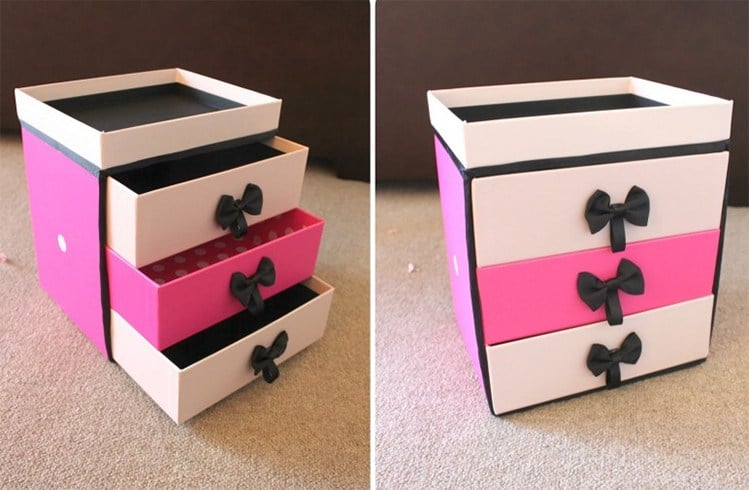 18. Painted Mason Jar Storage Ideas
Mason jars are wide-mouthed which makes terrific sense. You can store anything in it, particularly your big makeup tools. Just use a tape and spray paint to give your boring mason jar makeup storage shiny colours and amazing patterns.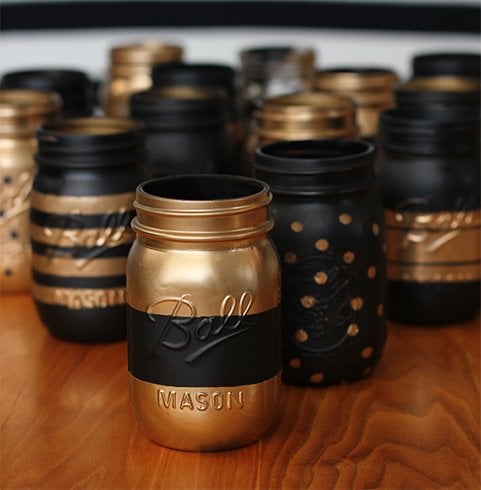 19. Chevron Vanity Tray
Another twist in DIY makeup vanity tray is this Chevron Pattern in it. Perfect for those of you who don't have too much time on their hands to get prim and pouty every morning. So what if it's a discarded shoe box, put some mod podge and glitter and you will bless yourself for getting a space-saving makeup organizer.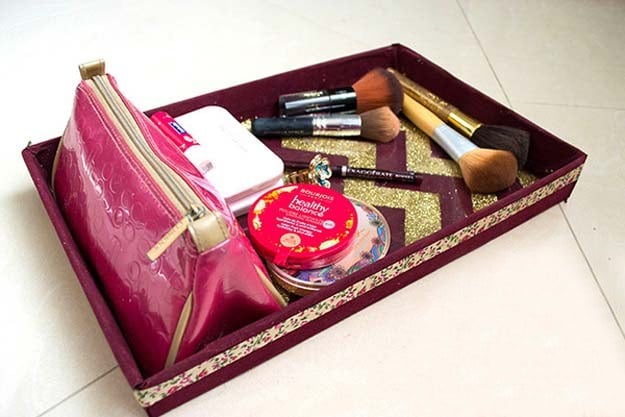 20. White Wood Makeup Storage
Are you planning to get a new makeup storage for yourself? Get this whitewood storage DIY makeup box. It will give you all the glam you need with an all-in-one vanity experience.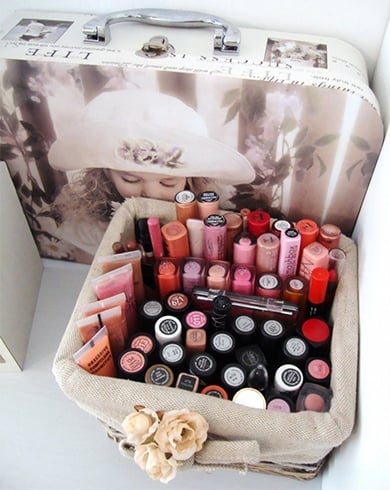 21. Two-tier Organiser
Classy Victorian look is not just for the dresses, but also for the makeup kit. You can try this make up organizer DIY armed with just two discarded plates, a tin can and a glue gun. It will help you get an elegant-looking 2-tier makeup organizer in no time.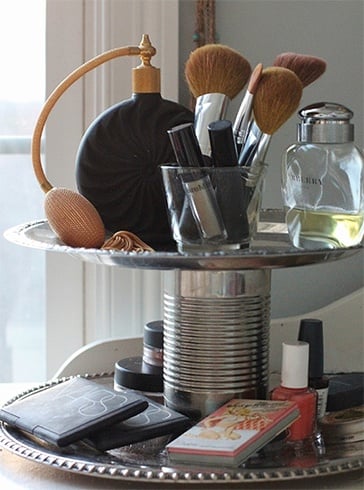 22. Glam Makeup Brush Storage
Any spare vase, large jar or glass tumbler you have can help you get started with the making of this makeup brush container. Fill the jar with glass beads, fillers or any other decorative stuff you have lying around to beautify your makeup organizer.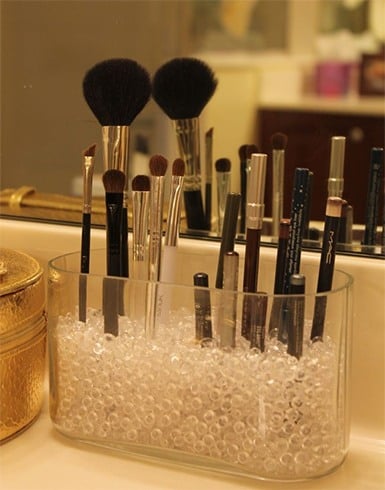 Here is a Video that will help you execute a "DIY Makeup Brush Roll Organizer".
Hope you loved the DIY makeup organizer ideas. Tell us your favourite one from the list. Share if you have any cool DIY makeup organizer ideas in the comments section below.
Images Source: cutediyprojects.com