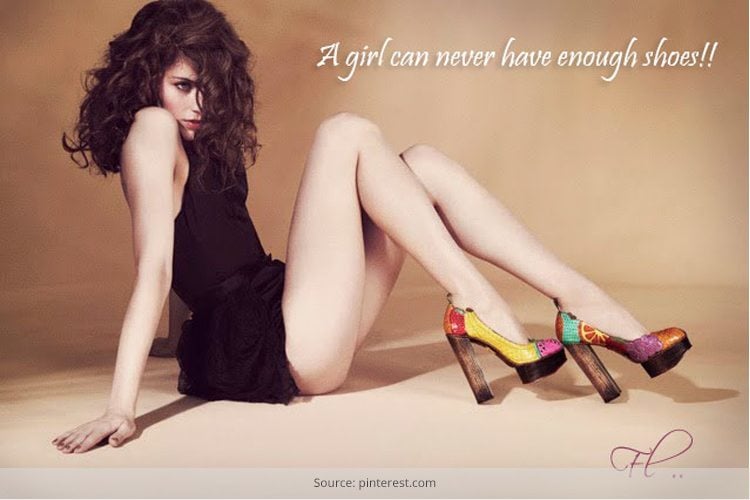 A girl can never have enough shoes! How true is that!! – Whether it be pretty ballerinas or sleek stilettos, a girl has to have them all. Then why miss out on lovely ethnic Indian juttis and mojris that bring color, beauty and fun to your wardrobe?
FashionLady offers you a delightful edition on ethnic shoes in traditional style and with a twist of modernity. From flourishing Punjab to royal Rajasthan, check out these handcrafted shoes and slippers displaying the colors and charm of the real India.
Khussa Shoes
Those who love the boho chic and ethnic style will fall in love with Khussa shoes!
Made of vegetable tanned leather by artisans, these are embellished with pretty shells, cute mirrors, tiny bells and colorful ceramic beads. It looks distinct with its extended curled toe and open look from behind.
Bygone era: This was worn by the crème de la crème of the society – royalty and the elite. It has evolved over the time and has different variations.
The khussa shoes brought to life the regional arts and traditional skills with rich, vibrant hues and designs. Adorned with applique work, the shoe exudes charm and appeal with colorful embroideries, weaves and punches.
Modern Avatar: Today Khussa shoes are a favurite with girls! These khussa shoes are available in plenty of bright colours and adorned with pearls, sequins, beads and glittery stuff.
These look great with salwar kameez, kurti-jeans, ethnic skirts, patialas, jodhpuris and harem pants.
Jutti
From the lush green, wealthy and glorious Punjab arrive the Jutti which is a popular footwear in Northern India. Available in rich hues and trendy patterns, these juttis have made their mark across India and abroad.
[sc:mediad]
They can be bought at your local street shopping centers or plush malls across the country. If you are ever in Amritsar, check out the local market surrounding Golden Temple for great bargains and prices!
It is choc-a-bloc with thousands of shops selling beautiful juttis for men, women and kids in lovely colors, cuts and designs. You can also get these custom made for special occasions.
Bygone Era: Earlier, these were made of leather and were adorned with intricate embroidery. It used to be made of real gold and silver threads. These handcrafted ethnic shoes were worn by rich zamindars, chaudarys, nawabs, Maharajas and Maharanis.
Modern Avatar:  Today juttis are a popular choice across the country. They are now made with rich threads, colorful beads, and traditional motifs. Available in different shades of leather, these juttis make an ideal choice to be worn with bridal outfits, ghaghras and anarkalis.
Kolhapuri Chappal
These famous Indian hand-crafted leather slippers are popular throughout the country. Kolhapuris are open-toed, T-star sandals which are worn by women and men.
Bygone Era: Worn in as early as the 13 th century, these were earlier known by the names in the village they were made in. It evolved in the late 1920's where the Saudagar family made an enhanced version which was thinner than the original and had two side flaps (earning the name "Kanwali)!
Sent to Mumbai, it was noticed by J.J and Sons, sold and promoted by them. From then on, the rest is history – these chappals have become popular throughout the country.
Modern Avatar: The kolhapuri chappals have come a long way and have managed to retain their original style in spite of the touch of modernity.
The chappal straps are now available in a variety of bright colors, embellished with sequins, gold and silver strips, and rhinestones.
These chappals have found their place in the urban society – College going students sport these in style. Journalists, creative professionals, and social workers have rocked this look with their long jholas, khadi kurtis and tattered denim.
Hope you liked this edition on ethnic Indian shoes and slippers. Aren't these amazing pieces of crafts and desi style?
Let us know your comments, opinions, and feedback on ethnic shoes.