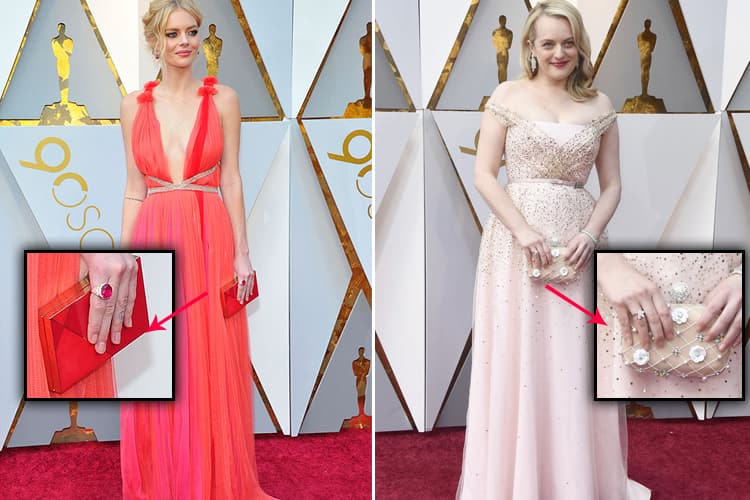 Awards Shows are a hallmark in itself. Oscars ceremony being an annual affair brings lots of hopes, excitement, performances, beauty, oomph, gowns, couture in an unforgettable way. Whichever female celebrity you see on the red carpet of Oscars leaves you stunned with her costumes, jewelry, accessories, and footwear. More importantly, it is her confidence and flamboyance which keeps us hooked till the very last concluding second of the ceremony.
Hey, did you forget the "arm candy" of the ladies spotted at the Oscars? Yes, I mean clutches etc.
The 2018 Academy Awards and the Oscars' 90th anniversary saw the leading ladies of Hollywood come out in vibrant color. It is natural to expect the evening's red carpet bags to be a little underwhelming – yes underwhelming – because the very formality of the event demands a lot of female stars and celebs passing their handbag to their handlers before stepping in front of the cameras. And no, for an actress going to the stage to collect her Oscars is not similar to a school girl telling her parents to hold on to her school bag before she goes on the stage to claim her trophy. There is an age difference you see and a massive one.
This year, over a dozen good clutches, were spotted in the arms and hands of some huge stars. They might be their favorites, they are also our dreams and aspirations.
So, happy bookmarking and clutching on to the choicest of evening bags the Oscars 2018 showed us.
Emily Blunt Judith Leiber Slide Clutch
Background: Judith Leiber is an American luxury brand. Nearly every First Lady from 1953 has carried custom-made Judith Leiber bags to the U.S. Presidential Inauguration ceremonies. It means Emily Blunt Judith has a nearly 50-year love affair with the Hollywood. Truly an iconic American brand.
Product details:
Hard-shell case encrusted in Austrian crystals
Removable chain shoulder strap (which may be tucked inside)
Price: INR 139,445.00
Jane Fonda Perrin Paris La Croisiere Clutch
Product details:
The Perrin Paris "La Croisière" leather clutch bag has a flap top with two embellished notched discs.
Foiled logo at the center front flag.
Double magnetic closure under flap.
Price: $2,200
Salma Hayek Gucci Box Clutch
Leslie Mann Helmer Clutch
Lindsey Vonn Prada Clutch
Margot Robbie Chanel Minaudiere
Product details:
Resin and Silver-tone metal transparent
Price: $12,500
Mary J. Blige Roger Vivier Boite de Nuit Clutch via Neiman Marcus
Price: $3,750
Meryl Streep Christian Louboutin Vanite Clutch
Product details:
Vanite Small leather Convertible Clutch
Removable crossbody chain
Price: $1,450
Octavia Spencer Tyler Ellis Clutch
Samara Weaving Valextra Box Clutch
Sandra Bullock with Jimmy Choo J Box Clutch
Background: Jimmy Choo handbags and shoes depict modern fashion and redefine women's accessories with inimitable style.
[sc:mediad]
Viola Davis Roger Vivier Pilgrim Jewels Clutch
Background: Roger Vivier is a French fashion designer who is famous for his line of shoes. Famous online retailer Neiman Marcus brings a glam collection of Roger Vivier handbags which stand out in their luxe finishes, signature sparkle, and soft hues.
Molly Sims with a Judith Leiber Clutch
Andra Day with a Judith Leiber Bag
Helen Mirren with a Judith Leiber Clutch
Allison Janney with Roger Vivier Clutch
Janet Mock, Author, and Activist with her Judith Leiber Bag
Elisabeth Moss styled her look with a Roger Vivier Bag
Zooey Deschanel holding the funny "Franny and Zooey" clutch designed by Olympia Le-Tan
So my dears and bunnies, which evening bags well-clutched by the Oscar ladies floored you the most? Reply and comment.