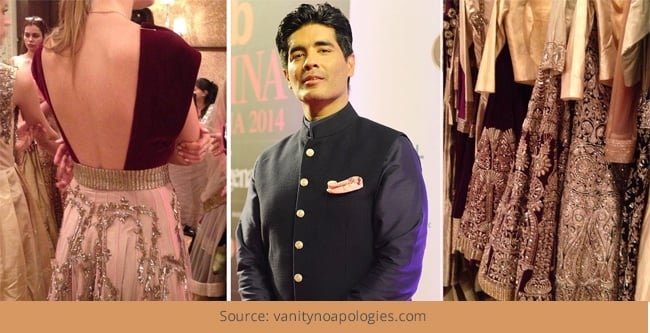 Three words define the conventional film making – lights, camera, action. However, no film despite the best of technicians, acting skills and outdoor locales can look glossy without the fabric, the shimmer, the glitter and the romance in costumes brought by the invincible and the towering Manish Malhotra.
The Pied Piper in celebrity costumes, Manish is all about perfection when it comes to selection of dress materials. It is his panache and excellence in costume designing that has gone beyond expectations, awards, territories and tastes. His magical vision and understanding of the apparels has made him an unchallenged icon in fashion designing.
Ladies and Gentlemen, he is the true Bollywood Badshah who has made umpteen Bollywood leading ladies such as Kareena Kapoor, Kajol, Karisma Kapoor, Deepika Padukone, Alia Bhatt, Sridevi, Bipasha Basu, Priyanka Chopra, Katrina Kaif, Sonakshi Sinha, Madhuri Dixit, Jacqueline Fernandez, Juhi Chawla and many more look stunning, sophisticated, charming and drool worthy, since the last 25 years.
[Also Read: Manish Malhotra Sarees]
The Making of the Fashion Showstopper
Legends have a fan following, no matter the background they come from. 'Bombay-Bandra boy' Manish Malhotra took to sketching and drawing while he was pursuing studies in Elphinstone College. Luck struck gold when he started getting modelling offers from brands such as Frooti, Binaca, Weekender and Philips.
Having done that, he took to working in a fashion boutique, learning the nuances of fabrics, materials and cuts. Destiny had something else written for this boy whose craze with fashion designing and Bollywood was rising by the year. That led him to persuade the noted photographer Rakesh Shrestha to introduce him to the film industry – a phenomenal profession that created stars out of mere faces. One thing led to another, Manish got the opportunity to show his sketches on the latest designer sarees and suits to prospective clients, film-based and non film-based. Photo shoots further made his costume designing skills known to the people who mattered. Brand Manish Malhotra now arrived.
Signature Trademark Style
"I love net and flowing silhouettes! I don't necessarily give a very arty kick to my designs. I do what I love."
Contemporary, colourful, sophisticated and far ahead of time, one can make out the creations of Manish Malhotra with total ease since they carry the following stamps of originality:
• Broad borders on voluminous lehengas and anarkalis with gold embroidery.
• Plain saree with a wafer thin border.
• Bright, vibrant colours including neons.
As an established and successful fashion label, Manish's collaboration with the Mijwan Welfare Society in Uttar Pradesh makes him the caretaker and guardian of 300 in-house embroiderers, 160 workers in Kashmir, 140 workers in Mijwan, in his bid to transform the lives of women craftsmen.
The Vastness of Celeb Clientele
"I think I am interested in people. I may not be eclectic, but I have a connect with the audience that makes me popular."
Is there any Mumbai film celebrity or Page 3 socialite who hasn't worn the costumes and apparels of multi-award winning Costume Designer, Couturier and Stylist Manish Malhotra? No prizes for guessing.
1. Heavenly White
How can one forget the femme fatale outfits of the dancing Urmila Matondkar dressed in short white skirt, swinging to Tanha Tanha or in the red floral dress dancing to Hoja Rangeela Re in the blockbuster songs of the movie 'Rangeela'? It was all charming, street smart, hot and sexy. So much so that years after the commercial success of the movie it's hard to forget the combination of femininity and sensuality that oozed out from Urmila's dresses.
Tradition and grace speak aplenty in Manish Malhotra's costumes.
2. Enchanting Purple
"Manish is a very dear friend of mine. Apart from being a fantastic designer, he is a trendsetter in his own right. I always look forward to his shows."
She is the gorgeous diva from the Kapoor khandaan who has delivered umpteen hits in Bollywood and on fashion ramps. Check out Kareena Kapoor's splendid purple and grey silk lehenga that has silver sequin embellished net style kurta. The matching cape has dollops of resham jaal rose motifs.
3. Gorgeous Black
Oh my my! Whoever said black was boring! The irresistible black Manish Malhotra Anarkali ensemble worn by Karisma Kapoor on Day 4 of India International Jewellery Week 2013, was enough to turn on the heat beyond doubt.
[sc:mediad]
4. Captivating Reds
Walk the podium of appreciation in this red velvet lehenga worn by Alia Bhatt. Bedecked with Kashmiri zari motifs from waistline all up to the bottom, it has a red choli blouse with daring scoop neckline and tie-up at the back. Net dupatta is light beige in colour.
The Bengali Bips has a hot bod and sultry looks. With this red lehenga designed by Manish Malhotra for his London show, the extravaganza of the costume goes many times up. Rich embroidery going waist down and on three-fourth sleeves makes it a true masterpiece.
5. Peach Perfect
Peaches and pink complexion looks all the more graceful in this peach silk lehenga that has hemline embellished with extensive mirror work. Hi-collared full sleeve lehenga comes with a cream-coloured long asymmetric jacket.
6. Golden Touch
Amazing and marvellous is this floor-length Anarkali frock, worn by Jacqueline Fernandez at the Lakme Fashion Week Winter Festival 2013. Breathtakingly pleasant pink ruffles are coupled with sequins, golden zari and embellished sleeves.
7. Sensual Silver and Pink
Beauty personified and an actress par excellence, Katrina Kaif lends absolute grace to this silver and pink ghagra-choli designed by Manish Malhotra. The gold sequinned voluminous work on the entire garment has been given finishing touches of bowl lace.
Destination Wedding
MM's Bridal Collection aptly themed as 'Destination Wedding' stole the limelight at the PC Jewellers, Delhi Couture Week in the year 2013, that had Bollywood's who's who in full attendance. What made the collection stand out effortlessly was the 1930s inspired collection and the Mediterranean feel to it made possible by the use of crystal chandeliers and white drapes. Trendy contemporary colours were used such as peach, pink, blue, gold and ivory, with a mix of chiffon and velvet fabric materials. As far as the couture is concerned, there were seductive lehengas in a vibrant and glossy range of colours to add the element of pomp and glamour.
Manish Malhotra, the country's most influential designer is therefore a sheer example of how dreams, visions and creativity can go miles in changing the fortune of a middle class common man. Soon he will be styling the evergreen beauty Sridevi in an untitled Tamil film. .