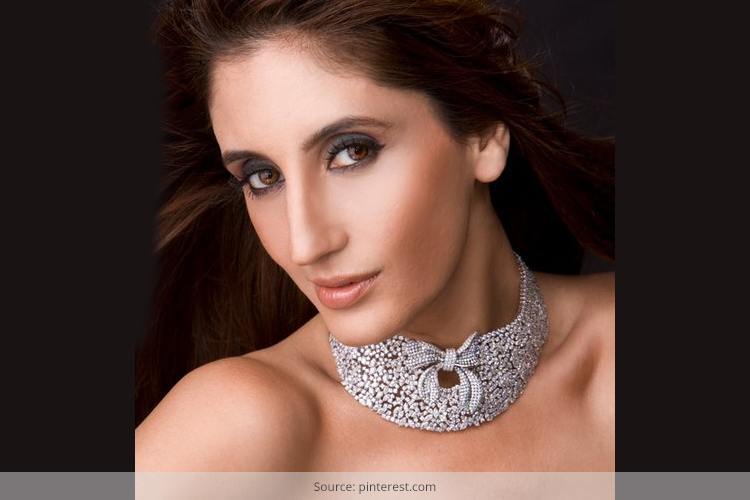 Since we are discussing about Indian jewelry designers, who have earned international repute, in length; let's go in detail about some other top-notch jewelry designers in India. Read on! 
Farah Ali Khan
With a touch of pompousness in her creations, jewelry ace designer, Farah Ali Khan's rhapsody for each of her collections begins with a strong emotion. Her namesake label asserts the relevance of having faith in Indian deep-rooted tradition, whilst radiating a global appeal.
Farah Khan with her family-
With more than 2 decades of dedication in jewelry designing, today this jewelry couturier supports the livelihood of 80 people. Apart from belonging to a reputed Bollywood family; her father being Sanjay Khan and brother-in law being Hritik Roshan, she started her own business without any kind of financial support from her family.
[Also Read: How to Clean Silver Jewelry]
Although her designs are Indian-inspired, they appeal to global audience. Her use of Desi motifs and idea of revamping them with offshore elements, have allured costumers from overseas to fly down to Mumbai only to buy her jewelry.
Farah's Mughal Connection
Farah is hugely inspired from Mughal and Rajput eras, which can be clearly seen from her motifs. She strongly feel there is something whimsical and beautiful about those eras. Whenever she gets inspired by the architectural prominence of Mughal era, such as the jali work, the floral motifs and the marble inlay art-works, she feels as if she were rewriting the history.
Farah used a lot of Indian gems and precious uncut stones like Polki, emerald, ruby and beads which are indigenous to the country. She strongly believes that no matter how far she goes in creating contemporary fashion accessories to woo her clients, at the end of the day they should reflect the Desi connection.
Farah takes inspiration from temple jewelry as well. As per her, the attraction of those pieces purely depends on how one wears it and pulls it off.
The ace jewelry designer had this to say,
[sc:mediad]
 "While it can appeal to the global market, you must remember to cater to the differing sensibilities, while being loyal to our aesthetics and motifs."
Farah's Gem Picking
Farah sources her gems such as emeralds from Zambia and Mozambique for rubies and her luxury accessories are regularly showcased at the Emmys, Oscars and the Golden Globes, with the international media raving about her exquisite creations.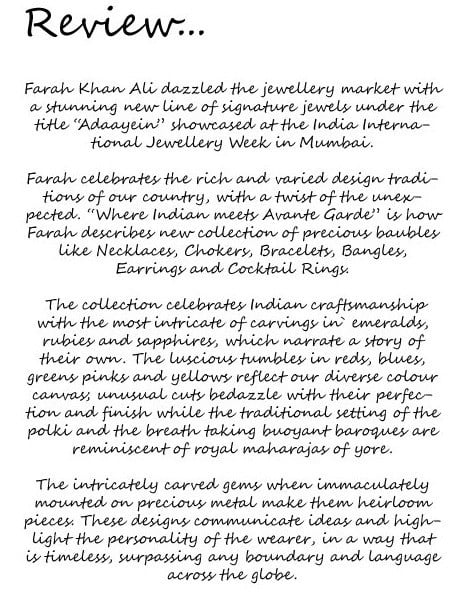 She reasons,
"I'm not here to sell the characteristics of diamonds or gold. I'm here to create something extra-ordinary. Even if I'm doing something worth '35,000, it has to have the Farah Khan stamp. Else, what's the point? "
She strongly feels that when anyone buys her design, it should be a work of art. This is the reason she puts in so much thought behind the creation, and she is even prepared to make less money than mass-produced average looking pieces.
Farah is a huge fan of Cartier, a renowned French jeweler and she loves pearls, which are elegant, forever and timeless. This is the reason, she creates timeless designs which can be passed down from generation to generation, just as her bird brooch embedded with pearls, rubies and emeralds which was passed down to her from her grandmother.
Farah's love for colors
Although Farah loves inducing colors in her creations, she consciously stays away from monotones. Instead, she always prefers to use the age-old meenakari technique, which is a traditional art of coloring the surface of metals by fusing brilliant colors over it.
Meenakari is always alluring, a splendid art form and something which can captivate people for hours on end. This is the reason she not only uses it with Polki (the uncut diamonds) but also with sherwani buttons featuring diamonds.
I don't play safe
Farah loves challenges. The more challenging the design, the more exciting she feels. Being a creative person, she gets bored easily, for instance, if she sees something that has become pretty mundane, she doesn't work on that anymore. She admits that she stays away from playing safe as she feels safe is always boring.
Less is always more for Farah
The Farah Ali Khan label is strong and bold. She suggests in minimizing the accessory just like Angelina Jolie who doesn't require too much embellishments to look beautiful. Truly, less is always more in the bedazzled world of Farah Khan.
Farah has recently hosted a grand soirée to celebrate the launch of her first flagship store in Mumbai. The store, which is known as 'Farah Khan Fine Jewellery' is located in Turner Road at Bandra The designer claims that this jewellery boutique is going to be the one stop destination for exquisite bling and baubles.
Farah has also created an exclusive silver jewellery line and accessories for Hritik's movie, Krish3.
Farah had this to say on Krish 3,
"For me, Krrish 3 is not just a movie because my brother-in-law is in it. To me, Krrish 3 is an ideology.When I saw the film, I was taken over by the superhero and the superhero effect. But what is more important is that it strikes an emotional chord and it tells you a story that you don't need to be a superhero in a mask or a costume to prove yourself."