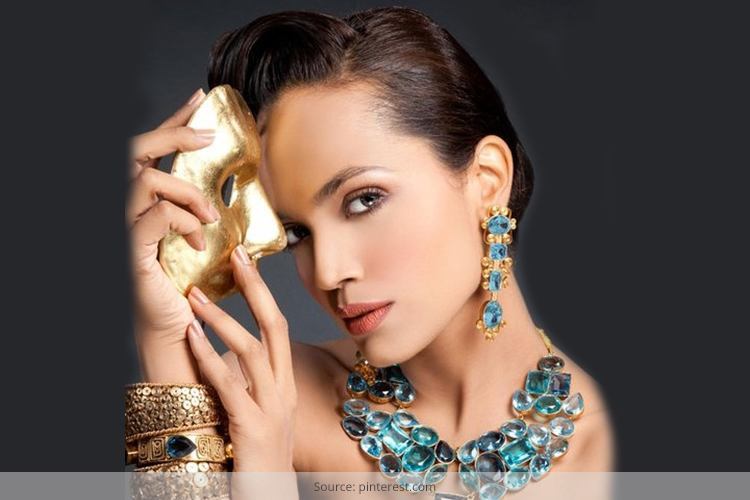 Fashion is a stretched-out jargon, witnessed in every form of convention of life. It won't be wrong to tag this factor as second nature in our lives. Today, fashion is a sojourn to past; an inquisition of enfeebled customs and a reincarnation of daily grinds which have, for long, been reprehensibly forgotten. This is the very reason Indian ethnic jewelry is back in all its sundry triumph.
This week Fashionlady's take is on some of the top-notch Indian jewelry designers, who have acclaimed international repute because of their contemporary sought-after designs, which have allured celebs like Jennifer Lopez, Anne Hathaway and Jessica Simpson to name a few.
[Also Read: 2016 Best Oscar Jewelry Pieces]
Read on!
All of India's prominent jewelry designers are like-minded that Indian jewelry is rapidly gaining popularity across the world.
For instance, Indian-American accessory designer, Amrita Singh, who is now a favorite among Hollywood celebs like Blake Lively, Jennifer Lopez and Jessica Simpson, reveals how her jaw-dropping creations are highly inspired from Indian traditional jewelry pieces.
Likewise, the creations of Mumbai-based Farah Ali Khan is now a regular showcase at Golden Globe and Academy Awards. The designer, who is famed to blend intricate cutting-edge techniques with traditional craftsmanship in ornament-making is another classic example of the global appeal of the Indian ethnic jewelry.
The veteran high-end jewelry designer, Alpana Gujral, is still busy creating designs for the modern Indian woman who is conventional at heart.
A budding talent in the world of jewelry fashion is Eina Ahluwalia, a Kolkata-based designer, who was so much influenced by the present footing of Indian jewelry that she left her high-flying corporate career to become a story. For her accessories are a kind of platform through which she can convey a story.
Another newest kid in the block is Suhani Pittie, a young Hyderabadi designer who was conferred by the World Gold Council as one of the top 10 jewelry designers in the country.
Ethnic such as kundan jewelry has caught on to the faddism of fashion; thanks to the creative brainstorms of these globally-reputed Indian jewelry designers. For instance, a Delhi-based designer, Mirali Gulati, redesigns age-old traditional ornaments.
As per her, India is a burgeoning market, which appears to be making waves not just within the boundaries but overseas as well. And it's indeed true; thanks to all these designers who are open to the idea of using contemporary rubrics in making them.
Get bedazzled with these jewelry designers, as they open up about their inspirations and their comprehensive opinions on Indian ethnic jewelry. Continue reading!
Amrita Singh
There is no secret that Jlo loves Amrita's designs, mostly her bangles and hoops. Amrita Singh is one of the most sought-after jewelry designers in Hollywood, whose creations also sparkle on the red carpet.
With various reputed magazines, stylists and TV shows such as American Idol and Gossip Girl reaching out for her interviews and accessories, she has truly become a brand now across the globe.
Her clients' list boasts names like Kim Kardashian, Jessica Simpson, Anne Hathaway and Blake Lively. She launched her label, 'Amrita Singh', in 2003.
[sc:mediad]
Although she was initially interested in launching her own clothing line, jewelry designing came to her naturally and then there was no looking back. Her creations depict the charm of Indian centuries' old culture and nonetheless an evocative charm with au courant interpretations.
She effortlessly gave Indian craftsmanship a global appeal, whilst suiting the taste ad preferences of her elite clientele. This Delhi girl is now based in New York and has managed to ceaselessly maintain balance between the two diverse cultures.
Equipped with almost 10 years of work experience, she started her own line in 2003 and her experience in working with legends like Oscar de la Ranta and Christian Lacroix created a huge impact on her style aesthetics and approach towards ornate creativity.
For her jewelry designing is an accidental love, which is now in full form to become an integral part of her life.
Amrita had this to say,
"I was interested in fashion design,a and when jewelry designing caught my fancy, I knew there was no turning back. My designs have been profoundly impacted by various factors such as my love for travel and awareness of trends."
Source: rebelmom
Like they say, change is the only constant factor and so for her fashion is always evolving. Being highly inspired from Indian culture, Amrita uses an array of colors to flaunt the richness of her creations. Her contemporary jewelry line is hugely inspired from kundan and polka works which are commonplace and exquisite as well.
Amrita's accessories are both realistic and high-end, resulting in her diverse clientele list, which includes common masses too. For her, her jewelry being adorned by celebs in a wonderful experience, but when she sees her accessories being worn by gals walking down the street, she feels satisfied and blessed.
Stay tuned for Part 2…